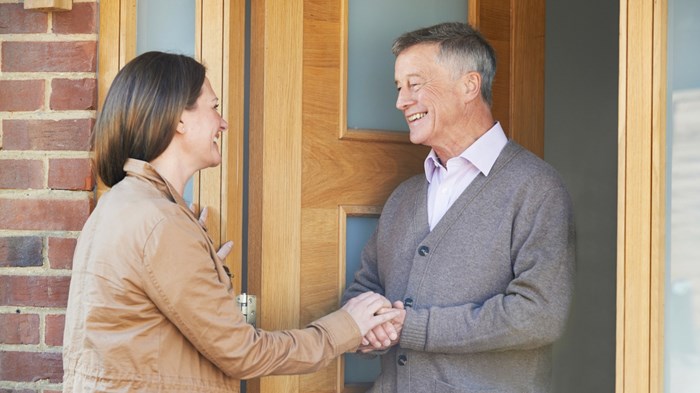 Image: By SpeedKingz via shutterstock
As what all too quickly happens, the New Year pizazz motivates us to make some positive changes or accomplishments with our lives and year ahead, and then quickly dims into tiredness, excuses, or disappointments as only about 8% of us actually keep our resolutions. But what if we were to have a different focus this year which might last the whole year through?
What if we challenged ourselves to shift our focus from self-improvement to fostering community? What if each day this year, we woke up with this challenge running in our veins, motivating us to make a positive impact right in our own homes, neighborhoods, and communities?
And what if this challenge was fueled by a deep love for Jesus and a desire to show and share his love with others?
This is something the Billy Graham Center is all about—showing and sharing the love of Jesus in this broken and hurting world. It's a place I'm grateful for as both a world hub of evangelism training and a team to be serving on. This team of outstanding professionals love Jesus and desire to make him known as we train and inspire others to carry out the Great Commission, reaching our world with the love of Jesus in winsome and creative ways.
As I was chatting with a close friend recently, I was inspired by one way her family had found to share the love of Jesus in a very creative, yet simple way to those around them. It is through a daily challenge to focus on giving instead of receiving. So often in the busyness of life, we are just trying to get from one activity to the next.
Instead of hoping for all the lights to be green, the closest parking spot to be ours, or the fastest checkout lane to open up as we head to the counter, what if we looked for opportunities to give instead?
Give our place in line, let someone else have the close parking spot, hold the door open for someone, smile at the checkout clerk and ask how his/her day is, maybe even buy someone's cup of coffee. What we are talking about is finding small ways to give the greatest gift—love.
Fostering an Attitude of Gratitude
"Could I do this?" I asked myself. "Or better yet, how could I not?"
Today, there is much division, derision, and outright hatred because of prejudices and differences in values, beliefs, or political stands. And there is a fire being fueled with each negative act.
But what if instead of meeting fire with fire, and giving in to this type of response, we chose to take a different kind of approach? What if we let stories of giving ring out in our homes and communities? What if we planted hope, peace, and love in the hearts and lives of those around us-- creatively sharing the love of Jesus to this broken and hurting world?
I found this challenge refreshing and inspiring. Instead of being overcome by the negative around them, my friend and her family purposed on growing gratitude in their family and fostering love in their community.
There are countless opportunities and ways we can give to those around us—whether to a stranger, neighbor, friend, or family member—and it doesn't necessarily have to cost anything of monetary value.
One give, one day at a time challenge. Who can do this? Anyone and everyone!
Churches: Identify families in your community needing a little extra support. Prayerfully consider how you can 'adopt' them and walk through this season with them.
Families: Consider picking up garbage in your neighborhood parks, do a chore for someone, give a compliment, donate clothing, toys, or household items, put up a bird feeder, volunteer together.
Individuals: Help out neighbors, bring your own bag to the grocery store, volunteer with a cause you are passionate about, donate towels to an animal shelter or food to a food pantry.
Why Would We Do Such Things?
You may have grown up hearing the same thing I did: "It is more blessed to give than receive." Did you also know that studies show the long-term benefits of daily giving are feeling more connected and cooperative, reducing blood pressure, slowing the aging process, and being happier? Plus, studies have found that observers are inspired to behave similarly as givers later on, so this quickly multiplies the impact of a single act.
Giving begets giving and the outcome is cleaner and safer communities, schools, and neighborhoods.
The more repetitive our acts of giving, the more sustaining this action becomes and the more powerful the impact. Unlike New Year's resolutions that fizzle short after a month, one give one day at a time with the simple hope of growing gratitude in our own hearts has the power to reach far beyond that to fostering hope and peace and impacting the lives of those around us with love.
Colleen Cooper is Development Coordinator at the Billy Graham Center at Wheaton College.
The Exchange is a part of CT's Blog Forum. Support the work of CT. Subscribe and get one year free.
The views of the blogger do not necessarily reflect those of Christianity Today.