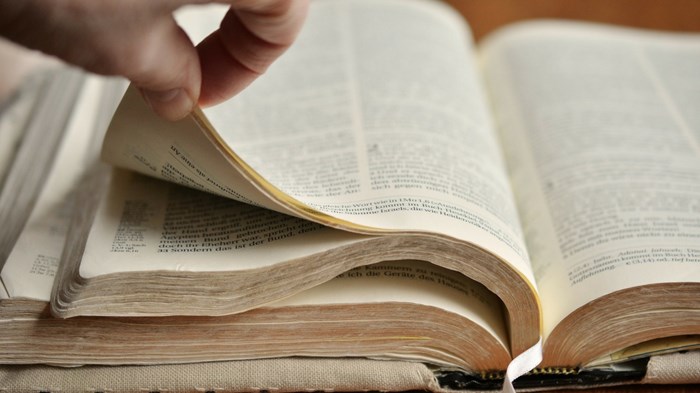 Image: Image via Creative Commons
Who Will Tell Our Stories?
When we don't know the past, we tend to make assumptions that don't historically line up with the facts. I've been guilty of this kind of thinking as it pertains to my heritage—the story of the Latino(a) Protestant church in the United States.
A couple years ago my friend, Dr. Charlie Dates, asked me to be a guest lecturer for the Latino(a) history segment of a course he was teaching on the History of the Black and Latino(a) Church in America at Trinity Evangelical Divinity School (Deerfield, IL). I was initially reluctant feeling ill equipped for the task and racked my brain thinking of others who could help him. I'll never forget what he told me.
He said, "Eric, if we don't tell our stories, then who will?" Those words struck a chord in my soul, causing me to immediately accept the invitation. In the ensuing months, I read, researched, and processed with excitement like a tourist admiring the architectural structures in a foreign city. This short post is an effort to popularize some of what I've uncovered and spark the interest of others for further study.
Photo Albums Tell Stories
Historian Justo Gonzalez likens the history of the Hispanic Protestant church in America to a photo album. As every photo album has varieties of snapshots, perspectives, relationships, and seasons represented, so too does the history of Latino(a) Protestantism.[i] The three snapshots I will focus on will demonstrate how the Bible has been an anchor among Hispanic Protestants in North America for nearly 200 years through which the power and promises of God in the gospel have radically changed lives.
Snapshot 1: Ambrosio González and the Power of the Scriptures
In 1853, a Mexican man by the name of Ambrosio González became the first recorded person to convert to the Protestant faith from Catholicism in land formerly held by Mexico (before the Mexican American War).
What I find remarkable is that González attributed his conversion to a Bible that was given to him by the Methodist missionary, Enoch Nicholson, in 1852.[ii] He then grew in his understanding of Scripture and began to minister with the Albuquerque Baptist Church. Rev. Thomas Harwood, a Methodist missionary, gives a first person account when he says this of González,
He had been preaching as a local preacher [in 1871] for about fifteen years, but without license. I reorganized the work at Peralta (the place where Ambrosio studied and preached) and he was licensed to preach and was made preacher in charge at that place.[iii]
This is a valuable testimony of a Mexican man who was transformed by the gospel through the simple act of having received a Bible. The Spirit of God brought about faith and repentance through the scriptures and subsequently called González to be a messenger of that same good news. From what I've seen, not many more details are available (I want to know more!). Still, the details that we do know are a rich part of the legacy Latino(a) Protestants in America possess.
Snapshot 2: Treasuring the Bible
Missionaries to the American Southwest believed, as was with the case of Ambrosio González, that whoever read the Bible would convert to the Protestant faith. Historian Juan Francisco Martinez Guerra has uncovered remarkable stories along these lines, sharing how missionaries would go house-to-house giving away Bibles and reading the Scriptures aloud.[iv]
When people came to faith in Jesus through those scriptures, the Bibles would be named after the family or community that possessed the Bible. For instance, according Guerra, some of the most famous Bibles were the Chimayó, Sanchez, Madrid, Ocate, Peralta, and Gomez Bible.
The story of the Gomez Bible in southern Colorado is fascinating. Juan Gomez purchased the Bible for the equivalent of $60 in cash, animals, and the usage of oxen in 1868.[v] The Gomez family held a Bible study in their home, which eventually became a church. From that home, other churches were planted in the region. The Gomez Bible remains today having been passed down from one generation to the next.
Similarly, the Ortega family acquired what is now the Chimayó Bible, named after a town in New Mexico, after the patriarch purchased it for the hefty price of $10 toward the end of the 1800's. The Catholic priest in the town had forbidden possession of Bibles, but Ortega persisted in using his hard earned money to buy it.
He didn't know how to read, but kept the Bible in his possession before handing it to his oldest son, Don Agapito, on his deathbed. Agapito learned to read as an adult and came to faith in Jesus through his reading of the Bible. He would use that very Bible the rest of his life.[vi] Don Agapito's father, though illiterate, passed down a legacy of treasuring the scriptures that made a difference for eternity.
Snapshot 3: Theological Education and Storytelling
While it is a slowly growing trend for Latino(a) Protestants to enter into formal theological education, for numerous reasons such as limited opportunity, language, cost, lack of contextualized programs, and previous educational roadblocks – it's a slow moving train that I hope begins to pick up steam.[vii] For instance, in a 2010 ATS report, while Latino(a) involvement in theological education has increased, Hispanics are still the most underrepresented ethnicity at 5.7 percent of theological students versus 16.3 percent (2010) of the US population.[viii]
These statistics underscore the importance of recognizing those who have blazed a trail before us. One widely unknown trailblazer in this regard was a man by the name of Alfredo Nañez born in Mexico in 1902. In the 1930's he became the first Hispanic American Methodist to complete a course of formal theological training.[ix]
He later became a pastor, the presiding elder in the Rio Grande Conference, and President of the Lydia Patterson Institute (A Methodist high school in El Paso, which also functioned as a training center for ministers). From 1970-1973, Nañez served as Professor of Practical Theology and Lecturer at Perkins School of Theology.
Before he died in 1986, he edited for publication three Spanish hymnals and contributed, "Methodism among the Spanish-speaking People in Texas and New Mexico," in the book One in the Lord (1977). He also authored History of the RioGrande Conference of the United Methodist Church (1980). Nañez blazed a trail of theological education as well as a trail of Latino(a) Protestant storytelling. He leveraged his training to teach, lead, and write in ways few Hispanic Protestants in America did before him.
A Legacy of Scripture
If we're not careful, we might miss the rich heritage Hispanic Protestants in the United States share. Many like Ambrosio González, Juan Gomez, Don Agapito Ortega, and Alfredo Nañez were transformed by the good news of Jesus because the Bible was given, read, or taught to them.
Justo Gonzalez summarizes the experience of many Latino/as with Catholic backgrounds reading the Bible for the first time when he writes,
The great appeal to Protestantism was in Scripture itself, which the Catholic Church had taught us to respect but not to read. For many Hispanics, both in the United States and in Latin America, the experience of hearing the Word for the first time, of being able to study Scripture in new ways, was revolutionary and liberating. After this, they could no longer understand how anyone could remain tied to a church that either forbade or discouraged the reading of Scripture, and they made every conceivable effort to bring other Hispanics to the same realization.[x]
I hope that Latino(a)s who faithfully follow Jesus believing him by grace through faith would marvel at the valuable legacy that is ours; a legacy that made "every conceivable effort" to put the Bible in the hands of others. In the same way, I hope that we would be devoted to reading and teaching the scriptures serving the church as Ambrosio González did.
I pray that we would treasure the scriptures in our possession, and not view it as a simple book, but as the very Word of God that rocked the Gomez and Ortega families generations ago. I desire to see many follow the footsteps of Alfredo Nañez and commit to knowing the Bible and the God of the scriptures by seeking to be trained (formally or informally) in hermeneutics, systematic, and historical theology, as well as practical theology.
Lastly, my yearning is to see other Hispanics dig deeper than I've dug and provide for us more snapshots of the precious legacy of faith handed down to us over many generations. Why?
Because after all, each snapshot of faith points to the God who orchestrated his good and gracious will, and we surely want him to receive all the glory as he alone deserves.
Endnotes
[i] Justo González, "Prologue" in Los Evangélicos: Portraits of Latino Protestantism in the United States.
[ii] Paul Barton, Hispanic Methodist, Presbyterians and Baptists in Texas (Austin, TX: University of Texas Press, 2006), 41
[iii] Thomas Harwood, History of New Mexico Spanish and English missions of the Methodist Episcopal Church from 1850 to 1910 (Albuquerque: El Abogado Press, 1910), 38-40.
[iv] Juan Francisco Martinez Guerra, "Origins of Protestantism Among Latinos in the Southwestern United States (1836-1900) in Los Evangélicos, eds. Martinez and Scott, 13.
[v] Juan Francisco Martinez, Sea la Luz: The Making of Mexican Protestantism in the American Southwest, 1829-1900 (Denton, TX: University of North Texas Press, 2006), 137-138.
[vi] Ibid., 136-137.
[vii] Writing in 1990, Justo Gonzalez lamented, "In 1985 and 1986, only four Hispanic— Protestant and Catholic—completed a Ph.D., Th.D., S.T.D. in a school accredited by the Association of Theological Schools. In the following academic year, the total number of graduates was again four— in this case none with a Ph.D. The figures for enrollment in the basic seminary degree program are much more encouraging, having risen from 264 in 1972 to 1,386 in 1987. However, even after this increase of 425% in fifteen years, Hispanics constitute only 2.5% of seminarians, both Catholic and Protestant." Gonzalez, Mañana: Christian Theology from a Hispanic Perspective (Nashville: Abingdon Press, 1990), 35
[viii] Compare with the following data from "Racial/ethnic students represent largest growth area for theological schools, " which states, "Black students, at 13.7 percent of the total reporting enrollment, comprise the largest segment of the racial/ethnic 38 percent, and their representation is reflective of the overall US black population, most recently calculated at 12.6 percent (2010). Asian and Hispanic students are represented in smaller numbers. Yet Asian students are represented at a rate approaching twice that of the general public, making up 8.4 percent of the reporting theological school student population versus 4.8 percent (2010) of the US population." https://www.ats.edu/uploads/resources/publications-presentations/documents/racial-ethnicgrowth. pdf last accessed January 22, 2018.
[ix] Dr. Douglas Sweeney at Trinity Evangelical Divinity School graciously shared notes from his own findings to assist me in my studies. See also the Texas State Historical Association online database https://tshaonline.org/handbook/online/articles/fna19 last accessed January 22, 2018.
[x] González, Mañana, 72.
Dr. Eric Rivera is Lead Pastor at The Brook Church.
The Exchange is a part of CT's Blog Forum. Support the work of CT. Subscribe and get one year free.
The views of the blogger do not necessarily reflect those of Christianity Today.