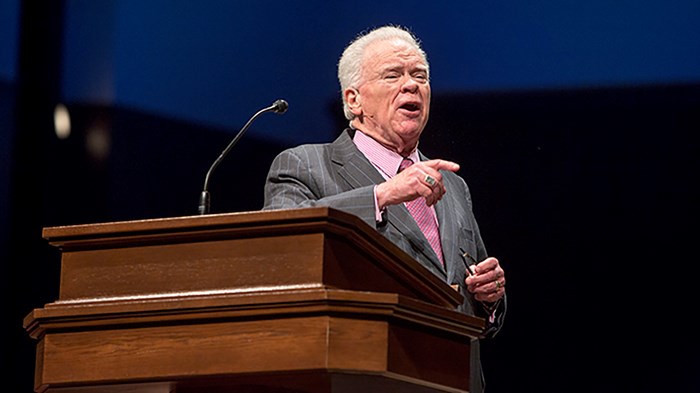 Image: Courtesy of SWBTS
Social media is abuzz with comments about the church and domestic violence.
The cause is not a new incident; rather, it's the result of an old audio clip that has resurfaced with comments from the president of Southwestern Baptist Theological Seminary, Paige Patterson. His statements in an institutional press release and Baptist Press interview have not helped the situation.
It may seem odd to outsiders, so I thought I'd share some explanation of what's going on, why Southern Baptist leaders generally do not criticize one another, and why the comments from some of them now are more significant.
Who is Paige Patterson?
Many of my readers who aren't Southern Baptist cannot fully understand why this is happening. People have asked me, "What's going on?" and "Why is it so difficult for people to speak out clearly on this?"
The answer is in the dynamics of the Southern Baptist Convention (SBC) today.
Paige Patterson and a judge named Paul Pressler met in 1967. Over the next decade, they set out to turn the SBC in a different direction theologically. They started a grassroots movement that is one of the many reasons I am a Southern Baptist today.
They worked for years to turn the SBC toward greater conservatism, rallying around the banner of inerrancy—that the Word of God is truth without any mixture of error. This became known to many as the Conservative Resurgence and has been celebrated by many of us as a victory for almost three decades.
Judge Pressler is now being sued for alleged sexual assault and coverup. Patterson has been named as being part of a coverup. Both deny the accusations, but the situation is extremely troubling, especially since Pressler has been such a prominent figure in the Southern Baptist story.
Now, we face a troubling conversation surrounding the other prominent figure, but because of his continuing role in leadership, the situation is even more complicated.
Patterson didn't just lead a grassroots movement. He went on to serve as president of not one but two seminaries. He served two terms as president of the convention itself. He has received numerous honors, awards, and more standing ovations than I can count.
He has been rightly appreciated for his service.
But this dynamic presents a challenge.
The Challenge of Paige Patterson
Because of the Conservative Resurgence and the role that he has played for decades, Patterson is one of the most significant leaders in SBC life, and one who does not often get criticized without the critic receiving significant backlash.
I know this first hand.
In 2008, I first publicly criticized Southwestern for the way certain faculty members were (repeatedly) registering disagreement with the results of our research. That day, several SBC leaders told me it was my last day as an SBC employee. As one son of an SBC entity head told me, "Nobody criticizes Paige Patterson and keeps their job."
I still have the letter from Patterson. It was not the last.
It's important to understand that this "no criticism zone" is the approach that the SBC often takes, and not just with Patterson. For example, when Christianity Today wrote about Russell Moore's invitation of presidential candidates to the denominational missions conference, CT explained, "The ERLC's press release ... billed it as a 'sold-out crowd of 13,000 evangelical pastors and leaders.' That has led to a perception of the event as more arena-sized political rally than missions conference."
Specific criticism from other denominational leaders, many who were uncomfortable with what happened, was absent. Jonathan Merritt explained why:
In conversations with multiple denominational employees, all said they felt varying degrees of discomfort with the decision to host Bush and Rubio but cited an unspoken policy against criticizing other denominational agencies and declined to comment publicly.
Do not misunderstand the silence as inaction. I understand that in 2018, if you are not on social media, you are not "speaking up." However, social media quietness also happens because many leaders work in more behind-the-scenes ways to provide correctives.
Instead of putting their cards on the table via social media, they do so in private interactions with individuals or governing bodies, or they act through floor debates and ballots when the Southern Baptist Convention is in session. And that's legitimate as well.
But because of this unofficial custom, it is highly unusual (and courageous) for Thom Rainer, president of LifeWay Christian Resources, the denomination's publishing and retail arm, to tweet earlier today:
The ongoing discussion over recent comments by fellow Southern Baptist Paige Patterson remind me we live in a politically charged environment, both in our nation and in our convention. Any statement is almost immediately construed to be a statement of political posturing. Such is neither my intent nor my desire. However I cannot be silent on the issue of abuse of women. My silence becomes a reverberating echo of indifference at best. There is no level or type of abuse of women that is acceptable. We have been called by God to show honor and respect to all women and girls. They are our mothers, our sisters, our daughters, our granddaughters, and our wives. We thank God for them. And I stand with all who say 'no' to any type of abuse of women at any time and under any circumstance.
I imagine today that Thom's phone lines are lit up.
Again and again, no one says anything because that's what we are told to do—SBC leaders do not speak ill of one another.
But What About Paige Patterson?
The irony was that "no criticism" rule did not seem to apply to Patterson himself. He often spoke up about other entity heads, particularly Jerry Rankin, former president of the International Mission Board (IMB), our missions agency. In 2003, Patterson distributed a white paper written by a member of his faculty and criticizing Rankin. He even mailed copies directly to the IMB trustees with his own official cover letter.
Around 2006, the tide began to turn on Patterson's influence within the denomination as a whole. His influence has continued to wane as Southwestern has declined.
When he began his presidency, the headline was "Patterson declares end to downturn in Southwestern Seminary enrollment." Since then, the seminary has experienced stunning decline. The latest reports from the Association of Theological Schools show a decline of full-time equivalent students from 2,072 in 2004–2005 to 1,393 in 2017–2018.
But as the number of students has gone down, his gaffes have not. Here are just some from the last few years:
January 2014
In a conference sermon in Las Vegas, Patterson made crude and inventive comments about the physical attributes of a 16-year-old girl during his talk. These comments have been described as chauvinistic at best and creepy at worst.
June 2014
It was revealed that Patterson had unilaterally acted to admit a Muslim student to the Christian seminary as part of its overseas archaeological program even though this violated the charter of the school. Citing evangelistic reasons for doing so, Patterson admitted his error and apologized to the convention body at the SBC Annual Meeting in Baltimore.
August 2014
Patterson publicly and privately lobbied against the proposed hiring of Dr. David Platt as the new president of the IMB. Platt was elected without incident and Patterson had to issue a response/apology through Baptist Press.
April 2017
Five white preaching professors dressed up as gangsters for a white colleague's going away party. The "Notorious S.O.P" (School of Preaching) photo drew a firestorm of critique for reasons ranging from cultural misappropriation to the inclusion of a handgun in the photo. Patterson and the seminary again issued an apology.
December 2017
Patterson and Southwestern were named in a lawsuit against Pressler in which the plaintiff contends Patterson knew about decades of sexual abuse yet failed to report the abuse. Since the lawsuit was first filed, affidavits by two other men have been submitted outlining similar instances of abuse by Pressler.
What now?
Patterson has now become a challenge in an SBC that, if I may be painfully honest, doesn't need much help shooting itself in the foot (we'll save all the reasons for that for another day).
Let me be clear. Some want to cast this situation as another war between Patterson and people who have opposed him. They assume that leaders should choose to side with Patterson and defend him, or that if they don't they are standing with some enemy. But this week, leaders like Thom Rainer didn't choose a side in a war.
They simply chose to stand up for women.
So did Bruce Ashford, Danny Akin, and many others.
In the age of #MeToo, do Southern Baptists really need their keynote speaker and hero to be the one seen in a video talking about a "built" 16-year old girl? As a father with a 16-year-old daughter, I think not.
Furthermore, his inarticulate comments about abuse have put the SBC in another difficult position. Unspoken policies have their limits. When people are actually asking where we stand on abuse, we have to look in the mirror and wonder how long we hold our tongues.
The fact is, Patterson won the SBC war for conservatism, but like Winston Churchill, he could not govern the peace. He has made many missteps and has led his seminary into further decline. Now people quietly are asking why they are building an apartment for him on campus, when the question last year was when he would retire so the SBC could move forward.
Conclusion
In the aftermath of the Conservative Resurgence, the SBC made a mistake. We spent more time taking victory laps than really leading. We let our history become mythology. We turned men into heroes, and then we turned our heroes into gods.
What we really needed to do was be about our mission and hold each other accountable.
In 1999, Patterson gave his SBC presidential address to the messengers and stated:
The day has come when we must realize that all of the appropriate confessions of faith will appear impotent if lives of character do not stand behind them as verification. It is simple to be critical of those whose character seems to have failed them in national leadership and overlook the fact that the witness of our churches in this area has often been less than stellar. May God grant that we call our people to a godly standard of holiness in this last day.
It was true then, and it's true today.
Patterson, in a sense, built an era. I am glad. I am a Southern Baptist today because of its inerrantist theology, and I've personally benefited from that era and from the SBC that he helped create.
But many SBC leaders I know think this and privately acknowledge that it is time for a new era.
They can't say it because of the unofficial rules, so let me say it.
If Patterson preaches at the SBC, he will, because of his past work, get a standing ovation. Every news story will point to that moment, tie it together with the accusations against Paul Pressler, and say that Southern Baptists don't take abuse seriously.
And it's not just a public relations crisis. It's a message to women that we must not send.
I think a better way forward is to think of the SBC's future mission rather than Paige Patterson's past success, and I hope he desires the same for the SBC he gave his life to.
Thank you, Dr. Patterson, for your service. You did the right thing when it was hard. Now, let me encourage you to do so again. Thank you for thinking first of the SBC as you step into a well-earned retirement.
Ed Stetzer holds the Billy Graham Distinguished Chair of Church, Mission, and Evangelism at Wheaton College, is executive director of the Billy Graham Center, and publishes church leadership resources through Mission Group.
The Exchange is a part of CT's Blog Forum. Support the work of CT. Subscribe and get one year free.
The views of the blogger do not necessarily reflect those of Christianity Today.