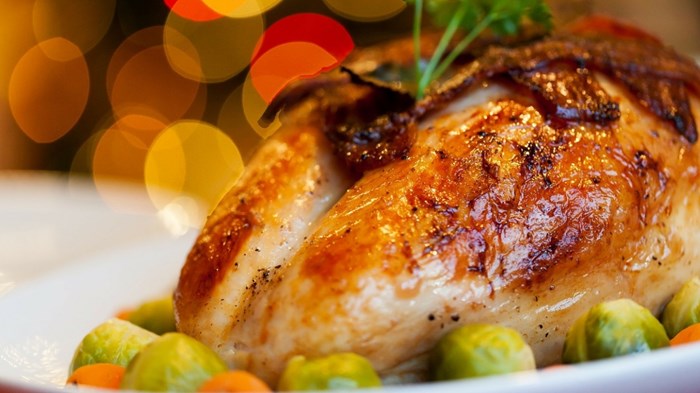 Image: via Pixabay
It's that time of year again. Each year when late November starts rolling around, churchgoers everywhere can expect a sermon (or a series of sermons) on the same topic: giving thanks.
I have one coming up this weekend at my church, Highpoint Church.
Not only does Thanksgiving create an opportunity to enjoy large amounts of delicious food with friends and family, but the holiday also serves as a convenient reminder to pause and reflect. Thanksgiving makes a seasonally appropriate time for all of us to think about the ways that God has so generously blessed us.
God is the giver of good gifts
Scripture tells us that every good thing we have received is from God: "Every good and perfect gift is from above, coming down from the Father of the heavenly lights, who does not change like shifting shadows" (James 1:17).
There is not one thing we have in this life—no relationship, no material possession, no ministry opportunity or job – that does not come to us by direct means of God's goodness.
Jesus himself knew this—just look at the story we read in all four gospel accounts where Jesus feeds a crowd of 5,000 people (Matt. 14:13-21; Mark 6:30-44; Luke 9:10-17; John 6:1-15).
In many ways, Jesus feeding the 5,000 is the perfect Thanksgiving miracle. Some of you right now in this very moment are experiencing the anxiety that comes along with the burden of hosting Thanksgiving dinner in your own home. You've got grandparents, siblings, cousins, aunts, uncles, and in-laws all depending on you to fill their hungry bellies and satisfy their turkey cravings.
To say that can be stressful is an understatement. Chances are, you don't have more than 50 people coming to your Thanksgiving dinner. Imagine what it would feel like to have 5,000 people depending on you for a meal!
A posture of gratitude
Despite all this pressure from the hungry crowds, though, Jesus doesn't crack. Before doing the job he came to do—before finishing the work or bringing about the miraculous creation of hundreds of fish and even more loaves of bread—he stops everything that he is doing and prays.
Matthew 14:19 says that he "directed the people to sit down on the grass. Taking the five loaves and the two fish and looking up to heaven, he gave thanks and broke the loaves." Jesus is fully God—one with the Father in heaven. Yet, here he models for us what a posture of true gratitude looks like.
Even when you think that what you have is yours—when you think that you earned your salary, you fixed your house, you take care of your kids or (seasonally appropriate) you made those mashed potatoes and stuffed turkeys—remember that these things are simply not the full story.
Every good gift in our lives originates with God. Who provided you with that job? Who made you with the ability to do it? Who sustains your each and every breath?
When we see Jesus taking time to pray and express gratitude, we know that we have also been called to go and do likewise. We should stop and take time to thank God for the good things that he has given us. If Jesus thought it was worth doing, we certainly should too.
Think about this for a moment—how different would your life look if it were lived with gratitude? John Ortberg says, "Gratitude is the ability to experience life as a gift. It opens us up to wonder, delight, and humility. It makes our hearts generous. It liberates us from the prison of self-preoccupation." [1]
As much as we want to live lives of gratitude, sometimes it can be hard to cultivate in ourselves. Here are some practical steps to take if you are wanting to grow in gratitude and thankfulness:
First, slow down.
Sometimes we live at too fast a pace. We miss the little things—the blessings that God so intentionally sends our way. Try slowing down, spending time in God's word, and reflecting on all that He's done for you. Just making space to stop and reflect can make a big difference in our hearts.
Second, stop the comparisons.
The grass truly does always seem greener on the other side—it's easy to look at the people around us and assume that they're so much better off than we are. We see their perfect-looking lawn or their perfect-looking life on social media and assume their lives are happier and more fulfilling than our own.
Sometimes, though, many of us find ourselves doing the opposite. We'll look at someone of limited means or someone who's sick or suffering and assume that God cannot possibly be good to them amidst their pain.
What we really need to do is stop comparing our lives, experiences, and livelihoods to those of the people around us. God is the good provider—just as he cares for the lilies of the field, he will care for you and your neighbor.
That doesn't mean we get to have everything we want in life (certainly not) but changing our posture towards God's goodness in our lives will begin us on the path towards a changed heart.
Third, practice generosity.
It's simple, really. Want to be a grateful person? Be generous with what you already have.
Try to focus less on what other people are doing for you, giving you, or helping you with and instead focus your energy on the ways you can be the hands and feet of Jesus in their lives. Set your mind on the ways you can be a servant to them, rather than on the ways you want them to be a servant to you.
At the end of the day, nothing we have now really belongs to us anyway; we're stewards of what God has given us. So, let's practice gratitude and remain in the freedom to live radically generous, self-sacrificing lives.
Ed Stetzer holds the Billy Graham Distinguished Chair of Church, Mission, and Evangelism at Wheaton College, serves as Dean of the School of Mission, Ministry, and Leadership at Wheaton College, is executive director of the Billy Graham Center, and publishes church leadership resources through Mission Group.
[1]Ortberg, John, When the Game Is over, It All Goes Back in the Box. Zondervan, 2015.
The Exchange is a part of CT's Blog Forum. Support the work of CT. Subscribe and get one year free.
The views of the blogger do not necessarily reflect those of Christianity Today.