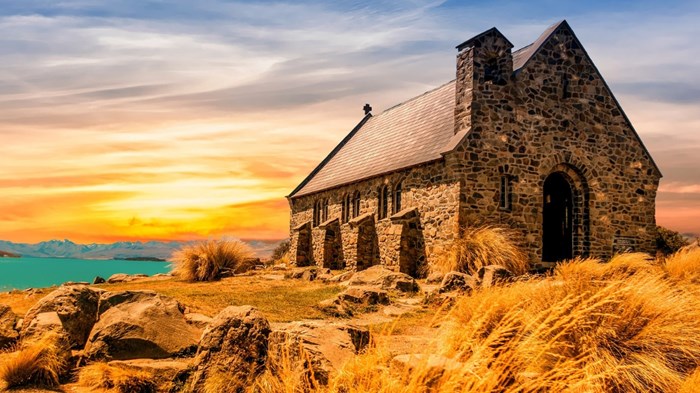 Image: via Pixabay/TheDigitalArtist
"I'm surprised you would answer a call to that church." Nothing boosts a pastor's excitement about a new ministry more than hearing that before he even gets on the field.
But while it did have a bit of a dampening effect, I wasn't surprised by the sentiment. I'd heard enough throughout the interview process from people in the area, former pastors, current deacons, and more that confirmed that this was a church in need of revitalization:
"We've thought about closing the doors."
"You could walk in on a Sunday and feel the tension in the air."
"I finally quit going to business meetings because of all the fighting."
What We Were
Red Hills Southern Baptist Church in Enoch, UT, wasn't ever going to be a traditional revitalization.
When I used to think about church revitalization, I would think of old, established churches in Southern towns. This one was in the "pioneer" state of Utah and less than 25 years old. I thought there would be pictures of long-dead pastors lining the foyer, but this one didn't have a single one commemorated.
Surely, at least two items in each room would have a memorial plaque attached to them, but this one didn't have two in the whole building. And, I guessed that every Sunday there would be the same crowd of seven elderly saints drinking weak, burnt coffee and eating stale donuts after the service, but worship attendance here was running just under one hundred, and there weren't any donuts. I was right about the coffee, though.
But there were more significant problems than that. The church had been over two hundred in worship just a few years before. Their last pastor had left after about a year. The factions exposed in that departure were still sniping at one another. Guests would visit the church once and never return. Pastors who lived three hours away had heard about the trouble at the church.
Compounding the internal problems was the external reality of being located in a county that was less than 3% evangelical and over 70% Mormon. If you didn't know, the Church of Jesus Christ of Latter-Day Saints points to their lack of internal conflict as a testimony to the truth of their doctrine. Red Hills' witness in the community was doing nothing to confront that claim.
So in my mind, I was walking into a church that didn't fit my understanding of what a revitalization looked like, but it still needed revitalization. It had some major internal problems and was located in a gospel-frontier region with significant external pressure. It was floundering and had few external resources.
What God Is Doing
Praise the Lord, things have changed. Some of what I thought I knew, I didn't. Some of what I planned to do, we didn't. And some things have happened that I wouldn't have dreamed about in a thousand years. The church is different and revitalization is taking place. God is at work.
And folks are noticing the change:
"I look forward to coming to church! It's like a breath of fresh air."
"It's different now. We don't fight about what we should do. We see the obvious thing to do, and we do it."
"I'm excited about what God is doing."
It's exciting to be at the forefront of a work of God and see his people are on board. Every vote we've taken at major decision points has been nearly unanimous. We've sent missionaries out; we're welcoming guests in.
Worship attendance is increasing, small group participation is on the rise, and our giving is on track to meet budget for the first time in a long time. We're turning our attention from what we want inside the walls to what the community around us needs.
The best explanation is that God is at work. We are grateful.
What We Did
God uses people to accomplish his purposes. That's certainly true at Red Hills. What God is doing here has come as a result of a group of faithful saints being willing to make changes for the sake of the kingdom. Here are some basic changes we've made:
We reset our foundation

One of the most significant problems we had as a church was that we didn't agree on what the church should be. The disagreements about secondary issues that consumed much of the energy of the church were flowing from vastly different assumptions about the purpose and nature of a church.

We decided to quit making decisions from what were essentially personal preferences and return to basing everything we did on the Word of God. I knew that this wouldn't eliminate disagreement, but it did give us common ground for determining what God wanted the church to look like: a group of disciples committed to obeying Jesus together. Building from that biblical foundation, we've been able to find unity on subsequent decisions.
We refocused our attention

We had a vision problem. We only focused on ourselves. I am vision-statement-mania averse, but we needed something other than "how we've always done it" to focus on.

I proposed that we focus on the fundamental commands of Christ: "Love God, Love Others, and Make Disciples." The church agreed. Rather than everyone assuming that the church was about what they were about, we now have a shared understanding of what we are doing.

We also defined how we would do it. For each of the commands that make up our vision, we identified three characteristics of the New Testament church to focus on:

- Love God: Worship, Prayer, and Bible Study.
- Love Others: Fellowship, Service, and Giving.
- Make Disciples: Discipleship, Evangelism, and Missions.

These characteristics give shape to the activities of the church and, by connection with our vision, keep us focused on what matters.
We restructured our organization

When I first got here, the organizational structure of the church fed the factional divisions of the church. Various committees and teams had varying degrees of power, and there was a lot of unclear overlap.

A systems analyst with a Ph.D. couldn't have understood our organizational chart. I recognized that we would not be able to move forward as a church with the bulky weight of that structure still in place.

Based on our commitment to the Word of God and our new vision, we set about to streamline things. We're still working through this, but our guiding principle is to move decision-making authority closer to each ministry area through leaders who are serving within their God-given giftedness. We recently appointed three lay pastors to help oversee and guide the church through the process.
Revitalizing, not Revitalized
We're not done yet. In fact, I realize now that this process will be ongoing as long as we exist. I came out expecting to see a church revitalization become a church revitalized. It hasn't worked that way.
But I'm content to be a pastor whom God is continually teaching in a church that he is continually revitalizing. Church revitalization doesn't ever really stop, and it is hard work, but it's good.
All except for the coffee here: that's still bad.
The Exchange is a part of CT's Blog Forum. Support the work of CT. Subscribe and get one year free.
The views of the blogger do not necessarily reflect those of Christianity Today.