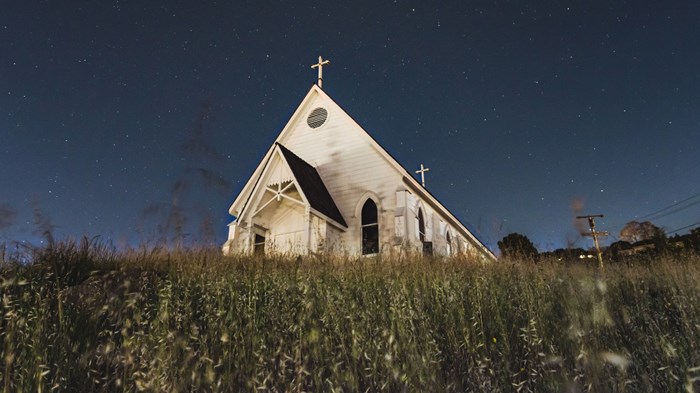 Image: via Creative Commons
Today I am glad to welcome William Sikes, Pastor at Loch Arbor Baptist Church (SBC) located in North East Louisiana.
In 2014, I accepted a call to pastor at my current church after serving two years as interim and five years as youth pastor. I followed the previous pastor, who had served 24 years at the church and had great highs and great lows.
During the previous pastor's tenure, attendance had risen to nearly 200. The budget had topped $200,000, but it was never adjusted correctly for the giving that took place and at the time of the previous pastor's departure.
While the budget stayed the same, we were barely breaking $100,000 in giving. The church was dying, members were leaving, there was no outreach, there were no young people, and there was no consistency in anything positive.
The church was focused on a country club lifestyle while everything crumbled around them. They were still holding onto the programs that had worked in the past, but were now only continuing because that was what they knew to do. Change needed to happen and I knew it was going to be difficult.
Evaluating the church as the pastor was painful as I was ministering at the church for a number of years before being named pastor. I pulled out annual church profiles from the previous 20 years and started making graphs and reports. I had to consider what events led to the current situation in the church.
This was helpful in many ways. I was able to see how well the church had done in the late 1990s and early 2000s. Then, I found events that started the decline.
A big business in the area closed and moved employees to other states. This led people away and the budget took a hit. Although not all the people who worked in this company left because of jobs, those who stayed and found other jobs struggled with reduced income. This hit about 15 families in the church very hard. A few years after that business left town, another huge industry closed its doors. That affected another five families.
These two events took away several families and threw the church's finances into difficulty. It was known that the church could not continue to exist in this manner. Revitalization was needed.
I had to choose people who could help with the revitalization. I chose not to select anybody who was related to me in the church. I couldn't risk the important work of revitalization because someone might question that things were being decided because I was using my family for support. I thought it would be wise to not elect deacons to this revitalization committee since revitalization was not high on their list of priorities.
Instead, I chose the people I considered potential leaders in the church. I contacted a group of six to seven members to bring into the group. They were a mixture of male and female, from various age groups, backgrounds, and careers.
This committee started by doing its own evaluation of the church. We invited someone from outside the church to do an assessment of the facilities and the services as well. This was very informative and significant for our process. The facilities were in need of minor repairs and signage. This consultant also found some needed changes for the worship service. We met to discuss his findings and he spoke with us about a plan to get the changes done. He also assessed our budget and ministries in the community.
We brought the needed changes before the congregation and it was agreed that some repairs were needed. We appointed a diverse committee of members to help get this done. We are still in this process of completing this renovation.
Looking Outward
One of the most important revitalization changes we faced was to move from a 'country club' church to a 'mission-based' church. The church was self-focused.
But the Lord was leading us to be something greater in the community for the mission of Christ. In order for us to do this, we were going to need to get the church thinking outside of the church and to stop caring about the "me, myself, I, and us" language.
What about "them"?
I spent two years preaching on the way Jesus and Paul reached people. We added more community outreach events to the budget. We put on fall festivals at the local recreation center, provided after-game snacks for baseball teams during the season, provided meals for teachers during the year, invited single mothers from the children's home for a Mother's Day meal and event, and more.
We have started to see results from this ministry to our community.
God is starting to use the changes that we have made at the church to reach people and draw them to him. We are reaching more people who are un-churched in our growing community. Our church is no longer unknown as a group of people who only talk about what God is doing at our church. Other churches are coming together with us in coordinating events as well. The whole church is growing and working together like it always should have.
The Exchange is a part of CT's Blog Forum. Support the work of CT. Subscribe and get one year free.
The views of the blogger do not necessarily reflect those of Christianity Today.