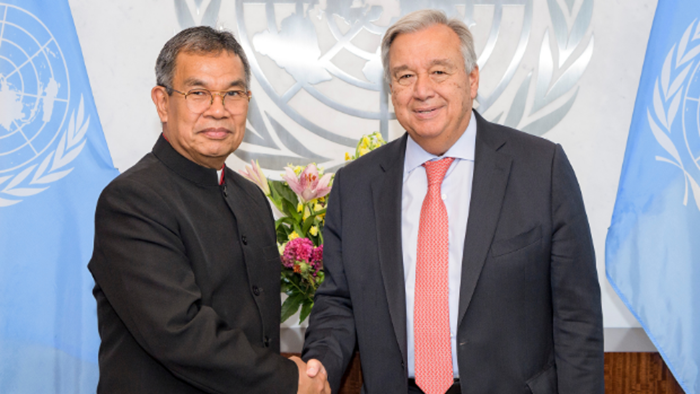 Image: Brian C. Stiller
The year 2020 was one of the bloodiest years yet for Christian believers. Every single day eight Christians are killed, 23 Christians are raped or sexually harassed, and 10 Christians are unjustly arrested or imprisoned because of their faith. During 2020, there were more than 9,000 attacks on Christian churches in 51 countries as reported by Open Doors. Intersociety (a non-profit organization in Nigeria) reported that in the last 12 months, 2,200 Christians have been killed in Nigeria, a country where half of the citizens are Christians.
And Christians are not the only victims of persecution. In western China, hundreds of thousands of Muslims are being held in gulag camps, and we have no idea how many have died.
Although religious persecution is part of the human condition and has been growing in numbers each year, in the midst of all this there are signs of hope. With little fanfare, a small group of people have been incrementally building up their presence at the United Nations offices in Geneva, the primary place in the world where human rights issues are faced head-on. Despite having a small staff and limited resources, this ministry is moving out from obscurity onto a more global platform. Where countries are violating religious liberties, this group carefully builds credibility by getting their facts straight and through persuasive argument.
And who is this group? It's the Global Advocacy Center of the World Evangelical Alliance (WEA).
Gaining entry into the halls of international influence doesn't come easily and is not a task for the faint of heart. And actually, confronting or challenging offending countries is a monumental opportunity that requires thorough preparation and determination.
In 1997, the WEA was granted special consultative status by the United Nations (UN). This is very important because it establishes official standing, and opens doors to the UN hierarchy, allowing representatives of evangelicals to function at a higher level. This is one of the more remarkable breakthroughs and opportunities that I've observed in international ministry.
In a visit to Geneva, I dropped in at the Global Advocacy Center. Our staff there includes Wissam Al-Saliby, a young Lebanese lawyer, Michael Mutzner, who also works for Switzerland's Evangelical Alliance and Albert Vengelaar, a volunteer from the Netherlands. We discussed the issues they were facing and then headed to the UN Human Rights headquarters, into its echoing hallways and the assembly hall. The Assembly was in session and so our staff invited me to read to the assembly a call for leaders to firmly speak up against hate speech and advocate for inclusive societies. (You can see me on video with WEA here).
When we hear of churches being shut down in Algeria, of Christians in India violated by the religious majority, or Christians in Nigeria killed on their farms, we are overwhelmed. We want to do something, but we typically conclude that such events are too far removed from the world we influence. Even so, together we can do something constructive.
We know that one powerful component of the gospel is fellowship, bonding believers in Christ. The same dynamic that we experience in the local church is also true worldwide. God's eternal tug of fellowship pulls us together, refusing to let obstacles break us apart. As you read about Christians living in persecution, know that they rely on fellowship with us, even though they are distanced by culture, language and many miles.
At the UN's Geneva office, evangelicals have a seat, a fulcrum. It's not a source of power but of influence. It is exerted not by forcing but by persuading. Not through hyperbole, but through documented facts and accurate legal analysis. It is presence—being on site with struggling Christians, knowing first names of children and their needs. Christians from many different worlds are collaborating to ease the burden of religious liberty violations and persecution.
"The United Nations? Really?" you might ask. I feel your lingering doubt. Some wonder as to its effectiveness, and some lament the times and places when it has failed to secure the peace. But there is no other place where officials from all countries of the world come together. Where else could evangelicals have a chance to pose hard questions to virtually every country on the planet? How can we walk away from an opportunity to speak at the UN on behalf of our persecuted brothers and sisters? Where else can we be salt and light in this way, if not at the influential table of nations, even though that table is inevitably shaped by a broken world and fallen humanity?
I met with a senior UN staff member from Ecuador. He pleaded with me to increase our influence! I know this isn't something we can do overnight. It is not a 6-month project. It takes good and smart people and a lot of time. But since the Evangelical movement has exploded from 90 million to 650 million people in the last 60 years, the UN wants to know who we are and what we think as we speak for those who cannot speak for themselves.
There are remarkable agencies helping Christians and others who are persecuted and marginalized. They call on us to pray. Some provide economic assistance to the violated. This is so important too.
Our work in Geneva, however, is different, not unlike the role played by Nehemiah when he went to the king for help in rebuilding Jerusalem. This Global Advocacy Center looks into the eyes of governments and makes its pleas on behalf of Christians who are trampled in the dust of oppression. It is a truly prophetic voice for all people who are vulnerable and excluded—including people of all faiths, because our mission is to defend all human beings as bearers of the imago Dei. Our heart goes out to anyone who is diminished and deprived of their right to believe as they choose.
Here's a real-life example of what the Global Advocacy Center does. Last June, our advocacy officers met with an ambassador from a majority-Muslim country and asked for the release of three Christians from prison. While we knew their names, and named them to the country's ambassador, to protect them, we didn't go public, announcing our attempts to get them freed from prison. We knew in this case that public advocacy might very well result in the opposite of what we were asking for. We joined with others and within in few months, the brothers were sentenced and then released.
Evangelicals are new at this. Historically, we've been concerned with other issues. However, the Global Advocacy Center is now an essential hub in the global network of religious freedom advocacy groups. Filling the void of influence in Geneva, the WEA guides and activates the global network of those engaged in advocating for religious freedom, which include institutions, individuals, government representatives, and faith groups. The Global Advocacy Center is connected to national evangelical alliances, researching and documenting violations of human rights and feeding this information to our broader network of contacts.
Yes, you and I can make a difference. I'm too old to work in Geneva, but with my pen and support, I can come alongside those under threat of persecution, and I can actually be with them in fellowship. Our staff in Geneva are the link. Nehemiah would like what they're doing.
The Exchange is a part of CT's Blog Forum. Support the work of CT. Subscribe and get one year free.
The views of the blogger do not necessarily reflect those of Christianity Today.