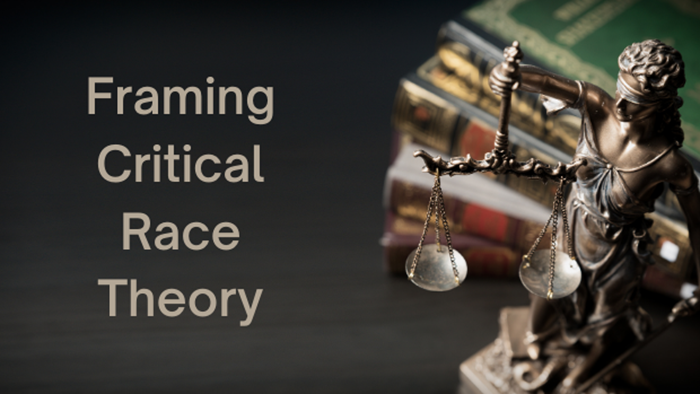 Image: Canva
In part-one I shared a brief history and the basic heart of Critical Race Theory (CRT). In parts two and three I will provide a biblical analysis of claims CRT makes in its themes. In part-four I will highlight some blessings and burdens the Evangelical interaction with CRT offers. I pray these articles provide clarity, challenge, and a greater conviction for us as the Body of Christ to move forward in living on Jesus' mission through gospel proclamation and demonstration.
Counterstories of the Marginalized are Needed
Claim: Those who have experienced discrimination should be listened to, learned from, and centered.
Biblical Response: Counterstories are the communicated life experiences of the marginalized. The New Testament is full of counterstorytelling. All of the recorded healings during Christ's incarnational ministry are counterstories (e.g., Matt 8:1-4; 9:1-8; 32-34; 12:9-14; 26:51-56; Mark 1:21-34; 40-45; 6:53-56; 8:1-10; 10:46-2; Luke 13:10-17; 17:11-19; John 4:1-45) since they involve marginalized people seeking help. Jesus' ministry towards them was documented by eyewitnesses.
Christians have an opportunity to expand listening, learning, and interaction with those marginalized while also including those with positions of power and privilege (James 1:19). Jesus' incarnational ministry is the pattern Christians must follow. He met the needs of the marginalized, those with power and privilege, and oppressors of His own people (Luke 7:1-10; John 4:46-54). Jesus also healed, accepted dinner invitations, and answered the questions of those with privileged positions in Jewish society (Luke 8:40-55; 19:1-10; John 3:1-8). He embodied perfect balance by preaching and practicing the ethics of God's Kingdom towards men and women of all ages, various careers, ethnicities, social classes, and political/theological affiliations. He listened to them, met their needs to demonstrate He was Messiah and God in the Flesh according to the Scriptures (Luke 24:44). Acts offers evidence how Christians followed Jesus' pattern of ministry by meeting physical and spiritual needs of those who were marginalized (3:1-10; 5:12-16; 6:1-7; 16:16-24) and those centered in both Jewish and Roman societies (4:1-22; 8:9-40; 10:30-43; 16:11-40; 17:22-34; 22:30-26:32).
All Christians should be given space (by leaders and lay members) to voice concerns, hurts, and trauma, while having confidence they'll be heard, seen, and loved by God and His people. This creates opportunity to apply comfort to the afflicted (2 Cor 1:3-7) while protecting wounded hearts from further damage caused by initial responses that are dismissive, filled cynical clichés, and obsessive fact-checking. Yet, Christians must not be naïve assuming one's ethnicity safeguards them from lying. Human hearts are deceitful (Jer 17:9) and remember Paul rebuked Christians for bearing false witness, gossip, and slander (Eph 4:25-32). Christians must yield our dependence on God the Holy Spirit who provides discernment to those He indwells to hear, listen, and respond in step with kingdom ethics when sinful speech is shared (Matt 18:15-20; Gal 6:1-2). At the same time, spaces for processing hurt and trauma, at bare minimum, must be created amongst God's people in their local church as a means of embodying the "one another's" found throughout the New Testament.
Being 'Colorblind' is Not Being Truthful
Claim: Both the law and people are not colorblind.
Biblical Response: The Bible never says God is colorblind. Inside the human race exist multitudes of ethnicities God created out of His genius for His glory. Ethnic diversity is God's idea. He has the patent on it and licensed His Church to the marketing strategy for it. The City of God is populated by a diversity of ethnicities who're present with our God (Acts 1:8; Eph 2:11-22; Rev 7:9; 21:24-26). Since the local church is a preview of heaven Jesus commands His followers to make disciples of every ethnicity (Matt 28:19-20).
Often Galatians 3:28 is used to platform colorblindness among Christians. Paul identifies three visible realties about humans God saves, their ethnicity, gender, and social class. His reason is to show off God's ability and desire to save humans no matter their bloodline, sex, or financial wherewithal. Notice how Paul does not say Christians become asexual or gender neutral at conversion, nor does he advocate negligent financial stewardship, willful unemployment, or a dissolving of class for Christians after conversion. If gender and social class don't disappear at conversion, why would Christians wrongly imply ethnicity does? Due to my Mexican/Native Indigenous ethnic heritage Ethnocentric cults have called me; "Black Man, God, ALLAH"[1], A Sephardic Hebrew from the Tribe of Issachar [2], and a Moor whose God is Allah [3] yet, only among Christians have I experienced being told my ethnicity is not seen, not part of my identity in Christ, and something to be seen as worldly.
An honest interpretation of Galatians 3:28 recognizes affirming ethnicity is a safeguard to prevent ignoring or idolizing it. Affirming ethnicity is not usurping one's identity in Christ instead, it's the truthful acknowledging of a God-given attribute some in the church have opted to ignore to apply colorblindness. Since ethnicity is present in the eternal state (Rev 21:24-26) and since Scripture does not reduce ethnicity to skin color, the long-standing man-made "Black/White" binary wall of division in America can come crumbling down, starting in the church!
The ethnic diversity in the American church is both an evidence of the gospel's power and a measurement of Christian obedience to the Great Commission. Moving forward, authentic and ongoing dialogues between all ethnicities present in local churches will platform how colorblindness has been forsaken.
Racial Progress is made when "White" People Benefit
Claim: The interests of the marginalized will only be realized when "White" people benefit.
Biblical Response: God sovereignly controls all things from the total of human history to individual experiences in life (Matt 10:29-30; Rom 8:28; Eph 1:11). Nothing done in private, or public goes unseen by God and all good things that are experienced in this life are seen as gifts from God (James 1:17). These truths supply hearts of Christians with rest. Yet, Christians have freedom to pursue justice when a crime or acts of injustice are experienced. The Apostle Paul, who rested in God's sovereignty also appealed to his rights when he was personally wronged (Acts 16:37-38; 22:25-28). This is the same Paul who reminded Roman citizens living in Philippi they had a greater citizenship in heaven and were to remain trusting in Christ who is sovereign (Phil 3:20-21).
Since we live in a fallen world alongside non-Christians, we should not be surprised when sinful people accept bribes, deny justice, cut corners, or look out for their own interests. If and when this happens, Christians must first pray to God for our leaders to repent (1 Tim 2:1-6) while naming the specific ungodly actions they've practiced and embrace the peace God gives us while we're anxious (Phil 4:4-6). Then if God provides a platform to prophetically call out the leader's sin, it should be followed by an appeal extended with gentleness for God to change their heart and actions (2 Tim 2:24-26). In addition, Christians must ensure our actions in private, and public are not in-step with the abusive leaders we're calling to repent (Rom 12:9-10; 14-21). Lastly, Christians are free to not obey leaders' requests or commands to sin against God's word (cf. Dan 4:17-32; Acts 5:29).
Now, regarding interpersonal relationships among God's people, its painful when Christians of any ethnicity do not apply Philippians 2:1-11 by looking out for their self-interests. Since Christians are not all-knowing, we don't have the ability to fully know another person's intentions and motives however, these can made known by behavior patterns (Matt 6:1; Rom 8:8 Eph 4:14; James 1:22) and words (Matt 5:22; Eph 4:23-32; James 3:1-12; 1 Pet 3:10). When Christians confront each other regarding habitual self-interest practiced inside the church, Scripture must be used when naming the sin because God's word exposes what's hidden in our hearts (Heb 4:12-13). In Scripture there are two specific instances regarding interpersonal relationships in the Church where leaders did not look out for their self-interests, confronted wrongdoing and the result was equity for the marginalized.
In Acts 6 the Apostles were brought a charge of partiality between Hebrews and Hellenists involving widows inside the beloved community (cf. Exod 22:21-27; Deut 10:17-18). Hebrews and Hellenists had segregated themselves from each other both socially and spiritually [4] but post-Pentecost they entered into the Church together to form the beloved community. During this time in church history, there was no established system of support for Jewish women who were widows and did not adhere to Judaism [5] so, their support was the generosity of Christians.
Acts 6:5-6 details the Apostles empowering the people to choose qualified leaders among them. When the congregation presented their list, the elders appointed seven Hellenist men to help distribute the rations fairly among the Hebrew and Hellenist widows. Included in this group were Stephen and Philip who would go on to expand the global Church (cf. Acts 6:8-8:4; 8:5-40). The elder's approval of the names on the list was not tokenism rather, a legitimate installment of capable leaders who wouldn't be micromanaged by the elders. When the church removed partiality, it resulted in the establishing of a reputation that reflected God's love, compassion, and concern for the needy. Acts 6:7 records , "And the word of God continued to increase, and the number of the disciples multiplied greatly in Jerusalem, and a great many of the priests became obedient to the faith."
In Galatians 2:11-21 Paul opposed Peter to his face regarding his ethnically motivated actions of partiality and Peter, the Apostle stood condemned. Peter's actions not only contradicted the actions of Jesus, who openly and publicly engaged in a meaningful conversation with the Samaritan woman at the well (John 4) and chose to eat with sinners (Luke 15:2). Peter's actions were also out of step with the very gospel he preached. Galatians 2:14 recognizes Paul's confrontation was public because Peter's actions were public. Paul demonstrated what Christian leaders should model when behavior patterns from other leaders are toxic due to practicing of partiality. Constable says,"Peter and Paul both acknowledged the equality of Jews and Gentiles in the church (cf. Acts 11:17). However, it evidently took Peter longer to see the practical implications of this truth, and to apply them to his own conduct."[6]
Mclelland adds, "clearly Peter gave in to the ethnic bias of the arriving Jewish contingent. It is doubtful that he actually changed his theological view as to the status of Gentiles before God. Obviously, he had not fully thought through how his theology had to adjust his relations with all persons, in spite of the continued bias of some. Peter, it seems, was not alone in this problem of integrating faith with living, since even Barnabas followed his example, as well as other Jews present."[7]
Make no mistake, there have been, and still are instances in Church leadership where genuine believers, may sense they are grounded theologically yet, apply ungodly practices that contradict not only what they profess to believe, but more pressing, the very commands of God's word. In such instances, confession, repentance, and the fruits of repentance must become the focus, as was with Peter, who remind you, was an Apostle.
These two examples provide sound preventative measures of CRT's claim from being implemented in local churches. Compassion, equity, and repentance can be embodied by God's beloved community and when these attributes are seen, it provides a strong kingdom witness to the watching world.
[1] The Nation of Gods and Earths identifies those of Latino as "brown" which is one of the 16 shades of Black that every Original Man, Woman, and Child embody to bear witness as being God Allah in the flesh. Universal Shaamgaud Allah, "The Universal Flag", https://ngeinla.weebly.com/the-universal-flag-by-universal-shaamgaud-allah.html
[2] "The Truth About Mexicans", https://israelunite.org/wp-content/uploads/2016/04/THE_TRUTH_ABOUT_MEXICANS-ENGLISH.pdf
[3] Drew Ali, The Circle Seven Koran, Chapter 45:7; 47:7.
[4] Emil Schürer, "Alexandrians in Jerusalem," Jewish Encyclopedia, n.p. http://www.jewishencyclopedia.com/articles/1176-alexandrians-in-jerusalem
[5] John B. Polhill, Acts. (The New American Commentary. Nashville: Broadman & Holman Publishers, 1992), Volume 26, 179.
[6] Thomas Constable, "Dr. Constable's Notes on Galatians", 2020 edt., https://planobiblechapel.org/tcon/notes/pdf/galatians.pdf, 41.
[7] S.E., McClelland, Galatians, In Evangelical Commentary on the Bible, Vol. 3, (Grand Rapids, MI: Baker Book House, 1995), 1008-1009.
The Exchange is a part of CT's Blog Forum. Support the work of CT. Subscribe and get one year free.
The views of the blogger do not necessarily reflect those of Christianity Today.