In a business world that prioritizes productivity, speed, and profits, Christians may feel like Monday through Friday belongs to the world while Sunday belongs to God. But Scripture beckons Christians toward a more holistic lifestyle. "Whatever you do," Paul says in 1 Corinthians, "do it all to the glory of God."
We spoke to five Christian CEOs—including a co-CEO of the nationally renowned Camp Gladiator, Jeff Davidson—who want to do more than simply run another successful company. These leaders want their faith in Christ to be fully integrated into their business practices, influencing everything from production to employee relations, from hiring practices to strategic planning.
Jeff Davidson, Camp Gladiator
Overhauling benefits to create a company culture of abundance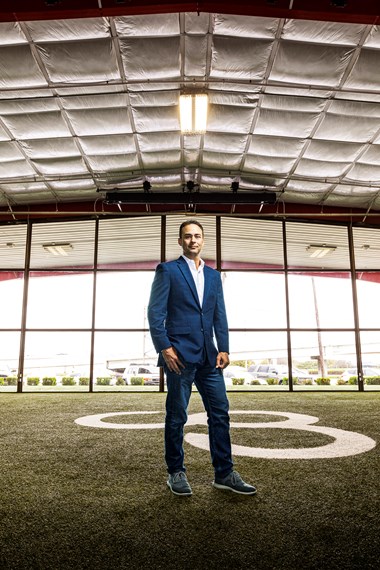 Image: Photo by Jeff Wilson
Jeff Davidson's wedding day wasn't just the beginning of his marriage union, it was the first step toward a professional partnership as well. While food was prepared and flowers were delivered, hours before their wedding, Ally snuck away to try out for American Gladiator and made it back just in time to walk down the aisle.
A few months later, Ally won the American Gladiator Grand Championship. With the winnings, Jeff and Ally started Camp Gladiator with a stack of cones and 40 people in a parking lot. Now, Camp Gladiator is one of the nation's fastest-growing fitness company with over 1,000 trainers who have impacted over 300,000 lives.
It would have been easy for the Davidsons to coast, riding the wave of success. But instead they want to live generously in every way. "God has created a world where there's enough to go around," Jeff says. "He clothes the flowers and feeds the birds, and he's going to take care of us. So, we have an abundance mentality because we have faith in God." As he works to pass on this abundance mentality, addressing the needs of members and employees, Jeff is also keenly aware of businesses that eat away at the Camp Gladiator client base: "Our main competition is Netflix."
While he studies the ways other fitness companies operate, Jeff believes he will lose the most members to couches and chips as people settle in for an evening of entertainment, holding on to the hope that they will exercise tomorrow. Recognizing this reality, Camp Gladiator designed their packages to be as accessible as possible. Their classes meet in low-pressure, community-based environments like parks, schools, and church parking lots. And Camp Gladiator keeps their rates flat, contracts clear, and class schedules updated online.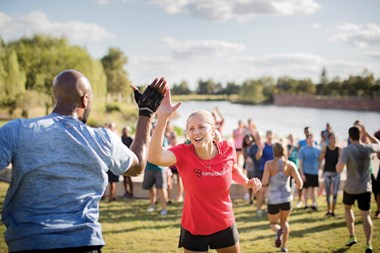 Image: Photo Courtesy of Camp Gladiator
"Some boutique fitness companies are open to the first 20 people, or they're for the people who are wealthy, or for the pretty people, or for the fit people" Jeff says. "But Camp Gladiator has always been for all fitness levels, for all people, for all backgrounds. We offer unlimited classes, unlimited workouts, and unlimited access to certified trainers, all for one low price. We believe there's enough to go around, and we want people everywhere to be able to experience a life-changing fitness community and a location convenient to them. We want to be everywhere there are people." The Davidsons didn't want their staff to espouse the abundance mentality only to clients; they wanted them to experience it for themselves. Camp Gladiator employees enjoy unlimited time off, a relaxed, "fitness professional" dress code, and a free Camp Gladiator Membership. Since the company's inception, many of their benefits have drastically changed as well. They've improved their maternity leave, instituted an adoption and foster care benefit, started a book club, and created a Spirit Squad that focuses on cultivating a positive company culture. A set of community guidelines provides instructions and processes that keep people safe, promote respect, and encourage the communication of problems and escalation of concerns when necessary.
Jeff and Ally also created CG Gives, a granting organization that supports nonprofits in the communities where Camp Gladiator hosts group workouts. And then there's CG Victory, a summertime youth adventure camp with half-day and overnight programs that shares the gospel through sports with children of all athletic levels. To date they have seen more than 1,500 people respond to the gospel through CG Victory and CG Gives.
From benefits and charitable giving to group workout classes that cultivate community, the Davidsons guide people away from scarcity-minded elitism and toward abundance and generosity. Their ultimate goal for CG is to honor God and serve others.
Peter Demos, Demos' Restaurants
Actively listening to serve employees and customers alike
Peter Demos grew up in the family restaurant but began his career as a lawyer. Yet, his heart quickly called him back to the hospitality industry and restaurants rich with memories and possibilities. After successfully running a restaurant for 12 years, he gave his life to Christ in his forties. This was the first act of listening to God that would allow Demos to become who he is now—not only a successful restaurateur of four Demos' Restaurant and two PDK Southern Kitchen locations but also an author, speaker, and the man at the helm of a dozen entities.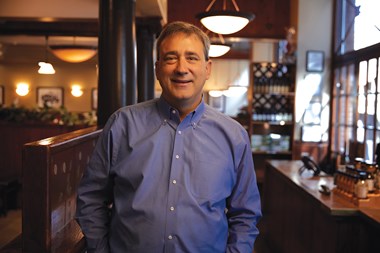 Image: Photo by Austin Lord
Demos's understanding of his mission and purpose was further clarified when a trusted mentor told him that he isn't actually the managing director of the company—God is. Ever since then, Demos has viewed himself as a steward. He reads Scripture every day and fills a board at his office with prayer requests he believes God has asked him and his fellow Christian employees to pray for. And he listens to the needs that arise among his 500+ employees so that he can ask God for ways to help meet their needs.
Take transportation, for example. As gentrification has increased in the Nashville neighborhood surrounding Demos' Restaurant, some employees had been forced to sell their cars in order to afford housing. Demos realized these employees were walking three to four miles home after long hours on their feet during their shifts at the restaurant. So he created a bike ministry to give away 20 bikes. Each bike was prayed over and given in the name of Jesus.
This careful listening and intentional response coupled with clarifying his motive is imperative to Demos. "I talk about the parable of the talents," Demos says. "We can sit there and talk about all the nice, good stuff we do [like giving away bikes], but if we don't share the gospel? Jesus calls that wicked. So we make sure that in our business, we try to [share the gospel] through boldness."
Demos also listens to his employees through his company's monthly review process in which employees can provide feedback and submit prayer requests. "Everything that's written down, whether it's a joke or a criticism, comes across my desk," he says. "I carefully review and respond to the needs expressed by my employees."
Listening and learning from one another finds its fullest expression in the way Demos positions his restaurants as a place where customers' needs are served with excellence.
"We aren't being judged compared to everybody else," he says. "We're being judged [by our customers] based off the last time [they] came in and ate with us. Every day needs to be an improvement."
Demos communicates this point however and whenever he can: Other restaurants are not his competition. He is his own competition. And God is his managing director.
"I don't care what the restaurant down the street is doing," Demos continues. "If God wants my business to fail, I can't do anything to stop him. If he's done with our restaurant, I can't thwart his plan. However, if he wants it to succeed, he doesn't have to use me for that. I have to work really hard to be in alignment with what he wants or he's going to find somebody else to come in and take over the business."
It's with this clear-eyed, determined focus that Demos works. He's still listening—to his customers' feedback about the menus or his decision to give away Bibles at his restaurants (if they're upset, Demos says that's just a chance to share the gospel), to his employees wearing out their shoes trudging to work, to that heart whisper that brought him back to the restaurant industry, and, above all, to his Managing Director.
Simon Lee, Buy On Purpose
Focusing on front-end processes to facilitate future success
Simon Lee always thought he'd grow up to run his father's company. He even worked for his father for seven years. But then, he had a dream.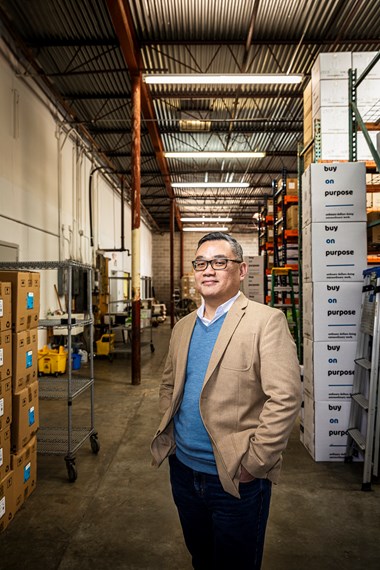 Image: Photo by Jeff Wilson
Not a grand aspiration, but a literal dream. Lee had this dream every night for 30 days straight, and he thought he was going crazy. In the dream, a neon sign flashed the number 50. Over the course of three months, Lee prayed, fasted, and sought counsel about what this dream could possibly mean for his life. Eventually, he knew. God was calling him to start a company and to give away 50 percent of the profit. Lee's father was hesitant for Lee to strike out on his own. Rather than leaving against his parents' wishes, Lee asked them to pray for unity. Three months later, in December 2003, his father walked in with a check for $50,000 for Lee to start his own company.
This unusual start to a company and uncommon practice of giving away such a high margin of profits was just the beginning of the unique dynamics of Lee's company, Buy On Purpose. When Lee and his employees talk to prospective clients, they don't start by talking about the office supplies they provide or the free same-day delivery they offer. Rather, Lee says, "when we call our potential customer, we open up with a statement similar to, 'Hey, we're a Houston company, and we're passionate about giving back our profits to local charities. We want to have a meeting with you to talk about it. We happen to sell office supplies, and maybe that's something you need.'"
Lee says this approach is what separates Buy On Purpose from its competitors. "If we try to compete with price and what we sell, we'd be telling the same story as everyone else," he says.
Buy On Purpose tells a different story in its interview process as well. Rather than informing candidates of the three or six steps to come, Lee lays out a ten-step process.
Lee learned a few of those steps from his C12 group (a peer advisory group for Christian CEOs and business owners), including a new way of talking to references for potential employees. Rather than speaking only to the standard three references who have likely been warned that a call is coming, Lee calls those references and asks them to provide three more people who can serve as secondary references.
"That one extra step has helped us tremendously in making better hiring decisions," Lee says. "It's saved us tons of money."
Lee also focuses on front-end processes when it comes to customer satisfaction. Rather than waiting for complaints to arise, Buy On Purpose issues two Net Promoter Score (NPS) surveys per year. These surveys begin with a single question: "Would you refer our company to a friend of yours or another company?" Customers answer with a number between one and ten. Depending on how the respondents answer, they're asked a few more questions, including inquiries into how Buy On Purpose can improve.
"The industry average NPS is 42," Lee says. "Our score for Buy On Purpose is 88."
Buy On Purpose doesn't have an answering machine—you'll always get a person when you call. They say "my pleasure" instead of "no problem" or "you're welcome." Their delivery drivers smile and interact with the customers they're serving. Maybe it's things like these that lead to that astronomical NPS rating. Maybe it's the radical profit donations. Or maybe it's some combination of it all—of trusting a dream, patiently awaiting a parents' blessing, and faithful diligence on the front end, over and over again.
Sam Thevanayagam, Parts Life, Inc
Reframing obsolescence to make all things new
Sam Thevanayagam is as warm as he is professional, as Spirit-filled as he is strategic. As the CEO of Parts Life, Inc., he leads his company in providing supply chain and obsolescence solutions by sourcing replacement parts and acting as a strategic partner to numerous military branches and primarily aerospace, automotive, and construction equipment companies. Thevanayagam started his career in the automotive industry. But after 12 years, he lost his job. Due to a strict non-compete clause, Thevanayagam realized he would have to reinvent himself as a professional. He consulted for a while, and then in 2007, right at the beginning of the recession, he founded Parts Life. Money was tight. Thevanayagam struggled with worry as he tried to keep a roof over his family's head and his five children, three of whom were regularly risking injuries as they played football, covered by health insurance.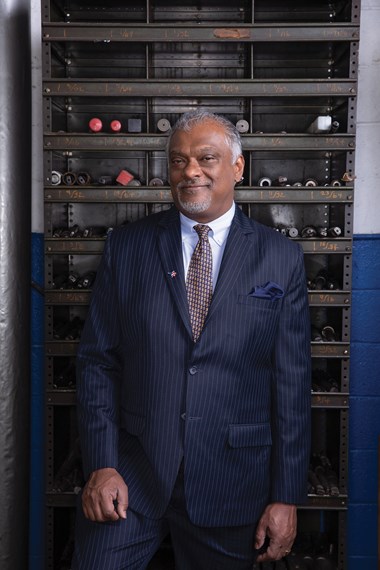 Image: Photo by Colin Lenton
"It was a difficult time," Thevanayagam says, "but the Lord actually used the things I learned while I was consulting to create sustenance for my family. In 2010, I got my first million-dollar purchase order from a customer. That really set up the company. Today, I've acquired two other companies and have about 110 employees."
Thevanayagam doesn't see the 2010 order as the moment when his luck changed. Rather, he sees it as one example of God's ongoing faithfulness to him, a type of faithfulness that does not waiver in plenty or in want.
As Thevanayagam steers his company through recessions, spending cuts, and a volatile political climate, he keeps focused on what he believes God has called him to: re-creating.
"I have a unique ability and a unique process— it's actually trademarked—that not only re-creates a technical data package but then re-creates a part. That [addresses] a huge issue for readiness in this country," Thevanayagam says.
"I spoke to the Department of Defense in the Kingdom of Saudi Arabia recently, and the Lord told me to talk about a 'strategic gap.' So, I said that there's a strategic gap between bringing on new assets to the forces and the ability of existing assets to be sustained until the new assets come on board." Thevanayagam refers to this method as "obsolescence solved," which he calls his catchphrase. "If you think about it," he says, "what we're doing is creating a technical data package then re-creating that part. And then if you think about God, that's what he's doing to us from a heart perspective.'"
This parallelism between his and God's roles brings great significance to Thevanayagam's work. He's not only re-creating parts; he's helping to re-create lives. Recently, for example, a Parts Life employee was able to end his incarceration early because Thevanayagam offered him a job. And Thevanayagam didn't stop there; the Parts Life community is helping this employee not only reintegrate into the workplace but assimilate back into his role as a husband and father. The company is there for him—with support, accountability, and confidence that re-creation is real, that it can happen for a part needed by the US Army and in the hearts of people, too.
Whether he's deciding new HR policies or negotiating government contracts, there's one Bible story that moves Thevanayagam and influences how he runs his business. He says, "Part of my call to leadership and to the people I am around is, 'Who are the Zacchaeuses in my life who are looking for transformation, and what are you willing to do with that?'"
"Jesus was right there ready to receive the willing Zacchaeus and transform his life. We don't know if Zacchaeus lived happily ever after," says Thevanayagam. "But what we do know is that Jesus took the time to give him an opportunity to be trans- formational." So that's what Thevanayagam will be doing, too, whether with his own career trajectory, or an outdated part that a client needs to be re-created, or with an employee who has failed a drug test. He'll be there, waiting, working, and participating in making all things new.
Joan Maxwell, Regulator Marine
Pursuing holistic excellence to increase productivity
Joan Maxwell founded Regulator Marine with her husband, Owen, in 1988. Owen oversees design of their sportfishing boats; everything and everyone else reports to Joan. The first female chairperson of the National Marine Manufacturers Association, Maxwell knows what it feels like to be in uncharted waters. She was the first person in her family to finish college, and she's often the only woman in the room when it comes to her professional life. When it comes to Joan's C12 group, however, she says, "when we enter that room, we aren't male or female. We are God's business leaders learning to run his companies better."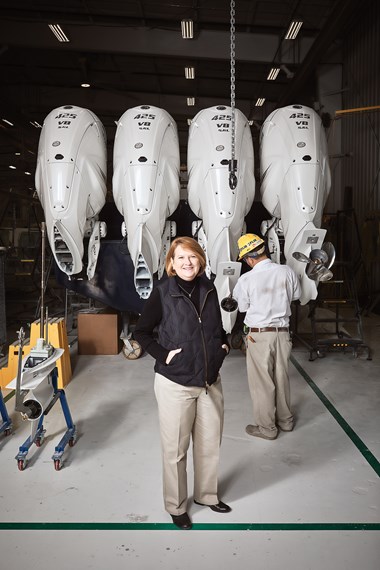 Image: Photo by Alex Boerner
It's in this life-giving, nondiscriminatory context that Maxwell learned how to instill discipline and accountability throughout the company to execute her vision. In November 2019, she says, they began "a new chapter" in the way they run Regulator Marine: "to learn how to honor our commitments, hold productive meetings, and measure success," Joan says. "We're off on a new journey to grow God's company in a way that brings glory to him and honors both the team he has given us and the wonderful customers who buy the boats we build." For Joan, faith fuels a commitment to strategic execution and results.
Maxwell certainly notices the unique ways her gender intersects with her position. She said in a 2016 interview with Boating Industry that navigating her career has been difficult at times, "especially being not only a woman but also [the] wife of the person people perceive as 'the owner.'" At this point, though, she's simply not focused on the nuances of being a female CEO. "I had to learn to toughen up my skin and just do my job," she told Boating Industry. "Today, I am so pleased to see the number of women in our industry—especially in the dealer networks."
These luxury offerings are built in Edenton, North Carolina, where Regulator Marine's commitment to quality serves employees and customers alike. "To ensure that our team stays focused on building very high-quality sport fishing boats," Maxwell says, "it is important for them to work in the best environment possible. Regulator's lamination facility has a state-of-the-art air handling unit to make conditions better for our team."
In addition to caring for the Regulator Marine staff physically, Maxwell also wants to see their spiritual and emotional needs met. "We have a team called In His Service," she explains. "This group of dedicated employees, led by our In His Service Coordinator Toni Gibbs, administers the company's employee emergency assistance fund and its corporate giving. It also plans events for the rest of the factory."
The Regulator Marine teams gather every morning to pray for one another, discuss the day's work, and do some stretching. "Each day," Maxwell says, "they review either the mission and vision or one of the core values. We aren't perfect in our execution here, but we continue to stress that Regulator is different." Several years ago, they decided to demonstrate their difference in part by placing Bibles in their boat owners' kits. "I have been humbled by the owners who have come up to me at boat shows or sent emails thanking me for Regulator placing that Bible in the kit," she says.
Whether ensuring quality working conditions, strategizing for next year's fleet, attending an In His Service meeting, or pairing Bibles with boats, Maxwell captains Regulator Marine with grace and strength, come sunshine or storm.
At the beginning of the millennium, Christianity Today founder Billy Graham said, "I believe that one of the next great moves of God is going to be through the believers in the workplace." CEOs are living that out with every replacement part, sportfishing boat, and office supply sold. From plates of spaghetti served around the table to morning fitness classes that leave people sweaty but empowered, services are more than tools to ensure customer loyalty. For these business owners, they're acts of faith to serve a glorious God.