"Faith is taking the first step even when we can't see the staircase," says the Rev. Bernard Keels, dean of University Memorial Chapel at Morgan State University in Baltimore, Maryland. "The staircase is quite evident now," he says with pride. "People are climbing."
I have asked Keels to tell me the story of Morgan State. Like many of the nation's Historically Black Colleges and Universities (HBCUs), Morgan State has deep roots in the Christian faith. Within a year of Abraham Lincoln's signing the Emancipation Proclamation, black leaders in Maryland's Methodist Episcopal Church had already set their sights on both spiritually uplifting and educating their communities. "Pastors began to meet to discuss how the church could be the catalyst for establishing a university," Keels explains.
These visionaries founded the Centenary Bible Institute in 1867 with nine students and a handful of faculty members. Centenary offered the first theological training opportunity for black people in the state. The first class met at the Sharp Street Methodist Church.
Education and worship have always been closely intertwined in the black community, Keels points out. However, they were both illegal for enslaved black people in America. Believers met in secret in remote areas, hush harbors, far from prying eyes. They hosted whispered worship services where they would gather—at great risk—in order to honor God and encourage one another.
These whispered gatherings, Keels explains, served as a "springboard into planning for Historically Black Colleges and Universities. Black folks know that the origins [of HBCUs] began in faith and that faith became the primary reason for learning."
Reginald Broadnax, chair of religious studies at Clinton College, an HBCU in Rock Hill, South Carolina, underscores Keels's point. Clinton, he says, has always been supported by the African Methodist Episcopal Zion (AME) church, and "part of AME's mission was education. One of Mt. Olive AME church's first buildings was purchased because it had a back room that could be used as a school. We've always understood education as part of the mission of our church."
For its first 100 years, Lincoln University in Pennsylvania, too, primarily operated as a seminary, training black ministers. Frederick Faison, associate vice president of student success, health, and wellness and university chaplain at Lincoln, shares the school's history with me.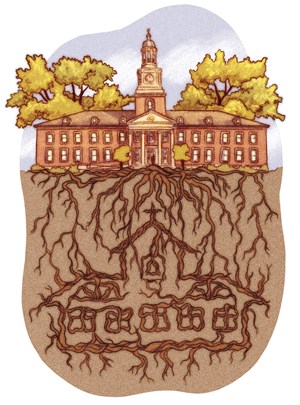 Image: Sarah Jung
Lincoln was founded as the Ashmun Institute in 1854, making it the nation's first degree-granting HBCU. Indeed, as Horace Mann Bond, Lincoln's first African American president, cites in the opening chapter of his book, Education for Freedom, this was "the first institution found anywhere in the world to provide a higher education in the arts and sciences for male youth of African descent."
In her 2014 book On Africa's Lands, Lincoln dean Cheryl Reneé Gooch tells of two free black men, James Ralston Amos and his brother, Thomas Henry Amos, who had been unable to gain admission to a university to study for the ministry, and so, together with Presbyterian minister John Miller Dickey and his wife, Sarah Emlen Cresson, they established their own school. James Amos, a gifted orator, traveled on a speaking tour to raise money for the college, and he personally went into debt to help the school gain its footing. The Amos brothers were among Lincoln's first students and graduates, and in 1859, they and their wives led missions to Liberia, where they dedicated themselves to spreading the word of Christ to Africans.
The Ashmun Institute was renamed Lincoln University in honor of President Lincoln in 1866.
Carrying the Faith Forward
The deep connection between faith and education is found at the heart of many HBCUs, says Marybeth Gasman, the Samuel DeWitt Proctor Endowed Chair in Education at Rutgers University and founder of the University of Pennsylvania's Center for Minority Serving Institutions. "They started in church basements, they started in old schoolhouses, they started in people's homes," she says in an interview with APM Reports. "[Former slaves] were hungry for learning . . . because of course, education had been kept from them."
Because many black schools were founded on the idea of nurturing the soul as well as the intellect, they have fostered a sense of respect and community. Led by Hampton Institute—now Hampton University—in Virginia, HBCUs sought out and welcomed Native American students. During World War II, HBCUs saved the lives of more than 50 German Jewish refugees, offering work visas to Jewish academics and researchers. Institutions born out of a love of God and a desire to foster community in the face of adversity have always kept their eyes on both individual success for their students and the common good.
So it continues today.
During his time serving as Lincoln University's president, Horace Bond established the chaplaincy at the school so that Lincoln's spiritual heritage, which he considered its beating heart, would not be lost.
Building on this legacy, Faison, the current chaplain, created a program to highlight the history of the school as a place of both faith and learning: the Lincoln University Legacy Walk. First-year students travel the Legacy Walk to special sites on campus: the chapel, the Amos home, and the famed Hosanna Church. The Hosanna Church—the only building still standing from the Hinsonville Village, an antebellum free black community—was the site of great moments both sacred and secular. Abolitionists Sojourner Truth and Frederick Douglass preached from the Hosanna Church pulpit. Harriet Tubman included the Hosanna Church as a station on the Underground Railroad. Faith and scholarship, the Legacy Walk teaches, have been closely tied at Lincoln from the institution's earliest days until this very day.
Faison notes that the original, founding Bible verse for Lincoln University was John 8:31–32: "To the Jews who had believed him, Jesus said, 'If you hold to my teaching, you are really my disciples. Then you will know the truth, and the truth will set you free.'"
"And here we are," he says, "still emancipating."
Emancipation in Action
Fisk University in Nashville, Tennessee, established by the American Missionary Association, wedded faith and learning from the beginning. "It was a school that was founded by members of the Christian faith and that was very much part of its identity," says Jason Curry, director of religious life at Fisk. "It was also a school founded for just-freed slaves just a year after the Emancipation Proclamation."
At least one-third of the students at Fisk University are the first members of their immediate families to attend college. "They're here based on faith," says Curry. For them, "it's faith in action to get a college degree."
"And here we are: still emancipating." Frederick Faison
"Since the late 1800s," he writes in a welcome note to students, "the students, faculty, and administrators of Fisk University have been actively involved in establishing and nurturing the religious culture that currently exists in our beloved university community."
Today, Fisk's faculty encourages students not only to recall their biblical histories and ancestral legacies, but to participate in stewarding those histories and creating legacies for the future. The school encourages volunteering in the local community and officially recognizes it through its service learning program. Curry takes students to the Capitol to lobby for social justice initiatives alongside advocacy organization Bread for the World.
For historically black schools, teaching is and always has been joined to faith and to love. Asked how her school was weathering the storm that is 2020, the Rev. Gloria Winston-Harris, director of the office of spiritual development and dialogue at North Carolina Central University, sums it all up, "We are family. That's how."
The Pandemic's Compounding Problems
Because their focus includes the soul as well as the brain, HBCUs and the campus families they create form a great base of spiritual support in a particularly trying year, darkened by pandemic and political unrest.
As Bobby Donaldson, University of South Carolina associate professor and civil rights historian, puts it, "Historically Black colleges have always been what people have called a shelter in a time of storm for African Americans. They are playing that role now."
The racial unrest, police brutality, and protests added another layer to the teaching experience. Not only are educators dealing with a pandemic that affects how they teach and how students learn, they are dealing with events that affected the psyche of their students, South Carolina State instructor Dante Mozie says. "You have a situation now where you have to be vigilant with regards to mental health," Mozie continues. "Being in this job is like being a public servant. You're serving the community—and in particular, working at a historically black college, you're in service to the black community, to the African American community."
The Rev. Herbert Brisbon II, university chaplain at Dillard University in New Orleans, purchased hundreds of journals to distribute to students so that they had a place to process cathartically. As students suffered loss—loss of loved ones, loss of any sense of normalcy—Brisbon found himself considering how to respond to and ease their mourning when closeness and touch were not an option. "How do we navigate not being able to hug? Especially in the black tradition, [touch] is something that is paramount when it comes to grieving or even worship," he says. "How do we connect?"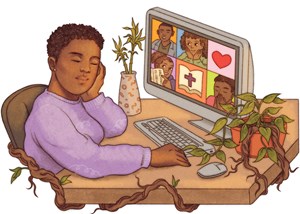 Image: Sarah Jung
Brisbon has chosen to comfort Dillard students in socially distanced chapel services. He has also reinstituted a Midday Manna gathering and has established bereavement hours where students can come together in COVID-safe ways for connection, guidance, and support.
Fisk's Curry acknowledges that these are tough times on campus. "But the big picture is, we aren't going to give up," he insists. "We're going to find a way to translate the message of faith this semester and in subsequent semesters. We believe what Paul said in Philippians 4:13, and we're going to continue to press forward even during these challenging times."
When students cannot gather safely, administrators at HBCUs bring them into virtual environments that cultivate space for their sadness, questions, and conversation. When grief abounds but hugs cannot, these chaplains and leaders do not attempt to erase the pain; rather, they acknowledge it and make space for it. They lament and lead their students to do the same. Ultimately, each of these schools invites students into ongoing spiritual formation, emancipation, and education, inspiring not only the HBCU community but all of higher education.
Abby Perry is a freelance writer who lives with her husband and two sons in Texas. You can find her work at Sojourners, Texas Monthly, and Nations Media.