The world might run on email, but do Gen Zers care?
According to 24-year-old college graduate Adam Simmons, the answer is a hard "no."
Simmons, who currently runs an LA-based video production company, recently told the New York Times that he would rather communicate using "literally anything but email." At the office, he and his employees communicate almost exclusively through texting. Older generations may find the idea of replacing email with texting bizarre: How would you sort read from unread? Why can't you flag or snooze texts? And will there ever be a BCC option?!
Although Millennials were the first to complain about flooded inboxes, Gen Z is likely to quit it for good.
This trend stands out most starkly on today's college campuses. As mental health issues and financial woes skyrocket in the wake of the pandemic, many college students are in crisis. 95 percent of all college students report that COVID-19 adversely affected their mental health, with nearly half of this group reporting increased feelings of loneliness. Fortunately, many universities offer a wide variety of resources ranging from counseling to financial assistance, spiritual development to mentorship. But are emails about the mental health center's clinic hours or upcoming financial aid deadlines actually reaching students? Oftentimes, the answer is no.
Higher education administrators and professors who want to meet the urgent need for support, prayer, and connection on their campuses must no longer rely on email. Instead, it's best to meet students where they are for 94 minutes each day: in their text messages.
Growing Needs
Over the last two years, student needs have increased exponentially, even as the typical mechanisms for meeting them—through face-to-face meetings or group gatherings—have become difficult or impossible to offer. Baylor University Program Director Morgan Strehlow, who oversees the University's Master of Social Work (MSW) program, witnessed this firsthand in the early days of the pandemic when the school was on lockdown.

Suddenly, she was hearing from students at an alarming rate. The pandemic had physically distanced Strehlow from those she served, but they were seeking her guidance more than ever—asking for help in securing more financial aid, checking on a classmate who had fallen off the grid since quarantine began, or dealing with a recent surge of fear, depression, or anxiety.
The loss of common experiences like classes, group projects, and study groups, paired with the stressors many students have faced during the pandemic, heightened students' need for connection with Strehlow. They craved quicker communication, increased patience from professors when it came to assignment deadlines, and more opportunities to process fears around physical, financial, and economic challenges as a result of the pandemic. As office hours shifted to digital platforms, they requested phone calls and Zoom meetings.
Strehlow's students wanted to be seen, noticed, and cared for. They were stuck at home, fighting to complete their degree programs, desperate for support. And when they returned to campus, their desire to be known and seen didn't go away. Strehlow's coworkers tease her every Monday when a line of students begins to form outside her office door. Because they've been receiving deeper support and connection, they do not want it to stop. Strehlow, like many others, seeks to meet their needs in the most effective way. A texting platform may offer the ideal solution.
From the Virtual to the Physical
Magan Elizabeth Morin often hears crickets in her physical classroom.
As assistant professor in the department of mission and ministries at University of the Cumberlands, Morin often asks students for prayer requests while in class. In a room full of their peers, most aren't eager to raise their hands or share their hearts, so Morin has learned to embrace the silence.
Her online classes, however, are an entirely different experience.
"We have an online conversation box that's similar to texting," says Morin. "And through the whole class, that will blow up with prayer requests since no one is listening or viewing them. It's safe."
The idea of finding safety behind a screen isn't new. As Morin has witnessed, the extra layer of protection allows students to be more open and proactive in seeking help or praying. Digital opens the door for physical, tangible support.
Morin says that the digital communication she received during the pandemic prompted her to make more referrals to mental health services on campus than any year prior. When a student requested an extension on a paper because they were so depressed they couldn't get out of bed, Morin granted the extension. She also helped the student connect to counseling resources. More than ever, students are looking for ways to connect in ways that go beyond the classroom.
Technology That Heals
Strehlow's increased availability has prompted some to advocate for the wellbeing of their peers. Students now contact Strehlow when a fellow student is going through a bad breakup or when a classmate's extended absence appears troubling. In turn, Strehlow can connect students with the campus resources with which they might not otherwise be familiar, even when they suffer from fatigue or lack the motivation to research them themselves.
In a world plagued by Zoom fatigue and overflowing inboxes, higher education professionals like Morin and Strehlow stand at the same crossroads: How can we use technology to build relationships and address students' needs? Increasingly, universities are finding that email is not sufficient for communication on campuses, and many are looking for better, simpler solutions.
Strehlow says that as powerful as email has been, texting will be the more transformative communication method.
"When a student is telling me, 'hey, I feel like so-and-so needs to be checked on,' it would be so much easier to type out that one sentence in a text than to make a formal email to a superior with something that feels so informal but also urgent," says Strehlow.
A text message can be a natural, informal, and immediate way for students to communicate instead of considering whether to send an email with all of the professional framing.
And texting isn't only a more immediate and logical way to communicate—it's also more effective. For instance, 99 percent of all text messages are opened, and 97 percent are read within 1-3 minutes of receipt. In addition, the average response time for a text is just 90 seconds.
If higher ed institutions want to make immediate and direct connections with students, they need to be willing to move past Blackboard and email for the sake of those enrolled.
Text to Connect
Giving students the ability to text professors, administrators, and spiritual life departments promotes the school's desire to be involved in students' lives outside of just their academic careers. The importance of meeting students where they are cannot be overstated in light of escalating felt needs.
Adopting this new approach doesn't have to be expensive or time-consuming. With Thryve, a texting platform that uses natural language processing to encourage two-way conversations, higher ed administrators and professors can communicate directly with students via text about everything: on-campus resources, individual prayer requests, mental health support, and more.
(Click here to try Thryve free for 14 days!)
Here's How to Start Using Texting at Your School Today:
1. Sign up for a texting service
These services are easy to use (we recommend Thryve). But be sure to choose a service that allows for two-way messaging. Then when students text you, you can respond with comfort and care.
2. Create a QR code with your unique college phone number
Make a custom code for your school by using a QR code generator (we like this one). When a student scans the code, their phone will automatically open up texting, and they will be able to message you.
3. Place your QR code everywhere
Make sure you post your QR code wherever students gather: in dining halls, lecture rooms, dorms, announcement slides, or on social media. Want to saturate your campus? Print signs or banners with your QR code and hang them where students gather.
4. Respond to students who are struggling and in need of support
By responding to students, you ensure students feel seen, loved, and cared for. In addition, it gives you the chance to engage them for even more conversation and encouragement.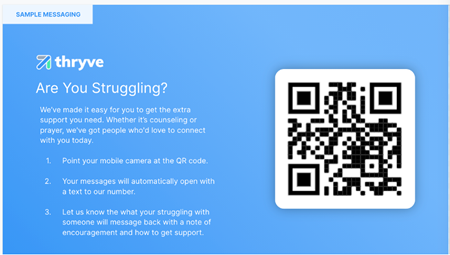 Texting: The Key to Transformation
As our world quickly evolves, college communications must evolve with it. Texting allows colleges to understand the real felt needs of their students and respond with action. Furthermore, texting accommodates busy lifestyles, cuts through many accessibility issues, and fits into the normal rhythms of most.
As needs change, we must adapt to new tools that we communicate with. The time has come to have college campuses transformed, and texting will be instrumental.