­It is amazing that it's taken us this long to feature a story on astronomy. It's really an article about darkness, specifically searching for darkness in order to see stars.
We tend to think of darkness as bad and light as good. And to be sure, the Bible employs this dualism sometimes, associating darkness with evil and light with good. And then, sometimes, it startles us. It says that God created not only light, but darkness (Isa. 45:7). God is as present in darkness as in light: "The day is yours, and yours also the night" (Ps. 74:16). No wonder the Psalmist can confidently pray,
If I say, "Surely the darkness will hide me
and the light become night around me,"
even the darkness will not be dark to you
the night will shine like the day,
for darkness is as light to you.
(Ps. 139:11–12)
In this issue you'll also read about why life in Christ is nothing but one big party. Dylan Demarsico writes on why God likes doing the same thing over and over and over again. We also offer a poem that looks in the opposite direction than the heavens, to the deepest trench on Earth.
It's all part of our mission to remind us:
Where can I go from your Spirit?
Where can I flee from your presence?
If I go up to the heavens, you are there;
if I make my bed in the depths, you are there.
(Ps. 139:7–8)
—Mark Galli, co-editor
The Behemoth is a small magazine about a big God and his big world. From the editors of Christianity Today, these articles aim to help people behold the glory of God all around them, in the worlds of science, history, theology, medicine, sociology, Bible, and personal narrative.
Get full access to The Behemoth archives on any device when you subscribe to Christianity Today.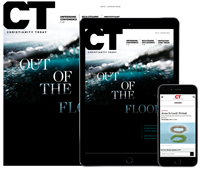 Unlock This Article for a Friend
To unlock this article for your friends, use any of the social share buttons on our site, or simply copy the link below.