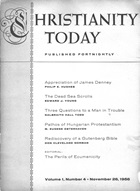 This article is from the November 26 1956 issue. Subscribers can read all of CT's digital archives.
'Uneasy And Unhappy'
The respected voice of Dr. Geoffrey Francis Fisher, Archbishop of Canterbury, was heard in the House of Lords on the Anglo-French attack of Egypt.
"Christian opinion," he said, is "terribly uneasy and unhappy. We cannot ignore the fact that the President of the United States thinks we have made a grave error, that world opinion on the whole—almost entirely—is convinced we have made a grave error."
The Anglican Primate said he spoke "with fear and trembling."
In Berlin, Bishop Otto Dibelius, head of the Evangelical Church in Germany, expressed great concern over Near and Middle East events through letters to British and French church leaders.
12 Days Of Life
Hungarian churches were making big plans when their brief hours of freedom were cut short by Russian butchery.
Bishop Lajos Ordass, imprisoned in 1948 on trumped-up charges, was reinstated as active head of the Lutheran Church of Hungary after the resignation of two communist-sponsored bishops.
He put into immediate practice the teaching of Jesus to "love your enemies, bless them that curse you, do good to them that hate you and pray for them which despitefully use you and persecute you …"
He sought to aid dependents of former church leaders.
New elections were planned—to replace all officials of the Reformed and Lutheran churches who received their posts after 1948. Many churchmen known for their collaboration resigned.
Church schools and-other institutions were to be reopened.
Millions of tons of food and clothing arrived from friendly countries and relief centers were opened.
Josef Cardinal Mindzenty, Primate of Hungary liberated by the rebels, called on the United Nations and the world for support.
The revolt seemed destined to succeed on October 31—Reformation Day. Then, during the night of November 3–4, the vanguard of a massive Russian force of 200,000 men and 5,600 tanks, supported by squadrons of bomber planes, launched a surprise attack on Hungary. Almost defenseless people were slaughtered like cattle.
(An American newscaster said Russia threw more armor against Budapest than U. S. General George Patton used in driving across France during World War II.)
Fighters for freedom put up stubborn resistance, but their cause was virtually hopeless. Millions prayed around the world.
Some Hungarian leaders were captured. Others took refuge in embassies or escaped across the border.
Twelve days had passed.
But in suffering defeat, Hungary emphasized to the world that Communism was crumbling around the edges. Hundreds of individual members left the party in European countries. Early returns from Italian regional elections showed heavy communist losses. Unrest was noted in East Germany.
And Russia looked around anxiously as she waited for the next shot.
Question In Norway
On January 25, 1953, a professor, Dr. Ole Hallesby, addressed the Norwegian people by radio with words which were to resound from one end of the country to the other.
He asked:
"How can you who are not converted go to bed calmly in the evening, not knowing whether you will awake in your bed or in hell?"
Testimony of several conversions was received as a result of the broadcast. Many newspapers, however, raged. One of the bishops of the Norwegian Church, Dr. Kristian Schjelderup, wrote a sharp article, denouncing the doctrine of eternal punishment as contrary to God's love.
The debate raged until finally the question was put before the Government, as well as the Stortinget (assembly of the people). Views of all bishops and leaders of the two theological faculties were given.
As usual in such discussions, the controversy eventually subsided, with both sides holding to original beliefs.
But new fuel has been added to the fire.
A well-known Christian layman, manufacturer Otto Langmoen, made public a letter in which he declared himself unwilling to represent his local congregation at an all-diocese meeting—where Bishop Schjelderup was listed as one of the preachers.
Mr. Langmoen said it was a matter of conscience and cited Scripture to support his views.
Theological sides again came to life, with the press serving as a gleeful go-between for their eager readers.
The diocese meeting was held. Participation was great, and Bishop Schjelderup was elected chairman of the assembly.
Front page headlines next day said there would be no fight within the church after all.
But Norwegians long will remember the professor's blunt question!
T.B.
Reds Razing Old Church
Historic Holy Spirit Church, dating back to the 13th century, is slated to be razed in Magdeburg, Germany (Soviet Zone), despite protests by the Evangelical Church of Saxony.
The church, considered one of the finest specimens of Gothic architecture in Germany, will mar the looks of a new city hall due to be built on an adjacent site, according to the Communist city planners.
Heavily damaged during World War II, the church was the first worship center to be rebuilt in Magdeburg after the end of fighting. Many foreign churches contributed to the reconstruction cost.
Significance of the razing, in the opinion of church leaders, can be traced to the fact that the Evangelical Church in Germany designated Magdeburg as the 1956 "City of Church Reconstruction."
Some 275,000 of Magdeburg's 337,000 residents are Protestants.
Powers Of Violence
The world is afraid of its own powers of violence "and can only be saved by suffering and forgiving love," Dr. Martin Niemoeller, president of the Evangelical Church of Hesse-Nassau in Germany, told 9,000 at a Reformation rally in Kiel Auditorium, St. Louis, Missouri.
In a reference to the H-bomb, he said, "Like Peter and John, we are tempted to bring down the fire of heaven upon the evildoers," but warned "the danger is that we shall love our own truth and our own way and not put our trust in God.
"We must not give ourselves to our own ideas and our own beliefs, for both are dangerous, but we must remember that God's promise to His children stands. Christ is the way, the truth and the life for a world in which men are caught in the nets of pride and despair."
(On December 6, New York University will present Dr. Niemoeller with the University Medal, its "highest award to distinguished people.")
Our digital archives are a work in progress. Let us know if corrections need to be made.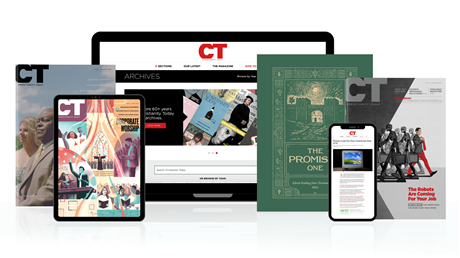 Subscribe to Christianity Today and get access to this article plus 60+ years of archives.
Home delivery of CT magazine
Complete access to articles on ChristianityToday.com
Over 120 years of magazine archives plus full access to all of CT's online archives
Subscribe Now
Britain and the Continent News: November 26, 1956
Britain and the Continent News: November 26, 1956