Now all this was done, that it might be fulfilled which was spoken of the Lord by the prophet, saying, Behold, a virgin shall be with child, and shall bring forth a son, and they shall call his name Emmanuel which being interpreted is, God with us (Matt. 1:22, 23).
Who would have thought that the prophecy contained in Isaiah 7:14 could have referred to our Lord? One of these days we shall discover a great deal more in the inspired Word than we can see today. Perhaps it is needful to our understanding a prophecy that we should see it actually fulfilled. What blind eyes we have!
No one can doubt that the Christianity of the New Testament is supernaturalistic through and through. Whether we have regard to the person of Jesus or to the salvation he brought to men, the primary note of this Christianity certainly is supernaturalism. He who walked the earth as its Lord, and whom the very winds and waves obeyed; who could not be holden of the grave, but burst the bonds of death and ascended into the heavens in the sight of man; he who now sits at the right hand of God and sheds down his gift of salvation through his Spirit upon the men of his choice—it were impossible that such an one should have entered the world undistinguished among common men. His supernatural birth is given already, in a word, in his supernatural life and his supernatural work, and forms an indispensable element in the supernatural religion which he founded.
God-With-Us
Emmanuel—One of the forms of the principal Hebrew word for God is el; and emmanu signifies "with us." While this was to be the actual name of the child born in the time of Ahaz (Isa. 7:14), it was for Jesus not a name actually borne, but only a description of his character and position.
J. A. BROADUS
The Christian world could derive but little comfort in one part of this title, were it unconnected with the other. As the Almighty El, or Diety, he would be rather an object of terror and confusion to guilty and offending creatures; but as the El, in covenant, as God with us, he is the inexhaustible source of hope and joy to those who believe.
HORAE SOLITARIAE
The pure nature of God, and the base nature of man, that were strangers ever since the fall, are knit together in Christ. What can be in a greater degree of strangeness than men's unholiness and God's pure nature? Yet the nature of man and of God being so severed before, are met together in Christ; so that in this one word "Emmanuel" there is heaven and earth, God and man, infinite and finite; therefore we may well prefix Behold.
RICHARD SIBBES
Emmanuel—This name they are directed by God to give him; and there could be no reason with God to select this name but because its meaning denoted a reality. The person bears the name because he is what the name signifies. As the Lord was called Jesus, saviour, because he is Saviour; and as he is called Christ, anointed, because he is the Anointed, so is he called Emmanuel, God-with-us, because he is God with us. He is God with man; he is Divinity with humanity. And he is called God with us because he is virgin-born, for the prophet conjoins these two facts as antecedent and result. That is, because he has only a human mother, and so a divine Father, therefore he is in name, and thereby in reality, God with us. No Jewish or Unitarian gloss can evade this. It demonstrates that Messiah is by birth, God with us; and therefore that he is so by person, by nature, and by substance.
D. D. WHEDON
One Person
By a wonderful and unsearchable union; the manner whereof is to be believed, not discussed; admired, not pried into; personal it is, yet not of persons; of natures, and yet not natural. As a soul and body are one man; so God and man are one person, saith Athanasius. And as every believer that is born of God, saith another, remains the same entire person that he was before, receiving nevertheless into him a divine nature which before he had not: so Emmanuel, continuing the same perfect person which he had been from eternity, assumeth nevertheless a human nature which before he had not, to be born within his person for ever.
JOHN TRAPP
What constituted the extraordinary character of the fact here announced (Isa. 7:14)? It consisted in the fact that, according to chapter 9:6, Emmanuel himself was to be a wonder or wonderful. He would be God incorporeal self-manifestation, and therefore a "wonder" as being a superhuman person. We should not venture to assert this if it went beyond the line of Old Testament revelation, but the prophet asserts it himself in chapter 9:6: his words are as clear as possible; and we must not make them obscure, to favour any preconceived notions as to the development of history. The incarnation of Deity was unquestionably a secret that was not clearly unveiled in the Old Testament, but the veil was not so thick but that some rays could pass through. Such a ray, directed by the spirit of prophecy into the mind of the prophet, was the prediction of Emmanuel. But if the Messiah was to be Emmanuel in this sense, that He would Himself be El (God), as the prophet expressly affirms, His birth must also of necessity be a wonderful or miraculous one.
F. DELITZSCH
Reconciliation
Christ hath his name Emmanuel, not only because he is God and man too, both natures meeting in one person, but because being God in our nature, he hath undertook this office to bring God and us together. The main end of Christ's coming and suffering was to reconcile, and to gather together in one; and, as Peter expresseth it, "to bring man again to God" (1 Pet. 3:18). Emmanuel is the bond of this happy agreement, and appears for ever in heaven to make it good.
RICHARD SIBBES
From the day of the Nativity God was with man, not simply as heretofore, as the Omnipresent, but under new and more intimate conditions. From the day of the Nativity there was a change in the relations between earth and heaven. To be one with Christ was to be one with God; and this union with God through Christ is the secret and basis of the new kingdom of souls which Christ has founded, and in which he reigns. Who shall describe the wealth of spiritual and moral power which dates from the appearance of the Incarnate Son in our human world, as our "Wisdom, and Righteousness, and Sanctification, and Redemption?" Here and there we see through the clouds, as though by glimpses, some streaks of the glory of this Invisible Kingdom of souls; but only in another life shall we understand at all approximately what it has meant for millions of our race.
H. P. LIDDON
Have something to add about this? See something we missed? Share your feedback here.
Our digital archives are a work in progress. Let us know if corrections need to be made.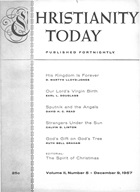 This article is from the December 9 1957 issue.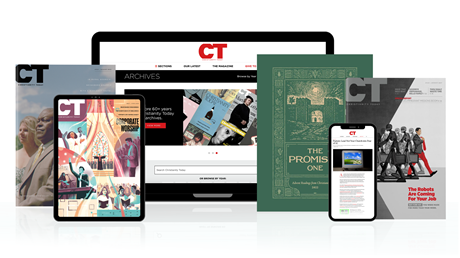 Annual & Monthly subscriptions available.
Print & Digital Issues of CT magazine
Complete access to every article on ChristianityToday.com
Unlimited access to 65+ years of CT's online archives
Member-only special issues
Subscribe
Bible Text of the Month: Matthew 1:22-23
Bible Text of the Month: Matthew 1:22-23