Blessed are the pure in heart: for they shall see God (Matthew 5:8).
Moses' blessing encircles the tribes of Israel; this encompasses disciples of every nation.—R. GOVETT.
There is nothing in which mankind more generally imagines happiness to consist than in the uncontrolled indulgence of their passions. It is probable that among those who looked for the establishment of the Messiah's kingdom, many pleased themselves with the idea, that his victories would open to them a way for multiplying captives to any extent, and consequently for the unlimited gratification of their corrupt appetites. To counteract such absurd notions, and to evidence the spiritual nature of his kingdom, our blessed Lord declared, that happiness was to be found, not "in assimilating" ourselves to the brute creation, but in purity of heart and life.—CHARLES SIMEON.
Pure In Heart
Pure in heart denotes the moral blamelessness of the inner life, the center of which is the heart, in conformity with the view that "Every sin puts a foul mark on the soul."—H. A. W. MEYER.
This was opposed to the hypocrisy of the Scribes and Pharisees. They made clean the outside of the cup and platter, while their inward part was full of ravening and wickedness (Luke 11:39). But Christ demanded purity of heart, for when the heart is impure, the whole man is defiled.—JOHN J. OWEN.
Pure in heart. May be taken either specifically, as denoting freedom from particular impurities, or more generically, as denoting freedom from the polluting influence of sin. On the former, which is the more usual supposition, the particular impurity denied is commonly assumed to be what the Scriptures call uncleanness, comprehending all violations of the seventh commandment, in heart, speech, or behavior. Some, however, who admit the specific import of the phrase, apply it to hypocrisy, deceit, and falsehood, and by pure in heart understand sincere and guileless; while a third interpretation gives it the generic sense of sinless, holy.—J. A. ALEXANDER.
The idea of a pure heart was for the hearers no new idea. The Psalmist had required that he who would approach the sanctuary should have a pure heart (Ps. 24:4). This pure heart distinguished the true Israelite from the false (Ps. 73:1). And David had prayed for a pure heart (Ps. 51:10). The question arises, as to whether the Savior understood the expression in the Old Testament acceptation. Now, in Psalm 73 it is evident that the purity of heart spoken of is in opposition to that impurity which manifests itself in appearances inconsistent with the truth of things. Then in Psalm 24 after purity deceit is expressly spoken of; and in Psalm 51 purity is identical with sincerity.—A. THOLUCK.
How little has this purity of heart been regarded, by the false teachers of all ages! They have taught men barely, to abstain from all such outward impurities, as God hath forbidden by name. But they did not strike at the heart; and by not guarding against, they in effect countenanced inward corruptions.—JOHN WESLEY.
The sensual appetites, when unlawfully indulged, have this bad pre-eminence among sins, that they stain the purity of the heart and put out its spiritual eyes faster and more surely than any other forbidden thing.… All unregulated passion has a disturbing and discomposing action. Peevishness, hot temper, envy, malign displeasure, excessive pursuit of gain, the puffed-up vanity of possession, and ambition, are all so many evil breaths blown into the heart, to dim the tender purity of its motives, divide the singleness of its aim, and obscure its vision of divine and heavenly things. The heart cannot be pure if, in its loyalty to the will of God, there mix some interested purpose of its own, or some secret homage to another Lord, or some restless wish to have the will of God other than it is. It is fatal to the simplicity, and therefore to the purity, of the soul to be seriously divided betwixt two desires, one righteous and one wrong.—J. OSWALD DYKES.
Beholding God
To see the face of one, or to be in his presence, were, among the Jews, terms expressive of great favor. It was regarded as a high honor to be in the presence of kings and princes, and to be permitted to see them. (Prov. 22:29; 2 Kings 25:19). Those who saw the face of the king were his favorites and friends.—ALBERT BARNES.
The fact that the pure in heart shall see God shows that not physical but moral vision is meant. Just as a person with a mean character will never be able to understand a person with a beautiful character, so the impure man will never be able to see God, the Pure One.—W. HENDRIKSEN.
He who has his heart crammed with furious desires, with earthly ambitions, with carnal pride and with all the lusts which convulse this ant-heap of the earth, can never see God face to face, will never know the sweetness of His magnificent felicity.—GIOVANNI PAPINI.
Foul hearts make dim eyes God-ward. To clear the eye we must cleanse the heart. Only purity has any idea of God, or any true vision of him. It is a great reward to be able to see God; and, on the other hand, it is of great help towards being pure in heart to have a true sight of the thrice-holy One. There are no pure hearts on earth unless the Lord has made them so, and none shall see God in heaven who have not been purified by grace while here below.—SPURGEON.
They shall see him in his ordinances, while others are altogether unconscious of his presence. They shall see him in their secret chamber, where he will draw nigh unto them. They shall see him in all the works of creation, and in all the dispensations of his providence. They shall see him in every comfort and in every cross. His wisdom, his goodness, his love, his mercy, his faithfulness, are ever before their eyes.—CHARLES SIMEON.
To 'see God' now must forever mean nothing else than this: to see His 'truth and grace' mirrored in the face of that Man, who alone of all men on earth 'is of God, and hath seen the Father.' This deepest and sweetest of Christ's beatitudes seized the souls of his two noblest scholars.
Paul and John alike found in it their ultimate expression for the enraptured communion of the perfected state. To see 'face to face' (1 Cor. 13:12) is the expression of the one; to 'see him as he is' of the other (1 John 3:2). In all its stages, whether as begun now or as hereafter consummated, this vision of God is a moral act, made possible by the moral condition of the man.
It is the act of the soul. So long as we are ourselves proud lovers of evil, with a conceit in ourselves greater than in any other, or possessed by dark, selfish, or vicious passions, we cannot see God's goodness to be good. We may speak of it, indeed, with praise; but we lack the indispensable moral condition for feeling its beauty and divineness.—J. OSWALD DYKES.
Have something to add about this? See something we missed? Share your feedback here.
Our digital archives are a work in progress. Let us know if corrections need to be made.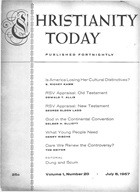 This article is from the July 8 1957 issue.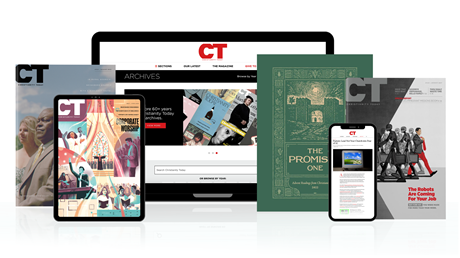 Subscribe to Christianity Today and get access to this article plus 65+ years of archives.
Home delivery of CT magazine
Complete access to articles on ChristianityToday.com
Over 120 years of magazine archives plus full access to all of CT's online archives
Subscribe Now
Bible Text of the Month: Matthew 5:8
Bible Text of the Month: Matthew 5:8