"St. Patrick" is symbolic in the United States of Irish Roman Catholicism and all it stands for. But the Protestants of Ireland, usually called "Scotch Irish," take a very different view. The national apostle and founder of Irish Christianity is claimed by Irish Protestants as well as by Roman Catholics. His grave lies in British Ulster, and the chief Protestant church in Republican Dublin is named after him. So it is not easy to answer the question, was St. Patrick a Protestant?, with a plain "yes" or "no."
Who Was He?
First of all, who was Patrick? He was not, at any rate, an Irishman living in a Christian home somewhere in the sister isle of Great Britain. It was too early to call him "English," but he was undoubtedly "British." In his teens he was captured by Irish pirates and sold into slavery in Ireland. His father, Calpurnius, was a deacon, and his grandfather, Potitus, was an elder in the church. This alone should prove that he was not a Roman Catholic, since so much is made of an unmarried clergy in the Church of Rome. Patrick spent the long days herding hogs on the slopes of Slemish, in the heart of the North Irish County Antrim. In spite of his "parsonage upbringing," he was not a Christian. But prayer brought him peace with God among those Ulster hills. Later God provided Patrick with a way of escape to what is now France, where he learned to read and write. He became mighty in the Scriptures, quoting Paul's Epistle to the Romans no less than thirty times.
Returning Good For Evil
Thus armed, he returned to conquer Ireland for Christ, and to make slaves for the Kingdom of God out of those who had sold him as a swineherd. By so doing he would surely heap coals of fire upon their heads, as the Apostle of the Gentiles bids us do. Thus he became the Apostle of the Irish.
Three of his Writings have come down to us and show what manner of man he was. The Confession and the Epistle are full of Christian belief, the commonly held creed of the undivided church of his day—neither "Unreformed" nor "Reformed," as we know the words, but truly "catholic." They reflect no emphasis on the Virgin Mary, with whom St. Patrick's name is so often linked in popular thought. They certainly know nothing of the Pope or of Rome, whose writ did not run in Ireland for seven hundred years after Patrick's death! The Church of England received its "rebaptism" from Rome in A.D. 597, the very year of the death of Columba, one of Patrick's great Scotch-Irish disciples, who had already evangelized much of Scotland and England. Patrick had returned to Ireland on his great missionary adventure as long before as A.D. 432. The only "confession" that he knows is "I, Patrick, a sinner."
The Breastplate, reminding us of the second item in the Christian's armour in Ephesians VI, comes ringing down the ages as a hymn of triumph in Christ, full of evangelical assurance and certainty:
Christ be with me, Christ within me,
Christ behind me, Christ before me,
Christ beside me, Christ to win me,
Christ to comfort and restore me.
So it leads on to its last tremendous declaration of faith: "Salvation is of Christ the Lord!" How wonderfully like John Calvin he wrote and how differently from the doggerel ditties usually associated with the 17th of March, such as:
Hail, Holy St. Patrick
Sweet Saint of Our Isle!
It is because most of the Irish people, apart from a large majority of them in the North and a small minority in the South, have departed from the "faith of their fathers" that this remotest island in the West is no longer the "island of saints and scholars" that the influence of Patrick made it. Irish missionaries were carrying the Gospel to the remotest parts of Europe when the schools of Ireland were producing treasures of the Bible as the shadows of the Dark Ages descended upon the Continent.
Far beyond our ocean girdle
Faithful sons the Gospel taught.
Men of distant climes and nations
At their lips the tiding sought,
Where midst Alpine snowy splendour
Sleeping lake in shadow lies,
Where the vine and olive flourish
'Neath the blue Italian skies.
The Hill Of Tara
But let us return to the green hills and rainy mists of the land which Patrick made peculiarly his own. A glance at the map of the missionary journeys of St. Patrick is as fascinating as that of the wanderings of St. Paul, and perhaps more so for those of us who live where we can follow in Patrick's footsteps every day! The old story of how Patrick used the beacon fire of the heathen Irish upon the Hill of Tara in the Irish Midlands to light a Gospel fire throughout the realms of the High King of Ireland is well known. But most of his missionary movements read like a travel talk of Northern Ireland. It is surely one of the ironies of Irish church history, and an indication of the strength of the Patrick tradition in Protestant Ulster, that nearly all the scenes of the Patrick story are laid in those six counties where the British writ still runs!
The high, round hill of Slemish still overlooks the prosperous Presbyterian town of Ballymena, famous for its output of enterprising Scotch-Irish settlers to the States and Canada. It was there that Patrick found his Damascus Road.
Skirting the shores of Belfast Lough we enter kindly County Down with its fishing grounds and rich cornlands. There, among its little hills, is the St. Patrick Memorial Church at Saul. An annual open-air service at Tara recalls the coming of Patrick to the South, while the name Saul (old Irish for "a barn") reminds us that like evangelists of other days he did not despise the humblest preaching house. Not far away is Downpatrick Cathedral, Mother Church of the Diocese of Down, where the Protestant Dean will proudly show visitors a simple gravestone inscribed "Patric."
But it is among the apple orchards of Armagh, white in spring and ruddy in autumn, that we must seek the center of the Patrick country. In that little city, set on a hill, two cathedrals lift their spires and towers to the sky. Both are named for the intrepid missionary whom both faiths claim as their founder. But, while the Roman Catholic cathedral is only eighty years old, the Church of Ireland (Episcopal) Cathedral occupies a spot which has been hallowed by Christian worship for centuries. Thus the Church of Ireland can well claim the title deeds, the "family portraits" as it were, of St. Patrick.
Dublin And Belfast
So we leave the Emerald Isle among its misty mountains, with St. Patrick's Episcopal Cathedral in Dublin, the Southern and largely Roman Catholic capital, proclaiming the existence of its dwindling minority. Northward, Belfast, with its industries and its Orange Lodges, proclaims in its motto "What shall we give in return for so much?" the unshakable determination of the Ulstermen to be true to the Trinitarian Faith planted by Patrick among the shamrocks of the Emerald Isle. Meanwhile, let us pray that the four millions of Roman Catholics who pay lip service to St. Patrick will seek the truth about their hero, and about his hero whose "unsearchable riches" he proclaimed to their forefathers in his writings not only "with his lips but with his life."
Catholic Christian
As we leave Ireland and the Irish, we are left pondering the perennial "Irish question": Was Patrick a Protestant or a Roman Catholic? To those who ask that question there is no short answer. But those who are prepared to think and to compare the simplicity of his teachings with the present-day accretions of Rome will have little difficulty in coming to the conclusion that he was truly catholic and truly Christian. To say more than that would be an anachronism. To make him a "Reformer before the Reformation" would be to use the language of more than a thousand years later. To say that he was a Christian and a Catholic is to say all.
Ages pass, yet with St. Patrick
Firm we hold the faith of God;
With his "Breastplate" armed we follow
Where the Saints and Martyrs trod.
Lift thy banner, Church of Erin,
To thine ancient Faith we cling.
Thou art built on truth eternal
Jesus Christ our Lord and King.
The Rev. Michael W. Dewar, M.A., late History Exhibitioner and First Prizeman at Emmanuel College, Cambridge, is one of the younger clergymen in the Church of Ireland. When Christianity Today asked whether he would prepare an article on St. Patrick, he replied: "No Irish Episcopal clergyman can refuse to speak for 'the National Apostle' and try to salvage him from the hands of the 'opposition'!" Mr. Dewar saw World War II service as a soldier in G2 of SHAEF. Today he ministers in Scarva, County Down, Northern Ireland, as rector of St. Matthew's Episcopal Church.
Have something to add about this? See something we missed? Share your feedback here.
Our digital archives are a work in progress. Let us know if corrections need to be made.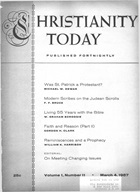 This article is from the March 4 1957 issue.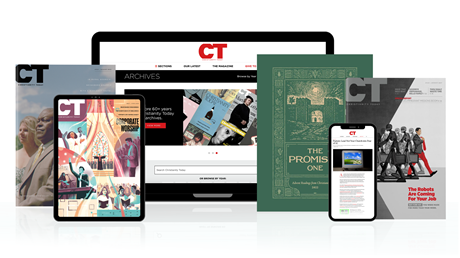 Subscribe to Christianity Today and get access to this article plus 65+ years of archives.
Home delivery of CT magazine
Complete access to articles on ChristianityToday.com
Over 120 years of magazine archives plus full access to all of CT's online archives
Subscribe Now
Was St. Patrick a Protestant?
Was St. Patrick a Protestant?