Natural man's most elemental and most driving force is the instinct for self-preservation. That force drives man to hunt or fish or cultivate or gather, to satisfy his own hunger and that of his family.
That force makes him save some of today's provender against the possibility that tomorrow's hunt might be less fortunate. It makes him hide and protect himself, his family and his possessions, and if necessary, fight to defend them. Although we may have come out of the cave and laid down our stone axe for a slide rule, a machine tool or a business document, the old drive is still there. The natural human tendency is to get as much as possible and to hang on to it.
Only the introduction of another, higher force can induce man to share voluntarily any part of what he has acquired so that another might benefit or an idea might be made known. In some men this higher force is that of genuine love for the object of his giving. In others, particularly where a person has accumulated tremendous wealth in a business affecting many people, it is a sense of social responsibility which prompts the creation of foundations with lofty-sounding purposes, but often, alas, filled with pride and schemes to beat the tax collector.
It is a small wonder that the Christian, finding himself in a world, or coming out of a world, with this attitude toward money and giving, all too often retains much of this worldly viewpoint toward the money or other wealth in his hands.
God And A Man's Money
The first question a Christian should ask himself about himself and his money is, What is my relationship to God? The Christian is not an ordinary man. He is one who, through the work of the Holy Spirit, has come to a realization of his responsibility to God, of his sinful condition, of his inability to help himself. He has realized that his only remedy is to turn his back on his old life and turn toward the Lord Jesus Christ as the only Saviour. His only tenable future course is to yield to Christ as Lord and Master. Such a man has a new relationship to God, to the world, and to himself. At conversion the believer may not fully realize it; nevertheless we are told in the Word of God, "Ye are not your own, for ye are bought with a price …" (1 Cor. 6:19).
In sight of God the believer is a trustee or steward of his money. He no longer, then, has the right to ask himself, "How much of my time or my talents, or my money shall I give to the Lord?" The fact of the matter is that we have no time, talents or money of our own. God has every right to demand that we deliver that which He has purchased.
But our God is a gracious God. Just as he will not force upon an unbeliever the gift of salvation he provided at so great cost, so he will not wrest from the believer that to which he is justly entitled. Instead of demanding, he entreats the believer thus, "I beseech you therefore, brethren, by the mercies of God, that ye present your bodies a living sacrifice, holy, acceptable unto God, which is your reasonable service" (Rom. 12:1). Why does God choose this course? It seems certain that he does so in order to make available to his children still another joy: the joy that comes from giving out of a heart of love. In 2 Corinthians 8 and 9, God, speaking through Paul, points to the way in which the Macedonian churches first gave themselves to God, and then having done so, gave generously out of their deep poverty to relieve the distress of the saints at Jerusalem. When Paul evidently protested that they would impoverish themselves by such generosity, the Macedonians entreated him to take the gifts so that they might have the joy of practical fellowship.
Love And The Weekly Budget
The Christian's giving should spring from a heart of love—love that would give everything to the object of its love. And the Christian's giving should be governed by the will of God. Our question concerning money (and it applies to all that we have and are) should not be, "How much shall I give the Lord?" but rather, "Lord, how shall I use this money which you have put in my trust?" In the family budget meeting, the Christian family should recognize that God has the deciding vote.
But some will point out that they do not hear God as an audible voice; they feel the need for some mathematical formula and ask if the tithe or 10 per cent is the right amount. Others point out that since we are now under grace and not under law, the tithe is no longer required. In a sense that is true, if we recognize that God is entitled not to 10 but to 100 per cent. The tithe may not now be the fixed rule, but it certainly makes a good place to start. God has promised a blessing to all who would bring the tithes into the storehouse, and he has never rescinded that promise. But he has promised much more to those who recognize his complete sovereignty. Jesus himself told us, "Give and it shall be given unto you; good measure, pressed down, and shaken together, and running over" (Luke 6:38).
There is no danger of our "outgiving" God. One of America's great industrialists, a Christian who has given practically all of his capital and income to the Lord's work, once said, speaking about the truth of the promise that the Lord would bless those who give: "As I shovel out, the Lord keeps on shoveling in, and the Lord has a bigger shovel!" The promised increase in return was not, I am sure, the motive for this man's increased giving; nor should it be, for giving from such a base motive would not bring the promised increase. Let our giving be out of a heart of love.
Humility And Sacrifice
Many people who today live in what we would call humble circumstances are living full rich lives because they have not allowed themselves to become enamored of the luxuries that are a snare to so many others. As the treasurer of a mission, I can report from first-hand observation that many of those Christians in humble circumstances, some on small pensions, are the ones who give faithfully, sacrificially, regularly, and evidence real joy in doing so.
This is a land where there are so many opportunities for advancement that most laborers, farmers, business and professional men have all seen their incomes increase. The temptation is to increase the standard of living as rapidly as the income increases, while limiting the Lord's portion to the same 10 per cent, or less, as is all too often the case. The appeals of advertising, the ease of credit, the pride of possessions, the desire to keep up with or ahead of the Joneses, all conspire to absorb the increased income and to entangle us in commitments that may or may not be in the will of the Lord. How shall we react when our income starts to increase? Must we adopt a Spartan regime? Look, for example, at the young man who starts in the business world as a shipping clerk, lives in small and humble quarters, and rides back and forth to work on a bicycle, carrying his lunch in a paper sack. If he works his way up to become a salesman, sales manager, vice president and finally president of the concern, must he still live in the same cottage, ride his bicycle, and carry his lunch? Surely not. The Lord would consider it perfectly proper, in fact, almost required of him, that he move up a step at a time into a little more commodious and comfortable house, and that he provide himself and his family with an automobile, a more complete wardrobe, and so on. But at each step of the way, let such a man take counsel with God so that he does not needlessly put the Lord's money into a larger house, a larger car, a swimming pool, a yacht, and so on. During the war we were asked to curb our desire to travel on the overtaxed transportation system by asking ourselves, "Is this trip necessary?" With each major expenditure, and certainly with each plan to advance the scale of living, we should ask the Lord, "Lord, is this step your will for my life? Is it necessary? Does it have the seal of your approval?"
Spending And Saving And Giving
Besides spending versus giving, there is also the matter of saving. When the children of Israel gathered the manna in the wilderness, they were told to gather just enough for the day, except on the day before the Sabbath when they were to gather enough for two days. There was no need to store up a little against the day when the manna might fail, for it never failed. Does this same principle hold today? Some contend that it does, and that a Christian displays a lack of faith in God if he tries to save for a rainy day, or invests in life insurance, or makes some other form of investment. True, in the time of the manna, God miraculously provided food for his people on a day-to-day basis. But throughout history most of God's created nature has revolved around seedtime and harvest, which require that, after the offerings of first fruits, etc., the harvest be stored up for use during the remainder of the year. In Joseph's day God directed him to store up during the seven fat years to provide for the seven lean years. And in Paul's day the word of the Lord came to him, "For the children ought not to lay up for the parents, but the parents for the children" (2 Cor. 12:14). There is sound scriptural ground for believing that in our budget session with the Lord, He would have us make proper provision for future contingencies and for the support of our dependents.
Duty And The Day Of Death
Of course the Lord may call us home before we have need of those funds or assets which we have laid up against the lean and declining years. Every Christian has a duty, therefore, to take advantage of the provisions of law which permit him to bequeath his estate. Not long ago a fine Christian layman passed away. Because of his failure to have a will drawn, a substantial portion of his estate was dissipated in taxes and attorneys' fees and thus was lost to the causes nearest his heart. The Christian with an estate to bequeath has a responsibility to have a will drawn properly by a competent attorney.
In giving of his substance to the Lord, the Christian should consider carefully the persons or agencies who are to receive the gifts. If giving is motivated by that grace of love which characterizes God's love for us, then there will be no discrimination in selecting the recipients of our giving.
Who can justify withholding aid from a person merely because of his color, race, or religion? If a destitute widow came to our door asking for a bowl of soup that she might feed herself and her starving children, we would not turn her away on the grounds that she was an unbeliever. Rather, we would give to her as an expression of the love placed in our hearts by the Lord Jesus Christ, who also loves her and her children. But it is quite another matter to give indiscriminately to churches, schools, seminaries, mission boards, etc. Such gifts are designed not to eliminate suffering and want but to permit the recipients to spread a doctrine or a system of ideas.
Sometimes the young convert, even though mature in years and of some financial means, will assume in the ecstasy of his new Christian life that all churches, all mission boards, are diligently spreading the pure gospel and that all of the appeals which pour in through the mails and over the radio are equally worthy of support. The sad fact is that many organizations which outwardly appear to be proponents of the true Gospel have long since departed from the faith and are giving out false doctrines. The Christian has a duty to investigate carefully the claims of these various organizations. God's Word admonishes the believer, as a steward of God, to be "holding fast the faithful word as he hath been taught, that he may be able by sound doctrine both to exhort and to convince the gainsayers" (Titus 1:9).
This is on the positive side. On the negative side, we are told, "If there come any unto you, and bring not this doctrine, receive him not into your house, neither bid him God speed, for he that biddeth him God speed is partaker of his evil deeds" (2 John 10–11). Let not the Christian think that once he has investigated the doctrinal purity and the spiritual effectiveness of the enterprise, he can forget about it. One of the heartbreaks of modern Christendom is the way many organizations, originally sound and true to the faith, have slipped away little by little over the years, until now some of them openly deny the inspiration of the Word, the Diety of Christ, his Virgin Birth, his atoning work, his bodily Resurrection, and his visible physical return. Many devout Christians of earlier days who gave or willed money to such an organization would be grieved beyond measure if they could see the way that money is being used to deny the very faith they sought by their gifts to defend and to extend.
Investment And Doctrinal Stability
How do such organizations drift away from sound foundations until they are almost beyond salvaging for the cause of Christ? It is the work of Satan. He makes his breach in the wall when the men on the governing boards begin to drift away from moment-by-moment fellowship with God, get their eyes off the Saviour, and begin to feel that they are important cogs in the ecclesiastical machinery; when they begin to emphasize what man can do instead of what God has already done; when they begin to feel that the idea of the substitutionary atonement is perhaps a little uncultured, perhaps unnecessary, and that perhaps the primary mission of Christ on earth was to set an example, which with a little more effort, man can equal or at least approximate; when they feel that perhaps Calvary was just an unfortunate mistake and that his disciples just imagined the Resurrection. Such falling away points up the urgent necessity for the Christian, before he gives the Lord's money, to watch carefully the trends in the thinking and the living of the men into whose hands the guidance of these organizations has been entrusted. At the first sign of departure from the high standards of Christian doctrine or Christian living, the Christian should ask a question or two in kindness, but if necessary with increasing firmness, to the end that our Christian organizations, both large and small may be kept squarely in the center. Truly, the Christian's responsibility follows after his money, to see that it is used properly and effectively in line with God's eternal purposes.
Harry R. Smith is Vice President of the Bank of America. Born in Philadelphia at the turn of the century, he now lives in Menlo Park, California, and is well-known in business circles for his vibrant Christian witness. He has written the volume Apart with Him.
Preacher In The Red
ECUMENICAL MATRIMONY
MY 11-YEAR-OLD DAUGHTER was listening to her mother and a friend talk about churches.
"I once belonged to the Episcopal Church," said the friend.
"Aren't you an Episcopalian?" my daughter asked.
"No, I'm a Congregationalist now," was the reply.
"And I used to be a Methodist before I married your daddy," said my wife.
"Hmmmm," muttered my daughter. "Cross-pollination!"—ROBERT O. REDDISH, JR., Medina, Ohio.
Have something to add about this? See something we missed? Share your feedback here.
Our digital archives are a work in progress. Let us know if corrections need to be made.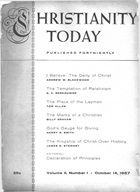 This article is from the October 14 1957 issue.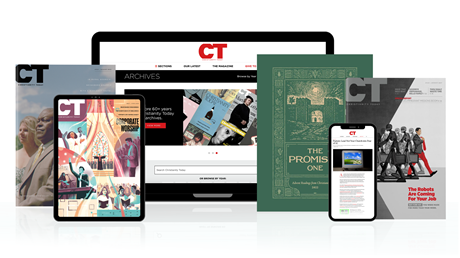 Subscribe to Christianity Today and get access to this article plus 65+ years of archives.
Home delivery of CT magazine
Complete access to articles on ChristianityToday.com
Over 120 years of magazine archives plus full access to all of CT's online archives
Subscribe Now
God's Gauge for Giving
God's Gauge for Giving