For sixty years I have believed in the Deity of Christ. I was reared in an extremely conservative Covenanter-seceder home, where mother read her growing boys long sermons by Ralph Erskine, John Owen and other men of might. After college, with no liberal contacts, I went to Harvard. There I saw Unitarianism at its best, in Francis G. Peabody and other followers of William E. Channing (d. 1842). Out of meager resources I bought the Works of Channing. I wondered at his well-known sermon, "The Character of Christ," but I did not accept his theory of our Lord's person.
At Princeton Seminary the next year I learned the other side. By special permission I took Benjamin B. Warfield's elective course on the Deity of Christ, and Geerhardus Vos, on the Epistle to the Hebrews. I look on them as intellectually the equals of my ablest professors of English at Harvard, and as two of the few real scholars whom I have come to know intimately. To them, and to Francis L. Patton, I owe much of my basic thinking about the Deity of Christ.
At Xenia Seminary I sat under a saint, William G. Moorehead. Later I came to know Theron H. Rice of Union Seminary, Richmond. From these two I learned that a seminary professor can do untold good without being a scholar. With them I approached the Deity of Christ through "the theology of the heart." Not every scholar can be a saint, such as Charles Hodge, but I wish that every seminary had at least one professor who would show by radiance of life the practical meaning of Christ's Deity.
As a parish minister I held to the "faith of my fathers," but not without wavering about the resurrection of the body. In those days not every believer in Christ's Deity held to certain other doctrines. One of the ablest pulpit masters in America, Charles E. Jefferson, put out a volume of doctrinal sermons, Things Fundamental (1903). In two able discourses he pleaded for belief in "The Deity of Jesus." In two other chapters he presented "the new conception of the Scriptures." In a generation when liberal ideas seemed likely to prevail, I gradually came out on the sunny side of faith in all the truths that accord with acceptance of Christ's Deity.
A Test Of Beliefs
In 1929 my beliefs met a searching test. At the Grove City Bible Conference I spoke daily with two brilliant New Testament scholars, Archibald T. Robertson and J. Gresham Machen, each of whom held firmly to the Deity of Christ, and treated me kindly as a believer. One day while there I received a visit from two trustees of Princeton Seminary. The President, Dr. William McEwan, acted as spokesman. The other is still living, and no doubt can verify my recollections of the interview. To my amazement and delight it went much as follows:
"The Board of Trustees wishes you to become the professor of homiletics. Before you say anything, let me state the one condition. The board wishes your assurance that you adhere to the historic position of the seminary, doctrinally." I answered that I did so adhere. I also explained that I thought the seminary ought to change its ways, practically, so as to train graduates for service as pastors and missionaries. On this basis I was elected, and from this position I have never consciously swerved. I refer especially to acceptance of Christ's Deity.
At Princeton I met a good deal of suspicion on the part of nearby observers. So did my friends, Samuel M. Zwemer and John E. Kuizenga, who came about the same time, and on the same terms, doctrinally. Gradually those suspicions faded away, except for an occasional reminder that I was neither inspired nor infallible. Looking back, I wish that all of us who held to the Deity of Christ could have loved and trusted each other.
Let me now turn directly to my subject. Since "no man can bear witness to Christ and himself at the same time" (James Denney), I shall resort to plural pronouns. We evangelicals hold to the Deity of Christ for three reasons. First, and most important, we accept the teachings of Holy Scripture. Our Presbyterian Confession of Faith (VIII.2) witnesses to Christ as "the Son of God, the Second Person in the Trinity being very and eternal God, of one substance, and equal with the Father." Despite the phraseology, abstract and mysterious, we believe this to be the testimony of Holy Scripture, in every part that deals with the person of our Lord. We also believe in his humanity.
Denying The Lord
Not every minister in high place now accepts this teaching. At Yale in 1955 a distinguished bishop of a major evangelical denomination delivered the Lyman Beecher Lectures on Preaching. In the midst of much sound material about God's Good News came a paragraph that seems to have escaped public attention. The brilliant lecturer voiced dissent from a recent statement by the World Council about "Jesus as God." That statement may have originated on the Continent, where the majority of leading theologians believe in Christ's Deity. Not so the bishop.
The statement does not please me, and it seems far from satisfactory. I would much prefer to have it say that God was in Christ, for I believe that the testimony of the New Testament taken as a whole is against the doctrine of the deity of Christ, although I think it bears overwhelming witness to the divinity of Jesus (p. 125).
If this were the teaching of many New Testament scholars today, and if I had to follow them, I should exclaim: "They have taken away my Lord, and I know not where they have laid him!" Fortunately, we still have from other days such volumes as The Divinity of Our Lord and Saviour (1903), by H. P. Liddon; The Lord of Glory (1907, 1950) and The Person and Work of Christ (1950), both by B. B. Warfield; The Self-Disclosure of Jesus (1926, 1954), by Geerhardus Vos; The Divinity of Christ in the Gospel of John (1916), by A. T. Robertson; and The Person and Work of Christ (1908), by Nathan R. Wood.
More recent authors include Loraine Boettner, The Person of Christ (1943); Samuel G. Craig, Jesus of Yesterday and Today (1956); Leon Morris, The Apostolic Preaching of the Cross (1955); and William C. Robinson, Our Lord (1937, 1949). The list might also include well-known works by men not so strongly conservative. One of them, John M. Shaw, has a work on Christine Doctrine (1953). Among many other good things, a paragraph stresses Christ's claims for himself:
In this claim of Jesus … we are confronted with nothing less than a moral problem of the gravest kind, a problem whose issue we can not evade with intellectual sincerity.… "Either Jesus was God, or He was not even a good man" (aut deus aut non bonus homo.) So the old Fathers formulated the alternative. And there is no escape from this inexorable dilemma.… "Either Jesus was a Deceiver, and was Himself deceived," or "He was divine, God the Son incarnate" (p. 161).
Ground Of Belief
First of all, then, we believe in Christ's Deity because we accept the teachings of Holy Scripture. Again, we believe because we find many confirmations in church history. Anyone familiar with the facts can make an experiment at home. Using as a guide Larourette, Schaff, or any other capable historian, make a chronological list of church leaders who have strongly believed in the Deity of Christ. Then compile another list of other leaders who have not bowed down to him as "very God of very God." The first list we may call evangelical. The second we need not label, lest we seem to be casting stones.
A glance over the two lists will show that a vast array of saints and heroes have held to the Deity of Christ. Much the same conclusion will follow if one makes a list of first-class hymns that sound forth the glories of Christ as One whom we worship, as we worship no one save God. In another list put songs full of beauty, such as fill the pages of a typical hymnal among Unitarians. Neither of these experiments can prove the fact of Christ's Deity. Belief in that high doctrine must rest on the revelation in Holy Scripture, and on the witness of the Holy Spirit in the believer's soul. Still it is good to know that we who engage in the worship of Christ as God stand in the succession of the mightiest leaders of the Church and the noblest authors of hymns that the Church will never let die.
A third reason for accepting Christ's Deity has to do with Christian experience. Fortunately, the doctrine does not depend on our acceptance. On the other hand, the value of the truth to any person or group does depend on the inner witness of the Holy Spirit, and on daily fellowship with the Christ of God. So if anyone ever begins to waver, let him come close to Christ in the written Word and hold fellowship with him in prayer. In his own time and way the Lord of Glory will make himself known as he did to doubting Thomas of old, so that the young Hebrew disciple exclaimed: "My Lord and my God!"
A Word To The Ministry
Now for a word to the young minister. At least once a year preach a sermon directly about the Deity of Christ. Do not argue, defend, or attack. Simply, clearly, and kindly set forth what some part of Holy Writ teaches about the person of our Lord. Make clear also what difference the truth ought to make in the life of the hearer. Because he believes in Christ's Deity, the layman ought to trust the Redeemer for salvation from sin; follow him as Lord and Master; learn from him as Teacher and Guide; look to him as Divine Friend and Helper, and make ready to stand before him as Final Judge.
All this the layman will see clearly if he learns about Christ as One whom believers worship. As intelligent beings, created in the Father's image, we worship no one but God. Why then do we adore Jesus Christ? To him we pray, as Stephen did when dying, because he believed in Christ's Deity. With his last breath he uttered two prayers which he addressed to the Lord Jesus (Acts 7:59, 60). To Christ we now can pray, and worship him in holy song.
We know why Pliny the Younger (died c. 113 A.D.), not a believer, wrote about early Christians as gathering before daybreak to "sing in turn a hymn of praise to God." In many of our noblest songs we too exult in the glories of our Redeemer. At Christmas with Charles Wesley we sing about the "new-born King"; "Veiled in flesh the Godhead see; hail the incarnate Deity!" In May we adore "Fairest Lord Jesus, Ruler of all nature." At the Lord's Supper we "behold the wondrous Cross, on which the Prince of Glory died".
Forbid it, Lord, that I should boast
Save in the death of Christ my God;
All the vain things that charm me most,
I sacrifice them to His blood.
Andrew W. Blackwood has a well-earned reputation as preacher, teacher, and author of books for preachers. He pastored Presbyterian churches for 17 years. In 1925 he began teaching. After five years as Professor of English Bible at Louisville Presbyterian Seminary, he became Professor of Homiletics at Princeton Theological Seminary from 1930 to 1950. Since 1950 he has been Professor of Preaching at Temple University School of Theology. This article is the first of a series by Protestant leaders on the theme, "I Believe."
Have something to add about this? See something we missed? Share your feedback here.
Our digital archives are a work in progress. Let us know if corrections need to be made.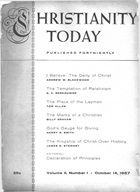 This article is from the October 14 1957 issue.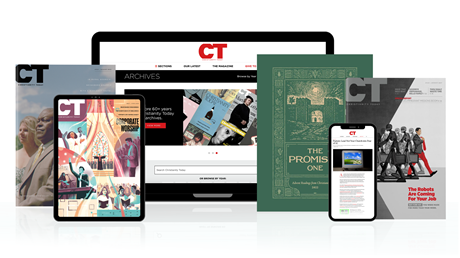 Annual & Monthly subscriptions available.
Print & Digital Issues of CT magazine
Complete access to every article on ChristianityToday.com
Unlimited access to 65+ years of CT's online archives
Member-only special issues
Subscribe
I Believe: The Deity of Christ
I Believe: The Deity of Christ