"What is that to thee? follow thou me" (John 21:22).
A friend once asked Daniel Webster, "Mr. Webster, will you tell us the most important thought that ever occupied your mind?" The great statesman thought a moment, and then said, "The most important thought that ever occupied my mind was that of my individual responsibility to God."
Now it was this truth—that a man has an individual responsibility to God entirely apart from his fellows—that Jesus was seeking to instill in Simon Peter's mind that morning by the sea of Tiberias. After Jesus had served breakfast to the seven disciples there on the shore, he took Peter aside for a private conference. It was during this conversation that our Lord revealed to Peter that he would be called upon to suffer a martyr's death, that he would die for the faith.
As the two men talked, John, "the beloved disciple," came toward them. When Peter turned and saw his fellow disciple approaching, he said to Jesus: "Lord, and what shall this man do?" Then came the sharp rebuke which forms our text: "If I will that he tarry till I come, what is that to thee? follow thou me." In other words, "Mind your own business, Peter. What is in store for John is no affair of yours. Only see to it that my plan for you is carried out. I'll take care of John." You see, the Master was rebuking Peter for turning his mind away from his own private duty to idle and fruitless speculation about the fate of a companion.
Needed Rebuke
The big fisherman needed this rebuke, and so do many of us. One of the most important lessons which you and I have to learn is to get our eyes off other people, and tend to our own knitting—doing and being what God meant for us to do and to be. Strong in all of us is the tendency to watch the other fellow, and to contrast our situation with his. It is a common temptation, and, from a psychological point of view, a destructive habit. So many things that plague men's lives grow in this soil—envy, discontent, resentment, self-pity. The offices of physicians and psychiatrists are full of unhappy, restless individuals who are frustrated and inhibited in this very thing.
It is a great day in a person's life when he makes up his mind to be himself—to do his own work, to fill his own special niche, and to follow God's unique plan for him. Only thus can he experience fulfillment and peace of mind. Emerson once wrote: "There is a time in every man's education when he arrives at the conviction that envy is ignorance; that imitation is suicide; that he must take himself, for better, for worse as his portion."
God had a work for Peter to do, and a work for John, because each of these men was unique, and it was this uniqueness which made the cause succeed. Peter could serve God's cause best by simply being Peter. He would have fizzled at John's work, as John would have failed at his. God's will or plan is never the same for any two of us. The Divine Architect never hands down two sets of blueprints exactly alike. His plan for your life is not his plan for mine, and his plan for my life is not his plan for yours. But both are essential.
To Each His Gift
I wonder if you have noticed how much St. Paul emphasizes this truth in his epistles. Writing to the Christians in Corinth he says: "Men have different gifts.… There are different ways of serving God.… God works through different men in different ways, but it is the same God who achieves his purposes through them all" (1 Corinthians 12:4–6, Phillips translation). And writing to the Ephesians Paul said, "His gifts unto men are varied. Some He made Special Messengers, some prophets, some preachers of the Gospel. His gifts were made that Christians might be properly equipped for their service, that the whole Body might be built up" (Ephesians 4:11, 12, Phillips).
In Martin Luther and Philip Melanchton we have the Peter and John of the sixteenth century. Luther knew that in some respects he was not as gifted as Melanchton, but he also had the wisdom to see that he could do a job for the kingdom which Melanchton, with all his gracious endowments, could never do. He said: "I was born to be a rough controversialist. I clear the ground, pull up weeds, fill up ditches, and smooth the roads. But to build, to plan, to sow, to water, to adorn the country, belongs by the grace of God to Melanchton." It was a great day for the Protestant Reformation, and for the kingdom, when Martin Luther was willing to be Luther in all the glory and power of his individuality.
God knows what he is doing when he hands to each of us a particular set of abilities, and if we determine to be somebody else, or demand that somebody else be just like us, we are hindering Christ's purpose, and retarding his work.
All have a share in the beauty,
All have a part in the plan;
What does it matter which duty
Falls to the lot of a man?
Inhibiting Growth
This habit of watching others inhibits our spiritual growth and makes us less effective in our service for Christ. We who work hard in the church see others who are not working hard, and it disconcerts us. They seem worldly, indifferent and free. They assume little or no responsibility for the Christian cause. And, as we watch them, we begin to feel a little sorry for ourselves. We think our lot is hard, and that we are bearing a disproportionate share of the burden. As a result of this comparison, we grow tired of responsibility, and want to "throw in the sponge." Why should I, we ask, carry such heavy and demanding loads, while others go scot free?
It is a familiar but dangerous mood. We are so busy wanting others to follow Christ faithfully that we do not settle down to the business of following him ourselves. Some horses have to have blinds on their bridles to keep them from distraction. Maybe we Christians need some such device if we are to have a consistent and undisturbed loyalty to Christ.
Another way in which this habit of looking at others hinders our spiritual growth is that as we see their weaknesses and failures we become satisfied with our own religious progress and become complacent Pharisees. The poor achievements of others become our standard instead of the high calling of God in Christ Jesus. But Christ is our example and our ideal, not some limping, indifferent church member!
No Valid Excuse
This is a wonderful text too, for those people who say that they will not join the church or profess the Christian faith because they see certain professing Christians whose lives are imperfect. They say that they do not follow Christ because someone who professes to be religious has let them down. He has given such a poor demonstration of Christianity that they have been forced to turn from it in disgust. That is a familiar complaint of the irreligious, but I believe that Jesus would say to all such people, "What is that to thee? follow thou me!"
Some people never tire of talking about hypocrites in the church. What a stale dodge it is! Wrote Dean Chas. R. Brown of Yale, "You speak of religion to some man, and all he can think to say is some silly quibble.… You mention the church, and his mind is off like a rat to drag out some moth-eaten story about an unworthy deacon. You wish to show him the well that is deep, and he merely jumps up and down in the puddle of his own conceit to splash you with mud. How pitiful it is" (Finding Ourselves, Harper, p. 83).
Let me say a word about the contention that there are hypocrites in the church. The people who attend church regularly and take an active part in its fellowship are not playing the hypocrite. They are not pretending anything. They are confessing something. They are confessing that they need what religion and the church have to offer. The Christian church is not a display room for model Christians. If you think that it is, then you have a wrong conception of the church. The church is a spiritual hospital for people who know that they are sick, and are without hope in this life and in the next without the grace and power of God. Some may join the church to impress others and to gain a reputation for piety, but this can be true of only a few. I do not stand in this pulpit because I think that I am better than someone else, and I do not stand here because I have "arrived" spiritually. I am here because I think that this is where God wants me to be, and because I have some good news about him. As Paul said to the Corinthians, "we preach not ourselves, but Christ Jesus the Lord" (2 Cor. 4:5).
This line about hypocrites in the church is a common one, and is an excuse very helpful to the devil. He capitalized on it, plays it for everything it is worth. In The Screwtape Letters, C. S. Lewis makes quite a point of this. This book, you know, is a series of imaginary letters written by Screwtape, an elderly devil in hell, to his young nephew on earth whose name is Wormwood. Screwtape is coaching Wormwood on how to keep people out of heaven and get them into hell. In one of these letters the old devil is telling Wormwood that one of the best ways to get his man into hell is to encourage him to watch the people he meets in church. Here is what he says: "When he gets to his pew and looks around him he sees just that selection of his neighbors whom he has hitherto avoided. You want to lean pretty heavily on those neighbors. Make his mind flit to and fro between an expression like 'the body of Christ' and the actual faces in the next pew.… Work hard, then, on the disappointment or anti-climax which is certainly coming to the patient during his first few weeks as a churchman" (op. cit., pp. 16, 17).
We Must Answer
Shame upon us Christians that we do not more perfectly reflect Jesus Christ in our lives and conversation! May God in his mercy forgive us if we are ever the cause of another turning away from Christ and missing eternal life! But friend outside the church: this does not excuse you. What you say about certain church members may be true, but it will not weather the final judgment. When you come to stand before Christ he will not ask you how another believed or lived. There you must speak for yourself, and only for yourself. And this plea of yours about how others failed will be the lamest of all excuses.
Remember, God offers you his beauty and his glory, however much some of us may have missed it. As Leslie Weatherhead suggests, you don't say, "Beethoven's music is no good," just because the girl next door murders his sonatas on the piano, do you? You don't say, "I shall stop seeking health," because you know a doctor who is sick, do you? Of course you don't. Then why do you say, "I'm finished with Christianity because I know a preacher or a layman who is a humbug"? He may be, but why miss the salvation Christ offers—why lose the enrichment of personality and the inner peace and harmony which he offers—just because another has been such a poor example of what a Christian ought to be?
If some of us have missed what Christ came to give, why should you miss it? If you do not like some of the people in the church—if you are persuaded that we have tarnished the faith with unworthy lives, will you offer yourself for the Christian cause, and do the job right? If some of us have hurt the good name of Christianity, will you help to redeem it? If the church is not at all what you think it ought to be, will you come in and help to make it better?
"What is that to thee? follow thou me."
Eyes front! Forward march!
William M. Elliott, Jr., is pastor of Highland Park Presbyterian Church and Moderator of the Presbyterian Church, South. He holds the A.B. degree from Park College, B.D. from Louisville Presbyterian Seminary, and Ph.D. from Edinburgh University. Davidson College has conferred the D.D., and Park College the L.H.D. Dr. Elliott is author of several books, among them For the Living of These Days and Lift High That Banner.
Chosen And Appointed Path
To know despair. To feel
The stark, blank hurt of her
Whose mother-love has spent
Itself upon a Judas.
To taste delight, as sire
Whose sun-kissed baby daughter
Laughs her infant ecstasy
Into his singing heart.
To have the joy of soul—
Clean maiden whose treasure springs
From bursting heart to golden song
Upon her wedding day.
To touch and clasp the pain
And burden of the bruised
And scattered multitudes
Who wander lost, and yearn.
To share the hope and fear
That stir and wrench and pull
Each human heart, and drive
From grasping earth to God.
"To laugh with them that laugh,
To weep with them that weep,"
To serve the Lord of Love
Among his hungry sheep.
JOE CARSON SMITH
Have something to add about this? See something we missed? Share your feedback here.
Our digital archives are a work in progress. Let us know if corrections need to be made.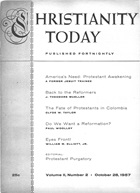 This article is from the October 28 1957 issue.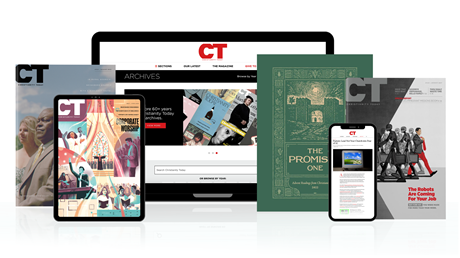 Subscribe to Christianity Today and get access to this article plus 65+ years of archives.
Home delivery of CT magazine
Complete access to articles on ChristianityToday.com
Over 120 years of magazine archives plus full access to all of CT's online archives
Subscribe Now
Eyes Front!
Eyes Front!