By the famed Boston Common stands Park Street Church, whose congregation has taken the whole wide world to its heart. From the hub of New England, which is pervaded by Roman Catholicism, Christian Science, and Unitarianism, the 2,200 members of this historic church bear witness to historic Christianity in the five continents.
What spirit of sacrifice animates this great missionary congregation? What explains its designation of more than a quarter of a million dollars annually to foreign missions? For an authentic account, CHRISTIANITY TODAYinterviewed Dr. Harold John Ockenga, whose ministry at Park Street Church has become a symbol of devotion to the foreign missions enterprise. Questioners included 1. Dr. L. Nelson Bell, 25 years a missionary surgeon and hospital administrator in China, and for a decade a member of the Board of Foreign Missions of the Presbyterian Church, U. S., and Executive Editor ofCHRISTIANITY TODAY; and 2. Dr. Cary N. Weisiger, one-time missionary to India whose own congregation in Mt. Lebanon (Pa.) U. P. Church has increased missionary giving five-fold in 10 years.
DR. BELL: What is the secret of a great missionary church?
DR. OCKENGA: It rests in the New Testament program given to the Church by the Lord Jesus Christ. When I discovered that program, it revolutionized my ministry.
DR. WEISIGER: Can you spell it out for us?
DR. OCKENGA: As outlined by the Lord Jesus Christ in commandments given to his disciples after the resurrection, the first point of emphasis is that of the world missionary enterprise, repeated at least six times in the resurrection appearances and teachings of our Lord.
DR. WEISIGER: Where does evangelism fit in?
DR. OCKENGA: There is no distinction, of course, between evangelism at home and evangelism abroad. Nevertheless, I believe that the world missionary enterprise receives the primacy for our Lord refers to "every creature, every nation."
DR. BELL: What else is entailed in such a program?
DR. OCKENGA: Another emphasis is applying the teachings of our Lord Jesus Christ to every realm of life, so that in economics or politics or entertainment or family relations or education, the Gospel must be applied as we teach the principles and standards of life given by our Lord. Finally, there is the humanitarian application of these things, emphasized by Christ in his great Olivet Discourse, by Paul in numerous places, and by John in the third chapter of his first epistle.
DR. WEISIGER: What is the result in the local churches?
DR. OCKENGA: If you take missions, evangelism, Christian education, and humanitarianism, and bring your church together on that basis, then you are bound into a fellowship that doesn't need many of the things on which people depend today for Christian fellowship. You have the fellowship of suffering, of sacrifice, of service, and this is the kind of thing that makes a local church tick and really prosper.
DR. BELL: What has actually happened at Park Street Church as a result of this missionary emphasis?
DR. OCKENGA: In the direct percentage our missionary work has enlarged, so all aspects of our church have been blessed, prospered, and increased. We started in 1936 by giving $2,200 a year to missions. Each year the total has gone higher. Last year we raised $258,000. In the last 20 years we've given about $2,750,000 for missions. Whereas in 1936 our budget was only $20,000 for the entire church, including gifts for missions, last year our budget was $465,000. What I'm pointing out is that all other things are blessed as we catch the missionary vision and apply it.
DR. BELL: Has your church seen a corresponding increase in the offering and dedication of lives?
DR. OCKENGA: When we started we had only two or three church members who were missionaries—and we did not support them. Today we have 123 missionaries on the field, 61 of whom are members of our church, most of whom were our own young people, and we support all of them.
DR. WEISIGER: How can we make the people back home more aware of foreign missions developments?
DR. OCKENGA: By annual church missionary conferences in which the major speakers are missionaries.
DR. BELL: Your church regularly sponsors such a conference. Could you tell us about it?
DR. OCKENGA: We hold a missionary conference each spring. For a whole week we have services from morning to night featuring 70 or 75 missionaries. The climax of the conference is a pledge offering for foreign missions and an appeal for young people who are willing to become missionaries.
DR. WEISIGER: Dr. Ockenga, do you feel that the congregational form of government in your church affords an essential advantage over old line denominational churches in the selection of guest missionary speakers.
DR. OCKENGA: A vast number of pastors in America serve denominational churches which for the most part are not autonomous. And I feel that money ought to be channeled to denominational work which is worthy of support. But I also think that it is wise to supplement such efforts with support for some of the interdenominational movements, because in some instances these can work more effectively than denominational efforts.
DR. WEISIGER: Do you support denominational missionaries?
DR. OCKENGA: We support a number of Congregational and Presbyterian missionaries, as well as others who work under independent and interdenominational boards.
DR. WEISIGER: Have you detected any recent loss of interest in foreign missions because of increased restrictions in various countries? Are people saying, "What's the use?"
DR. OCKENGA: Difficulties experienced in some foreign missionary work may change the emphasis in methodology, but they will not alter the content of the message. We believe that the second coming of the Lord Jesus Christ may be imminent. We also feel that the changing world scene stimulates us to a greater evangelistic endeavor than before.
DR. BELL: In view of the changing world and resulting problems for missionaries and national churches, how do you feel about necessary transitions which will preserve world evangelization while at the same time discarding methods or policies which are no longer wise?
DR. OCKENGA: The time has come for a new look in missions that would adjust to the changing day.
DR. BELL: Will you explain?
DR. OCKENGA: Yes. Our missionary enterprise today should give priority to the reaching of foreigners studying in American schools. That's the first point.
DR. BELL: And the others?
DR. OCKENGA: This new look should also include a new emphasis on more missionary literature, more evangelical radio broadcasts, and the establishment of indigenous churches.
DR. WEISIGER: Is there an immediate prospect for the use of television on the mission field?
DR. OCKENGA: That's highly debatable. The prospect differs from nation to nation. But soon will come the day when we can bounce beams off satellites and send television pretty well around the world.
DR. BELL: Is it within the province of the free world to do more to reach Russia and Red China through radio?
DR. OCKENGA: I think that is a good possibility and a real responsibility. We could undoubtedly evangelize more behind the Iron and Bamboo Curtain. Take Radio Tangier, for instance. For something like $22 a half-hour program can be purchased. This will carry all through European Russia and will take in the satellite nations where people can hear the Gospel—and in their own languages—if only the money were available!
DR. WEISIGER: Don't you think we can exploit air travel more effectively? Some churches send young people to work camps abroad during vacation time, or they have some of their young people suspend college courses for a year to help out at a mission station.
DR. OCKENGA: I think that can all be used as a means of recruitment, provided you don't become wasteful of resources, for we have so many desperate needs on the mission field. I hear of a church that sends 25 young people to the foreign field for a summer yet has a roster of only 10 permanent missionaries. That's all out of balance. We never sent anyone on a trial basis. Our young people got to the mission field by listening to the Word of God and seeing the need.
DR. WEISIGER: In your view, do you hold the opportunity before young people who are trained for technical professions to go into other lands under something like Point Four or in the foreign offices of American companies—with a missionary motive yet circumventing hostile entrance requirements of various governments?
DR. OCKENGA: Yes. A high official from India has told us that the future of missions there lies in just the thing of which you are speaking. We were told that the Indian government is not going to encourage sheer proselytizing, but that missionaries with practical skills will be welcomed and will not be prevented from propagating their faith.
DR. BELL: What is the greatest threat to the advance of Christian missions today?
DR. OCKENGA: Probably it's a multiple threat. Communism is a great threat, but I suspect that spiritual indifference, love of ease, or the embrace of materialism can be just as hazardous to the missionary cause.
DR. WEISIGER: From a pioneer missions standpoint, what area in the world presents the greatest missions challenge?
DR. OCKENGA: Well, I'm told that there are more than 500,000 villages in India and that only a small portion of them have been reached with the Gospel. Then, of course, there are areas in Central Asia, New Guinea, and South America that have not been reached.
DR. BELL: Is there a danger in over-subsidizing national churches to the point where they will depend on outside help permanently?
DR. OCKENGA: There is a two-fold danger in looking to the outside for finances that should come properly from inside the church. Any church subsidized from America will be looked upon with great suspicion in the event a communistic philosophy takes over. Moreover, there is a danger in the atrophying of initiative if a church is subsidized from without.
DR. WEISIGER: How does a mission become a self-supporting church?
DR. OCKENGA: It is a gradual process. Brazil illustrates how every type of mission work can be going on in one country. There is a large, completely self-supporting, self-propagating church in city and urban areas. In the hinterlands is where the missionaries work mostly sometimes alone and sometimes with a few Brazilian aides. As a small congregation is formed, it is turned over to the national Brazilian church. The missionary and the missions relinquish all control when congregations find themselves able to have even a part-time pastor.
DR. BELL: What are the implications of ecumenism for foreign missions?
DR. OCKENGA: Today there is a new emphasis among foreign missions boards. We now have the fraternal worker policy and the stress upon the equality of all branches of the church. In a measure it seems a very good tendency, one which will recognize the dignity and equality and efficiency of the national or indigenous church. On the other hand, if we place belief in the ecumenical church to the curtailment of pioneer missionary work, I think it is a mistake! And if we tone down the essence of the Gospel and abandon evangelical Christianity, then again I think that the ecumenical emphasis in missions can be a menace rather than a blessing.
DR. WEISIGER: Can conservatives and liberals cooperate in the missionary enterprise?
DR. OCKENGA: That's always been a great question. I feel there should be cooperation wherever there is faithfulness to the Lord Jesus Christ as the Son of God and Saviour as presented in the Bible. Otherwise I could not conscientiously support cooperation.
DR. BELL: Is it becoming easier to be a foreign missionary in terms of increasing conveniences at out-of-the-way places?
DR. OCKENGA: There are two basic kinds of missionaries. Some people believe that we should go to the mission field and live on the level that we do in this country. Others think they should empty themselves and live on the level of the local individuals. My opinion is that ultimately the only way of effectively evangelizing any nation is through the indigenous Christian who speaks the language without a foreign accent and who expresses the culture of the people to whom he ministers. It's for this reason that I think our greatest work as American missionaries lies in training the national Christian to become the preacher of the Gospel.
DR. WEISIGER: To your way of thinking how do home missions compare with foreign missions?
DR. OCKENGA: In America we are near the time when a billion dollars will be spent on church building annually. In itself that is fine. But when it is compared with the paltry sum that is given for world evangelism it should condemn the American church before God. It seems to me that there are just multitudes of churches that have very little interest in the missionary enterprise. We need to get on fire and catch the vision of the New Testament! If I didn't have a missionary church I think I'd just have to resign and go to the mission field myself.
DR. BELL: What can the individual minister do to challenge young people to carry the Gospel abroad?
DR. OCKENGA: He should proclaim the Gospel, then present the challenge of consecration, urging that young people be willing to accept the call of God if it comes. I might say that a call for a young person would consist of the understanding of the message of the Gospel which will meet the need, the knowledge of the need, and the internal impulse which is the drive of the Spirit calling him to the field.
DR. BELL: Should a minister count on getting missionary volunteers from among his young people?
DR. OCKENGA: When we get into the position of obedience and we place all that we have in our own hands into the Hands of our Lord Jesus Christ, then there will be placed upon some young people the internal drive that God wants them in the mission field.
DR. WEISIGER: Do you regard the pastor as the one primarily responsible for implementing a promotional program for missions in a local church?
DR. OCKENGA: The pastor is the key to the whole program.
DR. BELL: What can the layman do, specifically, for individual missionaries?
DR. OCKENGA: I hold up to my people that wherever possible a layman should support his own missionary on the field. If a person doesn't have that much money, then a group should band together to support a missionary. This pattern has been a great impetus to missionary work in our church—in prayer, correspondence, and material help.
DR. WEISIGER: How is lay enthusiasm essential?
DR. OCKENGA: To put a missionary program across, all you need is a few laymen who are thoroughly sold on the idea. In our church I was indebted to a Harvard law professor who had taken a trip around the world. Passionately interested in missions, he led our whole missions program for 10 years before his death.
DR. WEISIGER: What is the implication of the Park Street missionary program for local churches in North America?
DR. OCKENGA: I feel that Park Street Church has performed one of its greatest services in setting a pattern for many other churches. Literally scores of churches look to us for that pattern. Many send delegations to our missionary conferences to study it and duplicate it for their own congregations. Many pastors write, asking information and guidance in conducting a missionary conference. I have dozens of invitations to conduct missionary conferences for other churches. All this shows to me that the ramifications are wide.
Have something to add about this? See something we missed? Share your feedback here.
Our digital archives are a work in progress. Let us know if corrections need to be made.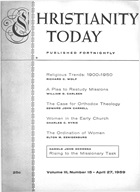 This article is from the April 27 1959 issue.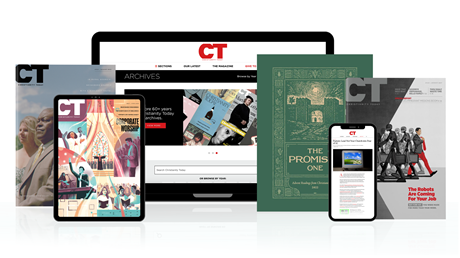 Subscribe to Christianity Today and get access to this article plus 65+ years of archives.
Home delivery of CT magazine
Complete access to articles on ChristianityToday.com
Over 120 years of magazine archives plus full access to all of CT's online archives
Subscribe Now
Exclusive Interview: Rising to the Missionary Task
Exclusive Interview: Rising to the Missionary Task