The mission had been working in one section of the country for 30 years and had given salaries to national pastors and evangelists with funds from abroad. Many local Christians had taken the attitude, "Why should we support our pastors if the mission will guarantee their salaries." The laity felt no strong imperative to witness for Christ while others were being paid to do it. Since the missionary paid the salaries, he also directed the work of the national pastors and evangelists. Some of them felt the missionary was a contractor and they were day laborers. Others felt that they were mere bird dogs who ran at the missionary's bidding to spot prospective converts.
Realizing the futility of such a program, the missionaries voted to do away with the "subsidized pastor and evangelist" program over a period of two years. This was carried out not in a cold-blooded, ruthless manner but in love. Some folk, supported by mission funds from the time they had entered Bible school, were not willing to forego their guaranteed salary without a struggle.
The time came for the annual national church conference. Over 200 Christians met for spiritual fellowship and business sessions. Some felt that the greatest need of the church was financial and that "all would be rosy" if only the mission would give them all the money they wanted. Much was said about the mission's unloving suspension of salaries.
One of the members of the national church committee rose to recommend that the mission be asked to leave their section of the country and that another mission be asked to take over the work. He described what a mission in another section of the country was doing for the people by paying salaries, offering educational and medical benefits, and erecting impressive buildings.
A deacon of over 20 years devotion to Christ stood and, with deep emotion, said, "These missionaries are our fathers and our mothers. They have brought us to Christ. Just because my earthly father doesn't give me all that I ask for, is that cause for me to disown him and hunt for a wealthy father who will give me all that I crave?" Another deacon rose and read from James 4:3: "Ye ask and receive not, because you ask amiss that you may consume it upon your lusts." The motion to ask another mission to take over the work was lost.
This situation illustrates a problem that occurs when several missions with divergent policies work in the same area or close proximity to each other. One mission may offer a degree of economic security to converts. Another mission will seek to establish an indigenous church that is self-supporting, self-propagating, and self-governing from the beginning of the work. Where two such divergent policies are employed in the same country, the national is tempted to follow the group that gives the most material benefits.
In the deployment of missionaries there is the temptation to multiply missions in areas that have great emotional appeal to the home constituency. The Christian public is usually more moved by tales of life among naked savages than of tedious missionary work in a civilized but yet pagan society. Results are usually more quickly realized among people with a primitive religion such as animism or spirit worship than with a deep-rooted philosophic religion like Buddhism or Mohammedanism.
Some mission executives will be quick to tell you that more candidates apply for work among primitive tribes than for work among civilized societies with a state religion and are suspicious of a foreign religion.
Sometimes Christian leaders, who make world tours that do not allow much time for fact-finding, are guilty of misleading their constituency by misdirected appeals. One such leader spent 10 days in an Asian capital visiting heathen temples and writing about the appalling absence of a Christian witness in such a populated center. After he left the country he stumbled on the fact that he had stayed in a hotel that was 25 minutes walk from a large church, Bible school, and hospital conducted by two alumni of his college.
At the conclusion of World War II an urgent appeal was made to send missionaries to a certain country in Asia. A great host of missionaries responded. The only difficulty was that they represented 143 Protestant missions all seeking to work in a land area the size of Montana, but of course with a much larger population—over 90 million people. Each of these 143 missions had to have its own organization setup and promotional program so that the funds would continue to flow from its home constituency. Of course the local population was confused with the many shades of doctrinal views and patterns of behaviour displayed by people who claimed to be Christians. Thirty-one Bible schools, seminaries, and Christian colleges were established with a combined student body of 987, the teacher-student ratio being less than four students to one teacher. Some missionaries who have worked in such a Babel of organizations have exclaimed that there are "too many chiefs and not enough Indians" or, in other words, too many generals and not enough foot soldiers. The Protestant effort is top heavy with too many missionaries tied up in administrative posts and specialized ministries, and too few missionaries working at the grass roots in pioneer evangelism and establishing the indigenous church.
Some evangelical bodies refuse to work in cooperation with any other evangelical group. They clothe their reasons in highly spiritual language. They want to avoid entangling alliances and be free to follow the guidance of the Holy Spirit, they say, and therefore do not want to enter into mission comity agreements. Their actions imply their disbelief that God can reveal his will to a corporate body of Christians representing members of the same Body with Christ as the Head.
In many instances a group that majors on a minor point of biblical interpretation will not launch into an unevangelized area where there is no Christian testimony, but will feel it is their duty to work among a flock established through the sacrificial labors of another evangelical body in the hope of winning them over to their doctrinal emphasis.
The history of American Christianity reveals the fact that some groups do not owe their existence so much to God-given convictions regarding neglected truth but rather to political and geographical considerations. Is it necessary for evangelicals to export sectarianism? Must we label new Christians with our denominational tags so that our particular outfit will be sure to get the credit in the ledgers of heaven—even if in so doing we steal the glory from Christ and destroy the unity of his Body, the Church?
The answer to the crying need of a host of missionaries to spearhead the evangelization of the world is not the multiplication of mission agencies. This only creates confusion, a waste of funds and personnel, an overlapping of ministries, and an unhealthy type of competition. The need is for an informed Christian public who will not be led hither and yon by mere emotional appeals but will answer facts with consecrated action. The need is for a Christian public that will insist that our leaders promote the unity of the body of Christ before denominational loyalty, and that our leaders display a team spirit in working with all of like precious faith by praying, planning, and accomplishing together. This does not mean that evangelicals should join heretical groups and modernists who deny the deity of Jesus Christ and are enemies of the Cross, but there is certainly a basis of cooperation among all, redeemed by the Blood of the Lamb regardless of race and color.
It was understood that in a large country like China, holding one fifth of the world's population, the constituency of one evangelical body would not be adequate to maintain a sufficient missionary force to evangelize the entire country in a short period of time. It was necessary that several missions survey the need and divide the territory.
The land area and population is not always a true picture of the need in a country. Consideration must be given to the number of language groups found so that each group may have a witness.
Missions should not stake out more territory than they can adequately occupy within a reasonable length of time. There should be a realistic facing of facts and a determined effort to cooperate with all members of the body of Christ. This problem is not beyond solution. The solution is simple wherever Christians put devotion to Jesus Christ before denominational loyalty and speak and work in terms of "His Church" rather than "our denomination," "our work," and "our group."
END
Time Of Miracles
Now is the time of miracles when God
walks out in fields and—as though they touched His hem—
they heal of brown and barrenness; the sod
is shaken; life creeps up the stem to make a blossom and the dormant earth
is alerted to its sweet re-birth.
The streams and rivers from their Lazarus-tombs
rise up, come forth again at the command
that summons up the world. Sun resumes,
with plows and plowmen, power on the land.
Dark and doubt together are o'erthrown—
Even the spirit cannot bide a stone—
HELEN HARRINGTON
Statistics of the Missionary Research Library disclose a significant increase of missionary activity throughout the world. This poses anew such problems as duplication of agencies, overlapping ministries, waste of funds and personnel. Speaking to these issues is William D. Carlsen who has served the Christian and Missionary Alliance in Kansu Province, China, from 1947–49, and in Thailand to which he returns in June after his present furlough. He is a graduate of Nyack Missionary College and holds the B.A. from Houghton.
Have something to add about this? See something we missed? Share your feedback here.
Our digital archives are a work in progress. Let us know if corrections need to be made.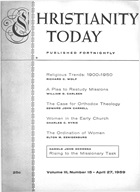 This article is from the April 27 1959 issue.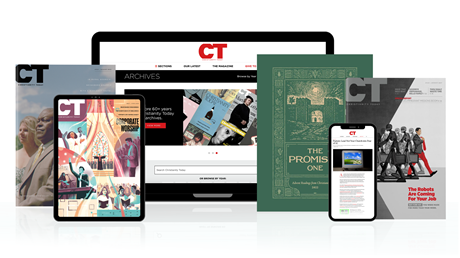 Annual & Monthly subscriptions available.
Print & Digital Issues of CT magazine
Complete access to every article on ChristianityToday.com
Unlimited access to 65+ years of CT's online archives
Member-only special issues
Subscribe
A Plea to Restudy Missions
A Plea to Restudy Missions