"The most wasted hour in the week." In these words, Wesley Shrader, writing in Life magazine has characterized the one hour a week during which a minority of Americans receives formal religious instruction. One wonders if even the one hour in 168 is worthwhile for this purpose.
A Work Of Wonders
Though the Sunday School seems to limp along, it often accomplishes wonders. Only an all-wise God could utilize untrained volunteers, meager physical facilities, and limited materials to change the course of so many lives. Handicaps that would stagger the secular educator meet the underprepared but faith-filled teacher and superintendent, and the Lord gets for himself and us the victory. The truly dedicated teacher feels that time is so short for the learning of so much important content that the Sunday School hour should provide the most challenging, fruitful experience of the whole week.
The Demand Of The Times
Today, Sunday Schools should and must offer experiences that are unique. When William Wordsworth wrote, in the early nineteenth century, "the world is too much with us," he knew less than half the secular pressures of the century to come. Over a span of several generations, our whole society has grown increasingly secular. American social institutions are bent on doing good to man without reference to the Eternal. Two objectives actually dominate our lives: acquiring more and more material possessions, and seeking the ultimate in pleasure. Many nominal Christians, young and old, live from Sunday to Sunday without contact with the things of Christ. In the day schools, activities are highly secularized, except for concessions to five carefully-rationed verses from the Old Testament, a mumbling of the Lord's Prayer, and an occasional pantheistic assembly program designed neither to stimulate nor to offend. A popular superstition, shared by many evangelicals, holds that an insidious Fu-Manchu of education named John Dewey has dominated our public schools and fathered atheism in them. Those of us who have worked in several public school systems and have visited a good many others know that Dewey's influence, both in "progressive teaching" and in secularization of the schools, is almost negligible. Sanely progressive teaching stems primarily from what God has permitted us to know about the nature and nurture of children, and about the ways in which people of all ages learn most effectively. Secularization has occurred precisely because we have wanted it.
The Evangelical Outlook
To fill a great spiritual void, we need evangelical Sunday Schools. The superior Sunday School of evangelical persuasion does much more than teach hero stories of the Bible, impart ethics and morals, and develop human relations skills. It uses as its cornerstone the Word of God; then it convicts young and old of their need of Christ as personal Saviour; and thirdly it stimulates consistent growth in the Christian life and experience of the pupil.
Numerous Sunday Schools do not qualify in these respects. Bible stories that are taught have the aspect of "cunningly devised fables." The ethical and moral standards which teachers inculcate suggest merely that it pays to be nice. Usually, they neglect to develop in their pupils sufficient understanding of the plan of salvation and a corresponding gratefulness to God for the means of grace. Sunday Schools that pervert their function should go the way of other decadent institutions. They supply little that is not already supplied by humanistic enterprises elsewhere in our society. If their major objective is to develop additional smiling, pleasant heathen, with whom our civilization is already crowded, they should let better-equipped and better-organized agencies serve this objective. If they place heavy reliance on the biographies of biblical and church heroes, they should examine research data which suggest that teaching biographies of the great may have relatively little effect on the behavior of learners.
What, then, are some of the main features of effective, spiritually-oriented Sunday Schools?
1. Really effective Sunday Schools are staffed with genuine Christians who have been carefully selected and introduced to their work. The most vital element in the teaching process is the teacher. Sunday School teachers, who are ordained to a special task, should be selected with an eye to their own spiritual experience and beliefs, to their basic understanding of their teaching assignment, and to their probable adaptability in dealing with the age group with which they will work. Once assigned, the new teacher needs help in both individual and group settings so that he may grow in service. Because of increased volunteering by teacher candidates, Sunday Schools can be more selective in their choice of teachers than they could have been 20 years ago.
2. The best Sunday Schools base their teaching on the Bible, for they seek always to convince pupils of their need of Christ as Saviour. No other institution or organization is prepared to teach consistently the Christian verities. Because this is true, no Sunday School and no series of curriculum materials for use in Sunday Schools should dilute the concentrated Gospel message.
3. The most effective Sunday Schools teach clearly and repeatedly the plan of salvation. How many members of Protestant churches have experienced the new birth? Is the fraction nearer one tenth or one twentieth of the total membership? One wonders whether either the pulpit or the Sunday School has thus far begun to fulfill its major responsibility. Surely the pupils in our Sunday Schools should be reminded as often as possible, and in as many different ways, of the plan of salvation.
4. The best Sunday Schools recognize that their most significant aim is improvement in the value structure of the individual. Teaching about the Scriptures is relatively easy. Helping the individual to reorient his values through use of the Scriptures so that all things have indeed become new is much more difficult. Sunday School teachers should be intensely aware of the power of God to change lives. They should also be helped to convert the findings of secular educators about the process of valuing and re-valuing to the special purposes of Christian education.
5. Teachers in the effective Sunday School plan their work carefully. For adequate planning, teachers need to know their specific objectives, week by week. Rather than teaching too much at a time, which results in superficial teaching and learning, they should limit their subject matter, striving to make it as meaningful as possible.
6. Teachers in the best Sunday Schools vary their teaching procedures. They know that listening and reciting, the two commonest activities in Sunday Schools, often represent a low order of learning. By experience it has been found that audio-visual aids and pupil, participation, to mention two very general categories of method, do indeed assist the learning of the world's most important curriculum content.
7. Teachers in the best of Sunday Schools seek practical applications of the precepts they teach. One of the major criticisms of the Sunday School has been a failure to help pupils put into action throughout the week the spiritual truths they have discussed abstractly on Sunday. More of our weekly assignments should begin with the words, "Suppose we try this week to show our love (or patience, or honesty) in these situations: … Next week, let's report how we've done." Correspondingly, fewer assignments would then begin with the fact-directed interrogatives, Why? When? Where? More assignments would begin with the expressions, Why? and What would happen if …?
8. Teachers in effective Sunday Schools maintain warm, friendly relationships with their pupils, and with their pupils' families. Often, the best Sunday School teaching is informal. The glowing personalities of Christian adults then come into contact with the growing personalities of individuals who are spiritually less mature. In this climate of friendship, the teacher tries to encourage self-discipline in his pupils. He also stimulates independent thinking and a sense of freedom within a context of divine authority. The teacher's relationship with the home is crucial in securing cooperation in the spiritual growth of children.
9. Teachers in effective Sunday Schools evaluate the results of their work. Sunday School teachers have too often assumed that their own and their pupils' efforts were bearing fruit. But the alert teacher will ask himself, "How do I know how well we have succeeded in our work?" Then he will devise questions and activities to evaluate, both formally and informally, progress to date. Most questions and activities should test the learning of major ideas and concepts rather than memorization of simple facts.
10. Effective Sunday Schools supply their teachers with the best in materials. Broadly conceived, this statement refers to teaching aids and materials of all kinds. In impoverished churches, it means quarterlies secured from publishing houses. Some of these and other aids are obviously not evangelical, and sometimes the evangelical ones are of poor educational quality. However, one of the gratifying developments of the past 10 years has been steady improvement in the quality of basic materials.
11. The most effective Sunday Schools provide a program of in-service education for their teachers. Teaching, for the ablest of personnel, is a complex act; hence, even the most competent of teachers need help. Certainly inexperienced, volunteer teachers need a special long-term program of in-service education to build their competencies to the maximum.
The Spiritual Priorities
In view of the purpose of the Sunday School, the most important of the preceding eleven features are the spiritual ones. Any Sunday School that has the first three features serves, at least in a limited way, a function that is fulfilled by no other organization in our society. The degree to which a Sunday School possesses the remaining eight determines, in large part, the effectiveness of its teaching ministry.
Findings in individual and social psychology, as well as in the other social sciences, have confirmed the worth of Jesus' own methods of teaching. When amateurs in education attack these methods in books and articles, they are attacking wisdom higher than their own. What did Jesus do in his role as Master Teacher? He dealt personally with individuals (e.g., John 4:7, 26). He started with people where they were and moved them patiently to new stages in their development (e.g., his dealings with Simon Peter). He encouraged problem solving (e.g., Matt. 16:13–20). He let his learners develop the questions and ideas that led to teaching incidents (e.g., Mark 9:17–29). He encouraged learning by doing (e.g., Matt. 14:25–31). He sometimes taught by action rather than by words (e.g., John 8:6–9).
In addition, of course, Jesus did many things that good teachers do today. He taught informally. He gave learners full opportunity for decision-making. He emphasized inner motivation as opposed to outward acts. He urged practical demonstration and application of what had been learned. And above all, he sought fundamental change in systems of values.
To Sunday School teachers one may say, "Try to follow the high, hard road of the Master. If you try, no one can legitimately ask, 'Shall we close the Sunday Schools?' "A pioneer in Christian education, Clarence H. Benson, has said: "If the Gospel is from God, why is it not more effective? Well, there is nothing wrong with the Sower, who is the Son of God, or the Seed, which is the Word of God. The difficulty lies in the soil, and in the sowing of the Seed, which has been intrusted to the teacher's hands.… It takes time and patience to press beyond the mind and reach the soul and spirit of the individual. Only as the teacher thus approaches his task is there any assurance that the good Seed will not only get down into the soil, but also will have a resurrection in a transformed and fruitful life" (The Christian Teacher, Chicago, Moody Press, 1950, p. 7).
It would be a sad day for America if the Sunday School should close its doors.
END
Ronald C. Doll is Professor of Education in New York University. He holds the B.A., M.A. and Ed.D. from Columbia University. Co-author of Organizing for Curriculum Improvement (Teachers College, Columbia University) and The Art of Communicating (Macmillan), he has held positions as teacher, principal, superintendent and curriculum consultant.
Have something to add about this? See something we missed? Share your feedback here.
Our digital archives are a work in progress. Let us know if corrections need to be made.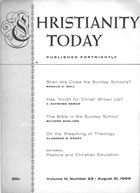 This article is from the August 31 1959 issue.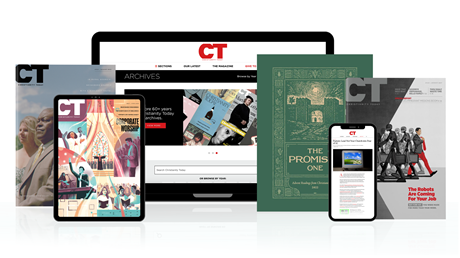 Subscribe to Christianity Today and get access to this article plus 65+ years of archives.
Home delivery of CT magazine
Complete access to articles on ChristianityToday.com
Over 120 years of magazine archives plus full access to all of CT's online archives
Subscribe Now
Shall We Close the Sunday Schools?
Shall We Close the Sunday Schools?