That they all may be one; as thou, Father, art in me, and I in thee, that they also may be one in us: that the world may believe that thou hast sent me (John 17:21).
"In their glasses men are brethren—when those are empty the union breaks up." This holds good of the intoxicating cup of vanity and delusion, over which men imagine a brotherhood of mankind independent of Christ—Pantheism, Communism, and the like. But where those believers in me are, of whom Christ speaks, there is already unity, on the ground of which a further and more perfect unity will follow.
Whatever be the bonds tying Christians together and whatever prudential considerations and motives they have to induce them to obey the command of God in keeping together in unity: yet it is only the power of God that can keep the bond of unity inviolable; and unless he keeps them near him, and free from the evils of the world, their union will break, and their being overpowered with flesh will break out in the bitter fruits of strife and division. Therefore saith Christ, "Holy Father keep [them] … that they may be one even as we are" (vs. 11).
United In Truth
His prayer for the unity of his people was in the context "that they know thee, the only true God" and "that they may be consecrated in truth." But this unifying truth is nothing abstract or speculative. It centers in Him who is the truth, and who gives men new life in faith.
T. A. KANTONAN
This unity has its true and only ground in faith in Christ through the Word of God as delivered by the Apostles; and is therefore not mere outward uniformity, nor can such uniformity produce it. At the same time its effects are to be real and visible, such that the world may see them.
HENRY ALFORD
It may be further remarked, in order to disencumber this subject from everything which tends to destroy or impair the spirit of true Christian union, that does not require the surrender of any essential point of belief, in order to effect a compromise of doctrinal views, and thereby seek to remove all denominational distinctions.… Union based upon the surrender of any esential evangelical doctrine would be like the union of Pilate and Herod at the crucifixion of Jesus. The spirit of our Lord's petition is however aimed against those sectarian prejudices and animosities, those ecclesiastical strifes and divisions, those assumptions of prelatical superiority and exclusive church polity, which have so often brought dishonor upon the religion of Christ, and which must all disappear before the bar of truth and righteousness, for which the disciples are laboring.
JOHN J. OWEN
Nature Of Unity
As doth not imply an exact equality, but only a similitude or answerable likeness. In the mystical union there is a kind of shadow and adumbration of that unity which is between the persons of the Godhead. So when man is said to be made after the similitude and likeness of God, it doth not imply a universal and exact equality, but only some conformity and similitude of men to God. So, "Be ye holy, as I am holy"; "Be ye … perfect, as your heavenly Father is perfect." It is good to note that in the letter of the text Christ separateth his own unity with the Father from that of the creatures. He doth not say, "Let us be all one"; but "Let them be all one."
THOMAS MANTON
It is by being in Christ and through him in God (in us), that believers find themselves living in each other. That which separates them is what they have of self in their views and will; that which unites them is what they have of Christ, and thereby of the divine in them. It is clear that this dwelling of Christ and consequently of God in them is the work of the Spirit, who alone has the power to cast down the barrier between personalities, without confounding them.
F. GODET
That all (all my believing ones, the apostles and the others) may be one (ethically, in likeness of disposition, of love, of endeavour, etc., on the ground of faith, comp. Eph. 4:3 ff.; Rom. 15:5,6; Acts 4:32). This ethical unity of all believers, to be specifically Christian, must correspond as to its original type (as) to the reciprocal fellowship between the Father and the Son (according to which the Father lives and moves in the Son, and the Son in the Father).… This ethical unity of all believers in fellowship with the Father and the Son, however, shall serve to the unbelieving world as an actual proof and ground of conviction that Christ, the grand central point and support of this unity, is none other than the sent of God.
H. A. W. MEYER
The exemplary or pattern-union, here mentioned, between the Father and Son, is but a union in mind, in love, in design, and interest; wherein he prays, that saints on earth might visibly be one with them also.
JOHN HOWE
Christ's disciples shall be one with each other, even as the Three who are most high in the unity of the blessed Godhead. They shall be one in heart and will, in righteousness, holiness, and love, in the unity of one new nature in Christ, and yet with no loss of personal identity, with no obliteration of the diversity of personal character, even as there are high and mysterious differences between the Three who are One upon the throne in heaven.… The unity of believers now and in all future generations rests on their inward real union with Christ and with God in Christ; but it is to show itself outwardly, so as to bear with victorious power for spiritual ends upon those who have hitherto been standing without the Church, upon the world.
D. DOUGLAS BANNERMAN
The union of churches consists in their relation unto God as their Father, and unto Christ as their only immediate head of influence and rule, with a participation of the same Spirit in the same faith and doctrine of truth, the same kind of holiness, the same duties of divine worship, especially the same mysteries of baptism and the supper, the observance of the same rules or commands of Christ in all church-order, with mutual love, effectual unto all the ends of their being and constitution, or the edification of the church catholic. There may be failures in them; there may be differences among them, about them, arising from the infirmities, ignorance, and prejudices of them of whom they do consist, the best knowing here but in part; but whilst the substance of them is preserved, the union of all churches, and so of the catholic church is preserved.
JOHN OWEN
Have something to add about this? See something we missed? Share your feedback here.
Our digital archives are a work in progress. Let us know if corrections need to be made.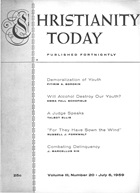 This article is from the July 6 1959 issue.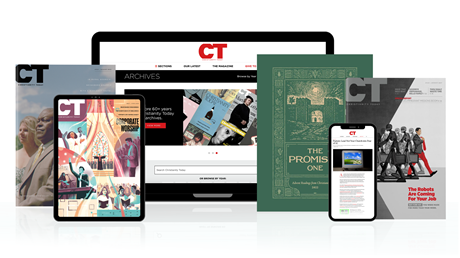 Subscribe to Christianity Today and get access to this article plus 65+ years of archives.
Home delivery of CT magazine
Complete access to articles on ChristianityToday.com
Over 120 years of magazine archives plus full access to all of CT's online archives
Subscribe Now
Bible Text of the Month: John 17:21
Bible Text of the Month: John 17:21