"Lord, fill my mouth with worthwhile stuff and 'nudge' me when I've said enough." That was a quotation the writer recently saw on a wall at the Pennsylvania Junior Republic at Grove City, Pennsylvania. With it in mind I trust that I may write from my heart those innermost convictions concerning juvenile delinquency that have come to me from my 12 years' experience as judge of the juvenile and domestic relations court at Birmingham, Alabama.
My only qualifications for holding such a position are that I have a law degree from the University of Alabama, am happily married and the father of three children and, as the law requires, am a person of "high moral standards with some understanding of children and family problems." It became apparent to me after I first began my work that legal training was not sufficient for me to carry out my responsibility. I therefore went to night school for over three years and studied psychology, sociology, criminology, and philosophy, and received a B.S. from Howard College in the social sciences 20 years after I had received my law degree. Thus equipped, I thought I knew all the answers—that I was now thoroughly qualified to be judge of a court such as this. I joined all of the professional organizations of social workers and took an active part in them; but as the months and years passed by, I realized more and more that neither the law nor the social sciences held ultimate answers to the problems with which I dealt.
Of course I knew all of the usual pat answers for the cause of delinquency: "broken homes," "inadequate housing," "low economic conditions," "poor recreational facilities," "racial prejudices," "alcoholism," "world-wide unrest," "rapid increase in population," so-called "mollycoddling of young criminals," and many others. Please do not misunderstand me. I know that all of these reasons are good and valid, and there are many cases of delinquency that do arise from them. There is also no question in my mind that legal training and social work training are important to people in the professional field of juvenile delinquency and family relations. I can say without fear of contradiction that more than 70 per cent of the 5,000 cases (adult and juvenile) which this court handles each year stems directly or indirectly from alcoholism. Sometimes I lose patience when I see the effort and money being spent in trying to rehabilitate alcoholics, and then look at some of our "best magazines" extolling "men of distinction" who drink such and such a particular brand of liquor. If we knew what caused cancer we would eliminate it regardless of the cost or labor. We know the deadliness of alcoholism, and yet we in the great United States of America continue to advertise it.
Moral Sensitivity
In any age of "easy expediency," we have lost somewhere our ability to distinguish right from wrong. Often the dividing line is so thinly drawn that the Executive Assistant to the President on down to the garbage collector compromise their convictions. In another century Dr. Charles H. Parkhurst, pastor of a Presbyterian church in Philadelphia, said, "I believe in progress but I think some progress is backwards. The family is one of the few institutions that has an unchanging ideal in the mind and the Word of God and no hand of man can improve it and God will never alter it." Dr. Parkhurst believed and wrote that "some things are so inherently true, whether we like them or not … that they will continue to be true until destiny ends and God dies." My own pastor said about the same thing one time: "You can no more repeal the Ten Commandments than you can repeal the law of gravity." A hard-boiled newspaperman of the Cleveland Press once asked the question in an editorial: "What has taken away the capacity for indignation that used to rise like a mighty wave and engulf the corrupters—the corrupters of public office, the corrupters of business, of youth, of sports, of almost every mentionable phase of American life?" Certainly I believe in tolerance, but I often think that we as a people have become so composed that we have lost the capacity to tell right from wrong. Several years ago the seniors of a large high school were asked to write down the questions in their lives that caused them the most concern. From the statements made, most of them wanted to know, "how can we tell what is right and what is wrong?" This is an indictment of the moral fiber of our churches and our family life.
I know that we live in a changing world. Some call it the atomic age, some the space age. Distance may in the meantime have shrunk into insignificance, but certain fundamentals like truth, honesty, integrity, and decency, right, and wrong have never changed and never will change.
Source Of Morality
Juvenile delinquency is on the increase. It is going to continue increasing until somehow each of us as individuals finds, believes, and obeys the blueprint of a successful, happy, law-abiding life as found only in God's Word. These are some of the truths that we discover there: "Train up a child in the way he should go and when he is old he will not depart from it"; "Honor thy father and thy mother that thy days may be long upon the earth"; "Children, obey your parents in the Lord, for this is right"; "Parents, provoke not your children to wrath but bring them up in the nurture and admonition of the Lord"; and then that great commandment, "Thou shalt love the Lord thy God with all thy heart, and with all thy soul, and with all thy mind.… And the second is like unto it, thou shalt love thy neighbor as thyself." These are the definite and positive instructions that must take the place of any magic words or legal Mumbo Jumbo that we professionals try to use to cleanse human hearts.
To me there is no complete or final answer to the problems of the family except a change of hearts. This can only be done through careful study and deep belief in the requirements of our Creator.
We are very happy with the spiritual emphasis that is being given to children while detained in our Shelter Home. It bears fruit. Proof of this is the following excerpt from a letter written by a runaway boy to his father in Atlanta:
… I am sorry I run away and worried you so. Sunday School and church at this place sure has changed me. I got saved in church last Sunday. I am coming straight home in a few days, and I am never going to worry you again. Satan led me a bad life but I broke loose from him and took Jesus Christ as my Saviour. Daddy when you get well [sober] will you go to church with me? I am never going to get into no more trouble.… All my love, BOBBY.
I used to say that juvenile delinquency was about like Ivory soap—99 44/100 per cent pure parental delinquency. As years have gone by, I realize that parental and juvenile delinquency can best be expressed in the three-lettered word—sin. Now I do not mean to oversimplify problems, but I do believe that when you cut through all of the drunkenness, looseness, and easy expediency, our family and juvenile problems go back to man's violation of God's commandments. Of course it is trite to say that "The family that prays together stays together," but this is true.
Back To The Bible
What can concerned Christians do to help reduce these problems? Surely we can uphold the fundamental truths of the Bible, live our professed Christian convictions every day of the week, and guide our own children in the admonition of the Lord. It may sound old-fashioned, but I believe if our parents would have in their homes family prayer and Bible reading, they would by precept and example instill in their offspring at an early age an abiding respect for God's laws and man's laws. A famous child psychologist is old-fashioned enough to write: "A child who has not been taught the meaning of the word 'No' by the time he is four years old has spent four years in the academic school of crime." Ministers in our churches ought to go beyond "God is love" and teach their flock that God is also a God of law and order and that always "the wages of sin is death." I find that some young people are crying for knowledge and are sick and tired of the "milk-toast" that is regularly parceled out to them in sermonette style through some of the literature from our religious presses.
What I am trying to say is best expressed in an old poem:
The Anvil and the Hammers
I paused in passing the blacksmith door,
and heard the anvil ring, the vesper chime,
And looking in I saw upon the floor
Old hammers, worn with beating, years of time.
"How many anvils have you had?" said I,
"To wear and batter all these hammers so?"
"Just one," he answered, then with twinkling eye,
"The anvil wears the hammers out you know."
And so I thought, the Anvil is the sacred Word of God.
For ages skeptics' blows have beat upon it,
But though the rain of falling blows were heard
The anvil is unchanged,
The hammers gone!
(Author unknown).
Yes, there needs to be sounded a clarion call to parents, in this age of change and shifting standards, to realize that truth and righteousness and basic moral values do not change. Let each of us search our own hearts and know that as the home stands or falls, so will the nation and the world. Let each of us go back to God's Word and live according to his will in our daily life. We have the noblest task that God gave to men.
END
Judge Talbot Ellis is an Elder of the South Highlands Presbyterian Church, Birmingham, Alabama, and has acted as Judge for 12 years at the Juvenile and Domestic Relations Court of Birmingham. He is a member of American Bar Assoc.
Have something to add about this? See something we missed? Share your feedback here.
Our digital archives are a work in progress. Let us know if corrections need to be made.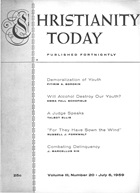 This article is from the July 6 1959 issue.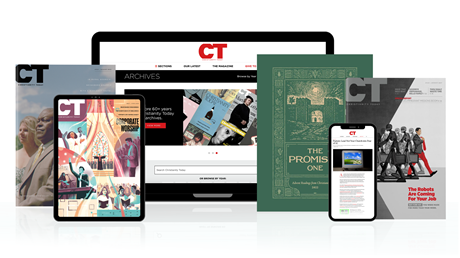 Subscribe to Christianity Today and get access to this article plus 65+ years of archives.
Home delivery of CT magazine
Complete access to articles on ChristianityToday.com
Over 120 years of magazine archives plus full access to all of CT's online archives
Subscribe Now
A Judge Speaks
A Judge Speaks