He is not here, but is risen: remember how he spake unto you when he was yet in Galilee, saying that the Son of man must be delivered into the hands of sinful men, and be crucified, and the third day rise again (Luke 24:6, 7).
The language of the angel is encouraging and reassuring; he anticipates their anxious inquiries for the Saviour, and informs them of his resurrection.… 'You are looking for the body of that scorned and persecuted Galilean, whom the Jews so lately put to an ignominious and painful death; but you are come too late, he is no longer here; he has awaked from the sleep in which you thought him sunk forever; so that now you can find nothing but the spot which he occupied during his brief death and burial.' Gracious and soothing as these words are, they are not without a slight tone of reproach, that those who loved the Son of Man so well, and had attended so long on his teaching, should look upon his case as one of natural mortality, and come to honor his remains, but not to witness his resurrection.
In the resurrection of Christ it was proved that there was a man who could not be contained by death, could not be ruled by Satan, by the power of corruption, who was stronger than the grave and death and hell.… If this be so, it is self-evident that what matters at the resurrection would not be enough, and would be only half of a victory—that is, no victory at all, but a defeat rather. Then the whole of man, then man as man, as he is in soul and body, would not have been removed from the pale of death's dominion. Then Satan would have remained the conqueror in a large area.
Christ'S Prophecy
The circumstances of his death, every one of which had been foretold by himself, served to procure credit for that prophecy of his resurrection, which was always conjoined with them. The ancient prophets had declared that the Messiah was to live forever; and as both Isaiah and Daniel, who spoke of his everlasting kingdom, had spoken also of his being cut off out of the land of the living, their words implied that he was to rise from the dead. This implication of a resurrection was brought out by our Lord.
Conscious of the divine power which dwelt in him, he said on the third day he should rise again; and in the hearing of all the people, he held forth Jonas as a type of himself.
GEORGE HILL
It stands to reason that, although the Saviour had so repeatedly warned his followers that he would be killed and had assured them that he would rise again, they nevertheless did not realize the actuality of his words. Their ideas about the manner in which the Messiah would triumph over his enemies were so different from what Jesus had prophesied and from what was accomplished, that his crucifixion left them completely bewildered and perplexed. And just as they were but little prepared for the violent removal of their Master, so little did they realize after his crucifixion that he would rise again. His former words were unintelligible to them (18:34). Perhaps some of them expected that he would again appear at the end of the age, but not one of them could imagine that he would so soon arise from the grave in a glorified body.
N. GELDENHUYS
Significance Of Resurrection
Jesus always keeps his word. He said he would rise from the dead, and he did; he says that his people also shall rise, and they shall.
C. H. SPURGEON
What a supreme moment was that! How it changed the look of all things; their views of Calvary, of Christ, of Evil, of Life, of Death! It takes away from Calvary every look of failure or mistake; from Christ, all attributes of weakness; from Evil, that apparent sovereignty under which man had groaned; from Life, its worthlessness; from Death, its terror. The whole universe of God joins the angel in saying: He is risen.
RICHARD GLOVER
The Lord Jesus undertook to expiate the guilt of a ruined world, and to redeem them to God by his blood. Under the sins of men he died. But who could be sure that his atonement had prevailed for the end for which it had been offered? He had mediated, it is true: but who could tell that his mediation had been accepted? How could that point be satisfactorily ascertained? His resurrection proved it beyond a doubt. If a man, who has undertaken, as a surety, to pay a debt, be liberated from prison, you conclude, of course, that he has fulfilled his engagement: his discharge is an evidence that the creditor has no further claim upon him. So, when we see him raised from the grave, to which he had been committed for the sins of men, no doubt can remain upon our minds but that he satisfied all the claims of law and justice in our behalf.
CHARLES SIMEON
Opinions may conceivably differ whether it would have been possible to believe in Christianity as a supernaturally given religion if Christ had remained holden of the grave. But it is scarcely disputable that the fact that He did rise again, being once established, supplies an irrefragable demonstration of the supernatural origin of Christianity, of the validity of Christ's claim to be the Son of God, and of the trustworthiness of his teaching as a Messenger from God to man.… From the empty grave of Jesus the enemies of the cross turn away in unconcealable dismay. Christ has risen from the dead! After two thousand years of the most determined assault upon the evidence which establishes it, that fact stands. And so long as it stands, Christianity too must stand as the one supernatural religion. The resurrection of Christ is the fundamental apologetical fact of Christianity.
B. B. WARFIELD
Some years ago a popular English novelist wrote a book called When It Was Dark. The story centers about the efforts of a wealthy unbeliever to discredit Christianity. He attacks it at its very citadel, the resurrection, for he sees that if he can discredit the resurrection, he discredits Christianity. He hires venal archeologists to "fake" a discovery of the body of Jesus in some tomb in the neighborhood of Jerusalem, with an ancient inscription testifying that the owner of this tomb stole the body of Jesus and hid it in that place. The novel then tries to describe the effect of such a discovery upon the Christian world and upon civilization in general. In powerful passages he shows how gradually the Christian Church crumbles and collapses, how men and women go back to lust, cruelty, and animalism, and how the flames of hope dies out in every heart.
CHARLES E. MACARTNEY
Have something to add about this? See something we missed? Share your feedback here.
Our digital archives are a work in progress. Let us know if corrections need to be made.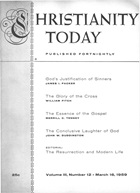 This article is from the March 16 1959 issue.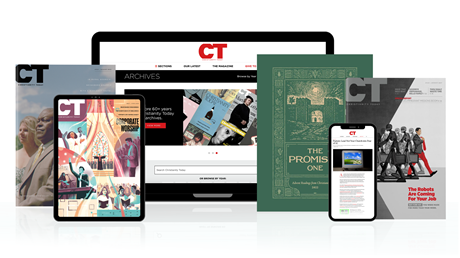 Subscribe to Christianity Today and get access to this article plus 65+ years of archives.
Home delivery of CT magazine
Complete access to articles on ChristianityToday.com
Over 120 years of magazine archives plus full access to all of CT's online archives
Subscribe Now
Bible Text of the Month: Luke 24:6, 7
Bible Text of the Month: Luke 24:6, 7