The best evangelical contributions of 1960, in the judgment ofCHRISTIANITY TODAY'Seditorial staff, are listed below. The selections propound evangelical pesrpectives in a significant way, or apply biblical doctrines effectively to modern currents of thought and life. These are not the only meritorious volumes, nor do they in every case necessarily reflect the convictions of all evangelical groups.
BASS, CLARENCE: Backgrounds to Dispensationalism (Eerdmans, 184 pp., $3.50). An historical outline and evaluation of dispensational views.
BEEGLE, DEWEY M.: God's Word into English (Harper, 178 pp., $3.50). Vivid presentation for laymen of the problems of Bible translation.
BERKOUWER, G. C.: Divine Election (Eerdmans, 336 pp., $4.50). Timely reassessment of the Reformed doctrine.
BLACKWOOD, ANDREW W.: The Growing Minister (Abingdon, 192 pp., $3). Practical biblical patterns for the Christian ministry.
BUSWELL, II, JAMES OLIVER: A Christian View of Being and Knowing (Zondervan, 214 pp., $3.50). A concise evangelical introduction to the study of philosophy.
CAIRNS, EARLE E.: Saints and Society (Moody, 192 pp., $3.25). A survey of the social impact of the life and thought of evangelical churchmen.
CLOWNEY, EDMUND P.: Eutychus (and his pin) (Eerdmans, 102 pp., $2.50). Theological reflections in rare humorous vein.
DOOYEWEERD, HERMAN: In the Twilight of Western Thought (Presbyterian and Reformed, 195 pp., $3.50). Christian evaluation of philosophical trends.
GERSTNER, JOHN H.: Steps to Salvation: The Evangelistic Message of Jonathan Edwards (Westminster, 192 pp., $3.95). Systematic analysis of Edwards' theology of conversion.
HALL, VERNA M., compiler; MONTGOMERY, JOSEPH ALLEN, ed.: Christian History of the Constitution (American Christian Constitution Press, 532 pp., $7.50). A compilation of historic documents bearing on the Christian character of the U. S. Constitution.
HARRISON, EVERETT F., ed.: Baker's Dictionary of Theology (Baker, 566 pp., $7.95). A comprehensive source book defining key theological terms.
HENRY, CARL F. H., consulting editor: The Biblical Expositor (3 vols.) (Holman, 1300 pp., $6.95 each). Expositions of the books of the Bible by distinguished international scholars.
LEWIS, C. S.: The Four Loves (Harcourt, Brace and Co., 192 pp., $3.75). Provocative ideas on Affection, Friendship, Eros, and Charity.
LOANE, MARCUS L.: Archbishop Mowll (Hodder and Stoughton, 287 pp., 35s.). A biography of a great evangelical archbishop of Sydney.
MCDONALD, H. D.: Ideas of Revelation (St. Martins, 300 pp., $6.75). An appraisal of modern views (1700–1860) of divine revelation.
MOUNCE, ROBERT H.: The Essential Nature of New Testament Preaching (Eerdmans, 168 pp., $3.50). A survey and analysis of the New Testament concept of preaching.
MURRAY, IAIN, ed.: George Whitefield's Journals (Banner of Truth Trust, 595 pp., 15s.). A supreme preacher's record of his own life and ministry.
NEILL, STEPHEN: Christian Holiness (Harper, 134 pp., $3). A bishop's counsel for practical Christian living.
NIDA, EUGENE A.: Message and Mission (Harper, 253 pp., $5). Refreshing emphasis on the biblical message in the church's mission.
RAMM, BERNARD: The Witness of the Spirit (Eerdmans, 140 pp., $3). A study of the Spirit's internal testimony.
SCHULTZ, SAMUEL J.: The Old Testament Speaks (Harper, 488 pp., $7). A positive exposition of the spirit and purpose of the Old Testament.
SHOEMAKER, SAMUEL M.: With the Holy Spirit and With Fire (Harper, 127 pp., $2.50). A fresh and moving treatise on the Spirit.
THOMSON, JAMES, G. S. S.: The Old Testament View of Revelation (Eerdmans, 107 pp., $2.50). Survey of the nature and purpose of the revelation of God.
WHITE, R. E. O.: The Biblical Doctrine of Initiation (Eerdmans, 392 pp., $6). The best apologetic for the Baptist position since Carson.
WOOD, A. SKEVINGTON: The Inextinguishable Blaze (Eerdmans, 256 pp., $3.75). Eighteenth century spiritual renewal and advance.
Have something to add about this? See something we missed? Share your feedback here.
Our digital archives are a work in progress. Let us know if corrections need to be made.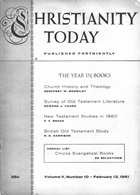 This article is from the February 13 1961 issue.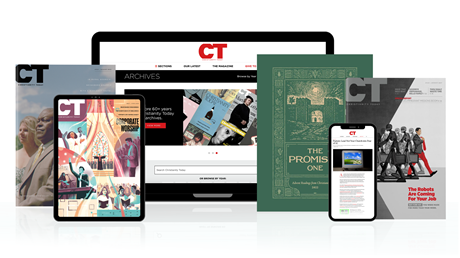 Subscribe to Christianity Today and get access to this article plus 65+ years of archives.
Home delivery of CT magazine
Complete access to articles on ChristianityToday.com
Over 120 years of magazine archives plus full access to all of CT's online archives
Subscribe Now
Choice Evangelical Books of 1960
Choice Evangelical Books of 1960