Modern reprinting methods continue to revive many valuable religious books which have long been unavailable. During 1959–60 many works reappeared.
Since 1945 there has been an overwhelming flood of reprints of classical evangelical books. This development in the religious publishing field attests the fact that the collapse of classical liberalism is accompanied by a renewed interest in evangelical theology. While there is an encouraging increase in contemporary evangelical books, the demand for solid evangelical reading far exceeds the output. Reprints help meet the demand.
Probably the most scholarly and elaborate American reproduction project is the 56-volume publication of Luther's Works by joint arrangement of Concordia and Muhlenberg. The first 30 volumes contain Luther's expositions of various Bible books, while the remaining volumes include what are usually called his "Reformation writings." The immense undertaking is well along, 11 volumes having been completed.
Most reproductions do not involve new typecasting or translation as in the Luther project. The photo offset process is frequently used, often with shoddy results. The better publishers are careful to see that the type faces are readably clear and artistic by modern standards.
Some Significant Titles
The major new reprints of standard sets and books of reference include Phillip Schaff's Creeds of Christendom (Harper), Josephus' Complete Works (Kregel), James Hastings' Great Texts of the Bible in 20 volumes (Eerdmans), John Calvin's Institutes of the Christian Religion (Westminster). The Cross Reference Bible, a monumental work edited by Harold E. Monser, together with his Topical Index and Digest of the Bible, have again been made available by Baker. In somewhat the same class is Kregel's reprint of Joseph Bryant Rotherham's Emphasized Bible and Emphasized New Testament. Baker has also reissued the Dictionary of the Bible (4th ed.) by John D. Davis and is in the process of reproducing the largest collection of sermonic material ever published, Spence and Excell's Biblical Illustrator in 57 volumes.
Out of the wealth of the older biblical exposition have come such reprint treasures as: The Epistles of Paul by W. J. Conybeare (Baker); Harry A. Ironside's addresses on Ezekiel, Galatians, John, Matthew, Proverbs, Romans, Song of Solomon and I and II Thessalonians (8 volumes); C. H. Mackintosh's valuable Notes on the Pentateuch (Loizeaux); and The Epistle to the Romans by James M. Stifler (Moody). Sovereign Grace press has added to its growing Puritan Commentary Series Patrick Fairbairn's The Prophet Ezekiel, Ernst Wilhelm Hengstenberg's Ecclesiastes, George Lawson's Ruth and Esther, Edward Marbury's Exposition of Obadiah and Habakkuk, and to John Owen's works his Exposition of Hebrews (seven volumes in four).
In the doctrinal and theological field Harper meets a strong demand by reprinting the generally acclaimed The Virgin Birth of Christ by J. Gresham Machen; Kregel offers two volumes on the Paraclete, The Holy Spirit, His Gifts and Power by John Owen and The Holy Spirit by E. H. Bickersteth; Presbyterian and Reformed keeps in circulation B. B. Warfield's worthy theological works The Person and Work of Christ, Biblical and Theological Studies, Calvin and Augustine and also his cogent apologetic, The Inspiration and Authority of the Bible. Zondervan has isued The Death and Resurrection of Christ by Abraham Kuyper. To its Puritan Library of doctrinal and devotional classics Sovereign Grace adds Alarm to the Unconverted by Joseph Alleine, The Wiles of Satan by Thomas Brooks, An Unregenerate Man's Guiltiness before God by Thomas Goodwin, and Prayer by William Gurnall. Baker has republished James Large's 280 Titles and Symbols of Christ.
Preaching and the pastoral ministry will be enriched by the wider circulation of John A. Broadus' On the Preparation and Delivery of Sermons and J. H. Jowett's The Preacher: His Life and Work (Harper). Baker has made again available James Burns' old Revivals, Their Laws and Leaders.
Currently available devotional literature will be enriched by the reappearance of F. B. Meyer's The Sermon on the Mount and Calvary to Pentecost (Baker); Lord, Teach Us to Pray by Alexander Whyte (Harper); A Serious Call to a Devout and Holy Life by William Law (Westminster) and Christ Our Example (Imago Christi) by James Stalker (Zondervan).
It should be noted that there is a regrettable duplication in reprints of some of the more notable titles. One might wish that this multiple expenditure of funds might be conserved in the interest of the evangelical cause as a whole. Such prodigality could well be avoided by turning more to translations into English of significant continental European theological literature.
The above list is far from exhaustive but is indicative of the fact that our modern flood of reprints continues unabated and that ministerial libraries can be well provided with the best of the past which still has a relevance for today.
New Era of the Paperbacks
Indeed we are on the verge of a great new day in the religious reprint business, since books bound in paper have set off a revolution in publishing, bookselling and reading. In Europe there were experiments with books unbound or bound in paper as early as the beginning of the sixteenth century. Publishers realized that most people would not be able to buy books unless they could be sold cheaply. Who has strolled by the little Paris shops on the banks of the Seine and not been tempted to buy paperbacks by the dozen? Paper-bound books actually form the bulk of current publications in the Latin countries and to a large degree in the Scandinavian lands.
In America, with the price of hardcover books constantly rising, owing to soaring costs of production, paperbacks are coming into their own. The book comers in drug stores, department stores and the "chains" have their eagerly patronized paperback racks. And a surprising number of religious books is available, though usually these are of a strongly liberal flavor.
Religious book publishers have read the "handwriting on the wall" and now we have Abingdon's Apex Books, Harper's Torchbooks, Eerdmans' Pathway Books, the Macmillan line distinguished by its colophon, and a half dozen other quality sets. Some of these are hardbacks but the trend is toward the more inexpensive volumes. Not all paperbacks are reprints. Some of those which are have been severely trimmed down to size with consequent damage to the original text. It is unfortunate that format and price should be an excuse for excluding valuable and essential content.
Eerdmans' new paperback series in the strictly evangelical and highly competent tradition of this house includes G. C. Berkouwer's The Triumph of Grace in the Theology of Karl Barth, Edward J. Carnell's The Theology of Reinhold Niebuhr, J. Gresham Machen's Christianity and Liberalism and Gordon Clark's A Christian View of Men and Things. Eerdmans has also issued John Calvin's Institutes of the Christian Religion in a 2-volume paperback edition. Kregel has put Josephus' Complete Works in paper. Macmillan has done the same for C. S. Lewis' Screwtape Letters and Mere Christianity; also J. B. Phillips' Letters to Young Churches and God, Our Contemporary. Concordia has paper editioned Alfred M. Rehwinkel's The Flood and is contemplating other ventures in this field. So significant is this development in religious book publishing that it rates a full-scale survey in all its aspects, particularly its meaning for the future. Some kind of revolution impends. There is here a tremendous potential in the popularization of religious books and a publishers' bonanza.
But a word of caution needs to be spoken. The publishers' temptation of quick profit at little expense by drawing upon last-generation and even last-century material is likely to hinder the development and encouragement of competent contemporary authors in the production of new volumes entirely relevant to the times. It is legitimate to enquire whether or not a hardship is being laid upon evangelical Christianity in a crisis hour by too long a look at the past and not enough serious attention to the crucial needs of today and tomorrow.
JAMES DEFOREST MURCH
Have something to add about this? See something we missed? Share your feedback here.
Our digital archives are a work in progress. Let us know if corrections need to be made.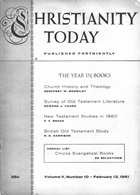 This article is from the February 13 1961 issue.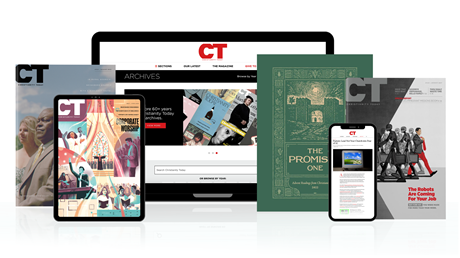 Subscribe to Christianity Today and get access to this article plus 65+ years of archives.
Home delivery of CT magazine
Complete access to articles on ChristianityToday.com
Over 120 years of magazine archives plus full access to all of CT's online archives
Subscribe Now
The Evangelical Press: Recent Reprints and Rise of the 'Paperbacks'
The Evangelical Press: Recent Reprints and Rise of ...