Spurred by new concern for Christian witness in the swift-moving sixties, 900 U. S. business and professional men gathered January 18–21 in Miami Beach for the sixth annual Layman's Leadership Institute. They were welcomed warmly by Texas supermarket executive Howard E. Butt, lay evangelist whose Christian Men Inc. annually coordinates the wheels-within-wheels program. Participants heard 33 speakers from business, politics, medicine, science and education stress the relevance of the Christian ethic to business and economic aspects of life, and the layman's responsibility for winning men to Jesus Christ.
U. S. Senator George Smathers of Florida, opening speaker, soon rose above the platitudinous when he divulged aspects of the pre-inauguration meeting he had arranged between President Kennedy and Billy Graham at Kennedy's request. (Mr. Graham stressed, among other things, the White House's responsibility for moral leadership. But he also indicated his personal convictions that the Second Coming of Jesus Christ is the climax toward which history is moving, and that the Kingdom of God is the only real answer to man's pressing problems.)
The roster of speakers included Graham; Maxey Jarman, Genesco board chairman; Paul Harvey, ABC newscaster; Herbert J. Taylor, Club Aluminum board chairman; John Bolton, Sr., Lestoil Products board chairman; and Maurice C. Smith of Bristol Manufacturing Company. Their swank Fontainebleau Hotel listeners were, as one observer said, mainly "men who can't use the short form for income tax reporting" and a few squatters "without money and seeking it for good causes."
Participants were prodded—in short speeches and long sermons, lively conference groups and cracker barrel discussions—to spiritual decision, soul winning, moral searching and financial stewardship. They were called to love of God and love of neighbor in respect to racial discrimination, civic concern, business integrity, employee welfare. Said Canon Bryan Green of Birmingham Cathedral, England: "The consummation of God's redemptive purpose for history is certain as the coming dawn.… That purpose cannot be frustrated by man."
"God would have to be schizoid," said Fred Smith, Cincinnati management analyst, "to answer all prayers of the AFLCIO, NAM, Democrats and Republicans. Let's not seek to use God, but to be used by God." Quipped Smith, by way of overcomment: "Don't take notes; one of the greatest escapes from spiritual decision is taking notes!"
Typical of the peppery seminar sessions was shoe magnate Maxey Jarman's on "Economics and Christian Living," which quickly shaped the question: What should be the primary motive in business? Some divergent answers: 1. "Make money—and then dispense it in good conscience; not 'money-making' but 'love of money' is the root of evil." 2. "Make profit in order to disseminate the Gospel and marshal forces for the Kingdom of God." 3. "Make money—but only in an area of service for God and neighbor." A Bible class teacher of many years, Southern Baptist Jarman scored with telling comments: "The poor may be happier than the rich, and often are.… Christian living doesn't guarantee business success, and is more important than 'getting ahead in the world.' But in most cases it is more an asset than an obstacle even to worldly advancement.… Jesus had wealthy friends, but he didn't spend most of his time with them."
Institute sponsor Butt confessed that one platform glimpse of his gifted audience was enough to "make a Texas groceryman jump on his horse and head for the pinto beans, chili and cactus." But he quickly headed instead for the New Testament concept of the laity: "Preachers are not the only men called of God.… The layman is called too, though his gifts and talent and sphere of vocational activity may be different.… The word 'layman' originally comes from the Greek laos which means 'the people of God.' " Butt put stress on the Bible doctrine that "every Christian is a priest." "The Church is a vibrant, redeeming community of compassion and mission and service and witness and love and worship," he said, and then to make sure he scored the point, he added: "It is not a 'Fraternity of Fans of the Faith.' "
In the closing hour, Southern Baptist Theological Seminary President Duke McCall, institute co-sponsor with Butt and Graham, urged laymen "not to add 'another role' to what they are 'already doing,' but to allow the meaning of 'being a Christian' to permeate 'all the roles we have.' "
Graham himself drew the evangelistic net in a forceful closing message, and a score of business leaders stepped out publicly for Christ. Speaking first of his conference, days before President Kennedy's inauguration, he said: "The New Testament says 'honor the Emperor,' and the Roman Emperor in that time wasn't a Baptist either!" Graham thrust home the Sermon on the Mount. Pleading for courageous Christian dedication, he preached with one eye on the Bible and other on the Soviet: "Mr. Khrushchev, if Christ is alive, we are not finally worried about you!"
Promoting Integration
Virtual endorsement of interracial marriages came from an independent Episcopal group last month.
Delegates to a meeting of the Episcopal Society for Cultural and Racial Unity asserted in a statement that there are "neither theological nor biological barriers" to interracial marriages.
The organization, started in 1959, has about 1,500 members, including some leading clergymen (Bishop James A. Pike is a director) from the Protestant Episcopal Church, but it has no official sanction. Its members are said to hold liberal social views to an extent that they wish to prod the Episcopal church into accelerating integration.
The statement adopted at the meeting, held in Williamsburg, Virginia, called on the Episcopal House of Bishops to study, and later state in a pastoral letter, the denomination's position regarding marriage between persons of different color."
"Laws forbidding such marriages," the statement said, "are contrary to Christian teaching, natural law and the constitution of this country."
Methodist Missions
The Methodist Board of Missions is appropriating a record $23,500,000 for its next fiscal year, which begins June 1.
The figure was approved at the board's annual meeting in Buck Hill Falls, Pennsylvania, last month. It represents a $1,250,000 increase over the current fiscal year appropriation.
Methodists support mission work in the United States and 44 other countries. Last year the efforts entailed expenditures of more than $30,000,000. Special funds and investment income, neither of which are figured in the determination of an appropriation, augmented regular giving.
People: Words And Events
Deaths:Dr. Thomas A. Dooley, 34, famed Roman Catholic "jungle doctor" of Southeast Asia, co-founder of the Medical International Cooperation Organization, and best-selling author; in New York … the Rt. Rev. Donald Bradshaw Aldrich, 68, former Bishop Coadjutor of the Episcopal Diocese of Michigan and dean of the Princeton University Chapel; in Dennis, Massachusetts … William Henry Branson, 73, immediate past world president of the Seventh-day Adventist Church; in Glendale, California.
Appointments: As president of Pacific Lutheran Theological Seminary, Dr. Charles M. Cooper … as head of All-Church Press, Lambuth Tomlinson.
Election: As chairman of the Standing Conference of Canonical Orthodox Bishops in the Americas, Greek Orthodox Archbishop Iakovos.
Have something to add about this? See something we missed? Share your feedback here.
Our digital archives are a work in progress. Let us know if corrections need to be made.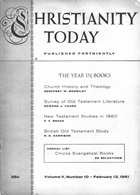 This article is from the February 13 1961 issue.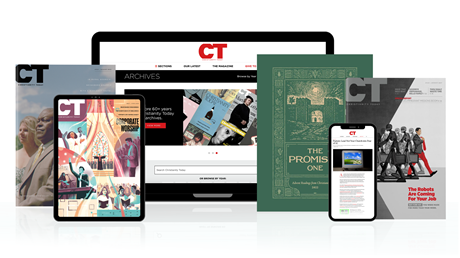 Subscribe to Christianity Today and get access to this article plus 65+ years of archives.
Home delivery of CT magazine
Complete access to articles on ChristianityToday.com
Over 120 years of magazine archives plus full access to all of CT's online archives
Subscribe Now
Sixth Annual Layman's Leadership Institute
Sixth Annual Layman's Leadership Institute