The Westminster Shorter Catechism beautifully describes God as "Spirit, infinite, eternal, and unchangeable, in his being, wisdom, power, holiness, justice, goodness, and truth" (Question 4). The Belgic Confession of Faith begins similarly: "We all believe with the heart and confess with the mouth that there is one only simple and spiritual Being, which we call God; and that He is eternal, incomprehensible, invisible, immutable, infinite, almighty, perfectly wise, just, good, and the overflowing fountain of all good" (Article I). Most of these terms are called the attributes or the perfections, of God.
The attributes may be defined as those perfections of God which are revealed in Scripture and which are exercised and demonstrated by God in his various works. Reformed and Evangelical theologians have frequently distinguished communicable and incommunicable attributes. The communicable attributes of God are those which find some reflection or analogy in man who was created in God's image, while the incommunicable attributes of God find little or no analogy in man. The latter-unity, independence, eternity, immensity and immutability—emphasize the transcendence and exalted character of God.
Preliminary Considerations. 1. It is important to recognize that all of the attributes, both communicable and incommunicable, are the attributes of the one only true and living God—Father, Son and Holy Spirit. The attributes of God may not be discussed as if they were attributes of deity in general, in order then to move on to consider the triune God as one God among many. Christianity is rightly monotheistic, and therefore all the attributes are attributes of the only true God of Scripture. The recognition of this uniqueness of the living God has sometimes been discussed under the incommunicable attribute of the unity of God (unitas singularitas). (Cf. Deut. 6:4; 1 Kings 8:60; Isa. 44:6; Mark 12:28 ff.; Eph. 4:6; 1 Tim. 2:5.)
2. Since the only true God is the triune God of Scripture, the communicable as well as the incommunicable attributes belong equally to the Father, the Son and the Holy Spirit. There is therefore no absolute necessity for discussing the attributes prior to the doctrine of the Trinity. There is a good reason for doing so, however, since the attributes characterize the divine nature of the triune God. However, the incommunicable attributes of God must not be confused with the "incommunicable property" of each divine Person, that is, with generation, filiation, and spiration.
3. Discussion of the attributes must also acknowledge the incomprehensibility of God. Finite man can never comprehend the infinite God. The believer will not even be able fully to understand all that God has revealed concerning his attributes.
4. The attributes must be regarded as essential characteristics of the divine being. It is not man who attributes these perfections to God. God himself reveals his attributes to us in Scripture. The attributes are objective and real. They describe God as he is in himself. Hence they are also exercised or demonstrated in the works which God performs in creation, providence, and redemption.
Again these various attributes must not be regarded as so many parts or compartments of God's being. Each of the attributes describes God as he is, not just a part of his being, or simply what he does. Furthermore, there is no scriptural warrant for elevating one attribute, such as love or independence, to pre-eminence and making others mere subdivisions of it. While there is a mutual relation and inter-relationship between the various attributes, there is a divinely revealed difference between the eternity of God and the immutability of God, between the love of God and the holiness of God, for example. These themes are often considered under the attribute of simplicity (unitas simplicitas).
Discussion of Specific Attributes. Attention will now be directed to a brief consideration of specific incommunicable attributes. The unity and simplicity of God have been discussed. We shall now consider the independence, eternity, immensity, and immutability of God. (The source and norm of our assertions here, as everywhere in theology, must be exclusively the inspired and inerrant Word of God.)
1. Independence (Aseity). Scripture indicates the independence of God in various ways. When Moses was sent to Israel and Pharaoh, it was "I am that I am" (Exod. 3:14) who sent him, the living God who has "life in himself" (John 5:26). God is not "served by men's hands, as though he needed anything, seeing he himself giveth to all life, and breath and all things" (Acts 17:25). He works "all things according to the counsel of his will" (Eph. 1:11) and his counsel "standeth fast forever" (Ps. 33:11). In this light the independence of God may be defined as that perfection which indicates that God is not dependent upon anything outside of himself, but that he is self-sufficient and all-sufficient in his whole being, in his decrees and in all his works.
Although God has the ground of his existence in himself, he is not self-caused or self-originated, for the eternal God has neither beginning nor end. The independence of God includes more than the idea of God's aseity or self-existence. His independence characterizes not only his existence, but his whole being and all his attributes, his decrees and his works of creation, providence, and redemption.
The biblical view of God's independence does not permit one to identify the God of Scripture with the abstract philosophical concept of the Absolute of Spinoza or Hegel. The self-existent, independent God of Scripture is the living God who is not only exalted above the whole creation, but is at the same time its creator and sustainer. And in governing the world, God entered into fellowship with man before the fall, and after the fall he established a new fellowship in the covenant of grace. Although God works all things according to the counsel of his will, he sometimes performs his will through intermediate and secondary causes. He uses men, for example, in the all-important task of publishing the Gospel.
2. Eternity. The infinity of God is sometimes considered as an absolute perfection which characterizes all God's attributes as limitless and perfect. In this sense all the communicable attributes would be characterized by the incommunicable attribute of infinity. It is primarily with reference to time and space, however, that the infinity of God is considered as the eternity and the immensity of God.
Scripture speaks of "the eternal God" who is our dwelling place (Deut. 33:27). He is "the King eternal" (1 Tim. 1:17) existing before the foundation of the world "from everlasting to everlasting" (Ps. 90:2), "the Alpha and the Omega" (Rev. 1:8). He "inhabiteth eternity" (Isa. 57:15); his "years shall have no end" (Ps. 102:27); and "one day is with the Lord as a thousand years, and a thousand years as one day" (2 Pet. 3:8).
Eternity may be defined as that perfection of God which expresses his transcendence with respect to time. God has neither beginning nor end. He does not undergo growth, development, maturation. He existed before the world, he dwells even now in eternity, and he will continue as the eternal God even when history has ended.
Although we must acknowledge that God is not subject to the limitations of time, we must also recognize that time is God's creation and that he is the Lord of history. History is the unfolding of his sovereign counsel. It was in the "fulness of time" that "God sent forth his Son" (Gal. 4:4). Time is meaningful for the eternal God, for it was on a Friday that Christ died on the cross and on Sunday morning that he rose from the grave. The risen Christ told his disciples, "Lo, I am with you always, even unto the end of the world" (Matt. 28:20). The Christian, therefore, confidently confesses: "My times are in thy hand" (Ps. 31:15).
3. Immensity and Omnipresence. God is both a God at hand and afar off so that no one can hide himself in a secret place: "Do not I fill heaven and earth? saith Jehovah" (Jer. 23:23 f.). Heaven is his throne and the earth is his footstool (Isa. 66:1). Therefore no one can escape the omnipresent and omniscient God (Ps. 139). "He is not far from each one of us: for in him we live, and move, and have our being" (Acts 17:27 f.).
In the light of such passages the immensity of God may be defined as that perfection of God which expresses his transcendence with respect to space. And omnipresence expresses the fact that this transcendent God is yet present everywhere in heaven and earth.
Here again one must seek to grasp the positive implications of this incommunicable attribute. God is spirit; he has no body and hence is not limited by space. Therefore we are not bound to Jerusalem or any other place in our worship of the true God (John 4:21 ff.). On the other hand it was into this world that God sent his only begotten Son. And Christ who now governs the whole cosmos will come again physically at the end of history to judge the living and dead.
4. The Immutability of God. God is described in Scripture as "the Father of lights, with whom can be no variation, neither shadow that is cast by turning" (James 1:17). "For I, Jehovah, change not" (Mal. 3:6) is his own affirmation. And by an oath he has "immutably" witnessed to the "immutability of his counsel" (Heb. 6:17 f.).
Immutability is that perfection which designates God's constancy and unchangeableness in his being, decrees, and works. He remains forever the same true God, faithful to himself, his decrees, his revelation and his works. He undergoes no change from within, nor does he undergo change due to anything outside of himself.
It is necessary to ask whether the immutability of God can be maintained in the face of several scriptural assertions concerning a certain "repentance" of God. For example, with respect to the unfaithfulness of Saul, God told Samuel: "It repented me that I have set up Saul to be king" (1 Sam. 15:11). However, there is a specific statement in the same chapter which indicates that God cannot repent. After telling Saul that God was taking the kingdom from him and giving it to another (David), Samuel adds: "And also the Strength of Israel will not lie nor repent; for he is not a man, that he should repent" (1 Sam. 15:28 f.; cf. Num. 23:19). It appears then that God's "repentance" must be understood in an anthropomorphic sense to describe the depth of his displeasure and grief in relation to the horrible sins of men. At the same time the faithfulness, constancy, and immutability of God stand out in taking the kingdom from Saul and giving it to David for the sake of keeping his faithful covenant.
There are also instances in which the "repentance" of God is related to a condition, either expressed or implied. The general rule in such instances is expressed in Jeremiah 18: "… If that nation, concerning which I have spoken, turn from their evil, I will repent of the evil that I thought to do unto them … if they do that which is evil in my sight, that they obey not my voice, then I will repent of the good, wherewith I said I would benefit them" (vs. 8 ff.). Thus with respect to Nineveh, Jehovah "saw their works, that they turned from their evil way; and God repented of the evil which he said he would do unto them; and he did it not" (Jonah 3:10; cf. 3:9; 4:2). Similar references to God's "repentance" occur in Amos (7:3, 6) and Joel (2:13 f.). In these instances also the word "repentance" it used in an anthropomorphic way to express God's faithful response to the meeting of a condition, either expressed or implied in his promise, or threat. Rather than contradict the immutability of God, this "repentance" in the total context of Scripture emphasizes that God is faithful and true to his word and promise forever. There is no "holy mutability of God" as Karl Barth claims. "The Lord hath sworn and will not repent" (Ps. 110:4), and his "counsel shall stand" (Isa. 46:10).
The immutability of God does not mean, however, that God is immobile or inactive. The Christian God is always active, never unemployed, or incapacitated. He not only sustains or preserves all that he has created, but he actively governs it in accord with his sovereign and immutable counsel. In all his works the eternal and sovereign God executes his decree and shows himself "the same yesterday, and today, yea and forever" (Heb. 13:8).
Conclusion: The incommunicable attributes describe the transcendent greatness of the Triune God. He is self-sufficient and all-sufficient, transcendent above time and space and yet present everywhere in heaven and earth; he remains forever the same true God, unchangeable in his being, wisdom, power, holiness, justice, goodness, and truth. Since all theology concerns God and his relations with men, one's entire theological position is reflected in the doctrine of the attributes of God. Therefore, a biblical doctrine of the attributes of God should reflect itself in the whole of one's theology.
Bibliography: Reformed: H. Bavinck, The Doctrine of God; L. Berkhof, Systematic Theology; S. Charnock, The Attributes of God; A. A. Hodge, Outlines of Theology; C. Hodge, Systematic Theology, Vol. I; W. G. T. Shedd, Dogmatic Theology, Vol. I. Neo-orthodox: G. Aulén, The Faith of the Christian Church; K. Barth, Church Dogmatics II/1, E. Brunner, The Christian Doctrine of God.
Associate Professor of Systematic Theology
Calvin Theological Seminary
Grand Rapids, Michigan
Have something to add about this? See something we missed? Share your feedback here.
Our digital archives are a work in progress. Let us know if corrections need to be made.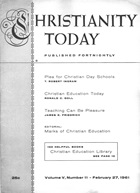 This article is from the February 27 1961 issue.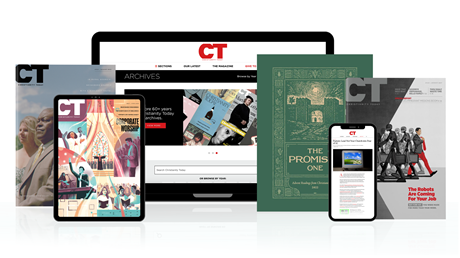 Subscribe to Christianity Today and get access to this article plus 65+ years of archives.
Home delivery of CT magazine
Complete access to articles on ChristianityToday.com
Over 120 years of magazine archives plus full access to all of CT's online archives
Subscribe Now
4: The Incommunicable Attributes of the Triune God
4: The Incommunicable Attributes of the Triune God