GOSPEL BLIMP
Former Book of the Fortnight selections have been limited to fictional fiction. The current selection is real fiction, a low-altitude space tale named (actually christened with Seven-Up) The Gospel Blimp, by Joseph Bayly.
This inflated windbag (the blimp) is the most ingenious evangelistic publicity stunt since the man who worked the human arc angle, keeping several thousand volts at his fingertips. The founders of International Gospel Blimps, Incorporated, are typical suburbanites who conceive of this obvious mass-media device for reaching the next-door neighbor.
The lesson of their fateful experiment is unloaded on the reader with all the delicate indirection of a cargo of "fire bombs" dropped from the blimp. Just to be sure that everyone gets the message, the author takes one more run over the satire-saturated subject, dragging a final chapter with the moral spelled out in a blimp-high streamer.
This is sound blimpsmanship; without that last chapter Mr. Bayly would have had to make a career of answering inquiries about IGBI.
Please stop here and buy a copy of The Gospel Blimp before reading the moral I have in tow. This book will not be distributed free on our Fortnight plan; I only have one copy, and I refuse to part with it.
The moral, of course, is the threat of the Christian organization man. Herm, the gold-braided Commander, caricatures more than the operator in free-wheeling fundamentalist organizations. There are presumably Herms with doctor's hoods. But the little man who feeds Herm's appetite for power and plants pansies around the blimp hangar after work is no less an organization man.
A revealing misprint in an ecumenical document found "committee fellowship" rather than "committed fellowship" at the heart of the church. With just the breezy style to keep the Blimp aloft, Bayly's hilarious spoof perceives this danger and makes the earnest point that Spurgeon found in Elisha's raising of the Shunammite's son. In raising the spiritually dead, there is no substitute for close personal contact.
EUTYCHUS
ON BISHOP PIKE
We, the Archdeacon and Clergy of the Associated Mission of Brooklyn, commend you for the honesty and clarity of your editorial in the January 16 issue of CHRISTIANITY TODAY relative to Bishop Pike's statement appearing in The Christian Century of December 21. In our opinion such an outlook is far more contributory to strong ecumenicism than the views of Bishop Pike which you criticize in the article.
It is to be hoped that the spirit which you exemplify will prevail in ecumenical circles. Certainly, it will only be in this way that true Christian reunion can be effected, members of the hierarchy and their views notwithstanding.
A. EDWARD SAUNDERS
Archdeacon of Brooklyn
ARTHUR L. J. FOX HARRY J. SUTCLIFFE WILLIAM T. WALKER EUSEBIO ESCARIZ ALBERT H. PALMER ALFRED B. BURKERT ANGEL FERNANDEZ G. LINN FERGUSON JOHN W. EDWARDS DONALD L. IRISH H. L. MICHAEL COWAN ESTEBAN REUS
New York, N. Y.
As Priests of the Episcopal Church, we wish to thank you for your fine editorial on Bishop Pike's Change of Mind. Your conclusion that his "new-found position represents a break with … the historic church" is quite correct, and most courteously stated.
O. D. REED, JR.
Danville, Ill.
A. W. HILLESTAD
Oconto, Wis.
DAVID E. NYBERG
Granite City, Ill.
HARRIS T. HALL
Ripon, Wis.
A. MEEREBOER
Monroe, Wis.
BENJ. W. SAUNDERS
Racine, Wis.
JOHN R. EDWARDS, JR.
Greendale, Wis.
THEODORE A. BESSETTE
Harvey, Ill.
DAVID J. REID
Michigan City, Ind.
G. COLYER BRITTAIN
Wausau, Wis.
ROBERT S. SWEETSER
Sheboygan, Wis.
GEORGE E. HOFFMAN
Paris, Ill.
ROBT. E. BLACKBURN
Kenosha, Wis.
EDWARD JACOBS
Milwaukee, Wis.
ROY A. F. MCDANIEL
Algoma, Wis.
EDMUND R. WEBSTER
Waupaca, Wis.
ROBERT S. CHILDS
Madison, Wis.
EDWARD C. LEWIS
Stevens Pt., Wis.
R. J. BUNDAY
Marshfield, Wis.
ROBERT PIERSON
Evanston, Ill.
JAS. W. SAMTER
Sheboygan Falls, Wis.
I do not know why you have it in for Bishop Pike, but I do know him well enough to be disappointed in your false inferences, and "double talk."
BRADFORD W. KETCHUM
Secretary and Registrar
Diocese of New York
New York, N. Y.
What concerns me is when a supposed "critique" is really a subjective heckling.
EUGENE L. LOWRY
First Methodist
Wichita, Kan.
Bishop Pike is to be commended for his openly declaring his change of mind. For those who keep an open or changing mind, new truths may enter in.… I don't believe God has stopped talking since His book went to press. We must take into consideration that the authors of these books being human, were impressive, emotional and fallible like any man of today.
ELLA G. CEBIK
Stratford, Conn.
Why all this negative talk? Why worry about the ideas of the liberals?
H. P. DUNLOP
Long Beach, Calif.
What will happen to the faith of thousands within the church who have been taught that the creed is the foundation stone upon which our faith is built, that belief in the Holy Trinity, the virgin birth, the sacraments of the Christian faith, are essential to Catholic belief, if statements of belief, as recorded in "Bishop Pike's Mind has Changed: The Creed Becomes Poetry" are permitted to be broadcast throughout the religious world? I have been a priest for 36 years. Is the faith of the hundreds whom I have trained to be destroyed by a small group of people who revel in the glory of sensationalism at the expense of the Catholic faith?
WALTER P. CROSSMAN
Vicar
St. Francis Church (Episcopal)
Fair Oaks, Calif.
The Bible does say there will be a falling away in the last days.
SOLOMON MILLER
Orrville, Ohio
This, simply, is to say "bravo" and thank you for your skillful autopsy on Bishop Pike's dead faith. It would be interesting to know if he also sings Ephesians 4:14 (Phillips); 1 John 2:22, 23.
ELBERT D. RIDDICK
Portland, Ore.
The Episcopal Church has always had her eccentrics. Bishop Pike speaks for himself, even as did Dr. Pittinger a few years ago in Look.… The unfortunate aspect is that both are considered men of authority and many accept their words as spokesmen for the Anglican Communion.
It is worthy that both should be considered for deposition which is the way the Church has always dealt with heretics.
It seems that Bishop Pike has become not a "high", "broad" or "low" Churchman, but a liberal—the worst possible form.
SAMUEL E. BLACKARD
Calvary Church (Episcopal)
Batavia, Ill.
Our vocal Bishop of California is not only in danger of moving out of the historic Church of Jesus Christ, but is also busily removing himself from the Episcopal Church, in thought, if not through an actual trial for heresy.
Your editorial provides an opportunity for me as an Episcopal priest to stand up and tell the Christian Community that the Apostles' and Nicene Creeds, literally taken, i.e., not mythologized, are the bed rock of our profession of Faith. I am sure that in so doing, I speak for the vast majority of priests whom I personally know. The Virgin Birth, the Trinity, all of it, are by me and others whom I know believed thoughtfully, devoutly and completely. We do not have mental reservations, intellectual doubts, nor private interpretations of the most clear and deliberate language of the Creeds. Should there be some portion of the Creeds in our intellectual pilgrimage that temporarily baffles us, we still do not teach our own personal interpretation, but strive to separate our private opinions from what the Church teaches.
Fortunately, our House of Bishops, in their recent Pastoral Letter, has affirmed anew, in the face of such heretical declarations as that made by Bishop Pike and others, that the Nicene Creed is a "part of the essential core of the continuous, historic tradition of the Church" and that the Apostles' Creed is the "minimal Baptismal Confession." The Creed is described by our Bishops as essential dogma, narrative in nature, and not abstract or propositional. It is clear that the Bishops' statement is not so much a defense of what stands without need of defense, as it is a warning and a disciplining of those who verge on heresy in attempts to make the Creeds intelligible to the modern day Christian.…
Such modest disciplinary action of heretics is typical of our Communion. Despite the fact that the Bishops' Pastoral declaration was stimulated by a petition charging various people with heresy, signed by 4500 members of our Church, our heretics are not brought to trial as they could be, but only admonished as constructively as possible.
And why not use moderation? For Bishop Pike is, after all, only one of more than 100 Bishops, though rather noisy about it. He is not regarded as infallible, nor will he live forever. As long as we parish priests continue to proclaim our faith in the Creeds, his heresy will be forgotten, even more quickly than he will himself, as time and the Church march on.
JOHN A. RUSSELL
St. George's Episcopal Church
Helmetta, N. J.
CRUX OF THE MATTER
I want to congratulate Dr. Berkouwer for his penetrating yet irenic statement of the true issues separating Reformed and Roman Catholic elements in Christendom (Review of Current Religious Thought, Jan. 2 issue). Having pondered this whole question for several years, I feel convinced that Dr. Berkouwer has put his finger on the crux of the matter.
EDWARD JOHN CARNELL
Fuller Theological Seminary
Pasadena, Calif.
WINTER WONDERLAND
Thanks for what you wrote on the winter in Europe (Jan. 2 issue). I agree with your observations. To understand the development one must take into account that all leaders of Barthian and neo-orthodox theology came from liberalism. This was a counter-movement. But the liberal heritage was still a power in these men. Even Karl Barth always feels closer to the liberal school from which he came (Berlin, Marburg) than to the "orthodox," conservative theology of his father (Fritz Barth) and that generation. In my review of your interesting symposium Revelation and the Bible I say something about that. The triumph of Bultmann and Tillich (who is the son of an ultra-conservative church councillor in Berlin) is quite remarkable. No serious historian takes Bultmann seriously. This way of disposing of historical facts has nothing to do with sound historical research. A historian has to believe the documents he investigates until he finds out where they are wrong. Bultmann treats the gospels like a prosecutor treats the defendant, believing him in nothing until the truth has been proved.
… You write of me that I "was thrown into prison by the Nazis and rescued by American troops".… I have been penalized in other ways, but I was never in prison.
HERMAN SASSE
Prospect, South Australia
The issue … of the German Church is not theological, in the decline of the loyalty of the people to the Church. It is a case of power-church, or organization, of The United Church, which always stagnated the life of the Church, anywhere and any time in Christian history.
Nor is the Nazi-era the sole trouble. Nor is the Confessional Church the hope of the Church. On the contrary, it is alienating the loyalties of the people thoroughly and completely. The Confessional people were and are a power-group. They were never elected to office; they walked in. And they elected each other.
Nor was the resistance of the Confessional people to Nazism so much a religious factor as a political one. A strong element in that resistance was plain treason. Their martyrs—at least a number of them—deserved to be executed for collaborating with the enemy of the country: one of them Bonhoeffer.
Another, Niemoeller, always was of doubtful value. Bishops Dibelius and Wurm once appealed on his behalf to Hitler. Hitler asked: "Bitte, meine Herren, ein Moment" ("Please, gentlemen, a minute.") He then played back a tape of Niemoeller's telephone conversation. The bishops then said: "Bitte, entschuldigen Sie uns, Herr Fuehrer; wir haben nichts mehr zu sagen" ("Please excuse us, we have nothing more to say").
JOHN F. C. GREEN
Evangelical Congregational Church
McKeesport, Pa.
Your … article has given me reason to think I should more seriously apply myself to the task of working out intellectually the implications of my personal faith so that I may more intelligently stand for Christ in the intellectual world.
CHARLES YOAK
Chicago Theological Seminary, '63
Chicago, Ill.
In your editorial of November 7, 1960 you refer to "some Baptist seminaries" as being "theologically on the move." Then you state that, "In the North (Philadelphia, for example) and in the South alike, neo-orthodoxy has registered gains."
If the above comment has reference in any way to The Eastern Baptist Theological Seminary, I should like your readers to know that our faculty has to a man disavowed the implications made in the statement. The doctrinal statement of our Seminary has remained unchanged since the founding of the school. Every member of the faculty, as well as every trustee, moreover, annually renews his endorsement of this statement.
GILBERT L. GUFFIN
President
The Eastern Baptist Theological Seminary
Philadelphia, Pa.
ECLECTIC LUMP
In listing the religious affiliation of Mr. Kennedy's cabinet nominees … (News, Jan. 16 issue) please don't lump Lutherans, Reformed, and Mormons under one head.
GLENN C. LASHWAY
Trinity Lutheran Church & School
Fort Dodge, Iowa
MORMONS AND KING JAMES
Re "Mormonism" (Dec. 19 issue), the extracts from the Bible contained in the Book of Mormon are said to have been inscribed on brass plates found by Joseph Smith and translated by him. As these passages are in the exact words of the King James Version, either the K.J.V., so miraculously revealed a thousand years before its appearance in 1611 A.D., must be the only perfect Bible or the plates and their translation were an imposture.
I. N. BECKSTEAD
Ottawa, Ont.
FREEDOM IS INDIVISIBLE
"Ye blind guides, which strain at a gnat, and swallow a camel" (Matt. 23:24). There has come to my attention a booklet prepared by the National Council of Churches for use as a study guide by the social action units of its constituent denominations. Edited by Harold C. Letts, it is entitled "A Case Book on Christian Responsibility for Freedom," this being the coordinated emphasis of the National Council's member denominations for 1960–61.
The booklet, which is being widely circulated as part of a well-organized project, treats in a topical manner of what its editor conceives to be various salient threats to freedom. The first case-study deals with freedom in the local church, and implies that any congregation which declines to support social action programs instituted by its pastor, is to that extent unfree. The second case-study has to do with extra-legal restrictions upon the freedom of members of minority groups to live in neighborhoods of their own choosing. The third case-study addresses itself to religious limitations suffered by Protestants in certain Roman Catholic countries. The fourth case-study deals with the problem of the use of public schools for religious purposes. The fifth case-study concerns itself with threats to freedom which are seen as being implicit in legislative investigation of alleged subversion among American churches and churchmen. The sixth case-study reviews the famous incident of the Air Force manual which contained inimical statements about the National Council of Churches and certain clergymen. The seventh and final case-study deals with infringements upon the rights of conscientious objectors.
It is not my purpose here either to question or endorse the legitimacy of these topics for concern. But I am profoundly disturbed by the fact that the most insidious and virulent threat to freedom in America today is not even mentioned. In nearly a hundred pages of material there is not the barest hint that freedom might conceivably be endangered by the increasing intervention of government into the economic sphere. Such an omission makes one wonder!
For the first time in history a major American political party has openly embraced the theory that the consumer is not competent to decide what to buy with his money, and that the "public sector" of the economy must be enriched at the expense of the private. Granted, we have had administrations which have acted according to this theory, but never before was it boldly enunciated as an official party creed. With the imposition of Professor Galbraith's formulas, the United States and the Soviet Union would cease to differ in principle but only in degree in the matter of government controls. As for the other major party, its candidate's answer to the advocates of collectivistic planning was to repudiate Secretary of Agriculture Benson, the leading spokesman for the free market in the … [Eisenhower] administration.
A minister I know once preached a sermon on "Majoring in Minors." It was an indictment of those Christians who neglect the great central doctrines of the faith in favor of an emphasis upon such peripheral concerns as the precise date of the millennium or the question of whether or not jewelry should be worn in church. It seems to me that Mr. Letts and the National Council of Churches' study booklet are majoring in minors.
The power of the federal government assumes ever more monolithic proportions. Its tentacles reach into the homes and pocketbooks of even the humblest families. The Bureau of Internal Revenue, with its retinue of paid informers, has become such a hellish juggernaut that its own commissioner a few years back resigned his office in disgusted protest against the graduated federal income tax and the monstrous system of bureaucratic tyranny to which it has given rise.
We read increasingly about farmers being fined for raising grain to feed their own livestock, about employers being penalized by federal boards for not acceding to union demands, about liens being placed upon the bank accounts of business people who demur at serving as involuntary tax-collectors. We are fast approaching, if indeed we have not already passed, a point from whence the recovery of economic freedom ceases to be a live possibility in any foreseeable future. Yet none of this, apparently, falls within the scope of the Christian responsibility for freedom, at least according to Editor Letts' understanding of that responsibility.
Mr. Letts is touching in his solicitude for the right of pastors to run their churches independently of the desires of their parishioners, of minorities to reside in neighborhoods where their presence is not wanted, of persons accused of Communist affiliations to enjoy a fair hearing, of conscientious objectors to avoid military service. But where is his solicitude for the Finn twins, the Kohler Company, Vivien Kellems, and the countless obscurer victims of the Leviathan State. Why does his casebook not include the slightest reference to the violation of their freedoms?
Freedom is indivisible. Let us by all means be zealous in cherishing and guarding religious liberty, civil rights and academic freedom. But let us also remember that, as Wilhelm Röpke has so sagely said, "It is hardly forgivable naïvete to believe that a state can be all-powerful in the economic sphere without also being autocratic in the political and intellectual domain."
ROBERT V. ANDELSON
Executive Director
Henry George School of Social Science
San Diego, Calif.
THE MESS WE IS NOW IN
The words "existentialism" and "existential" seem to be variously understood. When they first appeared in theological discussions, a D.D. connected them with the philosophy of seizing life's pleasures while they are still available—carpe diem, for short. More recently, these words have been taken as having reference to theological adjustments on behalf of relevancy to changing world conditions. Still another impression is that they have to do with the assertion of personality against the depersonalizing influences of present-day life. Again, we find these terms associated with the existing situation, defined by a colored brother as "the mess we is now in."
Light on this "existential" problem would no doubt be welcomed by many readers.
I. N. BECKSTEAD
Ottawa, Ont.
• Modern existentialism is a phase of the philosophical revolt against Hegelian rationalism. Its premise is that the supernatural cannot be grasped in rational categories but (insofar as the supernatural is relevant) is experienced in subjective decision. Perhaps reader Beckstead has heard Nels Ferré's story of the three baseball umpires—an objectivist, a subjectivist, and an existentialist. The objectivist says, "I call them just as they are"; the subjectivist, "I call them just as I see them"; the existentialist, "They aren't balls and strikes until I call them!"
—ED.
Have something to add about this? See something we missed? Share your feedback here.
Our digital archives are a work in progress. Let us know if corrections need to be made.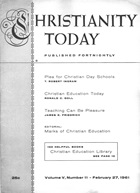 This article is from the February 27 1961 issue.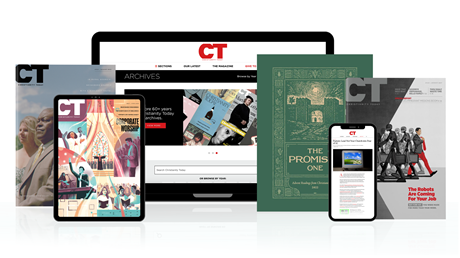 Subscribe to Christianity Today and get access to this article plus 65+ years of archives.
Home delivery of CT magazine
Complete access to articles on ChristianityToday.com
Over 120 years of magazine archives plus full access to all of CT's online archives
Subscribe Now
Eutychus and His Kin: February 27, 1961
Eutychus and His Kin: February 27, 1961