A Window on the Pulpit
The Preacher:
Son of a clergyman, Robert H. Reardon is the second president of Anderson College (Church of God), Indiana. After serving congregations in Ohio and Pennsylvania, he returned to his alma mater in 1947 as assistant to the president, and in June, 1958, succeeded Dr. John A. Morrison as president. In addition to his B.A. from Anderson, he holds the B.D. and M.S.T. from Oberlin Conservatory, and was awarded the honorary Doctor of Human Letters by DePauw University in 1958. Dr. Reardon has been secretary of the Indiana Association of Church-Related and Independent Colleges since 1955. In addition, he officially represents his denomination as a member of the NCC Commission of Higher Education.
The Series:
In enlisting the aid of a dozen seminaries charged with teaching homiletics and practical theology, CHRISTIANITY TODAY commissioned each participant to nominate for the Select Sermon Series a pulpit message representative of the best evangelical preaching in American denominations.
The sermon in this issue, "The Greatest Question," is nominated by Dr. John A. Morrison, President-emeritus of Anderson College, as representative of such preaching in the Church of God.
In previous issues, CHRISTIANITY TODAY has carried sermons by clergymen identified with the United Lutheran Church, the American Baptist Convention, the Southern Baptist Convention, the Reformed Church in America, and General Baptist Conference. Other denominational traditions will be represented by the selections yet to appear.
What is the greatest question that can be asked about a man? Think for a moment. In your most considered judgment, what one momentous question about a man towers like an Everest above the rest?
The "health" question certainly would be first for some. Is a man's body strong and well? Is this the first and greatest question—to be free from pain? There are those who come quickly to mind, who make us wonder. We recall Robert Louis Stevenson with his hacking cough, dying of a lifelong lung ailment in Samoa, yet writing that he refused to let the medicine shelf become the horizon of his soul. Health is important, but I doubt if it belongs first.
No doubt some would insist that the "freedom" question should be first. Is a man restricted, coerced, imprisoned, or is he free to move about, to follow his own interests, and to carry out his own plans? Vital as freedom is, there comes to mind that stalwart spirit, John Bunyan, imprisoned for 12 years and offered freedom in exchange for silence, who wrote, "I am determined, God being my helper, yet to suffer, if frail life may continue so long, even till the moss shall grow over my eyebrows, rather than violate my faith and make a continual butchery of my conscience." Such heroic words indicate that other questions are more important.
No doubt there are some who would say that the "color" question is central and of primary importance. What is the color of man's skin? The sensitive spirit and scientific genius of George Washington Carver and the unforgettable voice of Marian Anderson about whom Toscanini said, "a voice like hers comes once every hundred years," ought to make us ponder the importance of this kind of a question. Obviously the answer does not lie here.
Then there is the inevitable question about wealth. How much money does he have? Although few would actually admit that in their own hierarchy of values these questions were of top priority, yet their lives belie what they say. This is the first question for many of us, and let's not deny it. Yet as money-mad as we may be, in the depths of our hearts we know that possessions do not truly measure the man.
WHAT DO YOU WANT?
Whenever we are pondering the ultimate questions of life we ought to find out just what Jesus had to say.
One day two of his disciples, James and John, both of them ambitious, brash, and impatient for power, pushed their way toward him through the crowd and said, "Teacher, we want you to do for us whatever we ask" (Mark 10:35). There was much more depth to Jesus' counterquestion than we generally realize. He asked them, "What do you want …?" Here is a question to ponder, to search the soul. What do I really want? What do I desire more than anything else in the world? What do I long for in my inner heart? What is that deep seedbed of desire from which spring all of the basic motivations and attitudes of my life? At some time or other every man has to answer this question.
King Solomon did as he began his reign. Young, untried, and troubled by his lack of wisdom and experience, he made a pilgrimage to bum sacrifices at the altar of Gibeon, and to meditate and pray about the new responsibilities that had been thrust upon him. As he stirred uneasily upon his bed in sleep, God came to him in a dream and invited him to request anything his heart desired. What did Solomon ask for? This was the great question. Surely he must have thought about a mighty army marching in pomp and splendor at his command, but he did not ask for it. He must have been drawn by the vision of a splendid palace, filled with treasures of all the world, and yet he did not ask for it. Solomon asked for one favor only. He pleaded, "Give thy servant therefore an understanding mind." This was what he wanted most. Down through these hundreds of years that have elapsed since his reign, Solomon is remembered principally for his wisdom.
There is an interesting counterpart to the story of Solomon in the present day. Only a few years ago King Farouk I of Egypt was overthrown and sent into exile. When the officers of the new revolutionary government entered the fabulous palace of King Farouk, what did they find? This man could have had almost anything that money could buy. In his library one could imagine a collection of books equal to the finest collections in the world. Instead Nasser's police found stack after stack of American comic books. This was what a king wanted! One might have thought that in the royal galleries would be hanging the paintings of the masters—Ruben, Rembrandt, and Botticelli. Instead the palace walls were decorated with pornography. We need to ponder long the wisdom of the Master who said, 'Where your treasure is, there will your heart be also" (Matt. 6:21). Perhaps what a man wants is the greatest question that can be asked about him. Where is your treasure, my friend?
WHAT IS YOUR PRICE?
Jesus asks a second question which lays its finger on ultimate things: "Or what shall a man give in exchange for his soul?" (Mark 8:37). Can a man be bought? Does every man have his price? Such a question cannot be avoided, for it has to do with fundamental integrity and basic character. It applies to the statesman who may be faced with compromising his convictions or committing political suicide. It applies to the teenage girl whose romance seems to rest on her response to the ultimatum, "If you love me, prove it."
When Daniel was caught in a trap of political intrigue which could have ruined his career and ended his life, what did he do? Did he listen to his fellow countrymen who complained that their businesses would be ruined if Daniel persisted in continuing his faithfulness in prayer? Did Daniel quietly soft-pedal his religious practices and wait for a more convenient day? Was he able to double talk himself into believing that greater good was to be accomplished by compromise? "When Daniel knew that the document had been signed, he went to his house where he had windows in his upper chamber opened toward Jerusalem; and he got down upon his knees three times a day and prayed and gave thanks before his God, as he had done previously" (Dan. 6:10). There is a wonderful matter-of-factness and restraint here, as though the writer knew Daniel to be a man of character and integrity, whose course of action would not be in doubt.
A number of months ago one of my good friends, employed as a responsible executive in a large midwest corporation, was taken aside by a superior officer for some friendly council: "We like your loyalty to the company, the thoughtfulness with which you approach company problems, and I know top management has its eye upon you for a promotion. But I have noticed at our social affairs and company parties that you do not drink with the rest of the people. If you are going up the company ladder, you will need to change." To this my friend replied, "Thank you very much for the confidence you have in me. If this is the price I am to pay for advancement, I prefer to stay where I am." Was he passed over? He was not. Within six months two substantial promotions came and today he is one of the top executive officers of the corporation and enjoys the confidence of his business associates. Thank God for men who cannot be bought at any price.
When I was a boy I was taught an unforgettable lesson by an old man on my paper route. He was above 90 years of age and lived alone in his house on the corner. During the last several years of his life he had become virtually blind. The day came when he could no longer see to take from his pocketbook the correct change to pay for his newspaper. I still remember the Saturday morning when he drew his old leather pocketbook with a snap on top of it from his pocket, handed it to me and said, "Bob, I can't see any more. Help yourself." As I opened the purse I was suddenly struck with what a wonderful thing it was to be trusted. The old man knew very well that I could take out whatever I wanted and he would not know the difference, but he had placed in me an unconditional trust which I resolved I would never betray. And so, whether statesman, business man, paper boy, or whatever, Jesus has this searching question for us which is as relevant today as it was when he first asked it, "What would a man give in exchange for his soul?" Can you be bought? Do you have a price?
WHAT HAVE YOU PAID?
We come now to a third great question which Jesus asked, and there might be some who would rate it as the most important question that can be asked, particularly of a Christian. "Are you able to drink the cup that I drink?" (Mark 10:38). I trust that each one of us will give a more thoughtful answer than James and John who answered immediately, "We are able." Jesus was getting at basic things again, for it was a question that had stern and frightening implications in it. "You say that you are my disciple, prove it! What evidence is there that you have suffered for what you believe? What price have you paid? Enough of all this talk; what have you done?"
The truth is that most of us are fair listeners to the Gospel, average discussers of the Gospel, but never really "drink the cup." Just how much of our lives and our resources have we been willing to put on the altar?
A few years ago at a youth convention in Toronto, a small man, nearly blind, rose to speak on "The Way of the Cross." Toyohiko Kagawa's sermon laid hold on us and I shall never forget the quiet hush that fell over the audience as he raised his New Testament close to his eyes in order to be able to read the passage of Scripture. Some of us knew that he had nearly lost his sight after being infected with trachoma by a passing beggar taken in, drunken and filthy, to share his bed there in the awful slums of the Shinkawa district of Tokyo. The price he had paid in his own personal health to carry the Gospel moved us beyond words.
Paul, the great apostle, author, teacher, and evangelist would have had little impact on the early Church were he not able to stand before his brethren and say, "I bear in my body the marks of the Lord Jesus" (Gal. 6:17). The ugly scars upon his face, the long lash marks visible upon his back, spoke more eloquently of his love for the Saviour than any words he could possibly employ. And Jesus Christ our Lord, great Friend and Teacher though he was, was unable to fulfill his ministry until finally one black afternoon he was nailed to the cross. Even today it is our vision of him upon that cross against the sky that has so laid hold of our hearts that somehow we have not been able to put him aside. As I stand today before that cross I, too, must ask, what have I paid for what I believe?
In these times when our sense of values becomes blurred and our vision dimmed by the respectable paganism that drifts like a fog across our lives, we need to ponder again the great searching questions posed by our Lord. They are as central and inescapable today as they were then. "What do you want? What will a man give in exchange for his soul? Can you drink of my cup?"
Comment On The Sermon
The sermon "The Greatest Question" was nominated forCHRISTIANITY TODAY's Select Sermon Series by Dr. John A. Morrison, President-emeritus, Anderson College (Church of God), Anderson, Indiana. Dr. Morrison's comment follows:
Who is the greatest preacher of the twentieth century? Nobody knows. The concept of greatness as applied to the preacher and his sermon is an elusive thing—it is hard to define with any degree of accuracy. One generation may pronounce a given preacher as great and the next generation may forget him altogether. On the other hand, a preacher's fame may increase as the generations pass, as in the case of Frederick W. Robertson of Brighton, England. Robertson died more than a century ago at the early age of 37. His sermons endure to this day as homiletical masterpieces.
I have always felt that in the highest and noblest sense the printed sermon is not a sermon at all—only the report of one. The relationship between the preacher and his audience is similar to the relationship between a man and his sweetheart—it is more natural and satisfying with both parties present at a given performance.
When I beard Dr. Reardon preach the sermon under review here, I pronounced it a fine sermon. The preacher stood in the pulpit with his heart warmed by a profound conviction of the truth of his message. The tone of the voice, the posture of the body, the expression in the eye, the gestures of the hands, the movements of the head—even the pauses—all were brought into play as a means of conveying a message from the heart of the preacher to the hearts of the people. And they responded like flowers in a summer garden when a shower had fallen. Here and there one would note a moistened eye; now and then an occasional smile, an unconscious nod of a head; everywhere a look of deep seriousness. God's message was finding its mark.
A quality of the sermon which impressed me was its simplicity. Great preaching is never pompous. Effective preachers do not itch to parade a vocabulary, nor do they make a show of knowledge. If a preacher is wise he has no need to show it; if he is ignorant he has no means of hiding it. So in either case effort is a waste. One reason Jesus caught the ears of the common people, and they heard him gladly, was that he used terms they could understand. Who wants to carry a dictionary to church to find out what the preacher is saying?
Again, as I listened to Robert Reardon preach this sermon, it seemed that he was preaching what he had experienced. When preaching comes to be academic, it ceases to be preaching. It is lecturing. New Testament preaching was serious business. It was the business of the heart, the soul, the whole life, the total personality of the preacher. The first Christian preachers had had a profound religious experience.
Furthermore, the sermon is relevant to the times. The preacher addresses his message to the here and now. Its application is not remote but immediate. People who heard it sensed that it was for them.
When I heard Dr. Reardon's sermon I thought it was good and I asked him to write it up for this magazine.
J.A.M.
Samuel M. Shoemaker is the author of a number of popular books and the gifted Rector of Calvary Episcopal Church in Pittsburgh. He is known for his effective leadership of laymen and his deeply spiritual approach to all vital issues.
Have something to add about this? See something we missed? Share your feedback here.
Our digital archives are a work in progress. Let us know if corrections need to be made.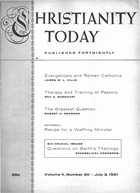 This article is from the July 3 1961 issue.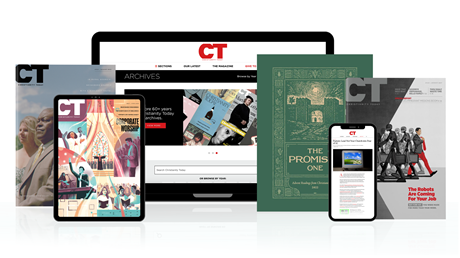 Subscribe to Christianity Today and get access to this article plus 65+ years of archives.
Home delivery of CT magazine
Complete access to articles on ChristianityToday.com
Over 120 years of magazine archives plus full access to all of CT's online archives
Subscribe Now
The Greatest Question
The Greatest Question