SV STAMPS
Sixty million trading stamps are being collected to build a community church in California. If the sixty families in the church succeed in gathering a million stamps each, the cash value will pay for a church building with an educational unit.
Here at last is a practical, painless, American way to support the church every community should have without spending a cent. Stamp-collecting is part of our way of life. When King George overpriced stamps to the colonies in the infamous Stamp Act, the result was the American Revolution. A Federal Government was formed to facilitate the publication of commemorative stamps.
Trade languished in the new country until trading stamps were devised. These ushered in people's capitalism. Now every shopper gets an immediate return on every dime she spends. There is no waiting, no coupon-clipping, and no speculation. Only the thrill of pasting free stamps in a free book.
Trading stamps are sheer luxury. You get them as a gift, and a slick gift catalogue shows you what they will buy. The stamps have the irresistible appeal of fringe benefits.
Here is the genius of building churches with stamps. Religion in America is also a fringe benefit, falling far below tobacco or alcoholic beverages in annual cost. Before the religious use of trading stamps can sweep the nation, however, further planning is necessary. We can scarcely expect Mrs. Suburbia to go through an illustrated catalogue of gift premiums and still put her stamp books on the collection plate.
We need a religious stamp plan; Eutychus Associates are working on the proposal. SV (Spiritual Values) Stamps could be worth much more than the secular variety. Since they could be cashed only by ecclesiastical agencies, stores might claim them as charitable contributions. Churches can publish attractive brochures giving the value in stamps of pastors' salaries, electronic organs, a new roof for the manse.
Can you imagine the role SV Stamps could play in church union? SV users would stick together.
EUTYCHUS
DESCENT TO SILENCE
Thank you for Kenneth Pike's excellent article on "Strange Dimensions of Truth" (May 8 issue). Even as he illustrates, there can be much gained through a proper God-oriented approach to semantics. There is one other negative thought that struck me as I read his article. The wrong use would seem to make the writing of books on the subject a self-contradiction.
I seem to recall from my study of philosophy at college an ancient Greek named Cratylus, who figured that to speak a falsehood was to do an injury and to speak the truth was to say what needed no saying, and therefore he was reduced merely to wagging his forefinger—which in itself was a contradiction to his belief.
It would appear as though the destructive semanticists are reduced to the same expedient. If language is as limited as they maintain, it appears useless to write books in order to defend their thesis.
E. G. SMITH
Knox Presbyterian
Bobcaygeon, Ont.
ASCENT TO PRAISE
Re Dr. Lee Shane's "A Man In Space!" (May 8 issue): In Genesis 5:24, we read, "Enoch walked with God: and he was not: for God took him." So Enoch is the first one recorded in history to go into space. Then in 2 Kings 2:11, we have the account of Elijah, going into outer space in a chariot of fire. Then on the Mount of Transfiguration, Elijah and Moses came down out of outer space and were seen talking with our Lord. So all we, that have our names written in the Lamb's book of life will someday go into outer space, along with our loved ones who have gone on before (1 Thess. 4:16, 17) and shall be ever with our Lord. This trip into outer space will not cost us millions of dollars.… [It is] the free gift of God's grace. For our Lord, who came down out of space and also returned, paid the redemptive price for us … on Calvary. So may we be watching, hoping, praying—Even so, come, Lord Jesus—and be ready for our outer space flight, when He calls us. For we surely are living in the Space Age.
OLGA BORELL
Burdick, Kan.
RESURRECTION AND FAITH
I raise a question as to the discussion of Barth's view of the Resurrection of Christ compared with that of R. H. Niebuhr in Resurrection and Historical Reason (Editorials, May 8 issue). I have used the latter since it came out and that with profit. But I am concerned about its final conclusions, pp. 180–181. There the disciples are described as helping to "create the Son of man." It is said: "Jesus needed his disciples in a way that they did not need him;" and again that "Those who met him after his crucifixion were the men and women who believed."
On the other hand Barth, K.D., IV/1, p. 336 and IV/2, pp. 161 f. insists that the risen Lord was indeed LORD of each of the appearances, and Church Dogmatics IV/1, pp. 333, 341–2, 351, 352, that He led the dispersed disciples from unbelief as to His resurrection to faith therein. He brought them to believe in Himself as their risen Lord. And the "them" includes such unbelievers as Saul of Tarsus, James his brother, and Thomas the doubter.
W. C. ROBINSON
Columbia Seminary
Decatur, Ga.
SENATOR CITES NCC BOARD
From a speech by Senator (Mrs.) Neuberger on April 6, 1961 in The Congressional Record (pp. 5145–5147), entitled "Churches Back Health Care through Social Security System":
"Mr. President, the National Council of Churches, the Nation's largest church federation, has endorsed the principle of providing health care for the aged through the social security system.
"The Council's 250-member governing board, representing 34 Protestant and Orthodox denominations with 38 million adherents, gave unanimous approval to the social security approach at its February 22 meeting at Syracuse, N. Y. The governing general board authorizes representatives of the National Council to testify at public hearings along the lines of its resolution.
"Mr. President, I considered it a privilege to join with 16 other distinguished Senators in sponsoring the Kennedy administration's health coverage bill, S. 909, which would provide health care under the social security system.…"
She is absolutely wrong!… The NCC does not speak for any of us, since we were not polled nor did we vote. Over 75 per cent of people over 65 have Blue Cross, Blue Shield or insurance policies for health and sickness.
FRANK P. STELLING
Oakland, Calif.
THE GREAT COMMISSION
Quoting Mr. Butt: "The New Testament Church commenced with Jesus saying to every one of his followers, apostles and ordinary believers alike, 'Go ye into all the world,' " etc. (Editorials, March 27 issue).… [He is] mistaken on two counts: First, Christ was speaking to his eleven Apostles only at that time (Matt. 28:16 ff.).
Then he says: "But what started as a lay movement has deteriorated into a professional pulpitism financed by lay spectators".…
These were not "laymen" to whom He gave the Great Commission. They were Apostles duly consecrated for their office and work. (See John 20:22, 23.)
E. F. SHUMAKER
Christ Episcopal
Brownsville, Pa.
DIRECTING THE ENERGY
We would get so infernally tired of hearing our ministers … lambasting the moving pictures. To be sure they are evil, bad, wicked—every other thing. But why, in heaven's name didn't they expend all of that energy in claiming such a marvelous medium for the Lord? Great Christian pictures have been made—consider "King of Kings." Even with the great liberties secular studios take with the original story—such pictures as "The Story of Ruth," "Ben Hur," "The Ten Commandments," often came through with power in the spiritual messages. By default this medium has literally gone to the devil, because we have not displayed enough interest to win it to Christ. Now we ponder and wonder and think what a shame it is that when a church is portrayed on the screen it is usually Catholic. My soul—Catholics have organized and fought to put themselves there! Most studio heads are Jewish!
LILLIAN WHEELER
Los Angeles, Calif.
CHURCH MUSIC TODAY
Having had over fifty years of experience as a conductor of choirs and choral organizations, mainly on the college and university level, I feel justified in making some suggestions which, I hope, will be helpful and constructive.
In any discussion of church music, the most vital consideration is the function and purpose of music in the church. The purpose, in general, is not to make people religious, but to intensify the spiritual ideas and feelings already existing. Music is essentially a spiritual influence. The most primitive chant forms were stimulated by religious emotion. But with the birth of Jesus, music first found expression in melodies of adoration and praise (Eph. 5:19: "… singing and making melody in your heart to the Lord." Music, too, was linked with the office of prayer but eventually was made a part of general worship and restored to the congregation. Thus the spiritual element has characterized music from the beginning.
In the modern church the function of music remains essentially the same—namely, to inspire and uplift the spiritual tone of the worship service. But there is an enlarged purpose also: the education and development of appreciation and understanding of music. This demands a careful consideration of the type of music used. It involves a study of both composition and text. Meaningless words set to strong harmonies or faulty composition linked to beautiful words are alike incongruous. Education involves a continuous environment of inspiring thoughts and artistic expression.
As to the question of text, I would like to suggest that the Bible furnishes an excellent libretto. Standard anthems and solos set to scriptural texts when executed in the spirit of prayer or scripture reading contribute much to the spiritual uplift of the service. The text from the Bible aids the listener in understanding the words since most laymen are aware of the more familiar passages.…
Only a selected few modern anthems or solos are suitable for church. Modern music, as such, has its permanent role in contemporary art, but its exotic harmonies and complicated rhythms—the result of a restless and disturbed world—are not conducive to meditation and prayer.…
Congregation and performers must combine to provide an atmosphere of worship.… Too often the Prelude is just a "filler"—a cover for the miscellaneous conversation heard in the pews or an attempt to demonstrate the organ's capacity.…
Not all musicians are qualified to direct a choral group. Few strictly instrumentalists understand the laws of diction or the problems involved in the proper production of the voice.…
The current tendency to divide the singers in the choir alcove is not conducive to gaining the best results. The dominant consideration should be for an arrangement that lends itself to the composite production of good tonal effects.… To divide the choir handicaps the conductor; it distorts the ensemble by arraying voice against voice; it separates the choir from the congregation; it magnifies the problem of distinct diction.
Music is vital to worship.… The execution of church music is a sacred task. The good old hymns live on. In the words of a beloved poet:
And the song, from beginning to end,
I found again in the heart of a friend. Just as national movements are conditioned by the songs the people sing, so are the creeds of the church.
LESLIE R. PUTNAM
Murray, Ky.
P.A.I.D. F.O.R.
Christianity Today is to be … commended for … articles which have exposed the granting and receiving of bogus degrees. However, unless it has slipped my notice, nothing has been said on the most farcical of them all—F.R.G.S. In order to receive this high-sounding distinction, one does not need to read anything, write anything or pass any examination or test of any kind. One simply signs his name and address upon an application form, has it countersigned by someone else who already bears the F.R.G.S., and upon payment of an entry fee of four pounds, and an annual fee of three, he may be elected a "Fellow." Now the most mercenary degree-mill in the world will at least ask its candidates to swear they have read a book or two, and to write a few pages of answers of some kind, but here is a title that sounds twice as big as any D.D., just for the payment of twenty dollars.
This ought to be known, so that honest men, whenever they see F.R.G.S. paraded behind a name, instead of wondering what vast geographical studies these letters indicate, may recognize them for what they are, and mentally append the further distinction: F.A.R.C.E.
ARNOLD A. DALLIMORE
Cottam Baptist
Cottam, Ont.
Honorary degrees do not represent scholastic attainment of high degree, but some kind of success which brings the recipient into the limelight. Occasionally it means a big contribution to the institution, political pull, or the ability to make a big noise. Honorary doctorates are a farce, and the clergy are the greatest offenders in parading them. Many men who receive them, never use them.
FLOYD S. LEACH
Rowayton, Conn.
Have something to add about this? See something we missed? Share your feedback here.
Our digital archives are a work in progress. Let us know if corrections need to be made.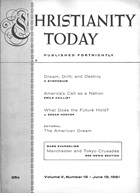 This article is from the June 19 1961 issue.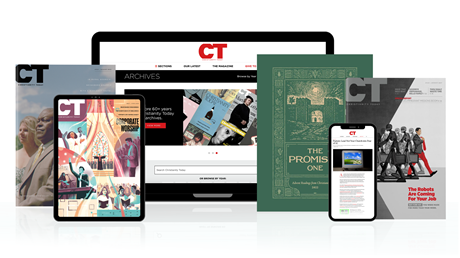 Subscribe to Christianity Today and get access to this article plus 65+ years of archives.
Home delivery of CT magazine
Complete access to articles on ChristianityToday.com
Over 120 years of magazine archives plus full access to all of CT's online archives
Subscribe Now
Eutychus and His Kin: June 19, 1961
Eutychus and His Kin: June 19, 1961