The best evangelical contributions of 1961, in the judgment ofCHRISTIANITY TODAY'Seditorial staff, are listed below. The selections propound evangelical perspectives in a significant way, or apply biblical doctrines effectively to modern currents of thought and life. These are not the only meritorious volumes, nor do they in every case necessarily reflect the convictions of all evangelical groups.
BLACKWOOD, ANDREW W.: Special-Day Sermons for Evangelicals (Channel Press, 448 pp., $4.95). Thirty-eight biblical sermons for special days.
BRUCE, F. F.: The English Bible (Oxford, 234 pp., $3.75). A tracing of the history of the various translations of the English Bible from its beginnings.
CADIER, JEAN:The Man God Mastered (Eerdmans, 187 pp., $3). Brief, readable biography of Calvin.
CLOWNEY, EDMUND P.: Preaching and Biblical Theology (Eerdmans, 124 pp., $2.50). Effective preaching is a proclamation of which Christ is the center.
CLARK, GORDON H.:Religion, Reason, and Revelation (Presbyterian and Reformed, 241 pp., $3.75). Faith and reason are brought under the purview of critical Christian reflection.
DROWN, FRANK AND MARIE:Mission to the Head-Hunters (Harper, 252 pp., $3.95). A story of bringing the gospel into a harsh jungle.
ELLIOTT, ELISABETH:The Savage My Kinsman (Harper, 160 pp., $5.95). Betty Elliott, one of the first to enter terror-ridden Auca territory and return to tell it.
FEUCHT, OSCAR E.; COINER, HARRY G.; VON ROHR SAUER, ALFRED; HANSEN, PAUL G., editors: Sex and the Church (Concordia, 277 pp., $3.50). A study of sex attitudes on the ground of a biblical ethic.
FRANZMANN, MARTIN H.:The Word of the Lord Grows (Concordia, 324 pp., $4). An introduction to the New Testament. Excellent for the general reader.
FULLER, DAVID OTIS:Valiant for the Truth (McGraw-Hill, 460 pp., $7.95). A treasury of evangelical writings selected from Paul to Machen.
HEWITT, THOMAS:The Epistle to the Hebrews (Eerdmans, 217 pp., $3). A compact, pithy commentary for both laymen and minister.
IRWIN, GRACE:Servant of Slaves (Eerdmans, 437 pp., $4.95). A novel of dimension and craftsmanship.
LASOR, WILLIAM SANFORD:Great Personalities of the New Testament (Revell, 192 pp., $3). Literary portraits of 15 key figures of the early church.
LATOURETTE, KENNETH SCOTT:Christianity in a Revolutionary Age: The Nineteenth Century Outside Europe, vol. III (Harper, 527 pp., $7.50); The Twentieth Century in Europe, vol. IV (568 pp., $8.50). One of the greatest modern historians here brings his masterly survey down to our own time.
LEITCH, ADDISON H.: Interpreting Basic Theology (Channel, 208 pp., $3.50). Explains the profound tenets of the Christian faith.
LOANE, MARCUS L.:Makers of Religious Freedom in the 17th Century (Eerdmans, 240 pp., $4). A popular treatment of four evangelical leaders in the 17th century struggle for religious freedom in Britain.
MACARTNEY, CLARENCE E.: The Making of a Minister, J. Clyde Henry, ed. (Channel, 224 pp., $3). The autobiography of a minister's minister who had the heart of a shepherd for his flock and a mind that made him a prolific writer and a Civil War scholar.
MCNEILL, JOHN T., ed.: Calvin: Institutes of the Christian Religion (Westminster, 1734 pp., two-vol. set, $12.50). An accurate, readable translation.
MORRIS, HENRY M., and WHITCOMB, JR., JOHN C.:The Genesis Flood (Presbyterian and Reformed, 518 pp., $8.95). A new system for unifying and correlating scientific data bearing on the earth's early history.
MORRIS, LEON:The Biblical Doctrine of judgment (Eerdmans, 72 pp., $2). Discusses judgment as a present reality and a future certainty.
OLSEN, PEDER:Pastoral Care and Psychotherapy (Augsburg, 144 pp., $3.50). Account of cooperation between physicians and pastors in Oslo, Norway.
PFEIFFER, CHARLES F.: Baker's Bible Atlas (Baker, 333 pp., $7.95). A true atlas, in the sequence of the biblical narrative.
RAMM, BERNARD W.:Special Revelation and the Word of God (Eerdmans, 220 pp., $4). A book which will challenge the controlling ideas of liberal theology.
WHITE, REGINALD E. O.: The Upward Calling (Eerdmans, 202 pp., $3.50). Meditations on the Christian life.
WYNBEEK, DAVID:David Brainerd—Beloved Yankee (Eerdmans, 256 pp., $3.75). Biography of young New Englander who burned out his brief life as a missionary.
Have something to add about this? See something we missed? Share your feedback here.
Our digital archives are a work in progress. Let us know if corrections need to be made.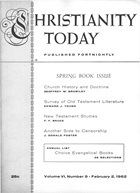 This article is from the February 2 1962 issue.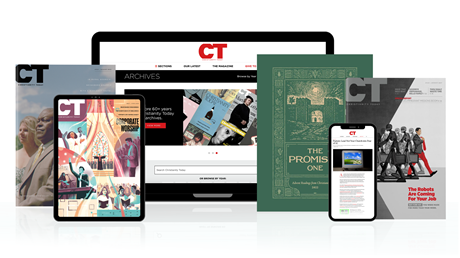 Subscribe to Christianity Today and get access to this article plus 65+ years of archives.
Home delivery of CT magazine
Complete access to articles on ChristianityToday.com
Over 120 years of magazine archives plus full access to all of CT's online archives
Subscribe Now
Choice Evangelical Books of 1961
Choice Evangelical Books of 1961