Latin America is the only major area of the world in which the Protestant church is growing at a much faster rate than the population—this in spite of the fact that the demographic explosion in Latin America is the most rapid in the world. The population is increasing at the rate of some 2.6 per cent while the Protestant community is moving at 15.8 per cent.
But in spite of this highly encouraging set of statistics, many Christian workers in Latin America are deeply concerned about the future of the Church. In a recent meeting of some 300 evangelical leaders from all over Latin America at Huampaní, Peru, 54 per cent of those attending were missionaries. Although Latin Americans chaired most of the sessions, missionaries were still quite obviously pulling the important strings behind the scenes.
Where is our top-flight Latin American Protestant leadership? Or, more specifically, what have we been doing to provide theological training for those nationals who can and will do the same jobs of administration and teaching that missionaries have been handling for six decades?
The historic denominations have been hard at work on this problem for a long time, and their labors have borne fruit. Graduates of seminaries such as Union of Buenos Aires (Methodist, Presbyterian, Disciples, and others); Union of Matanzas, Cuba (Presbyterian, Methodist, Episcopal); Union of Río Piedras, Puerto Rico (American Baptist Convention, Methodist, Presbyterian, and others); and the Presbyterian Seminary of Campinas, Brazil, have taken doctorates in the United States and Europe and are now in positions of high responsibility in their own churches and seminaries. In fact the teaching and administrative staffs of these seminaries are largely made up of Latin Americans.
While the traditional denominations deserve the highest praise for what they have accomplished in the field of theological education, this does not mean that the job is done. The fact remains that the overwhelming majority of Latin American Protestants belong to the non-historic groups, including the faith missions and the newer denominations such as the Christian and Missionary Alliance, Free Methodists, and Pentecostals. Of the estimated ten million members of the Protestant community, at least one-third are affiliated with the Pentecostal denominations alone.
The only seminary that the non-historic groups have produced which attains the academic excellence of the four already mentioned is the Bible Seminary in San José, Costa Rica, founded by the Latin America Mission. But this in comparison to the others is not a mature work, since the administration and the bulk of the teaching responsibilities are still in the hands of missionaries from the United States. As a matter of fact, the men from the Bible Seminary who are now going abroad for their doctorates are not Latin Americans, but missionaries.
We of the non-historic groups have made outstanding progress in evangelism, in literature, in Bible translation, and in radio-television. We have done well in building multitudes of churches—but unfortunately we have been too little interested in building the Church. Our interest in theological education has been largely limited to providing pastors and evangelists for our local congregations, and therefore we traditionally have concentrated on Bible institutes. This has been an essential factor in the rapid growth of the Protestant work, and it is not my intention to slight the Bible-institute level of training in the least. We have done a good job with these institutes and have trained a large and competent force of national pastors for our churches. But our error has been to stop there.
The old cliché that "we missionaries are trying to work ourselves out of a job" has become sounding brass and a tinkling cymbal in the light of the little we have done to train nationals to take over as mission administrators or Bible-institute directors. In fact, we should confess that we have been guilty of a related and very parochial attitude that has done much to stunt the growth of the Church—that of considering promising and gifted young Christians as "our workers," and failing to encourage them to go outside the fold of our own limited group for higher training because "they might be lost to the work." The work referred to, of course, is "our work"—not that of the church of Jesus Christ.
There are some clear reasons why the non-historic groups have fallen short of providing training on the seminary level. For one, most of the missionaries themselves have not had more than a Bible-institute training, and therefore have neither the desire nor the preparation necessary to take nationals any higher. But the difference in the academic level of Latin American and Anglo-Saxon theological schools should be noted at this point. To an Anglo-Saxon entrance into a Bible institute presupposes high-school graduation; to a Latin only grammar school, three to six years. Latin American seminaries are on the university rather than the postgraduate level; they require only secondary school instead of university graduation for admission.
A second reason might be called "evangelistic myopia." In the passion to get souls saved there has been too little interest in what the Church will do for leadership ten, fifteen, or twenty years from now. Missionaries have been content to train national evangelists with little thought of training those nationals who in turn would be able to train their own evangelists.
This shortsightedness is tragically reflected in the missionary giving of the home churches. Disproportionate emphasis is placed on the personal support of what someone has called "the dear, homebred missionary," with slight concern for projects and causes, such as theological education, which are more impersonal but often at the same time more strategic.
In the third place, the very independent nature of the non-historic groups has put them at a disadvantage. Every mission has seemed to feel it necessary to set up its own program of theological education with no regard for what its neighbors are doing. In Bolivia, for example, there are some 20 Bible institutes and seminaries to serve a Christian community of perhaps 30,000. Now, especially in this day when the non-historic groups are waking up to the need of providing seminary training for their national workers, an important cue should be taken from the denominations: without interdenominational cooperation the job in all probability will never be done.
It is no coincidence that of the five top seminaries mentioned above, three are union efforts. Practically none of our faith missions, other than the Latin America Mission, has the personnel, the funds, the experience, or even the potential student body to tackle a seminary-level educational program on its own. Up to now there has been some talk and some experimentation, but very meager results in terms of actual cooperation in this vital field. Unfortunately it looks as if instead of pooling our resources to establish some key first-class institutions, we are going to see too many watered-down seminaries springing up in several Latin American republics during the next few years. It would be a dramatic step forward if somehow this trend could be arrested and, better yet, reversed.
The final reason for lack of achievement by the non-historic groups has been their failure to provide a suitable framework into which to integrate well-educated national workers. Despite all our talk about an "indigenous church" we have little to show for our efforts. With the rise in educational levels in Latin America and the coming of age of a second generation of Protestants, we face the new situation in which an important element of our Christian community will have secondary-school preparation and will be ready for further study.
Many gifted young men will have to choose between seminary and university. Whether it be a spiritual approach to the problem let someone else judge, but we find the young men asking: "Should I become a lawyer or a doctor and take my place as a well-paid and respected member of my community, or should I go to seminary and resolve myself to peon's wages and status as a second-rate citizen?" Leaving pious platitudes to one side, this is an extremely difficult decision, and if a young man chooses law instead of the ministry, we have only ourselves to blame for our failure to provide a framework in which professionally trained nationals could approach the affluent living standard that missionaries as well as other members of the expanding Latin American middle class now enjoy.
A corollary to this is the need for scholarships for graduate study abroad. The best offered in Latin America at the present time is a Th.B. But many Latins are fully capable of work at the Th.M. or Th.D. level. The old-line denominations have figured this item into their budgets and are reaping great dividends from it. We cannot afford to continue to lag behind. Not only must we provide seminary training; we also must encourage the nationals to go just as far as their intellectual potentialities can carry them. Because of our failure in this area there already has been some painful shifting of top national workers from the non-historic groups to the older denominations.
When seen in the light of the explosive political situation in Latin America today, this problem takes on a terrifying urgency. The day of the Anglo-Saxon missionary, as his work is presently conceived, may be rapidly coming to a close. We who today are responsible for the welfare of the Latin American Church must also be prepared to stand judgment for its condition 20 years from now.
We cannot afford to rest until we have caught up to our age in providing theological education for our Latin brethren. To do so in the time remaining will mean an all-out push both by us who are on the field and by those who stand behind us in the homeland. We need a new vision for the task, faithful and believing prayer, a self-effacing willingness to cooperate with one another, and unprecedented financial aid for buildings, libraries, scholarships, and salaries. Perhaps most of all we need a dedicated corps of new missionary workers who have the academic and theological training necessary to help us get the job done.
The Bolivian Indian Mission
Cochabamba, Bolivia
Have something to add about this? See something we missed? Share your feedback here.
Our digital archives are a work in progress. Let us know if corrections need to be made.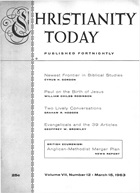 This article is from the March 15 1963 issue.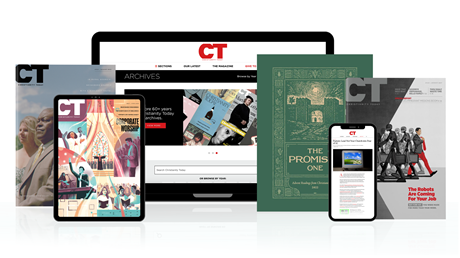 Subscribe to Christianity Today and get access to this article plus 65+ years of archives.
Home delivery of CT magazine
Complete access to articles on ChristianityToday.com
Over 120 years of magazine archives plus full access to all of CT's online archives
Subscribe Now
A New Challenge: Theological Education in Latin America
A New Challenge: Theological Education in Latin America