ASSASSINATION ATTEMPT—Four armed men opened fire on Armenian Archbishop Shavarsah Kouyoumjian in Damascus, Syria, last month. He was taken to a hospital in serious condition. Syrian Minister of Interior Amin al-Hafez said the attack stemmed from the archbishop's refusal to recognize the Catholicate of Antelias, Lebanon, or to have any part in the election of a new catholicos for this branch of the church, which he claims to be a schismatic body. The Armenian church has been split into two catholicates since the fifteenth century. The would-be assassins apparently were fanatical supporters of the Antelias catholicate.
PROTESTANT PANORAMA—Despite record graduate crop, more than 40 requests for full-time church workers submitted by congregations and agencies of the Lutheran Church—Missouri Synod will go unfilled. Biggest deficit is among teachers.
Methodist Council of Bishops launched a program to build up the ministry and called for a series of one-day convocations in each conference area during next year. Methodist seminaries, it was reported, are not graduating enough ministers to meet replacement needs.
Some 100 Protestant ministers, all specialists in pastoral counseling, met in New York last month to establish a permanent organization which will set standards for training and accreditation of pastoral counselors. The two-day meeting was sponsored by the American Foundation of Religion and Psychiatry. The new organization, which will hold a formal convention in 1964, will be known as the American Association of Pastoral Counselors.
A 12-acre portion of an estate in Chestnut Hill, Pennsylvania, was donated to the United Presbyterian Church in the U. S. A. for use as a study center.
A church-state study paper now being aired at district conventions of The American Lutheran Church says free textbooks and bus transportation for parochial school pupils may be right and proper. Church properties, the paper adds, ought to be tax-exempt only in the degree that they are used directly for "worship, educational, and eleemosynary purposes."
MISCELLANY—Anti-segregation campaign in Birmingham, Alabama, included a series of attempts by Negroes to worship in all-white churches. Several of the churches welcomed the demonstrators, while others turned them away. Dr. Martin Luther King and Dr. Ralph D. Abernathy, Negro officials of the Southern Christian Leadership Conference, were arrested for leading a march on downtown stores to protest segregation of lunch counters.
Mercer University (Southern Baptist) trustees voted 13 to 5—with 3 abstentions—to enroll Negroes on the Macon, Georgia, campus.
Reports were rife that Joseph Cardinal Mindszenty would soon be allowed to leave the American Legation in Budapest. Mindszenty was visited last month by Franz Cardinal Koenig of Vienna, but the outcome of their four-hour discussion was not immediately disclosed.
Catholic Interracial Council in Chicago charged last month that there were strong anti-Negro motivations behind Illinois' free birth-control program for women on relief. The program criticized by the council in an open letter to the Illinois House of Representatives provides for birth control assistance to unmarried mothers as well as to married women.
Komsomol Pravda, official organ of the Young Communist League, suggested two methods to accelerate the results of its atheistic campaigns in Lithuania: provide hostel facilities for children whose parents insist on Christian training, and sensationalize cases involving atheism and religion.
A book described as blasphemous by a Roman Catholic priest became the focal point of a public furor in Ashland, Wisconsin, last month. Father Conrad Schneider insisted that the book, The Last Temptation of Christ, be removed from the shelves of the community library. He reportedly vowed to "see that it's burned."
U. S. Surgeon General Luther L. Terry reported a sharp increase in the rate of infectious syphilis and other venereal diseases. A total of 21,143 new cases of primary or secondary syphilis were diagnosed and reported to public health authorities in 1962, the largest number since 1950, Terry said.
An atheist's move to contest the will of a San Francisco man who left some $200,000 to Roman Catholic charities was thrown out of court last month. Lawyer Vincent Hallinan wants the court to direct the Archbishop of San Francisco to answer 38 questions about church doctrines which are "indeed relevant" to the case.
Delegates to the 72nd Congress of the Daughters of the American Revolution voiced support of non-sectarian prayers to open daily classes in public schools.
Twenty-seven Jehovah's Witnesses were ordered to leave Liberia last month because of their refusal to salute the flag. Another 50 Liberian Witnesses arrested last February for a similar refusal were ordered to face trial. No decision has been reported.
Plans for a Jewish pavilion at the 1964 New York World's Fair have been abandoned, according to the Synagogue Council of America. Council President Julius Mark said the decision was based mainly on the inability of major Jewish groups to raise $1,000,00 needed for the project.
PERSONALIA—Bishop Lloyd C. Wicke elected president-designate of the Methodist Council of Bishops. Installed as council president for 1963–64 was Bishop Paul N. Garber, who was elected last year.
Dr. Ralph W. Sockman will serve as Harry Emerson Fosdick Visiting Professor at Union Theological Seminary, New York, for 1963–64.
Dr. Edwin T. Dahlberg appointed Preacher in Residence at Crozier Theological Seminary.
The Rt. Rev. Oliver J. Hart resigned as Protestant Episcopal Bishop of Pennsylvania.
Jerry Beavan, former public relations chief for the Billy Graham Evangelistic Association, joined DeMoss Associates insurance firm in an executive and administrative capacity.
Roger M. Blough, board chairman of U. S. Steel Corporation, named to receive the National Brotherhood Award of the National Conference of Christians and Jews.
Stephen E. Slocum named executive secretary of the American Tract Society to succeed Dr. Henry G. Perry, who will continue as general secretary. G. Raymond Christensen was named president.
WORTH QUOTING—"Those of us who belong to the more civilized and polite society have been and continue to be more responsible for the perpetuation of racial discrimination than the out-and-out racists. And the damnable thing is that we do not know it nor do we want to know it."—The Rev. Daisuke Kitagawa, executive secretary of the Domestic Mission of the National Council of the Protestant Episcopal Church, in an address to the U. S. Conference for the World Council of Churches.
"The initial reaction to shared time in Catholic circles has been favorable.… If this attitude toward shared time becomes widely accepted in Catholic educational circles and meets with a charitable response from the rest of the public as well, the conflict that has characterized religion and education for more than a century might disappear."—George R. LaNoue, in a "resource document" commissioned by the National Council of Churches' Department of Religious Liberty.
Deaths
DR. ROY L. SMITH, 75, noted Methodist minister and former editor of The Christian Advocate; in San Bernardino, California.
THE RIGHT REV. C. ALFRED COLE, 54, bishop of the Episcopal Diocese of Upper South Carolina; in Columbia, South Carolina.
DR. GORDON HARRINGTON BAKER, 85, one of the founders of Eastern Baptist College and Theological Seminary; in New York.
DR. WILLIAM T. MCELROY, 74, for twenty years editor of The Christian Observer; in Louisville, Kentucky.
Have something to add about this? See something we missed? Share your feedback here.
Our digital archives are a work in progress. Let us know if corrections need to be made.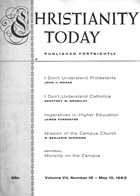 This article is from the May 10 1963 issue.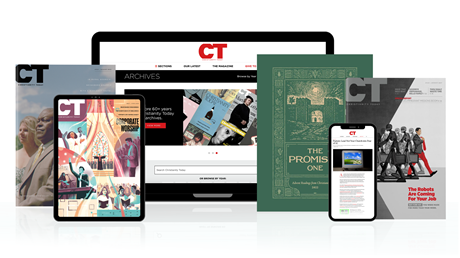 Subscribe to Christianity Today and get access to this article plus 65+ years of archives.
Home delivery of CT magazine
Complete access to articles on ChristianityToday.com
Over 120 years of magazine archives plus full access to all of CT's online archives
Subscribe Now
News Worth Noting: May 10, 1963
News Worth Noting: May 10, 1963