Is the heart of the serviceman harder to penetrate with the Gospel than that of the civilian? The situation on one Naval vessel might so indicate, for of its 3,000 men, reports an officer, less than 5 per cent attend Sunday church services.
There are chaplains and Christian servicemen, however, who consider the man in uniform just as open to the message of salvation as his civilian counterpart. The serviceman has basically the same needs and wants, and the Spirit who convicts of sin, of righteousness, and of judgment is no less active among the military than among any other group.
According to a survey reported by Lieutenant Commander Floyd Robertson (USN, ret.), executive secretary of the National Association of Evangelicals' Commission on Chaplains, the young serviceman's interest in spiritual matters is actually twice that of a civilian person of the same age. For this reason, believes Robertson, the military "is one of the greatest mission fields on earth."
A serviceman is more receptive to a call to repentance at certain times, however, and certain kinds of presentation have been found more effective than others.
Said Chaplain A. D. Prickett (now with the U.S. Naval Hospital in Jacksonville, Florida) after nineteen years of duty: "I have found more conversion experiences among those in boot camp than in any other place." A possible reason for this situation, he suggests, is a greater receptiveness at this time to "new thoughts and ideas." Another reason, according to a Marine Corps officer, is that "there is much passive social pressure working against a man who begins attending church after a past of non-attendance." Major Jesse J. Johnson of the First Training Regiment, Fort Dix, New Jersey, gives a third reason: "The training is hard and new to him. He is homesick, lonesome, and in real need of a good solid friend. What better friend could he find than the Lord Jesus Christ?"
This need for a real friend, of course, may continue throughout a serviceman's entire military stint so that he is always open in some measure to this approach. The number of opportunities for the Christian serviceman to evangelize, therefore, is equal to the number of unsaved men within his barracks or unit. According to Edward E. Gotts (Capt., USAF, ret.), unconverted servicemen are "most readily reached" by Christian servicemen with "sincere personal interest" in them.
The same factors favorable for reaching military men and women with the Gospel when they enter the service to some extent operate also when assignments change. There is sufficient break with former associates and activities to facilitate the "about face" which Jesus Christ requires of those who would follow him. Sometimes, too, a change of status brings a change of heart. An enlisted man may become an officer, a bachelor may become a husband, or a married man, a father; whatever the new responsibility, it brings new awareness of inadequacy. Naval Lieutenant (j.g.) Roger K. Gulick of the U.S.S. "Aeolus" reported that "a large percentage" of those who come to the weekly Bible study class do so "because they feel 'religion' is needed to help raise their children."
An overseas assignment has both advantages and disadvantages. Absent are the restraining influences of church and society in general which prevail around a military base in this country. Present, on the other hand, are greater temptations to profligacy and godlessness. As with Augustine, however, falling into deep sin sometimes works to a man's salvation. Yet the number of such cases is rather limited, and on the whole, "it is most difficult to get overseas personnel interested in a spiritual program" (Lieutenant Colonel Richard L. McCoy, commanding officer, Third Reconnaissance Squadron, 14th Armored Cavalry). At such times the military becomes one of the most difficult mission fields in the world.
Succumbing to gross sin and suffering its consequences and at the same time desiring a better life is an experience that can overtake a serviceman at any time. "After extended periods of this distorted way of life," observes Lieutenant Commander Eric A. Nelson, Jr., executive officer of the U.S.S. "Darter," "there is often an inward sense of shame. With the sudden realization of sin in the life, there is an open opportunity to present the claims of Jesus Christ, and his power to save, keep, and satisfy, even in the service."
SHOW GOD'S OTHER FACE
The problem of the servicemen is different. People who are blind, lame, maimed, hungry, persecuted, and threatened flock to Jesus because they know they have need of something. But this approach will not work on a healthy, well-heeled professional warrior who apparently knows no need. We in the service have given this much thought. The general opinion among those Christians I know as to how to approach them is: Show God's other face. This can be done only by a preacher unafraid, who doesn't have itching ears or a crowd-pleasing personality. One need wake up only a few. The rest takes care of itself.—Lieutenant Colonel ROBERT G. LEMAY, Clinton Sherman Air Force Base, Oklahoma.
Any time of trouble—be it serious illness, marital difficulty, loss of a loved one, or landing in the brig (stockade)—is a time of special openness to spiritual ministration. The crisis must be of such magnitude, however, that everything else seems secondary; then, as John W. Kolb (Capt., U. S. Army, ret.) says, a person finds he "can no longer cure his ills, either physical or mental" and "in desperation … turns to God."
What is the big obstacle to conversion at other times? Apparently it is fear of what others will think and how they will react. This fear, of course, ought not to be so formidable since military associations for the most part are cursory and temporary. And yet often they prevent the serviceman from entering the kingdom of heaven. Lieutenant Stanley B. Huss (USNR, ret.) gives this summary of the situation: the serviceman is "a conformist who is not open to the Gospel when in company with his fellows except in a time of overwhelming crisis."
SALVATION IS GOD'S GIFT
The United States maintains military forces for the defense of our country. Anyone in the military must be prepared to give his life, if necessary, in the execution of his duties. Thus, the probability of life and death makes a greater impact on the serviceman than on the civilian.
A personal decision concerning Jesus Christ becomes very important. So many of us are working our way to heaven by being honest, moral, and ethical. I was one of those until I learned that Jesus Christ said, "I am the Way, the Truth, and the Life; no man cometh to the Father but by me" (John 14:6). That verse taught me that my salvation is a gift from God, and that a personal relationship with Jesus Christ is the only answer.
FACING LIFE WITH COURAGE
Modern communications today make possible the bombardment of unsuspecting citizens with ideas of every possible shade of authenticity. What to believe and what not to believe is an ever present dilemma.
This condition is made more trying by the deliberate effort of forces that would destroy our belief in our government, our fellow men, and our God so that free people immobilized by confusion may be made vassals.
If we are to resolve these dilemmas and realize the abundance which surrounds us, we must seek God's guidance in our daily lives. World War II and Korea found our military chapels filled on every possible occasion. Communion with God is a necessity for those who face with courage the reality with which the battlefield, and life in general, confronts them.
For many a serviceman that time of crisis does not come until he actually faces the possibility of death. "I recall," said Samuel I. Wells, Jr. (Lt. [j.g.], USNR, ret.), "that on an LST after a hurricane I observed a number of Bibles made their appearance, thus giving me an opening to talk of things eternal." Surrounded by the live possibilities of fatal explosions, collisions, and other accidents, the serviceman always lives on the edge of eternity; it is quite proper to remind him then to be ready for death and the life beyond.
Chaplains bear the major burden of reaching military men for Christ. In some instances they have an advantage over their civilian counterparts. But they depend for success on far more than favorable opportunities. A good chaplain, in the opinion of one Army captain, should be "an active, strong, persuasive, driving Christian"; according to another, he should be "one of the boys" in interest and sympathy. Above all, says a third, he should "be acquainted with the Lord Jesus Christ."
Besides being a certain kind of man, the chaplain must bring a certain kind of message. He must be aware of present-day living. He will not merely moralize, but evangelize. He will speak not on his own authority but on that of the Bible.
One Air Force major feels that servicemen are "most accessible … through the preaching of the Word." The natural man resists the Word, however, and its demands. As a result many chaplains "are so anxious not to offend anybody," notes Air Force Colonel William N. Boaz, Jr., with the 314th Air Division in Korea, "that their message is usually milked pretty dry."
But the man in uniform may be confronted with the living Word by other means, too. Christian literature is one, especially if its format is attractive and its content interesting. Every ship should have a good supply of Bibles, Scripture portions, and well-chosen magazines and tracts because "at sea men read almost anything."
The Bible study group is an excellent means of reaching the serviceman because the average adult wants a better knowledge of the Bible and its teachings. Testifies Major Ronald E. Black, stationed at Westover Air Force Base, Massachusetts: "Although I was active in the church and had a thirst for the things of the Lord, I was a religious illiterate until a fellow officer persuaded me to come to his house for a weekly Bible Study … led by a young Air Force chaplain … who led me to a saving knowledge of the Gospel of Jesus Christ." One commanding officer reports that Bible study groups attract everyone—both enlisted men and officers, as well as their wives. In addition to affording opportunities for military personnel to be "born again," they also deepen spiritual knowledge and provide Christian fellowship.
Some servicemen respond to another kind of approach. "I personally trusted the Lord with my life as a result of a visit by 'sermons from Science,' " testifies Albert T. Lauer, GAM Systems Branch Supervisor at Loring Air Force Base, Maine. Elsewhere these Moody Institute of Science films have had excellent reception, also.
If evangelistically oriented, servicemen's organizations also play a vital role. Groups like the Christian Servicemen's Fellowship, Officers' Christian Union, Navigators, Christian Business Men's Committee, YMCA, and YWCA have done their share in reaching the military for Christ. So have various religious radio broadcasts and television presentations.
FOUNDATION OF OUR HERITAGE
The most important attribute of a military man, or of any other public servant, is a high moral character developed by a devout belief in the teachings of Christ and a practice of the Christian virtues which form the very foundation of our heritage. Let us never allow their importance to be diluted or the strength of our character softened by substituting conformity for conviction, philosophy for performance, or principal for principle.
The day we become the meek comrades of moral compromise marks the beginning of the decline of our effectiveness.
CONSULTING THE 'MASTER GUNNER'
Technical and tactical competence are important considerations in battlefield success. Spiritual strength has equal if not greater importance. In critical battles, there is always a very fine line between the victor and the vanquished. In these borderline cases, almost invariably the decisive factor will be the determination and the will to win of the victor. For me, that determination grows out of an overriding belief in a Supreme Being—in Almighty God. Anyone who has heard the whine of a bullet fired in anger is aware of the presence of what I call the Master Gunner, who safeguards each of us. Learn to consult with and take counsel from your God.
Unusual opportunities of service exist for churches located near military installations. Invitations to church services, to church socials, to dinners in Christian homes offer strategic ways of ministering to service people. Church families sometimes "adopt" a serviceman for the duration of his stay in their community. Certainly there is no wisdom in commiserating with the serviceman or treating him as if he were an unfortunate prisoner of some kind.
The consensus is that servicemen are won to the Lord largely by personal contact and individual witness. But an effective witness must be winsome. Above all, if the serviceman "can see Christ living in the life," says Captain Richard E. Fitts of Griffiss Air Force Base in New York, "then he will respond."
This Christ-likeness means not only maintaining a high level of personal morality and piety, but also manifesting top-flight proficiency as a soldier. One cannot be a good Christian and at the same time a poor soldier. Christ-likeness also involves compassion for lost souls and a spirit of self-giving and self-sacrifice.
Rank seems to pose special problems. In general, enlisted men respond more readily to evangelistic efforts than do officers. Then, too, superiors have greater influence on others than do men of equal status on one another. Observes Chaplain Howard D. Cole of the 40th Infantry Division: "I found that most men were affected the greatest by the officers and NCOs in their units who were dedicated Christians … led by the Holy Spirit and living witnesses to the Gospel." Efforts of an enlisted man to lead a superior, especially an officer, to Christ face special difficulties because the difference in rank hampers establishment of spiritual rapport.
For these and other reasons the witnessing serviceman needs the Spirit's direction in approaching another. If he truly desires opportunities, they will come. Then, as one Marine Corps lieutenant suggests, he must give "a manly, hearty, down-to-earth presentation of Christ."
Servicemen, no less—perhaps at times even more—than civilians, want answers to life's basic questions. Why are we here? Where are we going? They have questions, too, about the Bible. The message of repentance and remission of sins need not come only from pulpits and chaplains; it often comes from a Christian serviceman in an informal setting when the opportunity is propitious.
Besides a spirit of compassion, the effective Christian witness must exercise abundant prayer. Remarked one Air Force major: "There are too few prayers offered for any one individual in the service to bring him to his Saviour." And another officer said this: "I feel there are only two ways to have a profound impact on these men: pray and then pray more that Christ will work in their hearts.…"
In surveying the military, one is reminded of our Lord's observation that the fields are white unto harvest but the laborers are few. The average number of men under a chaplain's care is around 850 to 900—a far greater number than even the most dedicated chaplain can effectively minister to. And in those instances where a chaplain is not evangelical, the entire flock is officially without one who can lead them into eternal life and keep them from going astray. Pertinent, therefore, is Jesus' remedy for this situation. To his disciples he said: "Pray ye therefore the Lord of the harvest, that he will send forth laborers into his harvest."
If those who stand in proximity to service personnel are obedient to Christ's command, chances are their experience will be that of His disciples: they will be the first to be called and to be empowered to speak in His name.
END
Have something to add about this? See something we missed? Share your feedback here.
Our digital archives are a work in progress. Let us know if corrections need to be made.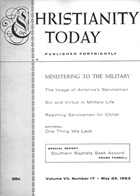 This article is from the May 24 1963 issue.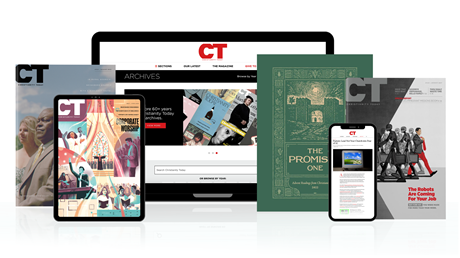 Subscribe to Christianity Today and get access to this article plus 65+ years of archives.
Home delivery of CT magazine
Complete access to articles on ChristianityToday.com
Over 120 years of magazine archives plus full access to all of CT's online archives
Subscribe Now
Reaching Servicemen for Christ
Reaching Servicemen for Christ