An eighty-year-old woman who has suffered many years from degeneracy of the mind and an assortment of chronic ills suddenly has a heart attack. She is rushed to a hospital, placed in an oxygen tent, fed intravenously, given heart stimulants, and subjected to numerous tests. Within forty-eight hours she dies, however, and her family receives a staggering medical bill.
This kind of situation (Reader's Digest, Dec., 1960) occurs many times over. In fact, some doctors and laymen are now asking, "How long are we morally bound to sustain the life of a dying man?" The issue isn't one of euthanasia, or "mercy killing," but rather of dysthanasia, or "difficult, painful and undignified death." Are doctors morally bound to perpetuate life without regard to the kind of existence they are perpetuating? Have they the right to prolong life unreasonably?
The Apostle Paul could never have imagined what extraordinary methods would someday be available for preserving life. Yet in his letter to the Philippians he enlightens us concerning this problem of life versus death. At the age of sixty, and from a background of thirty years of Christian service, he writes the brethren from a Roman cell, where the threat of a death sentence hangs over him. Under these circumstances he says, "For me to live is Christ and to die is gain" (Phil. 1:21).
In this brief statement, the aged apostle formulates a distinctively Christian philosophy of life and death. He is saying, as it were: "So far as I am concerned, the only purpose for living is to act as Christ's ambassador to men. Because the Philippian church still needs my help, it is better for me to remain 'in the flesh' even though I am old and would be happy to go to my eternal reward."
In facing the problem of dysthanasia we need to consider, first of all, the "purpose of life," a matter that confronts not only ministers but everyone who names the name of Christ. Why do men want to live?
Take the case of a certain sixty-nine-year-old physician (The Saturday Evening Post, May 26, 1962). One day he suffered a stroke in his office and was rushed to the hospital. His heart was still beating, but breathing had stopped. Although artificial respiration was begun, it was soon apparent that recovery was impossible. It was three days, however, before the struggling man found his rest. To what end was this life prolonged? Even if this sixty-nine-year-old doctor had lived, what hope was there for sustaining a truly useful life?
Many doctors argue that the Hippocratic oath binds them to the prolongation of life. This oath says, "I will follow that method of treatment which, according to my ability and judgment, I consider for the benefit of my patients and abstain from whatever is deleterious and wrong." Is to perpetuate, even to compound human misery, to "abstain from whatever is deleterious and wrong"? Is such "restoration"—often short-lived, often to uselessness—really "for the benefit of" the patient? Have usefulness and purpose for living no implications for the Hippocratic oath?
What about younger persons and children? Is the same principle of "purpose" to govern the maintenance of life for them, too? I myself, under normal circumstances, can expect to live thirty to forty more years. As far as I'm concerned, my one purpose for living is to serve as Christ's ambassador. If accident or disease were to destroy my usefulness in this regard, I would not want well-meaning physicians to keep me in a limbo between earthly survival and heavenly reward.
As I see it, the younger the person is, the more tragic it is to deliberately perpetuate hopelessly useless life.
Having said all this, I should emphasize that I am not advocating "mercy killing" by default. I'm not saying that the hopelessly ill should be abandoned. Where it is possible, such loved ones should be brought home. Instead of being subjected to "extraordinary measures," they should be supplied with sedatives and analgesics and surrounded with abundant tenderness and love. The Saturday Evening Post (May 26, 1962) tells of a doctor who advocated and followed this very course of action in his own family in regard to an aged mother. Each family, obviously, and each doctor, must decide what constitutes "extraordinary measures" and must act accordingly.
I am simply trying to set down a basic principle for the Christian whose one purpose for living is to serve Christ. When medical prognosis shows that further hospital care cannot assure this kind of life, then the person should be brought home and given normal bed care. This procedure faces life and death realistically without abandoning the hopelessly ill.
The Apostle Paul's view of death was as unique as his view of life. While he said, "Living is Christ, so far as I am concerned," he also said, "but dying is gain." Both biblical and classical Greek use the word gain to mean either material or immaterial advantage. At least once, the papyri contrast the gain or advantage of death with a "raw deal." Death to Paul is the means whereby he will be able to enjoy the fruit of his labor. For him the "gain" of death is to go to his reward in heaven, where the Master will say, "Well done, thou good and faithful servant; enter thou into the joy of thy Lord." The context of Philippians 1:22 bears out this commentary. By "but if I live in the flesh this is the fruit of my labor" Paul seems to say, "My only reward, so long as I remain in my body, is human existence." In other words, for Paul human existence is but a poor second to death with its gain of heaven.
When a Christian is dying, a doctor needs to be aware of his patient's sense of values. For such a one a vegetable existence offers no opportunity of living for Christ; moreover, it also postpones his heavenly reward. A physician's "extraordinary measures" are not "for the benefit of" a patient if they prolong a believer's uselessness as an ambassador for Christ and delay the realization of his heavenly inheritance.
For those who are not Christians the situation is different, of course. Their motivations and benefits are linked to this present life alone. And those uneasy about their spiritual lostness covet any extension of time to get right with God.
But as a Christian I for one demand the right to die. When this flesh is no longer of use for my Master, don't force me to keep it! Let me be liberated to receive my reward! "For me to live is Christ, and to die is gain."—THE REV. ANDRE BUSTANOBY, Pastor, Arlington Memorial Church (Christian and Missionary Alliance), Arlington, Virginia.
Have something to add about this? See something we missed? Share your feedback here.
Our digital archives are a work in progress. Let us know if corrections need to be made.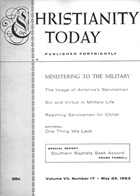 This article is from the May 24 1963 issue.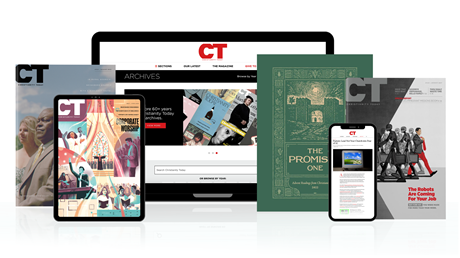 Subscribe to Christianity Today and get access to this article plus 65+ years of archives.
Home delivery of CT magazine
Complete access to articles on ChristianityToday.com
Over 120 years of magazine archives plus full access to all of CT's online archives
Subscribe Now
The Right to Die
The Right to Die