Toll includes at least four Protestant missionaries. Christians mourn losses suffered at hands of Communist-backed rebels during rescue operations at Stanleyville and Paulis
In a show of savagery that shocked the intelligent world, bearded Congolese rebels last month turned back the clock and reverted to a barbarian age. Their slaughter of hundreds, if not thousands, of blacks as well as whites gave Congo a notoriety that historians may compare with that of Auschwitz and the Inquisition.
The cruclest aspect of the Congo atrocities was the singling out of Christian missionaries as targets of the barbarianism. At least four Protestant missionaries were slain during the last week in November, along with four Spanish nuns and an undetermined number of Roman Catholic priests. In addition, dozens of Protestant missionaries were missing, some feared dead. Earlier this year, three other American Protestant missionaries died at the hands of Congolese rebels.
The rebels are known as "Simbas," which is Swahili for "lions." Their efforts to overrun the Congo have the support of most Communist and some neutralist leaders. Many of the Simbas were observed to be drunk or drugged.
The youngest American victim was Miss Phyllis Rine, 25, a teacher from Cincinnati who signed up for service in Congo in 1960, the year the country assumed independence amidst considerable turmoil. Miss Rine was then a student at Cincinnati Bible Seminary. After graduation she taught at church and public schools in the Cincinnati area. She told the mission board that "during this time I came to know and love the Negro people. I've been challenged by the great need for workers in the Congo." She went to Congo in 1962 under the African Christian Mission, a small independent board of autonomous Churches of Christ. An associate recalls that a few days before the rebels arrived Miss Rine "was all enthused about her plan to ride her bicycle into the Stanleyville suburbs and teach and preach on the street corners."
Miss Rine was killed by machine-gun fire in a square in Stanleyville, near the monument that stands in memory of the late Patrice Lumumba, the leftist who was Congo's first premier. She was among some 250 white hostages herded into the square as American planes began dropping Belgian paratroopers and Congolese government troops moved into the city by land. The hostages had been held in the Victoria Hotel in Stanleyville. Many had been beaten and subjected to numerous indignities.
Also killed as the panicky rebels opened fire indiscriminately in the square was Dr. Paul Carlson. 36, whose sentence of death finally aroused the American people to the Congolese rebel threat after three months of indifference. The rebels intermittently voiced plans to execute Carlson on grounds that he was an American spy. In reality, he had given up a lucrative medical practice in southern California to minister to the medical and spiritual needs of a remote region in northern Congo (see CHRISTIANITY TODAY News, December 4, 1964). Carlson was picked off while trying to flee over a brick wall. An eye witness said he was felled by the last shot to be fired before Belgian paratroopers arrived to subdue and disperse the angered rebels.
The fighting in the Stanleyville area also claimed the life of the Rev. Hector MacMillan, 49, of Avonmore, Ontario. MacMillan and his wife and six sons, along with a number of other whites, were being held under house arrest at the Unevangelized Fields Mission headquarters just outside Stanleyville when the paratroopers descended. One or two Simbas reportedly burst into the building and ordered the occupants outside. MacMillan was shot dead in the yard of the compound. The body was brought inside, and MacMillan's wife spoke at a simple ceremony, telling her sons, "You boys should count it a privilege to give your daddy to Jesus Christ and the work of the Gospel in the Congo."
MacMillan was identified with High Park Baptist Church in Toronto. He was a graduate of Prairie Bible Institute and served with the Royal Canadian Air Force in World War II. He first went to the Congo in 1945 and was married there. His wife is a native of Pontiac, Michigan, and attended Moody Bible Institute and Wheaton College. Their sons range in age from 10 to 17. The oldest was hospitalized with bullet wounds.
Two days after the paradrop on Stanleyville, Belgian troops and American planes staged a rescue operation at Paulis, about 250 air miles northeast of Stanleyville. Seven U. S. aircraft were landed at the Paulis airfield under rebel groundfire. Again the Simbas went on a slaying rampage, presumably in reprisal. About twenty foreigners were killed, including the Rev. Joseph W. Tucker, 49, an Assemblies of God missionary from Portland, Oregon. Mrs. Tucker and the three Tucker children survived.
Tucker's slaying was the most brutal. He had been held in a Dominican mission with a group of Belgians. A Belgian official recalls what happened: "The first dozen were bound, hands and feet tied together behind their backs—trussed like chickens. They were taken outside and dumped on the sidewalk. Five White Fathers were stripped of their cassocks and their beards were cut off. Mr. Tucker was first. They hit him across the face with a beer bottle and blinded him. Then they beat him slowly, down the spine, with rifle butts and sticks. Every time he squirmed they hit him. It took him forty-five minutes to die. Some of them died more quickly."
Tucker, a native of Arkansas, had been a missionary to Congo since 1939. He was a graduate of Southwestern Bible College, Enid, Oklahoma, and also studied at Central Bible Institute, Springfield, Missouri. On the mission field he served as a translator and was in charge of a teacher training school.
During the week following the Stanleyville—Paulis operations, Congo government troops and white mercenaries rescued 155 to 160 hostages from rebel forces at Dingila and Bambili in northeastern Congo. There was no immediate word whether any missionaries were among those rescued.
On December 4, the Worldwide Evangelization Crusade, which has fourteen mission stations in the Congo, reported that twenty of its personnel there were still missing. WEC is an interdenominational faith mission known in Africa as the Heart of Africa Mission. Some of its Congo stations are located in sparsely populated areas, which probably explains why the missing were not included in the Stanleyville—Paulis rescue. WEC officials received reports in late November telling of deaths of several WEC personnel at Wamba, but there was no immediate confirmation.
William P. McChesney, 28, of Phoenix, Arizona, a Free Methodist. McChesney, single, attended Great Commission Bible School in Anderson. Indiana. He arrived in Congo in 1960 just ten days before the country became independent and was nearly killed in the ensuing violence.
Miss Muriel Harman, about 60, of Victoria. British Columbia.
Cyril Taylor, about 45, of New Zealand. Taylor's wife and four children were among those known to have been rescued. Mrs. Taylor suffered serious bullet wounds and was hospitalized at Elizabethville.
Miss Daisy Kingdon, about 60, of Jamaica.
James Rodger, 40, a Presbyterian from Dundee, Scotland.
Miss Elaine Aitken, 30, of Coventry, England.
Miss Pat Holdaway, about 40, of New Zealand.
Dr. Helen Roseveare, 40, of London.
Miss Elaine de Rusett, 35, of Sydney, Australia.
Miss Florence Stebbins, 42, of London.
Mr. Jack Scholes, 64, field leader, and his wife, Jessie, 66, of Blackbull, England.
Mr. Brian Cripps, 27, of London.
Miss Amy Grant, 39, of Wolverhampton, England.
Mr. Aubrey Brown, 47, of Sydney, Australia, his wife, Hulda, 47, of Alberta, Canada, and their four children ranging in ages from five to fifteen.
Miss Winnifred Davies, 43, of Northwiles, England.
Another WEC missionary, Mrs. Mary Harrison, 69, of Edinburgh, Scotland, was seriously injured and was taken to a hospital in Elizabethville.
The Unevangelized Fields Mission listed seventeen adults and six children missing as of December 4. The UFM office at Bala Cynwyd, Pennsylvania, identified them as follows:
Dr. Ian Sharpe, a surgeon, and his wife and three children, of England.
Miss Mary Baker, 50, of Richmond, Virginia.
Mr. Chester Burke, 54, and his wife, also 54, of Calgary, Alberta.
Mr. and Mrs. George Kerrigan, from England.
Mr. and Mrs. Parry and two children, from England.
Mr. and Mrs. Arton and one child, from England.
Miss Louie Rimmer of England.
Miss Jean Sweet of England.
Miss Laurel McCallum of Australia.
Miss Olive McCarten of Great Britain.
Miss Margaret Hayes of England.
Miss Grey of England.
Dozens of missionaries, Protestant as well as Roman Catholic, were rescued in the American-Belgian operations at Stanleyville and Paulis. Among them was the Rev. Martin Adolf Bormann, 34, a Roman Catholic priest who is a son of former Nazi leader Martin Bormann. His return ironically coincided with new speculation that the father might still be alive and living incognito.
A number of funds were immediately established in memory of the martyred missionaries. Some are to help the families; others earmark gifts for medical missionary work.
Memorial services included one at the Interchurch Center in New York City, where the speaker was Dr. George W. Carpenter of the World Council of Churches' Division of World Mission and Evangelism. He noted that "over a substantial part of Congo the fair promise of independence has given place to savagery and chaos; those who hoped for freedom find themselves re-enslaved by enmity and fear." "It may well be," Carpenter said, "that no purely secular or purely political remedy can be found. The answer must lie deeper—at the level of a concern for one another so compelling that neither fear nor hate, neither past wrongs nor present dangers, can withstand it."
A service for Dr. Carlson was held at the First Covenant Church of Los Angeles. Dr. L. Arden Almquist, who delivered the memorial meditation, is executive secretary for world missions of the Evangelical Covenant Church of America. He called upon Christians of the West to "strip yourself of every privilege and become a servant to the world."
"We claim Christ as Saviour," Almquist said. "Let us follow him as Lord in perfect obedience. Let us accept the servant role so beautifully described by Isaiah, to which he calls us. In this form, the Good News will be accepted." Almquist was Carlson's predecessor at the missionary hospital in Wasolo. Carlson was buried at Karawa.
Christians around the world voiced public sorrow for the slain missionaries and uttered prayers for the surviving relatives. Dr. Oswald Smith of Peoples Church in Toronto, which helped to support MacMillan, predicted that the apparent tragedy will "raise up a great deal more prayer for the missionary endeavor." He said he also expected that it will cause more young people to "rise to the challenge" of missionary service.
The Rev. Theodore Tucker, African affairs specialist for the National Council of Churches, declared that the most serious effect of the Congo massacre will be from the loss of educated community leaders in that part of the country hit by the Simbas. He cited reports which indicated that the nationalist elite upon whom responsible local government must rely have been all but wiped out.
Four Canadian nuns rescued from Stanleyville said that many of the weapons used by the Congolese rebels are of Chinese Communist origin.
The nuns described their ordeal of imprisonment by the rebels upon returning to Montreal. In Stanleyville, one said, "we were thrown into jail. At one time we were taken outside and beaten with sticks and clubs. Many of the rebels were drugged. We found out later they were given narcotics by their leaders."
Another nun described "a letter that never came." It was sent from her order's mother general—the nuns are members of the Daughters of Wisdom—in Rome to Stanleyville in August, instructing all the order's sisters to leave. It was never delivered.
African Apprehensions
President Kenneth D. Kaunda of Zambia, born and raised in a Presbyterian mission, told U. S. reporters this month that the American-Belgian rescue operation in Congo "makes us a bit apprehensive." He suggested that it may have set an undesirable precedent.
Kaunda spoke at the National Press Club in Washington during a brief, informal visit to the United States. He voiced doubts that the Congo hostages would have been killed if the operation had not been ordered.
Asked about the future of missionary work in Africa, Kaunda said, "There is a future for those religious groups who want to serve man." Those who interfere, he added, "will be thrown out, be they black, white, yellow, green, or blue."
The Zambian leader, father of nine children, was introduced as a practicing Christian whose favorite book is the Bible. He said, however, that he advocated more cooperation among Hindus, Muslims, and Christians. Christian groups in Africa need to bring local men into higher positions in the church, he added.
Kaunda's parents taught at a mission operated by the Church of Scotland, and Kaunda himself has been a teacher at Christian missions. His father died when he was eight.
A Prime Minister'S Plea
Congolese Prime Minister Moise Tshombe, a Methodist layman, recently issued a call to prayer while speaking in a Protestant church at Leopoldville. An account of his remarks was reported in Congo Mission News and quoted by American Baptist News Service.
"Every Christian is strengthened and encouraged when he knows that other Christians are bearing him up," said Tshombe. "For one can be endowed with intelligence and strength and have control of the army and the police, but if the Christian faith is not a living force among the people, nothing will be achieved."
The Congolese leader added that "I will not be able to achieve anything, and you cannot hope for any concrete or encouraging results, if God does not work with me."
"I would like to invite all the Christians of this country to think of the Congo, this unhappy land whose sons have been fighting and killing one another for the past four years. We shall get nowhere unless there is true and honest reconciliation. We must remember the words of Jesus Christ, 'Love one another.' There is only one force which can help ns and that is the Divine Force. I beg you to pray for the Congo. Our country needs this strength, this Divine Force. And we Christians must be aware of our responsibility because we have a strength which others do not possess."
"I am proud," Tshombe concluded, "to be among my real brothers for I too am a Christian. You must not think of me as Prime Minister, but as your infant, your child whom you must nurture. Every child needs milk to grow. I too need that milk—your prayers."
No Room For Complacency
Analysis of 1964 fall enrollment figures of the 127 accredited Protestant seminaries in the United States and Canada fails to turn up any encouraging trends for denominations faced with shortages of qualified clergymen.
Dr. Charles L. Taylor, executive director of the American Association of Theological Schools, issued this statement:
"Although the number in our member schools is the highest that it has ever been except in 1959, when it reached 21,088, the addition of four new schools with 583 students to membership in 1963–64 means that for the other 123 schools there was a net loss rather than gain."
"Moreover," Taylor declared, "the numbers in the entering class in 1963 (5,769) and 1964 (5,596) show a progressive decline from 1962 (5,868) which will affect enrollments in the next two years."
He added that "persons enrolled as candidates for the graduate type of degrees S.T.M., Th.D., Ph.D., and so on) show a noticeable increase, which means that they are counted for more years and that their present interest in the parish ministry is presumably less.
He pointed to a decline in the percentage of students in the B. D. program over the past five years.
The 1964 fall enrollment in the 127 accredited seminaries totaled 21,025, as reported by the AATS, which is the recognized accrediting agency for Protestant theological schools in the United States and Canada.
Southern Baptists, meanwhile, reported a record net enrollment of 62,000 seminaries, colleges, academies, and Bible schools. The total showed an increase of 4,391 over 1963. All categories of educational institutions showed gains except seminaries. Total Southern Baptist seminary enrollment fell off from 4,278 in 1963 to 4181 this year.
Only one of the six Southern Baptist seminaries showed an enrollment increase. Southern Baptist Theological Seminary at Louisville went from 817 students to 860. Biggest jump was in the seminary's school of religious education (Missouri Synod Lutheran totals also recorded a rise in the number of enrollments for teaching careers).
The Lutheran Church—Missouri Synod reported a slight increase in seminary enrollment over 1963, from 1,003 to 1,015.
First Choice
Trustees of Northern Baptist Theological Seminary ended their year-long search for a president last month with the appointment of Dr. Bryan F. Archibald, an American Baptist clergymen who has held pastorates in Massachusetts, Maryland, and New Jersey.
A seminary spokesman said the trustees acted upon the first recommendation of a presidential search committee in summoning Archibald. He is described as "coming after a thorough consideration of Northern's historic position in the mainstream of evangelical Christianity.… He is in full sympathy with Northern's emphasis upon preparation for a biblical and evangelistic ministry."
Archibald has been pastor of the First Baptist Church of Haddonfield, New Jersey, since April, 1963. Prior to then he served for six and a half years as pastor of Chevy Chase (Maryland) Baptist Church.
When he assumes office on January 1, Archibald will become the sixth president of the fifty-year-old seminary, which formerly was located in Chicago but is now in a suburban area west of the city. He succeeds Dr. Benjamin P. Browne, who retired on September 1.
Archibald is a graduate of Nova Scotia's Acadia University and Colgate Rochester Divinity School. He holds a Ph. D. in philosophy from Boston University. Interestingly, two other American Baptist seminary presidents have Canadian educational backgrounds: Dr. Thomas P. McDormand of Eastern Baptist Seminary and Dr. Robert J. Arnott of Berkeley Baptist Divinity School.
While in the Washington area, Archibald was chairman of the Baptist Joint Committee on Public Affairs and a director of the local council of churches.
Aiding Relocation
Spokesmen for the Near East School of Theology at Beirut, Lebanon, say that sufficient funds have been secured to enable the school to relocate in the vicinity of the American University of Beirut.
The Theological Education Fund allocated the school $90,000 last year, conditional upon the securing of an additional $200,000 from other sources and continued progress in plans of the school to improve its academic program. Dr. Hovhannes P. Aharonian, head of the Near East School of Theology since 1959, has announced that the $200,000 has been advanced and that the school has appointed Dr. Theodore C. Vriezen, professor of Old Testament at the University of Utrecht, as its director of higher studies.
The newly available funds, raised by the United Presbyterian Commission on Ecumenical Mission and Relations and the United Church Board for World Ministries, in addition to the TEF, will purchase the desired property and will enable erection of a supplementary building.
End Of The Road
For some time concern has been felt by evangelical clergy about what one of them described as the Church of England's "present drift towards a thoroughly unreformed position." One weekend last month a double illustration appeared to increase their fears. The press reported that a sixteen-year-old Yorkshire girl had been excluded from a Confirmation class by the local incumbent after she had refused to "make her confession."
At the same time newspapers and radio were announcing the resignation from the ministry of the Church of England of the Rev. Herbert M. Carson, vicar of St. Paul's, Cambridge, and a former traveling secretary of the Inter-Varsity movement. Three major reasons prompted his decision. Pledged to use only the Book of Common Prayer and no other in public worship (an ordinance regularly ignored by some), Mr. Carson had come to regard this as bondage of the spirit.
His second problem was linked with the established nature of his church. "I came to believe from my study of Scripture," he writes in his December parish magazine, "that the whole idea of a state church with parliament as the final arbiter was utterly unbiblical."
Mr. Carson went on to describe what this meant at parish level. It compelled him to marry couples who had not been to church for years and had no intention of coming—and to do so in a service that treated them as Christians. At funerals he had to utter words about the certain hope of eternal life—"it is a mockery to use them over one who has lived his whole life in neglect or even rejection of the Gospel.… Every time I take such a service I am tending to immunize people against the Gospel."
The most important problem, however, was that of baptismal regeneration and the demolition of his arguments for infant baptism, leading him to the conviction that New Testament baptism is an ordinance for believers. "The end of the road had come." declared Mr. Carson. "I could not with any honesty remain outwardly an ordained clergyman of the Church of England while at heart dissenting from her basic position."
Graduate of Trinity College, Dublin, and a well-known evangelical writer and speaker, Mr. Carson, who is 41 and is married with four children, has given the statutory three months' notice to his bishop. He has no plans for the future. Last summer another evangelical clergyman, the Rev. G. E. Lane, resigned from his London parish on substantially the same grounds as those outlined by Mr. Carson.
J. D. DOUGLAS
Advance In Adversity
Christian churches in strife-torn Viet Nam are growing. Even though the war has brought extreme adversity, five new church buildings are now under construction.
This is the report brought back to the United States by Dr. Kenneth C. Fraser of Pittsburgh, vice-president of the Christian and Missionary Alliance.
Upon his return from a two-month world tour of Alliance missions, including an entire month spent in Viet Nam, Dr. Fraser said he was deeply impressed with the dedication of the Vietnamese Christians.
"In spite of all this difficulty and danger," he said, "many of the churches are growing. Among the five new buildings under construction is the American church in Saigon."
The Rev. Gordon M. Cathey, who was once an assistant pastor under Dr. Fraser, is now minister of the Saigon church. It and a small Anglican church are the only ones whose services are conducted in English in Saigon. The Alliance church, dedicated last month, seeks to attract worshipers from among the 30,000 American servicemen and civilians now in the country.
"This church maintains a very strong youth program for university students," Dr. Fraser reported. "The Alliance church in Viet Nam is a national autonomous church with radio ministries, Bible schools, seminaries, and literature programs. They invited me over to send forth their first missionaries to Laos and Thailand."
Dr. Fraser spoke at five pastoral conferences throughout South Viet Nam, preaching from one to four times each day. "One pastor," he said, "came to a conference from a hospital. A Viet Cong rebel had thrown a paper-covered hand-made bomb under a passing car. Nine persons, including the soldier himself, were killed. The pastor's hands had been paralyzed."
Destructive storms in recent weeks have added to the misery of Vietnamese Christians. A typhoon in September destroyed at least one church and damaged a number of others. Last month, heavy flooding caused additional damage.
The Alliance has 333 churches in Viet Nam with 65,000 members and 124 North American missionaries.
ROBERT SCHWARTZ
Quebec In Transition
Is that Martin Luther or the Devil groveling on the ground, held down at the neck by the powerful foot of Ignatius Loyola?
Opinions vary on a large statue of this description, now snow-covered in the fierce winter of Quebec City. If it depicts the Reformer, not the Deformer, it represents the ghost of Quebec past, somewhat as the new Canadian flag that Prime Minister Lester Pearson has promised as a Christmas present represents the ghost of Quebec present.
The present flag, a British Union Jack, peeves French Quebeckers, who are reasserting their cultural distinctiveness and winning new concessions. Radicals among the French want Quebec Province to secede and become a separate state.
The statue in front of Manrese, a Jesuit retreat house on Chemin Ste-Foy, was a product of a previous time of isolationism.The statue is a duplicate of one at the Church of the Jesu in Rome. Details on its history are obscure. Conversations with many Jesuits at Manrese and other institutions failed to establish what the sculptor had in mind, but the priests all said they think of the prone figure as the Devil.
Protestants who call it "the Martin Luther statue" have some basis. Crawling around the loser in the metallic statuary struggle is a serpent, which could be the Devil as a separate personality in league with Luther. The cringing man has a Germanic cast, and that book he's clutching looks suspiciously like the Bible.
"It's supposed to be Luther all right, or else Luther in the Devil's guise," said Dr. John MacKay, a United Church of Canada minister in the city for two decades. "It's regarded as a joke by both Protestants and Catholics," he said, an anachronism in the light of improved interfaith relations.
Father Alfred Morisette, an American who lives at Manrese and studies French at Laval University, said that he had always understood Loyola's foe to be the Devil, but that if it was meant to be Luther, the statue must be viewed "from the historical perspective of 300 years."
In historic Quebec, he continued, "there was only one church, and the priests, as the learned segment of the population, were very strong. Artisans would be tempted to construe anything non-Catholic in a bad light.… It was the atmosphere of a simple, agricultural people.…"
Despite the ecumenical liberality of Montreal's Cardinal Leger, such religious isolationism still exists at the grass-roots level.
The Rev. Jean Cruvellier, a scholarly European immigrant who leads a group of French Presbyterians, was surprised at the comments from Catholic laymen after he conducted a Week of Unity service this year: "You read the Apostles' Creed! Do you Protestants believe that?" or "I didn't realize you spoke so much about God!"
A Protestant who recently held a meeting with Catholics a short distance from the city said it was broken up by a rock-throwing gang directed by a priest.
However, MacKay said "the feeling is very fine" between the faiths in the city, and Cruvellier was allowed to hold Protestant services for Americans and English Canadians this summer at Laval, a nominally Catholic school (and a headquarters for separatism).
Both priests and ministers agreed the political separatists have nothing to do with Catholicism. The Rev. N. D. Pilcher, an Anglican who is president of the Quebec Ministerial Association, said, "Separatism is not a religious movement, and it is not anti-Protestant. The separatists, in fact, are often anti-church (Catholic), which is not in the traditional pattern of French Canadiens."
Pilcher said the several thousand Protestants among the 350,000 persons in the Quebec area are "in a very privileged position as a minority. I don't know what the future will be."
Protestants are limited in such activities as street meetings, but they have the benefit of a national Supreme Court ruling on a Jehovah's Witness case that ensures door-to-door sale of religious material without a peddler's license.
An evangelical leader who didn't want his name published said he would "expect less liberty to spread the word of God" in a separate Quebec. He also considered separation more conceivable than most Protestants: "There is a good chance it could happen."
MacKay said, "I don't consider separatism a tremendous movement. We have understood Quebec over the years, and I don't think it will have any appreciable effect. The real movement is toward more recognition of French-speaking culture, and I'm in favor of this."
It is doubtful that Mr. Pearson's flag, derided as a "Boy Scout banner" by some of British ancestry, will alone pacify Quebec. There is still the perennial irritant that the British Parliament has a veto power over changes in the Canadian constitution. Ironically, suspicious Quebec leaders are afraid of what the other nine provinces themselves would do to provincial rights, and a compromise has proved elusive for years. Although the country's dollar bills are bilingual, they are still graced by Queen Elizabeth and, in both business and private life, are passed by more British hands than population statistics would warrant.
In the uneasy accommodation ahead, the two distinct cultures will either be split further or come to a new appreciation of each other. The same choice may be facing the two religious traditions.
DICK OSTLING
Have something to add about this? See something we missed? Share your feedback here.
Our digital archives are a work in progress. Let us know if corrections need to be made.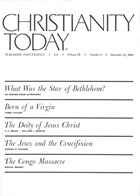 This article is from the December 18 1964 issue.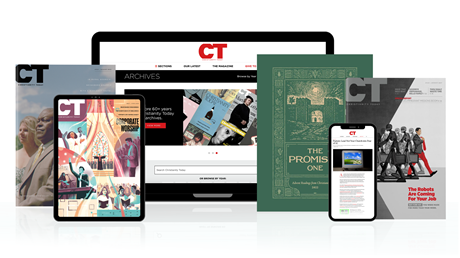 Subscribe to Christianity Today and get access to this article plus 65+ years of archives.
Home delivery of CT magazine
Complete access to articles on ChristianityToday.com
Over 120 years of magazine archives plus full access to all of CT's online archives
Subscribe Now
The Congo Massacre
The Congo Massacre