Any game that can last fifteen years on national television with panel members guessing the vocations of such people as a jelly-bean polisher, false-eyelash fitter, pretzel bender, sausage stuffer, and mosquito counter must surely have the interest of the public. "What's My Line?" has just this, and the experts are stumped approximately two-thirds of the time with such contestants as these and others, like the ladybug salesman, the beehive inspector, and the manufacturer of false teeth for cows.
Ask any congregation what the preacher's vocation is and the answers will entertain even if they do not edify; ask any pastor's conference or convention committee to define the pastor's task and you have the promise of an entertainment beyond television's wildest dreams.
This was not the case with Paul. To the question "What's my line?" he made a constructive answer; in fact he devoted almost half a chapter in his second Corinthian epistle to discussion of it (2 Cor. 5:14–20). What's our line? His answer is clear and concise: We are ambassadors! We are ministers of highest rank and privilege, responsible for the delivery of a message. We are in the business of publishing, proclaiming, revealing, announcing, preaching the Good News of God. This means that we are ambassadors and not diplomats. The ambassador's responsibility is to declare policy, not debate it. But part of our problem in the ministry today is that while we are called to be ambassadors, we tend to behave like diplomats.
We become negotiators, artful at managing compromise and skilled at securing advantages in the meeting of terms, tending to bring the New Testament demands of discipleship down to those that people are willing to meet. We become spiritual hucksters offering salvation on the bargain counter, cheapening the dynamic revelation of God in Christ in order to swell our church's membership or to appease it.
In this same passage (vss. 18 and 19) we are told our charge is to deliver the ministry of reconciliation. We are called to declare the terms of forgiveness made possible through the atonement rendered at Calvary. We are to bring souls to face sin and judgment and to beseech them to accept the God-provided way of redemption. This is an ambassador's function, but in our diplomacy we so often fall prey to the ministry of rationalization. Over-influenced by some facets of modern psychiatry, we view sin as a product of the social matrix of civilization. We help shelve personal responsibility for sin in the individual by shifting its burden to the environment. We forget that the end of such a line is the destruction of the essential freedom of individual personality and the abandonment of the self to the pressures of evil. This is not our line! We are ambassadors, not diplomats. Christ always faced his hearers with sin and its consequence, and then with his forgiveness. We are called, not to negotiate terms of surrender or to win others into the Kingdom by subtle subterfuge, but to be clear ambassadors bearing the truth of reconciliation by grace.
To be consistent, some of us ought to send a memo to our membership committee along the following lines:
In nineteen hundred sixty-four
We must enlist three hundred more
And every one a tither!
By nineteen hundred sixty-five
Some may be dead and some alive
We don't care if they're either!
In nineteen hundred sixty-six
Our records we can surely fix
The more we have the better!
For nineteen-hundred sixty-seven
Will show a group removed to heaven
We can transfer each letter!
By nineteen hundred sixty-eight
Another crowd will make the Gate
And some may be remoter!
Then if we drop them from our list
No one will even note them missed
But we'll have made our quota!
What's our line? Paul says further: We are representatives! "Ambassadors for Christ … in Christ's stead … (vs. 20). He confronts the world through us; we stand, for the world, in the place of Christ. We represent, that is, we re-present, him! This means we are representatives and not salesmen! Our calling is not to smooth-talk people into faith; our commission is not to handshake them into fellowship, to rib-tickle them into good humor, or even to coerce them into cooperative action. We are not leaders of local clubs for the morally minded, the ethically interested, or the biblically orientated. Despite our churches' demands, we are called not to be salesmen but to be representatives, to serve in the place of Christ as under-shepherds, to re-present him to others. Deep down our congregations hunger for the prophetic voice.
There is no substitute for the representation of Christ in the ministry. We must model our line upon his, preaching the Gospel, healing the broken-hearted, delivering captives, recovering sight for the blind, setting at liberty the bruised, and proclaiming the acceptable year of the Lord. It is good for an ambassador to know his age and his people. It is well for a representative to be thoroughly aware of factors of communication and interpretation. But each must be certain of his commission, aware of his authority and of his reservoirs of power, before he begins to have relevance. R. W. Dale once made this response to a young English preacher who declaimed how essential it was to preach to the times and to serve a menu of current relevance in preaching: "Young man, don't preach to the times! Go and preach to broken hearts and you will preach to the eternities!" The same word came from the lips of a man of great distinction found regularly in a little New England church in the early nineteenth century. Asked why he was so regular in worship at the village when he paid scant attention to the great churches and distinguished preachers of Washington, he replied, "In Washington they preach to Daniel Webster the statesman and orator; here in this village this man preaches to Daniel Webster the sinner." The people of the world want representatives, not salesmen. They need to meet the challenge of a living Christ, and this they can do only through transformed personalities.
God'S Sword Thrusts
AFTER I LEFT HOME to gain an education in this education-minded society, many problems confronted me. A conversion experience of 2½ years before had been the genesis of the motivating power causing me to prepare for the ministry. It was at this period of time, which was dominated by the fact that few funds were available, that the Spirit of God brought to my attention Romans 8:31b: "If God be for us, who can be against us?" Frequently circumstances returned me to this promise for direct assurance.
God's providence led, not to the ministry of the pastorate nor to the ministry of missions, but to the ministry of education. This involved tedious years of graduate study during which time I was forced to question my Christian faith. Security of mind and faith was again supplied by promisese such as Romans 8:31b. By these continual "shots in the arm" God led me into the ministry of training men's minds.—GEORGE GIACUMAKIS, JR., assistant professor of history, Orange State College, Fullerton, California.
What's our line? Paul says again: We are servants! Constrained by love we no longer live unto ourselves but serve Christ and others for his sake (vss. 14–16). The undeserved love of the Cross thrusts us into service. We love because He first loved us. The ministry is not only ambassadorial declaration and representative introduction; it is also work for others. We deal in a service, and we are not self-employed. We are servants and not masters. It is easy to be a master and hard to be a servant. A master marches far in advance of his company and often loses touch with those he is trying to lead. A true leader is a true servant, always near enough to be in sight, to help a wounded comrade, to share the group burden, to participate in the total service; always ready to abandon the special privilege of his office to render essential help. A true leader is a true servant. When a pastor hands a cross of discipleship to a congregation, they may cry, "Away with him!"—unless he has first taken up the cross himself.
How much our Leader was a Servant. He faced the errors of those he sought to lead. He said they were sheep without a shepherd, chickens without a mother; but he wept for them as he said it, not for himself, and he took the servant's part of suffering from the cradle to the Cross to win them back and gather them in. No critical, arrogant word was ever wrung from him. There was no trace of self-pity, though all forsook him and he was left to serve alone.
Through his service he won them. He sat at night with Nicodemus. At the dawn he rescued a ship sinking in the lake. In the noon-hot sun he paused to talk with a fallen woman by a well. In the evening he was at Capernaum with the lame, the halt, and the blind pressing him and making demands upon him; and he loved and served them all. Though exhausted he made the disciples return the children to his knee. He climbed no ivory tower. His ministry was great because it revolved around great identification and was applied in great service.
Then let me be like him: a true leader; servant, not master; representative, not salesman; ambassador, not diplomat. Let me be like Paul! That's my line! Let me be like poor William, whom everyone in the village thought mad because he cobbled to live and starved to read, but whom God used in a ministry that generated modern missions. Let me feel as he felt when, after forty years in India without furlough and seven years without a convert, he said in death, "Speak little of William Carey, but much of William Carey's Saviour." Let me take as my charge that which he regarded as the proper objective of every missionary, "to set an infinite value on the souls of men." Let me place no boundary to service, no limit to love. Let me pass the Cross and its redemption as the point of no return; for if God thought enough of the gospel ministry to put the blood of his Son into its foundation, then dare I leave this line?
Craig Skinner is pastor of the Fortified Hills Baptist Church of Atlanta, Georgia. He graduated from the Sydney Baptist Seminary, Australia, and holds the Th.M degree from Northern Baptist Theological Seminary.
Have something to add about this? See something we missed? Share your feedback here.
Our digital archives are a work in progress. Let us know if corrections need to be made.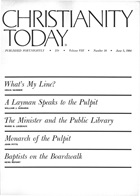 This article is from the June 5 1964 issue.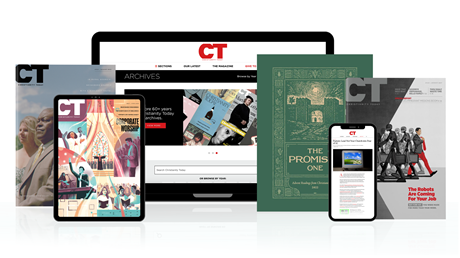 Subscribe to Christianity Today and get access to this article plus 65+ years of archives.
Home delivery of CT magazine
Complete access to articles on ChristianityToday.com
Over 120 years of magazine archives plus full access to all of CT's online archives
Subscribe Now
What's My Line?
What's My Line?