The modern impulse toward ecumenism began, significantly, with church leaders who today would be called conservative evangelicals. In 1846 a conference of such men held in London led to the organization of the World Evangelical Alliance. For fifty years, this alliance performed a valuable service to the cause of unity among Christians.
Then came the time near the turn of the century when liberalism began to have a serious effect on the Christian churches. A small group of leaders tried to shape the World Evangelical Alliance into an instrument of liberalism but met majority opposition and so withdrew from the alliance. In 1894 this group created the Open Church League, which was superseded in 1900 by the National Federation of Churches and Christian Workers. This in turn gave way in 1905 to the Federal Council of Churches, which in 1950 became the National Council of Churches.
This record makes it clear that the onus of division rests upon liberalism. But it must be said in the same breath that the responses of conservatives to the encroachments of liberalism were not satisfactory. Instead of keeping control of the mainstream, conservatives became defensive; they largely abandoned the field of scholarship, emphasized withdrawal from the world and separation from liberal churchmen, and exalted independency.
For the second fifty years, therefore, it seemed that conservatism had lost out not because its position was false but because its supporters were fragmented. Even the World Evangelical Alliance grew tame and ineffective, resting upon its endowments rather than upon a real sense of mission.
As early as 1929 Dr. J. Elwin Wright founded the New England Fellowship, which successfully brought a new sense, of unity and mission to conservative evangelicals in that area. In its annual conferences of 1939, 1940, and 1941, the New England Fellowship passed resolutions calling for a national conference. Dr. Wright traveled widely, contacting evangelical leaders across the country, and his vision and labor bore fruit in a conference in St. Louis in April, 1942, at which was born the National Association of Evangelicals.
The character of NAE was largely forged by pressures from two directions. On one side was the fact that the Federal Council was pretending to speak for all Protestants; the NAE group felt it essential to dissociate themselves from a voice that so often spoke for only the liberal wing in heterodox rather than evangelical terms.
The pressure on the other side came from a new and hastily organized group called the American Council of Christian Churches, led by Dr. Carl McIntire. The ACCC viewpoint was represented at the founding meeting of NAE and was given careful attention by those present. At least three points of divergence between the NAE and the ACCC appeared then, and they continue to this day as vital points of difference between these two bodies. They are summarized by Dr. James DeForest Murch as follows:
1. The necessity for immediate and complete separation front denominations and corporations in which apostasy existed;
2. The wisdom of creating an official council of churches as against a fellowship of evangelicals for united action, and
3. The wisdom of a constructive program as against one with a polemical and negative approach [Cooperation without Compromise, Eerdmans, 1956, pp. 58, 59].
The NAE, as Dr. Murch continues, "favored a constructive program, opposed the formation of a council of churches and in certain cases opposed immediate withdrawal from denominations and corporations in which apostasy existed." Thus it showed a greater understanding of history than the ACCC. Separationism, fragmentation, and negativism were exactly what had led to the fifty-year period of sterility in the conservative evangelical movement. For these things to be the basis for cooperation was therefore impossible.
The NAE is now nearing a quarter-century of growth and service. Its membership includes some thirty-four denominations which together with individual churches total about 28,000 congregations, in addition to other Christian service organizations and individual members. There are more than two million members with another eight million served through commissions and affiliated agencies in such areas as missions, education, broadcasting, Sunday schools, chaplaincies, church extension, evangelism, social action, and world relief. The official publication of NAE is called United Evangelical Action. The headquarters is at Wheaton, Illinois, and an office in Washington handles public affairs and missions. Dr. Clyde Taylor is the general director and Dr. Arthur Climenhaga the executive director.
During the past twenty-five years there has been a great maturing among evangelicals. Their colleges are coming of age, their ministers are better trained, cooperative work has sharpened the focus on essentials instead of denominational distinctives, and a host of able scholars and preachers have come forward.
While a minority in the NAE smart under McIntire's thrusts and call for an intensified opposition to programs of the National and World Councils, its greater body and leadership have held steadfastly to the positive and spiritual emphases of its founding. NAE's record of accomplishment in varied fields merits pride. Nowhere has the record excelled that of the Washington office, directed for many years by Dr. Clyde Taylor. This office has the double task of keeping an evangelical eye on legislative affairs and managing the interests of the Evangelical Foreign Missions Association, made up of ninety missionary boards that are responsible for more than one-fourth of all Protestant missionaries sent from this country.
Another organization of similar size and purpose, the Interdenominational Foreign Mission Association, has differed from EFMA in three respects: (1) it has not admitted denominational missions; (2) it has not admitted Pentecostal missions; and (3) it has had more support from and been more sensitive to the followers of McIntire than has the EFMA. But happily the leaders of these two organizations have been in consultation during the past three years, and some measure of cooperation is beginning to take place.
In 1950 the NAE Commission on International Relations sent Dr. Wright and Dr. Taylor around the world to visit evangelical leaders. They found the London leaders of the World Evangelical Alliance, which had been dormant for so long, active in a revitalization program that resulted in the British Evangelical Alliance. On the heels of this visit, evangelical fellowships came into being in some twenty countries. Probably the strongest of these in non-Western countries was the Evangelical Fellowship of India.
The Birth Of W. E. F.
After some preliminary consultations and conferences of American and European evangelical leaders, a constitutional convention held at Woudschoten in The Netherlands in August, 1951, brought into being the World Evangelical Fellowship. Seven national fellowships, representing Ceylon, Cyprus, Great Britain, India, Japan, Taiwan, and the United States, were charter members. Subsequent conferences have been held at Clarens (Switzerland), Barrington (Rhode Island), and Hong Kong, and the membership now exceeds twenty national fellowships.
Each national fellowship is completely autonomous beyond subscribing to a simple statement of faith, approving the WEF constitution, and making an annual contribution to WEF. The statement of faith expresses the beliefs one would expect of conservative evangelicals: an infallible and authoritative Bible; the Trinity; the virgin birth of Jesus Christ, his sinless life, miracles, vicarious atonement, bodily resurrection, ascension, and second coming; the lostness of men and their salvation through faith in Christ and by the regenerating power of the Holy Spirit; the person and work of the Holy Spirit; the unity of all true believers; and the bodily resurrection of all men unto either eternal life or eternal death.
WEF has not directed its members to exclude from fellowship those who also have membership in other bodies, including the WCC. It is concerned with spiritual renewal in the churches, with cooperation among evangelicals, and with a constructive defense of the faith.
It must be admitted that the founders' ambitious dreams for the future of WEF exceeded subsequent performance. For instance: commissions covering areas such as evangelism, Christian action (concerned with religious freedom), missionary cooperation, literature, theological discussion, and radio and television were set up with experts as chairmen and splendid programs envisioned. Also, the great success of the Washington NAE office in working for religious freedom for oppressed peoples round the world, alerting evangelicals to pending legislation inimical to Christian interests, and serving the needs of missionary boards at official levels, led to a great dream of WEF representation at the United Nations. Furthermore, there was the vision of some WEF leaders of an enormous annual fund-raising effort under the title "Share" that would provide funds for the total operation of WEF plus a big amount for aid to multitudes of projects evangelicals proposed to carry out in many countries.
These were the years soon after the war, and money was flowing very freely in the United States. Several new Christian ventures had found their underwriting very simple. Conservative evangelicals had money plus a heart to give, and dreams such as those of NAE and WEF were not out of line. But some unforeseen factors arose to change the picture completely.
For one thing, leaders of denominational missionary boards in EFMA regarded WEF as a competitor for their dollars and therefore gave the new organization a cool reception and even some positive opposition. More serious was the organization, at the same time WEF was arising, of a number of new missionary bodies that were "missionary" only in an accommodated sense of the word. Their primary purpose was not the classic missionary one of winning converts and establishing them in self-supporting, self-governing, and self-propagating churches. Rather, they were auxiliary to this purpose and to the bodies that functioned for this purpose. They tended to emphasize technical programs, such as aviation, literature, orphan care, relief projects, radio ministry, and gospel records. These are much easier to dramatize than the slogging work of bringing churches to maturity and have therefore won out in the competition for evangelical dollars. This is said without bitterness; it is a plain fact. It has always been true that the most strategic phases of Christian work are the most difficult to "sell" to the rank and file, and that the most dramatic appeals often have the least strategic value. At any rate, the great dream of WEF based on large income never materialized.
The real genius of World Evangelical Fellowship, however, has come to light through its poverty. Some of us who have worked for years in overseas missions know how defeating to spiritual work large sums for distribution can be. Some of us are thankful that the accumulation of large funds is no longer a part of WEF policy. Moreover, assurance on this point, together with an understanding of the real function of WEF, has won the full support of the EFMA mission boards.
Less Than A Shoestring
WEF operates on something less than a whole shoestring. It has not been able to do even the most basic thing—namely, to keep a man in the field for spiritual ministry and to assist the weaker fellowships and organize new ones. Financially the great strength of WEF is its lack of funds to distribute and its emphasis upon helping existing agencies to do more with what they have. Much of the staff work of WEF and indeed of some of the national fellowships is done by people lent part- or full-time by other agencies.
The headquarters today is 30 Bedford Place, London, W.C. 1, England, and the international secretary is the Rev. Gilbert W. Kirby. But this is possible only because the office is that of the British Evangelical Alliance and Mr. Kirby is the secretary of the BEA, which has generously allowed the work of WEF to be handled in this way as a contribution. Since WEF did not have the means to put a man in the field, the EFMA and the IFMA, realizing the strategic value of having their churches in Africa cooperate, have together sent out Mr. Kenneth Downing to assist in forming national evangelical fellowships independent of WEF. Several of these fellowships have applied to WEF for membership. They are more advanced in Asia than elsewhere, and WEF has appointed Mr. Dennis Clark and the Rev. Samuel Kamalesan as co-secretaries for the Asian area. Both men have other work and support. Mr. Clate Risley, who until recently headed the National Sunday School Association, has been appointed WEF secretary for Christian education; he has support from other sources and is offered to various parts of the world to help promote Christian education.
Such facts as these show that WEF is something new and unique in Christian work. It is a living demonstration that cooperation is most valuable when it means a better shepherding of existing resources rather than merely access to additional resources.
The highest importance of WEF and its members lies in its spiritual impact rather than in its handling of material resources (although in certain areas of cooperation, such as literature, the avoidance of duplication and waste is of enormous value). WEF's primary concern is to foster spiritual renewal of all the churches. Very few people today would claim satisfaction with the current spiritual achievement of their churches, although many would resent the help of an outsider. Yet there is a hunger everywhere, both within and without the ecumenical movement, for a fresh moving of the Spirit of God upon the churches unto newness of life. The main task of WEF is to labor by prayer and ministry for the renewal of the spiritual life of the churches, both old and new.
The question inevitably arises whether WEF is a competitor or an alternative to the World Council of Churches. The answer is simple. If one means "competitor" in the sense of a parallel but opposing movement, the WEF is not one, because it is not just a counter organization. But if one uses "alternative" to mean a group doing something that both WCC and those outside it need to have done, are not doing, and perhaps cannot do, then WEF is indeed an alternative. Many conferences and commissions in National and World Council circles have met to deplore the spiritual lack of the churches and to plan what might be done to correct it, but they have done little more than pass resolutions. The very heterogeneity of these bodies makes united action difficult. The homogeneity of WEF makes action not only possible but often effective. And it cannot be overlooked that the evangelical fellowships have in their ranks many of the men most widely used throughout the world in a ministry of spiritual renewal.
Spiritual renewal, a strengthened evangelical witness in all the churches, and the benefits of cooperative action—these are the major goals of the WEF. One could wish that all the national fellowships, including the NAE in the United States, where admittedly the lines of conflict with the National and World Councils are sharper than anywhere else, might make their services available for spiritual renewal wherever open doors are found. And one could further wish that the World Council leaders might view the World Evangelical Fellowship as an agency with a vital contribution to make rather than as a competitor.
Have something to add about this? See something we missed? Share your feedback here.
Our digital archives are a work in progress. Let us know if corrections need to be made.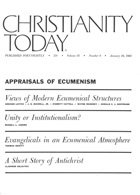 This article is from the January 29 1965 issue.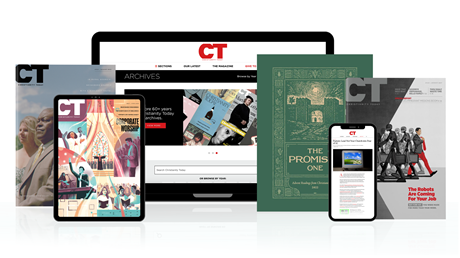 Subscribe to Christianity Today and get access to this article plus 65+ years of archives.
Home delivery of CT magazine
Complete access to articles on ChristianityToday.com
Over 120 years of magazine archives plus full access to all of CT's online archives
Subscribe Now
National Association of Evangelicals and World Evangelical Fellowship
National Association of Evangelicals and World ...