Margaret Avison, winner of Canada's highest literary honor, was captured by the "Light that blinded Saul"
Contemporary Christian poetry has found a new and arresting voice—that of Margaret Avison, long a free-lance writer and now an English teacher at the University of Toronto's new Scarborough College, whose second book, The Dumbfounding, was brought out last summer by Norton (New York) and McLeod (Toronto).
There is nothing new about her remarkable ability as a poet. Her work has been acclaimed ever since she was a teen-ager, and she won the coveted Governor General's Medal, Canada's highest literary honor, for her first collection of poems, Winter Sun, published in 1960. What is new, however, and what gives her work much significance for the Christian student of contemporary art, is that just over four years ago Margaret Avison, then in her mid-forties, was overtaken by the
… Light that blinded Saul,
blacked out Damascus noon,
and became a Christian. Later she became an active member of the evangelical Knox Presbyterian Church in Toronto, and she still manages to keep one afternoon a week free for work at a downtown rescue mission. The Dumbfounding makes her conversion known to the literary and intellectual world, in language they can appreciate. Thinking Christians would do well to become familiar with it.
The small group of specifically Christian poems near the center of this book, far from detracting from her previous stature as a poet, actually seem to have added to it. The internationally known critic and Canadian expatriate A. J. M. Smith, professor of English at Michigan State University since 1936, now poet-in-residence there, and the dean of contemporary anthologists, wrote an article on "Margaret Avison's New Book" for the September, 1966, issue of the Canadian Forum. In it he describes The Dumbfounding as "the richest, most original, most fully and deeply engaged, and therefore the most significant book of poetry published by a Canadian since the modern movement got under way more than a score of years ago." To Miss Avison he ascribes the quality of "isolated superiority," and he forthrightly states that "the superiority transcends originality and technical mystery and derives ultimately from the purity of her response to experience (all experience) and the significance of her faith." Smith cites certain of her new poems as being "among the finest religious poems of our time" and declares that they "are explicitly acts of worship and submission, the fruits, one must surmise, of a peculiar grace." Another reviewer has called her Canada's "most accomplished poet" (Toronto Evening Telegram, Dec. 17, 1966).
Margaret Avison's poetry, though difficult, holds rich rewards for the diligent student. No smooth, facile style is here; rather, one meets with abruptness, starkness, often downright ugliness—which, however, is shot through with shafts of unutterable beauty. She has a most delicately tuned ear that finds beauty in off-beats and half-rhyme, and word music in internal syllables rather than in the more conventional word endings or initial consonants. To me, what most makes her style distinctive and enjoyable is her use—always unexpected, though it recurs often—of sudden flights of startlingly beautiful, half-coined words of great loveliness and vivid imagery, often in a poem where much bleakness is found, so that the reader is continually being—to use Wordsworth's phrase—"surprised by joy."
Thus when in the title poem, which tells of her discovery of Christ, she begins,
When you walked here,
took skin, muscle, hair,
eyes, larynx …
we may be slightly repelled at her expression of the Incarnation; her blunt
Dust wet with your spittle
cleared mortal trouble
may seem a rather bald way of describing Christ's miracles; while her words about the Resurrection,
we hoped so despairingly for such report
we closed their windpipes for it,
may strike a jarring note on our sensitivities. Yet in the same poem we find her soaring:
Yet you are
constant and sure,
the all-lovely, all-men's way
to that far country.
Winning one, you again
all ways would begin
life: to make new
flesh, to empower
the weak in nature
to restore
or stay the sufferer;
lead through the garden to
trash, rubble, hill,
where, the outcast's outcast, you
sound dark's uttermost, strangely light-brimming, until
time be full.
In Searching and Sounding, she writes of her all-too-human flight from some of the Gethsemane-like experiences into which God led her as a new Christian:
I run from you to
the blinding blue of the
loveliness of this wasting
morning, and know
it is only with you
I can find the fields of brilliance
And as I run I cry
"But I need something human,
somebody now, here, with me."
Running from you.
The sunlight is sundered by cloud-mass.
My heart is sore, as its
bricked-in ovens smoulder,
for I know whose hand at my elbow
I fling from me as I run.
But you have come and sounded
a music around me, newly,
Dwarf that I am, and spent,
touch my wet face with
the little light I can bear now, to mirror,
and keep me
close, into sleeping.
In The Christian's Year in Miniature, she speaks of Christ in Gethsemane:
Unsullied one, though midnight
is lucid to your heart,
here, in God's unspeaking
you are set apart.
Of his burial, she goes on:
The garden, awaking
to a terrible day-swell
knows the rock-sweet, the pulse-set
of Emmanuel.
Then, in an act of committal, she concludes:
Only in your possession
can such Life go on.
The crux of Margaret Avison's conversion was reached when she realized for the first time, and finally and forever, that, as she later put it, "Jesus Christ is alive." This theme runs through many of her religious poems, such as First and Person, the first two poems she wrote after her rebirth (following several puzzling months of silence). In Person she describes herself as being in a sealed tomb, "beneath steel tiers, all walled," "barred in every way." Then comes the realization of the living Christ.
"I am." The door
was flesh; was there.
No hinges swing, no latch
lifts. Nothing moves. But such
is love, the captive may
in blindness find the way:
In all his heaviness, he passes through.
Again, in The Word, where she examines the implications of our forsaking all for Christ and of his being forsaken of the Father, we find the person of the living Christ coming to the fore:
But to make it head over heels
yielding, all the way,
you had to die for us.
The line we drew, you crossed,
and cross out, wholly forget,
at the faintest stirring of what
you know is love, is One
whose name has been, and is
and will be, the
I AM.
Another Person very real to the new believer is the Holy Spirit. In … Person, or A Hymn on and to the Holy Ghost, she voices her dependence upon him. In closing, I quote this poem in full.
How should I find speech
to you, the self-effacing
whose other self was seen
alone by the only one,
to you, whose self-knowing
is perfect, known to him,
seeing him only, loving
with him, yourself unseen?
Let the one you show me
ask you, for me,
you, all but lost in
the one in three,
to lead my self, effaced
in the known Light,
to be in him released
from facelessness,
so that where you
(unseen, unguessed, liable
to grievous hurt) would go
I may show him visible.
In these days when it is so imperative and yet so difficult to communicate the Gospel effectively to our contemporaries, we could learn much from a close study of the poetry of Margaret Avison.
Have something to add about this? See something we missed? Share your feedback here.
Our digital archives are a work in progress. Let us know if corrections need to be made.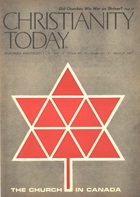 This article is from the March 31 1967 issue.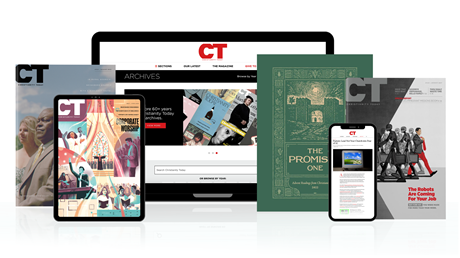 Subscribe to Christianity Today and get access to this article plus 65+ years of archives.
Home delivery of CT magazine
Complete access to articles on ChristianityToday.com
Over 120 years of magazine archives plus full access to all of CT's online archives
Subscribe Now
New Voice in Christian Verse
New Voice in Christian Verse