Not since Nikita Khrushchev visited the United States in 1959 have Americans heaped so much attention upon a Soviet citizen. Khrushchev showered his listeners with Scripture but disavowed the existence of God. The latest Soviet sensation, the 42-year-old daughter of the late Premier Joseph Stalin, refers to the Bible only obliquely but affirms belief in deity. And religion, she says, is a major factor in her repudiation of Communism.
"I was brought up in a family where there was never any talk about God," says Mrs. Svetlana Alliluyeva. "But when I became a grown-up person I found that it was impossible to exist without God in one's heart."
Mrs. Alliluyeva says she was baptized in Moscow in May of 1962 by a Russian Orthodox priest whom she identified as Father Nikolai. He has since died.
"I was baptized in Moscow in Russian Orthodox Church, but it doesn't mean that I prefer this church to others," she added. "It was just the following of tradition, following the religion to which my parents and my ancestors belonged. I also feel the great sympathy with modern Hinduism of Rama Krishna and Girikananda and I feel greatest sympathy with Roman Catholic Church because in Switzerland I have met a lot of fine people who were Catholics and I also feel sympathy to which you know here as Christian Science. I don't feel much controversy between these things and I do not want to attach certain label to my religious feeling."
Mrs. Alliluyeva spelled out her convictions in an hour-long televised conference with newsmen in New York. She was flanked by lawyers Edward S. Greenbaum and Alan U. Schwartz, who screened and posed questions submitted by reporters in writing. More details were promised with the publication of a book she has written.
She said that hers was "a generalized belief in God. I believe that all religions are true and different religions are only the different ways to the same God. For me, for me the God is just the power of life and justice and when I am talking about God I am just talking about happiness to live and enjoy life on this earth."
"I feel that humanity should be one," she continued. "The people should together work much for good. Well … this is what is my belief in God. Maybe I am not clear."
Mrs. Alliluyeva sought political asylum while on a visit to India, where she had gone last December to take the ashes of her late husband, Brajesh Singh. Soviet authorities had never recognized the marriage, reported to be her third. Singh, a member of the Indian Communist Party, also had other wives.
Her life in the Soviet Union, Mrs. Alliluyeva said, had included some comforts that others didn't have. At this point she alluded to the words of Christ in saying that "as you know, people cannot live only by bread. People need also something else."
Asked point-blank whether religion and Communism are compatible and whether they can exist together, she declared:
"I don't think that class struggle and revolution can go hand in hand with idea of love which, with idea of love to—no, I don't believe it can be joined together."
The name Alliluyeva is her mother's maiden name and is an equivalent of Hallelujah ("Praise Be to God"). Svetlana translates as "light of the world."
Exercising restraint in answering reporters' questions that lent themselves to comments critical of the Soviet Union, Mrs. Alliluyeva said nonetheless that she left seeking self-expression. She indicated that the atmosphere stifled Soviet intellectuals and that she became particularly distressed over the imprisonment meted out last year to a pair of writers, Andrei D. Sinyavsky and Yuli M. Daniel.
She also showed restraint in her evaluation of the United States, preferring to adopt a wait-and-see attitude on the matter of American citizenship. "I think that before the marriage it should be love," Mrs. Alliluyeva observed in a statement likely to be quoted many times.
Is she convinced that American-style democracy is at least more conducive to being a writer than a society based on the so-called class struggle?
"Well," she replied, "I believe, of course, your society has more democratic freedoms. This is what I believe and what I see. But I will see later what is your life like perhaps. Perhaps it is not so, so nice as it seems from the beginning. But, of course … there are more democratic freedoms here. There is no doubt about it."
On the policies of her father: "Of course I disapprove of many things, but I think that many other people who still are in our Central Committee and Politburo should be responsible for the same things for which he alone was accused. And if I feel somewhat responsible for those horrible things, killing people unjustly, I feel that responsibility for this was and is the party's, the regime, and the ideology as a whole."
An interesting sidelight to her defection was the cancelation of a visit of Russian Orthodox churchmen to the United States. There was no public evidence that the two events were related, but it would doubtless have proved embarrassing for the churchmen to make American appearances while Mrs. Alliluyeva complained of Soviet repression. Reasons given for the cancellation included delay in getting visas, "urgent business, and the approach of Orthodox Easter."
Mrs. Alliluyeva thus far has not traced the initiation of her religious beliefs to any writing or to the influence of any person. "Perhaps," she said in reply to a question, "it is just what one may call religious feeling which some people have, some people don't have and as when the person who was blind one day his eyes become open and he can see the world, and the sky, and birds and trees and so it is, it is like this, this is just, this is the feeling that comes, comes to you one day. After that I began to read more."
She has not mentioned it, but Mrs. Alliluyeva's father studied for the Orthodox priesthood, probably at the urging of his devout mother. Stalin attended the parish school in his native town of Gori, in Georgia, Transcaucasia. He enrolled in a Tiflis seminary in 1894, but plans for an Orthodox Church career faded when he joined a Marxist group, and he was expelled just before graduation for "disloyal" views.
Mrs. Alliluyeva's sympathy toward Roman Catholicism developed during her six weeks in Switzerland, where she had gone after leaving India. Part of her time in Switzerland was spent in a convent at Fribourg where the nuns sheltered her. She attended two Sunday masses there and another—on Easter Sunday—at Fribourg cathedral.
A nun who had daily contact with Mrs. Alliluyeva found her "a profound believer who has centered her life on God. Her faith is certainly her greatest strength." But there was no indication, the nun added, that she had any intention of becoming active in "any church."
Mrs. Alliluyeva acknowledges that there are "many" in the Soviet Union who believe in God. How she reconciles this fact with her assertion that religion and Communism are incompatible was among the three hundred or more questions that went unanswered at her press conferences.
Monkeying With The Law
A Tennessee House bill to repeal the state's renowned law against teaching evolution died in a tie vote in the Senate last month. A Senate version—evolution could be taught as theory, not fact—was killed in House committee.
Meanwhile, Gary L. Scott, 24, plans to charge breach of contract in his firing as a Jacksboro science teacher under the old law. He says he mentioned evolution in class but did not link man to the process, as the law forbids. Raised and baptized in a Detroit Church of Christ, he is now an agnostic and "more sour" on Christianity after recent fundamentalist attacks.
What Caused The Riot?
Nashville, home of America's two biggest Protestant denominations, was hit by three ugly nights of rioting last month. The Tennessee Baptist state paper blamed it on "the hate spewed by a racist," namely black-power agitator Stokely Carmichael.
Foy Valentine of the Southern Baptist Convention's Christian Life Commission, agreed that Carmichael's visit helped, but he said basic causes are poverty, injustice, unemployment, and de facto segregation faced by Nashville's Negroes. Valentine, a member of the city's human-relations council, urged an all-out attack on these problems.
Life And Death In Ulster
The Roman Catholic Church hasn't changed in 400 years, won't change in the future, and is even more dangerous than Communism, said the Rev. Ian Paisley during a visit last month to Bob Jones University.
Paisley, fiery leader of anti-Catholics in Northern Ireland (Ulster), won headlines last year by insisting on going to jail (see August 19, 1966, issue, page 50). His appearance drew the biggest crowds fundamentalist BJU has ever seen—5,000 persons for each of four speeches, including the overflow.
Paisley claimed his nineteen-congregation Free Presbyterian Church and those of similar mind are "fighting a life-and-death struggle with Romanism," and he criticized Billy Graham and ecumenical leaders for being soft on Rome.
He began the five-week U. S. tour at ally Carl McIntire's Bible Presbyterian Church in New Jersey, where he was heckled by members of the Irish Republican Army.
DAVID PARTRIDGE
Demonstrating Against Death
The execution of 37-year-old murderer Aaron Mitchell in the San Quentin gas chamber April 12 ended an unofficial four-year moratorium on the death penalty in California. Even as potassium cyanide pellets slipped soundlessly into a vat of acid, demonstrators—many of them clergymen—protested the death penalty at the prison gates and ninety miles away at the state capitol.
At the execution hour, hundreds joined hands and sang, "He's got Aaron Mitchell in His hand." Father John Riley, a San Rafael Episcopalian, spread a pink blanket on the ground and held a communion service complete with silver chalice (and permission from Bishop C. Kilmer Myers).
Mitchell was sentenced in 1963 for shooting policeman Arnold Gamble while trying to escape after a tavern holdup. The bearded Negro had known little but crime and failure, and he attempted suicide by slashing his arm the day before the execution. As guards strapped Mitchell to the death chair he shouted, "I'm Jesus Christ!"
Besides the prayer vigils and picketing, Episcopalians were asked to toll church bells in protest. But a Modesto independent, the Rev. Donald Weston, urged people instead to ring bells in sympathy for Gamble's widow and children.
RUSSELL CHANDLER
Glide
"In spite of many mistakes," declares California Methodist Bishop Donald H. Tippett, San Francisco's controversial Glide Memorial Methodist Church is "evangelism at its best."
The reason is apparently that at Glide, evangelism swings.
Recent pulpit "evangelists" included comedian Dick Gregory, radical organizer Saul Alinsky ("first time I've been in church in twenty-six years"), and John Handy's jazz band. Objects of Glide's brand of "evangelism" include homosexuals and prostitutes, dope addicts and disadvantaged minorities, would-be suicides and acidhead hippies.
The approach is as unique as the audience. Glide's five ministers organize people with similar needs into self-help groups. The result, they say, is rapport, rehabilitation, and some "converts."
The programs are usually controversial—and sometimes fruitful. The church faced strong criticism when it held a dance for Vanguard, a group of male prostitutes. However, Glide men report that some Vanguard members have eventually "graduated" to jobs in business and government. Glide has been praised for projects to help drug addicts and the mentally disturbed.
Conservatives complain that Glide ignores the Gospel. Tippett, a Glide trustee said to be theologically conservative, contends that the Gospel is being proclaimed but in the idiom of Glide's "mission field." Says he, "We spend great sums to train a man to speak Swahili, yet we criticize those who have learned to speak the language of people near us."
In some cases, however, criticism is earned. The worst example, according to Tippett, was a February weekend "happening" held in the church by the avant-garde Artists' Liberation Front. Some 4,000 showed up, and supervision collapsed. The results: Hindu rites in the sanctuary, crowded rock 'n' roll dancing, some love-making and nudity, some sex movies, and mad confusion in general. Says Tippett, "things were done there that no one can defend." Activities finally moved to nearby Ocean Beach, but not before $6,000 in damage had been done.
That's a rather high price to pay for an experiment in reaching the city's hippies, perhaps, but hardly out of reach of Guide's resources. Through its own $6 million foundation and some church-controlled investments, Glide operates on an annual budget of $450,000. Of that money, only about $18,000 annually comes from the offerings of the 400 to 500 people who attend the church's services.
The church was founded in 1930 through an endowment by Mrs. Lizzie Glide, who specified that money be used to create a center for evangelism. Its first pastor was Dr. J. C. McPheeters, conservative president of Asbury Theological Seminary, who served until 1948. With succeeding pastors, however, the church's theology shifted, and its more conservative members drifted away. "A small conservative faction remains, but has not, says Glide's executive director Lewis E. Durham, "impeded Glide's program."
Sixty-five people were received into membership at Glide last year, the majority from Roman Catholic backgrounds. Personal faith in Christ as Saviour is not asked for, according to Cecil Williams, minister of evangelism. Rather, he improvises varying statements of "Christian commitment," such as, "are you committed to God's revelation in history and how he is acting at the present time?"
Donald Kuhn, director of communications, insists that Glide's ministers are abiding by the mandate of the trustees: that their aim be the conversion of persons to Christ. Director Durham predicts: "We are on the brink of a great revival."
Tippett admits, however, that there is dissension ("due to lack of understanding") in Methodist ranks over Glide's questionable theological definitions and unpopular social causes (such as supporting liberalization of laws on homosexuals and siding with hippies against City Hall).
While local evangelicals disagree with Tippett's "evangelism at its best" assertion, they agree Glide has succeeded in reaching the so-called unreachables of modern urban life where other churches have failed. A growing number of Glidelike operations are springing up in the city, linked to a forthright gospel message.
EDWARD E. PLOWMAN
Have something to add about this? See something we missed? Share your feedback here.
Our digital archives are a work in progress. Let us know if corrections need to be made.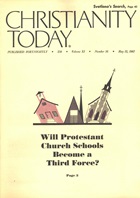 This article is from the May 12 1967 issue.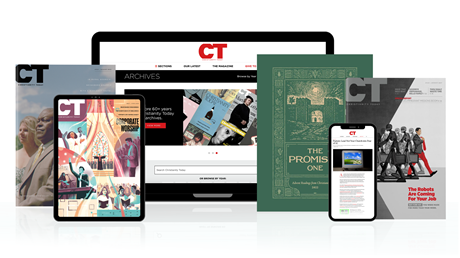 Subscribe to Christianity Today and get access to this article plus 65+ years of archives.
Home delivery of CT magazine
Complete access to articles on ChristianityToday.com
Over 120 years of magazine archives plus full access to all of CT's online archives
Subscribe Now
Svetlana's Search for Faith
Svetlana's Search for Faith