What new church forms are emerging?
One of Christ's sharpest satires was directed against those of his contemporaries who did not know what time it was. They could forecast the weather, he said, but they seemed to be wholly unable to "interpret the present time" (Luke 12:56). The more we ponder this, the more we realize that our efforts cannot be effective if we do not know where we stand in the temporal sequence. To provide answers to questions that are not being asked is a waste of time.
Examples of being out of date are all around us. Only a few days ago I heard a sermon that was devoted, for the most part, to an attack on the excessive Puritanism of the preacher's aunt—thirty years ago. If this man had been at all alert, he would have known that his point was obsolete. Excessive Puritanism, though it may have been a danger once, is not our danger now. A far greater danger is the faddish paganism that in its glorification of self-indulgence is the exact antithesis of Puritanism. If the preacher wants to be helpful, he must get around and try to see what the danger is now.
Another illustration of obsolescence is the motion picture Hawaii. In contrast to the book on which it is supposedly based, the picture goes to absurd lengths to caricature and ridicule one of the early New England missionaries in Hawaii. Anyone who knows anything about the situation soon realizes how unfair this portrayal is. Unfortunately, however, many viewers know little about past missionaries and hardly any more about contemporary ones. The result is that they are unaware of the distortion and are strengthened in the anti-missionary bias that is now prevalent. The producers of the picture are no doubt making money, but they are doing harm by fighting the wrong battle at this time.
If we are to be truly conscious of what time it is, one of the chief facts we must know is that, so far as the Christian religion is concerned, we are in the post-denominational age. The person who spends his effort attacking denominationalism is fighting a battle of another period. Denominations, as we know them, are not evil; they simply are not very important! There is no harm in their continued existence, and they may do some good that would not be done otherwise. But they are no longer in the central Christian stream; they occupy the side channels. It is as inept to condemn the side channel as it is to spend one's life limited to it. Strong denominational loyalty and bitter attacks on denominationalism are equally out of date.
It is important to remember that denominations as we know them are only about 400 years old at most. The period of denominational usefulness and manifest strength is only a fraction of Christian history—a fraction that has already come to an end. The external forms of denominational activity will undoubtedly continue to exist for quite a while as vestigial elements in our culture, but people will be less and less interested. When people move from one neighborhood to another, they now change their denominational affiliation with ease and with no agony of decision. Even the line between Roman Catholics and Protestants is being crossed and re-crossed with ease, as the differences become less apparent. One reason is that Roman Catholicism has at last become one of the denominations.
I hope no reader will suppose that this essay is one more effort to beat the drum for church union. I realize that we shall have some more mergers, but the times have changed so rapidly that these are no longer matters of major interest and concern. After all, the Church is the people, and the people are the same, regardless of the label on the bulletin board. Union can overcome duplication in villages, but villages are not where most of the people live today. Despite a good deal of talk about mergers, the main thrust of our time has been toward renewal rather than unification.
A Christian who tries to know the time of day will usually retain his denominational affiliation while at the same time he puts his major effort into the new movements that are really on the Christian frontier in this last third of the twentieth century. I myself am a Quaker both by heritage and by conviction. My family has been Quaker, without a lapse, for more than three hundred years. Earlier this year I visited the town in Lincolnshire that was the residence of Arnold Trueblood in 1658 when he died in prison as a persecuted Quaker. Denominational loyalty was not a side eddy then; it was a matter of both intensity and power, and I thank God for it. We know a great deal about the declining importance of denominations when we realize that, while men were martyrs for denominational ideas three hundred years ago, today the idea of such martyrdom is fantastic.
What I want to make clear is that my heritage is one for which I shall always be grateful and to which I shall always adhere. But I cannot be loyal to it if I am loyal to it alone! Although I take my Quaker membership seriously, my purpose is to mingle constantly with Christians of all denominations or of none, in the effort to put my energies where the real battles of our time are found. The membership is necessarily of the part, but the concern is for the whole.
Most of the Christians whom I most respect today recognize clearly that it is the total cause of Christ to which they are loyal. They do not know how big the Church of Christ is, but they at least know that it is bigger than their particular church. They are not, for the most part, arguing for one great monolithic ecclesiastical structure, but they are humble enough to try to learn from one another. They realize that no group has a monopoly of truth. They are perfectly willing to allow their denominational affiliation to stand, but they know it is out of date to get excited about it. A man who is visibly enthusiastic about his denomination is now obsolete, so far as the main thrust of Christianity is concerned.
As we move further into a time in which the denomination is neither an idol nor a target of attack, our major effort should be to envisage the new forms the Christian movement ought to take. Some of these we dimly see. For example, the Christian task force may come to be a standard unit in our operation. The basic Christian fellowship may be that in which the members see themselves as missionaries rather than those who merely support missionaries. The promotion of the general lay ministry is more important than the promotion of any particular denominational viewpoint and, fortunately, is consistent with any. The new evangelical theological stance, which is marked by a union of mind and heart, transcends all sectarian lines and is far more important than those lines. The last third of the twentieth century is an exciting time in which to live, provided we know what time it is.
Milton D. Hunnex is professor and head of the department of philosophy at Willamette University, Salem, Oregon. He received the B.A. and M.A. degrees from the University of Redlands and the Ph.D. in the Inter-collegiate Program in Graduate Studies, Claremont, California. He is author of "Philosophies and Philosophers."
Have something to add about this? See something we missed? Share your feedback here.
Our digital archives are a work in progress. Let us know if corrections need to be made.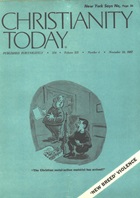 This article is from the November 24 1967 issue.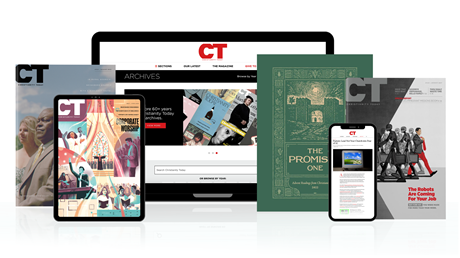 Annual & Monthly subscriptions available.
Print & Digital Issues of CT magazine
Complete access to every article on ChristianityToday.com
Unlimited access to 65+ years of CT's online archives
Member-only special issues
Subscribe
Post-denominational Christianity
Post-denominational Christianity