"He used to be a missionary!" the woman whispered, pointing to the new pastor. The implication was evident. He was obviously a failure because he had not stayed and died on the foreign field.
The three-year military man comes home a hero; the two-year Peace Corps volunteer, a traveled practical idealist; the businessman returning from an overseas stint, an adventurer; the Foreign Service officer, a credit to his country. But the returning missionary is looked upon as a failure, though he may have given a dozen of his best years overseas in the cause of Christ.
As some of my young missionary friends prepared to leave the field for good, my heart went out to them. I knew what they would have to face at home. They could not say simply that "our health broke down," or that "missionaries were expelled from the country." Their reasons for leaving were much more complicated; they themselves could hardly express them.
While on furlough I tried to find out why many missionaries did not return to the field after their first term of service, or did not even finish the first term. Many of the former missionaries whom I questioned seemed to be attempting to cover up what others had conveyed to them: they were spiritual failures. Because of their defensiveness, I felt my study would have to be made indirectly.
One of the few sources of psychological studies of overseas personnel I found was a recent unpublished report of Peace Corps psychologists. I studied this material, on the assumption that the problems of missionaries were in many ways similar to those of Peace Corps volunteers. The Peace Corps findings underlie the analysis that follows.
Missionaries who give up and go home do so for a variety of reasons. I want to deal here with only one, a condition we might call "cultural shock," or "cultural fatigue."
The missionary seems to pass through three main crisis periods: the crisis of selection, the crisis of engagement, and the crisis of acceptance. In the crisis of selection, the prospective candidate faces the realities of his emotional make-up, his personality strengths and weaknesses. If he feels capable of becoming a missionary, he makes a commitment to God and also to his friends and his church. Although mission boards may see serious personality weaknesses in a candidate, rarely do they turn anyone down for this reason. They tend to assume that if the candidate is "called of God," he will be able to adjust. But this is not always so. Many missionary volunteers are traveling to the field on youthful dreams or parental pressures, rather than on a firm and realistic commitment. A young person from a Christian home who has attended Christian schools, perhaps even graduated from seminary, may still not have a tried and proven faith.
After the candidate has passed through the crisis of being selected as a missionary, raising funds, doing deputation work, and going through orientation school, he may feel ready to face anything. After all, wasn't he called by God to serve? If one tries to talk to him about the emotional and cultural problems he is almost certain to face on the field, he may reply indignantly, "I won't have those problems—they warned us about those in orientation school." But many who have this confidence later experience "cultural shock" on the field, to their own surprise and frustration.
After a missionary arrives on the field, two crisis periods may occur. First is the crisis of engagement. During his first weeks, the new missionary has great enthusiasm and wants to accomplish all kinds of things; but he may be met by apathy and distrust. This causes him a great deal of anxiety, and after several months he may enter a period of depression.
During this time he is struggling with the language, and he may feel that as soon as he can speak well, his problems will pass. One candidate explained it by saying, "I wanted to set this country on fire for the Lord but found that I couldn't even ask for a match." But by blaming the problem on language, the new missionary has only postponed making the real adjustment in personality needed on the field.
The third period of adjustment for the new missionary is the crisis of acceptance, which comes after he has been on the field for about a year. By then the romance and adventure have almost vanished, and the full impact of living in a totally different society hits the newcomer. The till now latent conflict of cultural shock now expresses itself forcefully. It is a period of psychological let-down. He had expected his hard work to be greatly appreciated, but now he realizes that the host country places a different value on work than he does. This may cause him to feel foreign, unaccepted, not understood, alienated from the people with whom he is working. Successful relationships with these members of a culture very different from his own require new attitudes, new patterns of response, new techniques—and these he has not developed.
The missionary easily sees all this stress and turmoil as spiritual failure, rather than as a conflict between his personality and the alien culture. He may write home to his Christian friends for solace. But instead of comforting him they may express their disappointment, and chide him for not being victorious over his problems. In time his relations with the nationals and with fellow missionaries become greatly strained, and his sense of isolation deepens. Things that once seemed romantic and exciting—the different language, different sounds and smells, different ways of responding and thinking—now seem only strange and threatening. Yet he dare not be frank in expressing any of this; missionaries aren't supposed to have such feelings, he thinks. He feels he is failing as a Christian example, and guilt compounds the problem.
If the missionary returns home at this stage, without adjusting to the cultural shock, without coming to terms with the changes in attitudes and behavior that life in this new culture demands, he will probably never come back to the field.
Yet it is possible for him to work through these crisis periods—by adjusting and accommodating bit by bit until he accepts new ways of interacting with others. Gradually he can come to feel at ease in a strange culture, and then to go on to the point of being able to praise it. It has been said that no one really knows a culture until he can praise it.
What conclusions can we draw about this matter of cultural shock? (1) Although orientation before leaving the homeland is helpful, counsel is needed most during the crisis periods on the field. Missionary leaders should be more sensitive to this, more ready to help. (2) Homeland supporters should be sympathetic about the new missionary's problems in cultural adjustment and should pray specifically about this area. (3) A missionary who leaves the field should not be assumed to be lacking spiritual fervor. It may well be that in his psychological makeup he cannot make the necessary accommodation to the culture. Like Mark, he may return to Jerusalem without completing his term. But he should not be considered a failure. God always has other areas of service for his children when one area closes. (4) A missionary should not be considered stronger and more spiritual than everyone else. He needs to be accepted as a weak human being, just as we all do. This acceptance makes him better able to make the adjustment necessary on the field. For him to feel he must live up to an ideal image in the minds of his supporters only increases his problems as he tries to accept his new role in an alien culture as a man among men.
Have something to add about this? See something we missed? Share your feedback here.
Our digital archives are a work in progress. Let us know if corrections need to be made.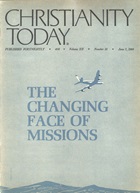 This article is from the June 7 1968 issue.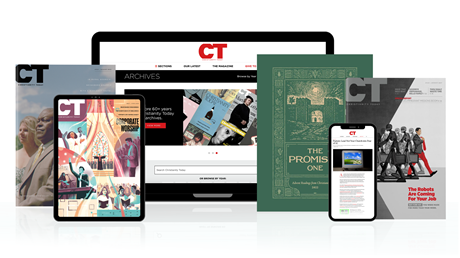 Subscribe to Christianity Today and get access to this article plus 65+ years of archives.
Home delivery of CT magazine
Complete access to articles on ChristianityToday.com
Over 120 years of magazine archives plus full access to all of CT's online archives
Subscribe Now
The Missionary and Cultural Shock
The Missionary and Cultural Shock