Three years ago i had an assignment that took me entirely around the world—first to Japan, then Korea, Taiwan, and Hong Kong, on to Europe, and finally to New York and home. During this trip I did my best to carry out my task effectively. But in the back of my mind there was always a lurking longing for home and for loved ones and friends. I was anxious to get back to the place where I belong, where there is always a loving welcome, where I am comfortable and at peace.
Has the Church lost its sense of home, so to speak—of man's ultimate destiny? Have Christians forfeited their rightful anticipation of heaven? Are we so concerned about making this world a "better place to live in" that we forget the Bible's admonition, "Here we have no lasting city, but we seek the city which is to come" (Heb. 13:14)? Do we think that the Son of God came into this world primarily to reconcile man to man, rather than to redeem man from his sins and make him fit for heaven?
The activities of many suggest that our world is permanent, and that man's tenancy is permanent. But that is not so. We live in a world dominated by sin and dying of it, and the Christian's witness is not primarily about what is seen and temporary but about what is not seen and eternal.
"Some people are so heavenly minded that they are no earthly use," we've heard. Perhaps so. But there certainly are many others who are so anxious to be where the action is that they overlook the place where the greatest "action" of history took place—the Cross of Jesus Christ.
Why shouldn't the Christian think of and look forward to heaven? The earth and our bodies are temporary; heaven is home. Christ makes it plain that his primary objective in coming into this world was to "save" and to give "eternal life." It is one of the strange vagaries of our day that talk about salvation, heaven, and eternal life is, generally speaking, passé. Could it be that Satan has blinded the eyes of the world to the transcience of this present life and to the fact of a life after death to be lived somewhere, eternally?
Jesus said his Father is in heaven. He said that no man can come to the Father but by faith in him. He repeatedly spoke of eternal life and the necessity of being prepared for it. He made it plain that sin separates us from God, now and for eternity. He affirmed that the transition from a perishing state to the possession of everlasting life takes place when men believe in him as the Son of God and Saviour from sin.
Why, or why, is so little said about this from our pulpits today?
I have had the pleasure of visiting many places in this world. There are some to which I would love to return—Palestine, for instance. But there is no place in this world comparable to the heaven described in the Bible—"things beyond our seeing, things beyond our hearing, things beyond our imagining, all prepared by God for those who love him" (1 Cor. 2:9, NEB).
This is not "pie in the sky," as some derisively say. It is a glorious hope, the hope and destiny of every Christian. Why are we so often silent about such a future?
Jesus tells us that there are many "mansions," "rooms," "dwelling places," in heaven. No matter how one interprets the word, the fact is that our Lord is even now preparing a dwelling place for those who are his own, and that it will be our permanent address.
In an editorial republished in the March 18 issue of U. S. News and World Report, Editor David Lawrence emphasizes "The Illusion of Permanence": "The North Atlantic Treaty is temporary. The United Nations is temporary. Peace itself is temporary.… Basically, there is only one permanence we can all accept. It is the permanence of a God-governed world. For the power of God is alone permanent. Obedience to his laws is the road to a lasting solution of man's problems."
Down through the centuries the hope of heaven has rightly been the stay of believing Christians. The Apostle Paul speaks of the bleakness of any faith in Christ confined to this life.
And the Apostle John gives us a vision of what heaven will be like. Obviously, no words can adequately describe it. The new heaven and new earth will be perfect. Sorrow, death, crying, sickness, death, mourning, pain—all these will be gone, and the joy of the Lord will be in every heart.
God—the Father, Son, and Holy Spirit—will be there, and because of his presence there will be no need of the sun. Nor will there be any night. There will be nothing unclean or false, for we will be in the presence of the holiness of God himself.
This is no plea that Christians sink back into a meaningless life of mere anticipation. Our knowledge of such a glorious future should be reflected in the lives we live right now.
Jesus came into the world to make this glorious future possible, and he is coming again to make it a reality. "The Lord himself will descend from heaven with a cry of command [reminiscent of, 'Lazarus, come forth'], with the archangel's call, and with the sound of the trumpet of God. And the dead in Christ will rise first; then we who are alive, who are left, shall be caught up together with them in the clouds to meet the Lord in the air; and so we shall always be with the Lord. Therefore comfort one another with these words" (1 Thess. 4:16–18).
Surely we should give this hope the emphasis due it. This does not blind us to the necessity of caring for the material needs of the unfortunate; rather, it gives meaning to all acts of Christian compassion, for it looks beyond the temporal to the eternal implications of the Christian faith.
Christians should be in the vanguard of those who are working to alleviate suffering and sorrow; but theirs is a double ministry—to the body and to the soul. They should make it clear that their service is done in the name of Christ and for his glory.
All honor is due those who are personally engaged in human relief. It is the duty of every Christian to recognize such work as both legitimate and essential in the total witness of the Church. But let us be sure that it is recognized as a means to an end and not as the end in itself. The ultimate goal of the Christian lies beyond the horizon of human experience.
I have known some who had everything this world has to offer but who still were utterly miserable. They had no joy in the present, no hope for the future. I have also known many, here and abroad, who had only the barest necessities of life but who nevertheless had joy in the present and complete confidence for the future.
The Church must emphasize this future joy as man's ultimate destiny, through Jesus Christ our Lord.
Have something to add about this? See something we missed? Share your feedback here.
Our digital archives are a work in progress. Let us know if corrections need to be made.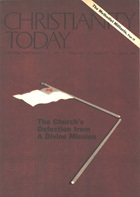 This article is from the May 24 1968 issue.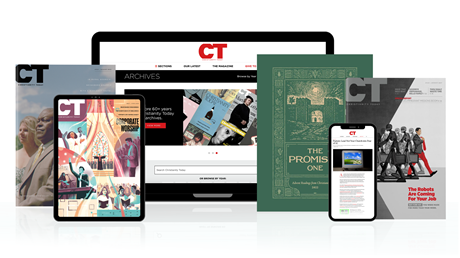 Subscribe to Christianity Today and get access to this article plus 65+ years of archives.
Home delivery of CT magazine
Complete access to articles on ChristianityToday.com
Over 120 years of magazine archives plus full access to all of CT's online archives
Subscribe Now
The Hope of Heaven
The Hope of Heaven