Exponents of the Christian world view, stressing God's intervention in the lives of sinful men through Jesus Christ's mediating presence and atoning death, often do little more than define humanity's miasmatic condition.
For all who by taking thought would seek truth, the persisting puzzle of this world arises from the traces of order amid seemingly illogical chaos. But because Christianity has not always given a clear explanation of this order, and this chaos, it has often faced formidable challenges from competing secular attempts to explain reality.
For centuries the outstanding challenger was humanism. Here Christianity reacted not so much by articulating an alternative view as by rejecting both the challenge itself and (by implication) the world. John Bunyan's pilgrim portrays this response; Christian makes his perilous way through sloughs, past obstacles, around temptations. Along with the King James Version, this flight from the world has been the stock in trade of practical and practicing conservatives ever since humanism threw off its medieval chains in reviving antiquity's love of understanding man as he is.
Today scientism is thought by many to have replaced humanism as the major competitor of the Gospel. Orthodox Christianity has always had an intellectual element that sought the right to understand the mechanics of the universe, God's morally neutral handiwork. Many non-believers, however, viewed physics as a way of speaking of purpose, and the legitimate study of the universe as a showplace for God's glory became in secular life an attempt to express the meaning of reality, apart from God and from theological concepts derived from Scripture.
A series of trials made their changes and took their toll. Christians who could withstand the Scopes case found it increasingly difficult to withstand the combined invasion of television and the Great Society. And Christians today are unable to cope with a scientism founded, freed, and fostered by that very Christian world view that raised the initial inquiry into God's material handiwork.
There are many reasons why scientism has edged out humanism as the major threat to the Christian faith. One is to be found in science itself. For the traditional classification, analysis, and description of examples of phenomena, science is rapidly (if only partially) substituting computerized quantitative analysis of all phenomena. This involves physical and chemical analysis, mathematical models, simulation, and above all the projection of predictability, based upon at least a partial understanding of physical processes and why they operate as they do. These changes have left science not only more capable of developing by design instead of discovering by accident, but also in a position to distribute its analytical techniques, particularly in quantitative studies, to many if not all other areas of intellectual inquiry. Moreover, the automated ability to consider and collate all instances of a phenomenological series has tended to set the pace for sophisticated analysis even in the traditionally humanistic fields.
The result of these developments has been to leave man with a sense of control over his environment far beyond what he was able to have in the past. A heady brew, this, for those who seek mechanisms in all phenomena, even though it occurs in the face of acute awareness that progress in human relations has not kept pace with scientific progress.
Unlike humanism, however, science has not actually produced a world view to challenge that of Christianity. While progress in science may produce scientism, science itself has not really done any more than raise the inquiry into God's handiwork—for those who see it thus—to the next higher plateau of research. True, it has explored the physical universe. But the ultimate physical truth seems as recessive behind two hundred or so subatomic particles as God himself has been recessive behind the façades of human religious institutions.
The world is still a place of mystery, little relieved by the prospect of having visits to the Moon and Mars added to its enigmas. The mind of man is still a jungle in which the sudden drives of perversity lurk, to be triggered as always by the threat of forces from without. Volition and motivation, always unhappy hunting grounds for the academician, remain unpredictable—as one suspects they might have to be if free will is to be kept inviolate. If this is so, there is again opportunity to develop a new Christian world view, consistent with the abiding mystery of the universe and man and with the contemporary changes in man's hesitantly arrogant power to control.
What ought such a view to be? If the world is still the place of darkness referred to by the Apostles John and Paul, a realm in which physical science races ahead of human nature, then a Christian world view adequate to the times must not merely explain the world to the world but also show Christians that existence in the world is necessary and palatable. In the process, the "hope that is within" us may become relevant to non-Christians, too.
This notion, however, requires sharpening. The attempt to define faith in terms of reason shares the difficulty of adding oranges to apples. Faith holds that God has distinct and, to some extent, knowable policies and intentions in relation to man, and holds also definite views regarding sin, righteousness, and judgment. Even when faith asserts only that God exists, is personal, and is the Creator of an unlimited and perhaps infinite universe, it lays claim on infinity. If it avers that ultimate reality is now obscured as though seen through a clouded mirror, but will someday be revealed to those who spend eternity with God, faith purports to apprehend in part what reason could never acquire short of attaining omniscience.
In this sense, Christian faith shares something with its alternatives, such as belief in other religions, in progress, in dialectic materialism, or in human perfect-ability, or absorption in a whole spectrum of emotional crises arising from triumph, trauma, or perhaps LSD. Christian faith and each of its substitutes supply an order to varying degrees of chaos whose significances are only subjectively defined and measured.
An important virtue of the Christian world view has always been that its logical consistency was generally of a higher order than that found in its alternatives. A greater virtue is that it has been able to produce stability in human social order when allowed to operate free of human, over-institutionalized interference. Congolese rebellions, Chinese intransigence, the Soviets' ambivalent consideration for individual rights can, as did their earlier counterparts, encourage any Christian to match results with the apostles of atheism. But the greatest virtue of all has been the ability of Christianity to provide answers to the unpredictability of the human heart through the love and grace of God revealed in Scripture—an escape available, very importantly, for its claimants while they are still in this world.
Could we begin again to devise a world view consistent with Scripture and also relevant to new turns taken by the modern, assiduously intellectual world?
As important as are confrontations with scientific triumph, massive research and development, and high social crisis, faith is not faith, but only reason, if it does not stand above and beyond these things. Biblical faith is in this position, but all other kinds of faith share this property.
Given, to this extent, a common problem between faith and reason, all theology faces conceptual difficulties. A theology that is founded solely upon the notion that God exists but that is divorced from its right of discovering revelation by personal contact, from Scripture, and from enlightenment of the Holy Spirit, comes very close to being what mathematics calls a null set. Such theology seems to have compassed the circle back to a kind of sophisticated, jargonized neo-Platonism. Where but in pantheism, submergence, or no-theism can one historically find a depersonalized, demythologized, deactivated God? The "death of God" theorists have indeed with a neat turn of phrase performed a service in putting such a god out of his misery.
Could we, then, begin again to devise a world view consistent with Scripture and also relevant to these new turns taken by the modern, assiduously intellectual world? Our Lord spoke of Christians as the salt of the earth. They were to be an active and pervasive principle, and indeed they have been in many periods of history. In our day Christians can articulate a world view by giving meaning to the unpredictable in man in the context of divine grace, and by providing a basis for morality consistent with new challenges and drives, but soundly based upon equity, consideration for others, and preservation of the individual's option for choosing the good.
In a world where logic and intellectual honesty are the stock in trade of research and development but operate much less in international relations and in attitudes toward inequities and personal problems, a Christian world view may not be able to chart the proper course and persuade all participants. But it has a great deal more to say, and much to do by way of charity, than it has said and done in the past. Grace and unearned love always startle the world. They have always been the major selling-point for the Gospel because they always mark their practitioners, earn regard from the uninterested, and attract those who recognize their own need of the Physician. They can be made to operate in the intellectual community as well as anywhere else.
Have something to add about this? See something we missed? Share your feedback here.
Our digital archives are a work in progress. Let us know if corrections need to be made.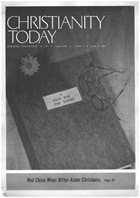 This article is from the October 11 1968 issue.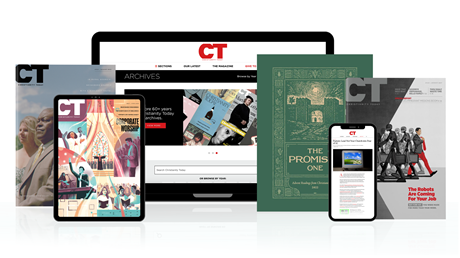 Subscribe to Christianity Today and get access to this article plus 65+ years of archives.
Home delivery of CT magazine
Complete access to articles on ChristianityToday.com
Over 120 years of magazine archives plus full access to all of CT's online archives
Subscribe Now
Christians in the Academic Arena
Christians in the Academic Arena