Among those feeling their lumps as a result of campus disturbances at San Francisco State College are two clergymen whom police clubbed and arrested on riot charges: Lutheran campus pastor Gerald Pederson, 43, and Methodist Claire Nesmith, 50, father of two State students. Demanding jury trials, the pair said they and other ministers intended only to prevent violence by "both sides."
Churches and preachers have figured prominently in the strife-pocked dispute over militants' insistence that the campus be closed down until fifteen "non-negotiable" demands are met, including creation of a black-studies department (under way), virtual student control over curriculum and policies, unlimited and unqualified enrollment, amnesty for strikers, and others.
Ecumenical House, a joint campus-ministry center located across the street from State, has been the scene of much strike and police activity. Acting college President S. I. Hayakawa called it "a staging area for revolution." Militants representing the Black Students Union, Students for a Democratic Society, Third World movement, and other groups had made the house their headquarters. But complaints from neighbors and from irate church members to denominational executives pressured the campus ministry's board to cancel such house use. Strike leaders then moved downtown to Glide Methodist Church, where activist Cecil Williams, a vocal black backer of the strike, is pastor.
All the campus ministers expressed sympathy toward the strike, even though only a fraction of the school's 18,000 students (less than half of whom are fulltime) voted for it. Says Presbyterian staffer John Clinton Jones: "State is a microcosm of America's urban problems; students want self-determination, and they ought to get it." A pacifist, he says he opposes student violence but understands "why it occurs."
The campus clergy, in opposition to the open campus policy of Hayakawa, obtained the use of a dozen nearby churches for scores of off-campus classes, attended mostly by strike sympathizers. Ecumenical House served as communications center. Several pastors and church boards later decided to support Hayakawa, however, and they ousted the classes. American Baptist Magnus Berglund told reporters, "We are for law and order."
Jones and his colleagues accuse college trustees of choosing Hayakawa, a noted semanticist and a respected friend of the black community, for the purpose of political manipulation and to divide the blacks.
It is no secret that many black leaders deplore the headlined agitation by the mostly white SDS and other radical groups in the name of black causes. One committee of black Baptist ministers issued a statement urging black students "not to allow their needs and grievances to be exploited by radical students of any color who are more interested in destroying our society than they are in the needs of Black America." They went on to observe that "most of the violence … has not been perpetrated by black students. As pastors speaking for a sizable majority of black San Franciscans, we repudiate the tactical violence and disruption for the sake of disruption." Reportedly, several of the ministers later received threats.
One of the petitioners was F. D. Haynes, pastor of the 5,000-member Third Baptist Church, who invited Hayakawa to read some poetry at a service. Afterward, Haynes and police had to rescue him from obscenity-shouting militants outside the church. (The Hayakawa family maid is Daisy Roseborough, a Bible institute graduate and a member of Third Baptist. She has organized a church group to pray that her employer, who has no religious affiliation, will be "led to Christ" and helped through the crisis at State.)
Hayakawa blamed the disruptions in part on "drugs and outsiders." One outsider who was there until his flight from law officials was Eldridge Cleaver, Black Panther leader. Cleaver and key strike leaders carried and quoted from little red books containing the philosophy of Mao Tse-tung, and on television they lauded Che Guevara as their hero-example. (Cleaver relates in his book Soul on Ice that because of discrimination at Protestant services in San Quentin prison he decided to be baptized into the Roman Catholic faith. Cleaver's brother Henry—an employee of Fuller Theological Seminary—claims, however, that the entire Cleaver family became Catholics in the Midwest much earlier.)
Black physician Carlton Goodlett, publisher of the Sun-Reporter newspaper and a member of Third Baptist, was also arrested as a campus agitator. According to his former wife, Goodlett has made several Soviet-financed trips to Moscow, and his paper has editorially called for roof-top sniping and "guerilla warfare" in the streets.
Nesmith concedes that anarchists and revolutionists are "at work" but says they must be "robbed of their issues" by administration capitulation to "legitimate demands."
Indeed, Hayakawa declared that implementation of some demands was "long overdue," and he put corrective machinery in motion. But he pointed to a "limited budget," and he refused to budge on other demands he termed "unreasonable." State sociology professor Frederic Terrien said, "He is the first man in a decade on this campus to say 'no' to anyone about anything." The ensuing tension and violence spilled over onto college and high-school campuses throughout the Bay Area.
A poster in Ecumenical House depicts a black couple aiming weapons, and its caption pronounces, "The only ultimate solution is black revolution."
That poster, says Jones, is to be interpreted symbolically.
Miscellany
U. S. Representative John B. Anderson, 46, an Evangelical Free Church layman from Illinois, was elected conference chairman—third-ranking post among House Republicans.
The Churches of Christ "Herald of Truth" is the first non-Catholic religious broadcast permitted in Spain. Swiss churches dropped a ten-year project for an international Protestant station in their nation, feeling that Trans World Radio in Monte Carlo meets the need.
Greater Europe Mission will establish Scandinavian Bible Institute in Säffle, Sweden.
In a TV debate with an Episcopal and a Catholic clergyman, Publisher William Loeb of the Manchester (New Hampshire) Union-Leader said ministers are being used by Communists. Loeb's debate partner was refugee pastor Richard Wurmbrand, who displayed chest scars from a Red prison.
Seminary Professor Alvaro Carino, 60, is the first Filipino president of the Lutheran Church in the Philippines. He was a leader in getting the Lutheran Church-Missouri Synod to enter the field in 1946.
Pope Paul VI is summoning an "extraordinary" Synod of Bishops to meet in Rome beginning October 11. Observers interpreted the move as the pontiff's reply to criticism that the Vatican has not adequately put into application the principle of collegiality or joint consultation.
The 40-year-old dean of Bergen Cathedral in Norway was named the first bishop of a newly created diocese in the Lutheran state church of Norway. Dr. Per Lönning is the youngest bishop in Norway since the early 1800s. In the voting he defeated 55-year-old Rector Bjarne Odd Weider, who had been the favored candidate.
A study prepared for the Lutheran Church in America calls for radical changes in communion and confirmation practices. It recommends admission of children to communion at the fifth-grade level, but delays confirmation until the tenth grade.
The Orthodox Church in Greece has done away with passing the traditional collection plate. Archbishop Ieronymos, primate of the Greek church, said collections would be permitted for specific purposes only, following instructions from the hierarchy, but not during services.
Stock valued at nearly $700,000 was donated to Baylor University to help build a communications center to house the school's departments of journalism and oral communications. The new building on the campus of the Baptist school in Waco, Texas, will be named in honor of the late Jack Castellaw, son of the donor, Mrs. Janie Castellaw of Denton, Texas. Young Castellaw was killed along with nine members of the Baylor basketball team in a bus accident in 1927.
A new Pentecostal Bible college has opened in temporary quarters in Brussels, Belgium, under sponsorship of the Assemblies of God. Negotiations are under way for the purchase of property upon which a new physical plant will be built. The school will be known as Continental Bible College and is expected to draw students from some 2,000 Pentecostal churches throughout Europe.
The American Friends Service Committee (Quaker) says it has sent the first consignment of a $25,000 shipment of procaine penicillin to civilian war sufferers in areas of South Viet Nam controlled by the Viet Cong. AFSC officials said it was the first time in the committee's fifty-year history that the agency has made such a shipment without U. S. government approval.
Acting President Albert Huegli, 55, of Valparaiso University, an Indiana school related to the Lutheran Church-Missouri Synod, was elected president. A political scientist, he was on the Oak Park, Illinois, city council while graduate dean at Concordia Teachers College.
The National Council of Churches made two top racial appointments: downtown Detroit Episcopal rector Robert Campbell Chapman as NCC director of racial justice, and Episcopal layman Owen Brooks as new head of the Delta Ministry in Mississippi, where Brooks has worked for four years.
Dr. Hollis F. Abbott was elected general director of the World Gospel Mission with headquarters in Marion, Indiana. He is a former missionary to India. Abbott succeeds Dr. George R. Warner, who held the post for thirty-three years.
American Lutherans have pulled out of a project to build a $10,000,000 beachfront campus in the Bahamas. The ALC's Board of College Education withdrawal vote was attributed to legislation requiring government approval of educational institutions in the Bahamas. The legislation was enacted after the Lutherans had initiated a feasibility study. Some $4,730,000 accumulated in fund-raising projects will be returned to donors.
Attraction to marriage is the single most important deterrent keeping young people from becoming priests, nuns, and brothers, according to a survey of some 80,000 Roman Catholics in the Minneapolis-St. Paul area.
Lutheran World Federation officials are trying to head off Israel's plan to build on land owned by the LWF in the Jerusalem sector formerly under Jordan's control. Shots were "accidentally" fired in one confrontation with Israeli soldiers.
Israel's cabinet rejected a court proposal to eliminate legal links between Jewish nationality and religious affiliation.
General Secretary Eugene Carson Blake of the World Council of Churches urged Israel to permit immediate return of refugees to their homes on the Jordan's west bank.
The Lutheran Church of Australia was issued a license to sell beer on an aboriginal reserve to curb illegal liquor traffic.
The Canadian Council of Churches told the federal government it opposes legalized lotteries on moral, religious, economic, and social grounds.
San Francisco Theological Seminary (United Presbyterian) and the University of the Pacific were given a "substantial" cut of royalties from an Arabian offshore oil field.
Greek Primate Ieronymos reported the nation has 1,500 Orthodox parishes without priests.
Canadian Anglican Primate H. H. Clark promised he'll consider the denominational paper's urging of an end to closed bishops' meetings, and limited terms for bishops.
A Virginia court appeal claims the state law against cross-burning is an unconstitutional restraint on free expression.
Just one week after The Evangelical Alliance Mission radio station switched to a new antenna on the Netherlands Antilles, the old antenna collapsed. "God's timing," remarked station manager Jim Pietsch.
Two Roman Catholic priests and one nun now work on the NCC staff, and the council's news bulletin recently listed a wide variety of joint projects among its agencies, including Church Renewal, Church and Community, worship and art, Faith and Order, Town and Country, Religion and Race, and Social Welfare. And when the Catholics get their end organized, the Department of International Affairs will be added.
Presbyterians in Ghana, citing the United Nations rights declaration, opposed a government report urging secular control for all schools and colleges.
Have something to add about this? See something we missed? Share your feedback here.
Our digital archives are a work in progress. Let us know if corrections need to be made.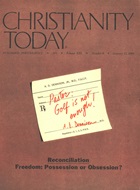 This article is from the January 17 1969 issue.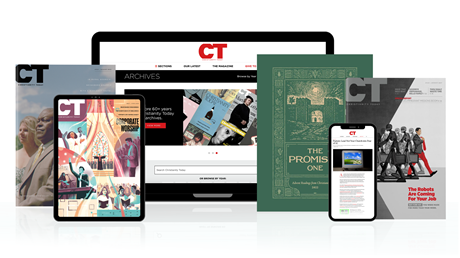 Subscribe to Christianity Today and get access to this article plus 65+ years of archives.
Home delivery of CT magazine
Complete access to articles on ChristianityToday.com
Over 120 years of magazine archives plus full access to all of CT's online archives
Subscribe Now
Campus 'Ministry' Goads Strikers
Campus 'Ministry' Goads Strikers