Much time, ink, and mental energy is expended these days on the polarization in various church bodies between evangelism and social action. Some say there is really no question, since evangelism and social action are two sides of the same coin. They tell us the Church has concentrated too long on the vertical man-to-God relationship and is now beginning to catch up on the horizontal man-to-man relationship. So today the watchwords are Relevance and Involvement, and we are getting more excited over Lazarus in his poverty than over Dives on his way to hell. Some are for putting the robe on the prodigal while he is still feeding swine, killing the fatted calf for a generation still feeding on husks. They seem to have forgotten that the prodigal was rehabilitated after he returned to the Father.
But there is a true social involvement for every Christian, and it naturally derives from his commitment to Christ as Lord. My father was an old-fashioned Christian who probably never heard a sermon on the social implications of Christianity, but he worked hard for better roads, better schools, cleaner politics. He did not wave a placard and join a demonstration, but his religion was expressed in all his contacts. I often think of him when I hear people today talk as though nobody ever thought about a Christian's obligations in society until they came along.
The most basic problem today, however, is not evangelism and/or social action. Neither of these will be any better than the people engaged in them. A sick church cannot help a sick world. The first item on the agenda now is repentance and renewal within the church. A healthy Christianity will issue in evangelism and a powerful impact on society. We are trying to propagate a weak, anemic Christianity. We have confused average Christians with normal Christians and have filled our churches with the average kind, subnormal and sickly. We must have healthy Christians, men so yielded to Christ and filled with the Spirit that there will be a mighty inflow of divine power that will overflow into every area of life. Only repentance and revival can revitalize our churches. Until that happens, we will have one group compassing sea and land to make more proselytes of the kind already too numerous and the other promoting a truncated social program under religious auspices. Neither evangelism nor social action will amount to much until there is a change in those trying to do them. Except we repent, we will continue to be split into evangelism and social-action camps, ranting at each other instead of admitting the needs we all have in common.
What transcends both evangelism and social involvement is the Spirit of God moving into and through yielded lives, a divine current that gives everything it touches either a charge or a shock. We might as well try to run a factory on a flashlight battery as to undertake the mission of the Church on mere human energy and enthusiasm. Like a huge electric sign with letters "out" or quivering because of poor connections, our witness today is weak, and the world cannot read our message.
Something might happen if Christians stopped wrangling and turned to God in holy desperation. I do not mean a formal day of prayer arranged by a committee, with maybe the mayor on hand to make a speech. What is needed might happen if some of our august conventions could forget the order of business long enough to attend to what is really our most important business just now and try God's formula—humbling ourselves, praying, seeking his face, and turning from our wicked ways. We quote that verse often, but somehow we don't get around to doing what it says.
We seem to have the idea that all we need to do is start a drive, put on a kickoff supper, make a few rousing speeches, flex our muscles, and plunge into an evangelistic crusade or a social program. But it is not as simple as that. The average church member today is not ready for evangelism, witnessing, social involvement, or any other enterprise. There must be a radical inner renewal before we are ready to do the Lord's work. Like Ahimaaz after the death of Absalom, we want to run before we are ready. But if we do, we will find on arrival that we, like Ahimaaz, have no tidings and can report only a tumult. Isaiah was not ready to say "Here am I" until he had first said "Woe is me!" Such a confrontation with a holy God is the first primary need in the Church today. Except we repent, we shall all perish.
Have something to add about this? See something we missed? Share your feedback here.
Our digital archives are a work in progress. Let us know if corrections need to be made.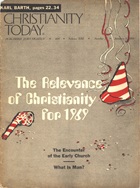 This article is from the January 3 1969 issue.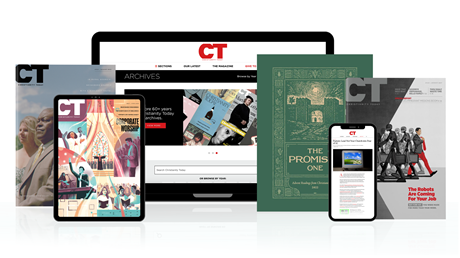 Annual & Monthly subscriptions available.
Print & Digital Issues of CT magazine
Complete access to every article on ChristianityToday.com
Unlimited access to 65+ years of CT's online archives
Member-only special issues
Subscribe
Except We Repent
Except We Repent