There was a time when the word "obey" was included in marriage vows. The husband vowed to love and honor his wife and she vowed to love, honor, and obey her husband. The vow of obedience was based on Ephesians 5:22 and First Peter 3:1, where wives are commanded to be in subjection to their husbands.
The words "submit" and "subjection" in the New Testament come from hupotasso, meaning "to station one's self under another." The word denoted the recognition of superior authority, as illustrated in a Coptic ostracon from Egypt (c. A.D. 600) in which three young men who were candidates for the diaconate wrote to their bishop:
I, Samuel, and Jacob and Aaron, we write to our holy father Apa Abraham, the bishop. Seeing we have requested thy paternity that thou wouldest ordain us deacons, we are ready to observe the commands and canons and to … be obedient [hupotasso] to the superiors.… [Adolf Deissmann, Light from the Ancient East, p. 222].
In New Testament times the position of the Christian wife was similar to that of the three young men. Her husband was the "superior" in the home, and she was expected to be obedient to him.
Today many marriage counselors and pastors regard the vow of obedience as an anachronism. They argue that the husband-wife relationship taught in the Scripture is culturally conditioned. Since it was fitting in Bible times for a woman to be submissive to her husband, they say, Christians were enjoined to follow this principle to avoid scandalizing the non-Christian community.
The Apostle Paul, who says a good deal about the husband-wife relationship, does not appeal to the cultural norm as the basis of his command to the Christian wife to submit—or, it might be added, his command to women in the church to submit to the male leadership. His commands are founded on timeless spiritual principles. For example, in First Timothy 2:11–15 he exhorts the women in the church to learn in all silence with subjection. Why? Two reasons. First, because of the priority of man's creation: "Adam was first formed, then Eve." Second, because Eve was deceived in Eden: "And Adam was not deceived, but the woman being deceived was in the transgression."
Paul sets forth another spiritual principle in his letter to the Ephesians (5:22–33)—the "one flesh" principle of marriage. He teaches that the believer, at the moment of salvation, becomes a member of the Body of Christ. He is brought into an organic union in which he is a member of Christ's earthly body, a body directed by Christ the head, who is in heaven. Paul then draws an analogy. As Christ is the Saviour and Sanctifier of his body, the Church, so the husband is savior and sanctifier of the woman who is united to him in marriage. Just as Christ is the head of the Body, the Church, the husband is to be the head of the union of two people in marriage, who, says Paul, become one flesh as Christ and the Church are.
The one-flesh concept of marriage is derived from Genesis, where Eve was created from Adam's rib. Why from his rib? Why was she not created from the dust of the ground as Adam was? God did not create woman to stand as a second Adam, that is, as a second type of humanity, free to determine her own destiny apart from Adam. God created Eve to be Adam's helper. When he created her and gave her back to Adam, Adam's flesh and bone returned to him, and Eve, finding her fulfillment as Adam's helper, entered into a "one flesh" relationship with him. Paul develops this principle in his theology of Christian marriage. When a man and woman marry they become one flesh. Every time a Christian man and woman are united in marriage, Adam's rib returns to his side.
The Christian woman considering marriage has a serious decision to make. Shall she insist on maintaining a separate independent identity by remaining single, or shall she find her fulfillment as a woman by becoming one flesh with a man, functioning as his helper as did Eve?
If this is indeed the biblical basis for Christian marriage, then it would seem that the marriage ceremony ought to reflect the uniqueness of Christian marriage. Historically this uniqueness was found in the marriage vows of the bride and the groom. While the man vowed to love and honor his wife, the woman was asked to vow that she would love, honor, and obey her husband. Inclusion of the vow to obey, if it is to be meaningful, must be preceded by adequate instruction. The bride must understand that the vow is not ceremonial. In premarital counseling sessions she must be taught the submissive role of the Christian wife. The minister has an excellent opportunity in the wedding ceremony itself to instruct the guests in the uniqueness of Christian marriage.
Women today are less inclined to vow obedience than they were in years past. Deluged by books and magazine articles by advice-to-women experts, modern women view marriage as a partnership in which the husband and wife stand as individuals who maintain separate identities Some women are outraged at the thought of a bride's vowing obedience. Mary Daly in her book The Church and the Second Sex attacks what she feels is the Church's prejudice against women. She says the Church contradicts its moral teachings by harboring "oppressive and misogynistic ideas" about women.
Women need not feel threatened. God has provided safeguards for the woman in Christian marriage. Her husband is to love her as Christ loves the Church—to have her best interest always at heart. What a staggering demand on the husband! He is to love her as he loves his own flesh, for, says Paul, she is his flesh. The Apostle Peter commands husbands to keep in mind that woman is a fragile vessel, and is to be treated as such (1 Pet. 3:7). What is more, she is an heir together with him of the grace of God. Whereas the human relationship of the husband and wife is that of the leader and the led, there is no such distinction in the spiritual realm. The wife is just as much the object of God's grace, just as much the heir of the riches of divine grace, as her husband. The husband who selfishly indulges in the good things God gives and refuses to share with his wife stands in danger of divine displeasure.
Peter's teaching answers the argument that in Christ there is neither bond nor free, neither male nor female. It is true that the male-female distinctions are broken down in Christ; woman is the object of God's grace as much as man. Yet in the organization of the home God has ordained the headship of the man and the submission or obedience of the wife.
When a pastor teaches that wives must be submissive to their husbands in everything (Eph. 5:24), even if the husband does not obey the word (1 Pet. 3:1), women are sure to ask how far they are to go in their submission. They will want to know what they are to do if a husband is cruel or is a violent drunkard.
Both Paul and Peter state the command to submission without qualifications. Peter's use of Sarah as an illustration of obedience is notable since Abraham twice, in order to protect his own life, denied that Sarah was his wife and allowed her to be taken into a ruler's harem (Gen. 12:10–20; 20:1–18). The implication is not that wife should allow her husband to sell her into prostitution if he wishes. But by stating the case absolutely, both Peter and Paul forestall capriciousness in the matter of submission.
Paul recognizes that there are times when a woman must leave her husband for her own protection. But it must be with a view to reconciliation (1 Cor. 7:10, 11). Paul puts the woman in the position of being subject to her husband so long as she lives under his roof. If she cannot be subject to him, then she is to move out.
Adequate premarital counseling can help a young woman avoid marrying a man who is disposed to cruelty. Some pastors use the Taylor-Johnson Temperament Analysis, a psychological test designed to discover unhealthy personality traits. It is highly unlikely that the young woman who thoughtfully selects a husband and seeks adequate premarital counseling will be abused if she vows obedience.
The more realistic issue that she faces is her identity. Is she going to maintain a separate independent identity apart from her husband, or is she going to allow him to reclaim his rib? Many young women are willing to submit to the man they love, and to agree with Shakespeare's Katherina, who as the "tamed" shrew finally came to say:
I am asham'd that women are so simple
To offer war where they should kneel for peace,
Or seek for rule, supremacy, and sway,
When they are bound to serve, love, and obey.
the wedlock of minds
Communication can be called the core of any successful marriage. When you fail to listen to each other and to talk to each other, there is deep trouble ahead.… Love can survive large problems in the open better than small ones buried and smoldering within.…
Thinking together is more important than thinking alike. And talking together about touchy problems indicates true love for each other. Communication puts love into practice.
To communicate means to rise to the level of honesty about money, fears, wishes, motivations, sex feelings, and responses as well as mistakes made, resentments, and misunderstandings.—From Meditations for the Newly Married, by John M. Drescher, pp. 127, 128. Copyright © 1969 by Herald Press, Scottdale, Pennsylvania. Used by permission.
Have something to add about this? See something we missed? Share your feedback here.
Our digital archives are a work in progress. Let us know if corrections need to be made.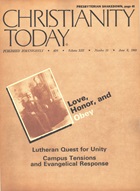 This article is from the June 6 1969 issue.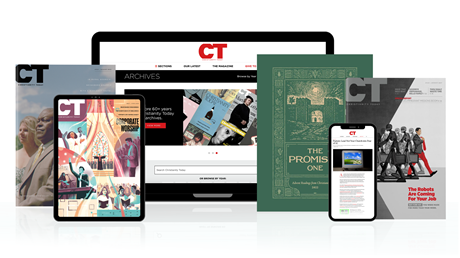 Annual & Monthly subscriptions available.
Print & Digital Issues of CT magazine
Complete access to every article on ChristianityToday.com
Unlimited access to 65+ years of CT's online archives
Member-only special issues
Subscribe
Love, Honor, and Obey
Love, Honor, and Obey