THE EYE OF A CAMEL
Ten years ago the then archbishop of Canterbury pulled off an ecumenical coup. Acclaimed with astonishing unanimity even by the religious competitors of Jerusalem, he repaired to Istanbul and Rome to be welcomed literally with open arms by the ecumenical patriarch and Pope John.
On his return to London, Dr. Fisher faced a press conference at the airport. "What is the most vivid memory of your tour?" asked a newsman. Replied the primate thoughtfully: "Of a camel which looked at me with most ineffable scorn." Sic transit gloria mundi!
Eight years earlier (I am reminded by John Purcell's Fisher of Lambeth) the archbishop had made in Boston another noteworthy statement. Preaching a sermon that was broadcast across the nation, he warned Americans: "If our civilization fails, it will fail because of an atheism no less real because it has not been deliberately chosen, but is the casual result of ordinary people letting their absorption with the cares and riches and bustle of this world shut their eyes to God.…"
He's right in a way, but to pan common folk exclusively is to confirm that the above-mentioned camel maybe knew a thing or two after all. Here was a neat reversal of that charge of obsession with its vast wealth so often leveled against the English church commissioners.
All this came to mind last week as I was reading an irascible outburst in the Vatican's daily newspaper, L'Osservatore Romano. Nettled by some comments in a money-conscious Swiss journal, the authorities huffily stated that Vatican capital is "not even one-hundredth" part of the $12.7 billion suggested. That should fix those who with childlike otherworldliness think you can run a church on Hail Marys.
Fisher's successor at Canterbury, Michael Ramsey, is now quoted as saying that young people were turning to the more contemplative Eastern religions because the Christian Church concentrated overmuch on practical activity. Funny he should make that point. Last year I was in Tashkent, capital of Soviet Uzbekistan. After noticing all the different races thronging the market there, another visitor asked: "Don't you have any race problem?" Said the ubiquitous Intourist guide: "Religion is our real problem." Then she added: "We don't worry about the Christians; they're more interested in progress than religion."
C. S. Lewis in his preface to Screwtape warns against believing everything the devil says is true even from his own angle, but still.…
DAY WITH AN ISSUE
I have spent much of this day reading your September 25 issue, and I cannot suitably express the encouragement and joy I found in "Awakening Ahead?" … Then among your challenges is "Now's the Time to Give." My own position is that any alliance with Satan or those who may be unwittingly his partners is to be avoided. For that reason … I refrain from giving … through my church.
Mineral, Va.
WHEN THE BANNER COUNTS
You have failed to notice the difference in the alliance planned for October 3 ("McIntire's Unholy Alliance," Sept. 25) and that which Dr. Graham has associated himself with. For the October 3 rally, citizens everywhere were called together under the program of restoring biblical morality, Bible reading in the public schools, in support of good government and an honorable peace in Viet Nam. The banners under which these masses of people were gathered were established by Dr. McIntire.… Those of differing theological persuasion were called under the auspices of Dr. McIntire, and hence it was they who were compromising with him and not vice versa.
This is far different from Dr. Graham's participation in the "Honor America" celebration which was promoted by nothing less than the sign of the anti-Christ and marijuana leaves. It should be noted that Dr. Graham joined forces with those who advocate civil disobedience, a dishonorable surrender in Viet Nam, a submission to the enemy of the cross—the Communist party—and a breakdown of morality. In the face of all of this, he played a neutral part, neither condemning nor openly condoning. In this wise he compromised his evangelical position with those present in this effort.
Myerstown, Pa.
RIGHT BLEND
May I congratulate you on "The Crisis of the Church" (Sept. 11). Thanks! Scholarly but inspiring, often a difficult combination.
Milbridge, Me.
This blight upon the churches resulting from a rejection of fundamental truths and doctrines of the Bible appears to emanate from an intellectual and ecclesiastical hierarchy who are the controlling and manipulating power in the National Council of Churches. They have driven the Holy Spirit from the pulpit. They are leading the local churches down a blind alley. They have a form of godliness, but reality isn't there.
No wonder there is a consistent decline in church membership and church attendance, and, very importantly, a drying up of financial help from an apathetic people who feel that the Church is not worth supporting.
Houston, Tex.
PRAYER AND THE PRESIDENT
I commend your suggestion about the President declaring a Day of Prayer ("A Petition for the President," Sept. 11).
I would commend, also, your recommendation that the people declare a Day of Prayer for the President. I suggest that this, in fact, would be a worthy substitute for a preceding editorial, "Letting the President Drown," which served only to perpetrate the myth of the President's "untouchableness." This is merely a liberal canard issuing from liberal petulance, and unworthy of your imitation.
The attorney general's remark that he did not think it proper to interrupt the President … was merely of reasonable propriety. (Correction was made almost immediately.) What the media made of it is on their own conscience. Shame on you for trying to make principle out of such pettiness! But such does serve all the more to point up the President's need for prayers of the righteous.
Los Angeles, Calif.
I was shocked to see your petition to the President. The very idea of linking Christianity with a national political move in America fills me with repugnance. The idea of Christians calling their own kind to give thanks to God is a far better alternative.…
There is enough hypocrisy in America without having the President call a pagan (i.e., unbelieving) people to mock true petition and prayer. Clergy should not declare national policy, nor should the President declare "religious holidays."
BRUCE CHARLES MEYER
Carleton, Mich.
NOD OVER NORTHERN IRELAND
For once Eutychus has nodded. His ready acceptance of the holier-than-thou statement of an English correspondent (Sept. 11) that "the atheists are in no way connected with the latest example of Christian savagery and blood-letting" in Northern Ireland shows an unjustifiable faith in human nature.
It is significant that … British military intelligence reported that during the summer over a hundred militant left-wingers from various parts of Europe had visited Northern Ireland. Many belong to Maoist, Trotskyite, or anarchist underground movements and had taken part in riots at various places in Europe. In one confrontation with the police in Derry, only a small proportion of the rioters were local people.
As for church affiliation of those concerned in the riots, it is significant that one Belfast minister discovered that of a group of injured men who had given his name as their minister for the purpose of hospital visitation, not a single one was a church attender.
Eutychus should know by this time that the "new left" prominent in fomenting disorder and riot in the United States, Ireland, and other lands cannot put all the blame either on the Christian Church or the Establishment.
Belfast, Northern Ireland
FOR BEST-DRESSED CHRISTIANS
As a Mennonite who has love for the whole truth as it is in Christ Jesus, I am much concerned over the apostasy among the Mennonites. In "The Mennonites: Pioneer Nonconformists" (Sept. 11), I agree with Mr. Brunk that mere outward appearance cannot revitalize the church. However, to say that modest apparel does not belong to non-conformity in dress and does not belong to Christian living is contrary to Scripture. The way too many of the Mennonites and other professing Christians dress is loving the world, for it is none other than the lust of the eye and belongs to the pride of life, which will perish with the world.
Hillsboro, Kan.
FUSSING WITH GARBAGE
Thanks to God for Dr. Bell's anger and forthright fussing about the ridiculous way some of our church leaders are writing about situation ethics (A Layman and His Faith, Sept. 11).… I'm fed up with this garbage!
Sylvan Grove, Kan.
HAPPY BAPTIST
I was pleased to read "World Baptists: Touring Tokyo" (Aug. 21). As a Baptist I feel that there should be more such objective reports on our work, which it seems to me has been shifted from the evangelistic and teaching ministry to humanistic, ecumenical, and social [concerns].
We who stayed at home and had no chance to be delegates, and had not the privilege to see Expo 70, liked the report, and as an editor of a Baptist magazine in Yugoslavia, I have rewritten it for our people. Let them know the truth.
Zagreb, Yugoslavia
NACC SUPPLEMENT
Having attended the North American Christian Convention in St. Louis July 7–10, I read with interest your report, "NACC: 'Involved' " (News, July 31). What a pity that your reporter missed the keynote address by the president of the convention, Dr. William S. Boice. This was a high point of the entire convention.… Standing firm on the evangelical premise that the Bible is the Word of God and Christ is the Son of God, Dr. Boice led all of us to a deeper commitment to the cause of Christ.…
It is also regrettable that your reporter did not meet Norm Hovda of "Drugstop" in Phoenix, Arizona—a young man with a tremendous message for youth and the older generation. I am sorry he failed to note the growth of the NACC; registration this year exceeded 40,000. While the Disciples of Christ are losing members (and whole congregations) due to their increasing liberalism, our "independent" churches are planting new congregations of free believers in Christ at an encouraging rate, and the ranks of our missionaries are increasing in the same way.
As for "tackling the problems of the black American," the continuation committee of the convention chose William Ellis of Orlando, Florida, as a member of the committee to plan for the NACC '71 in Dallas, Texas. Bill Ellis, a third generation Restoration minister to the black American, has established two Negro congregations in Orlando, and is a leader in the New Testament churches in Florida.
Valparaiso, Fla.
Have something to add about this? See something we missed? Share your feedback here.
Our digital archives are a work in progress. Let us know if corrections need to be made.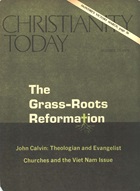 This article is from the October 23 1970 issue.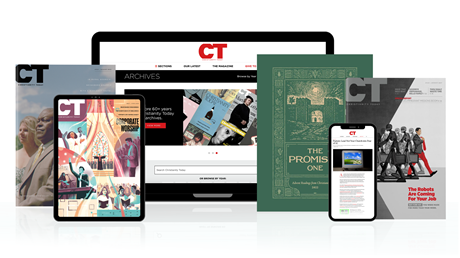 Subscribe to Christianity Today and get access to this article plus 65+ years of archives.
Home delivery of CT magazine
Complete access to articles on ChristianityToday.com
Over 120 years of magazine archives plus full access to all of CT's online archives
Subscribe Now
Eutychus and His Kin: October 23, 1970
Eutychus and His Kin: October 23, 1970